When it comes to designing a successful menu, simply providing the information is no longer enough. Restaurateurs want to tempt and inspire their guests through their menus and have become very creative in the way they do so. We rounded up 25 of the best menu designs we could find to give you some inspiration for your own menu!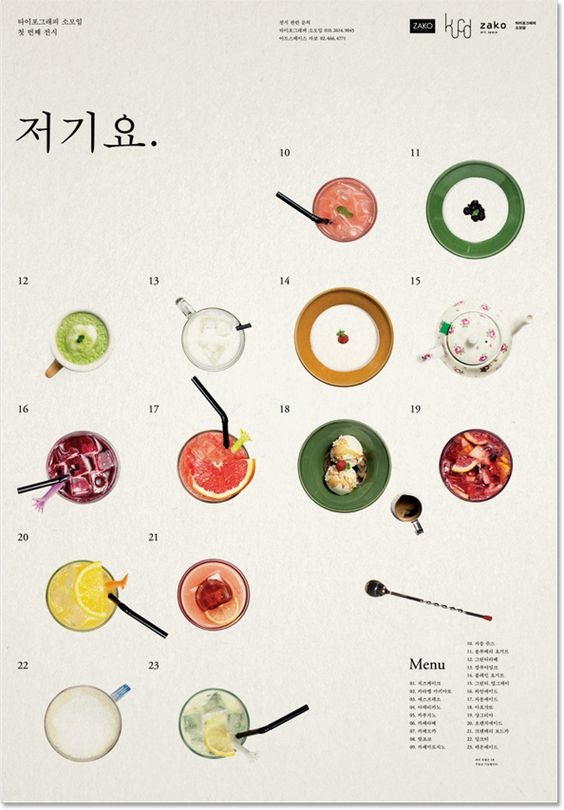 1. Menu design by Kimgarden
This clever Korean menu is all about the imagery. The viewer is given the opportunity to visualise the item before it is placed in front of them, making their selection process more exciting. Each image is numbered and has a brief description in the bottom right-hand corner. This design works well in a culture becoming increasingly more image-focused.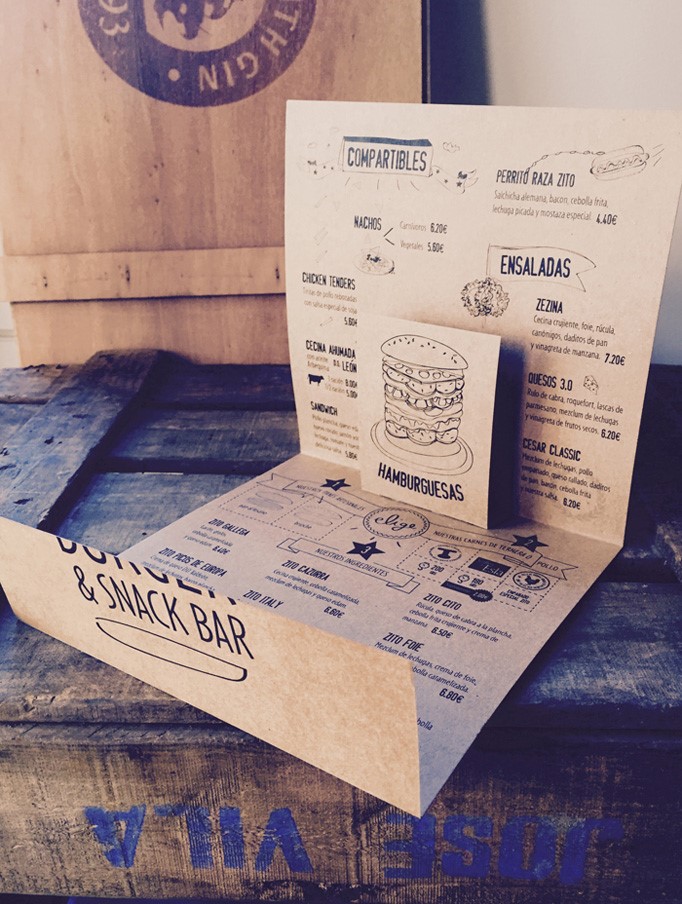 2. Menu design for Zito Burger
This menu for Spanish hamburger restaurant Zito Burger really breaks to boundaries of the standard sheet-of-paper menu. The menu looks understated and simple, yet grabs your attention with the use of a pop-out piece and a clever fold. We love the trendy use of brown paper and black outline illustrations.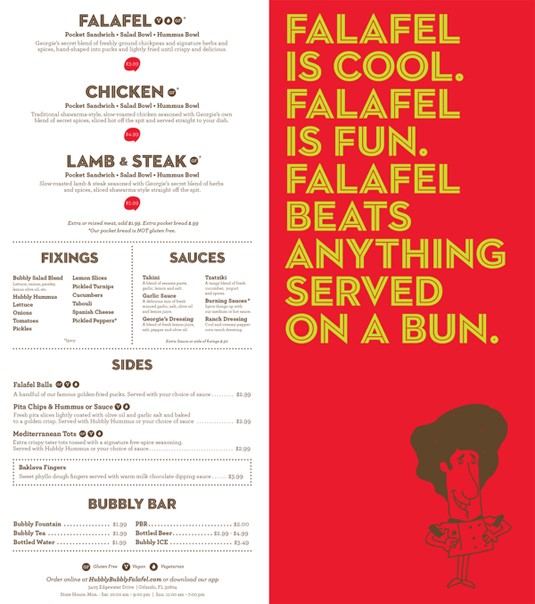 3. Menu design by Mark Unger
This fun and vibrant menu draws the customer in with a funny poem in bold yellow lettering. The selection is then made simple with easy to navigate sections and clearly identified dietary symbols.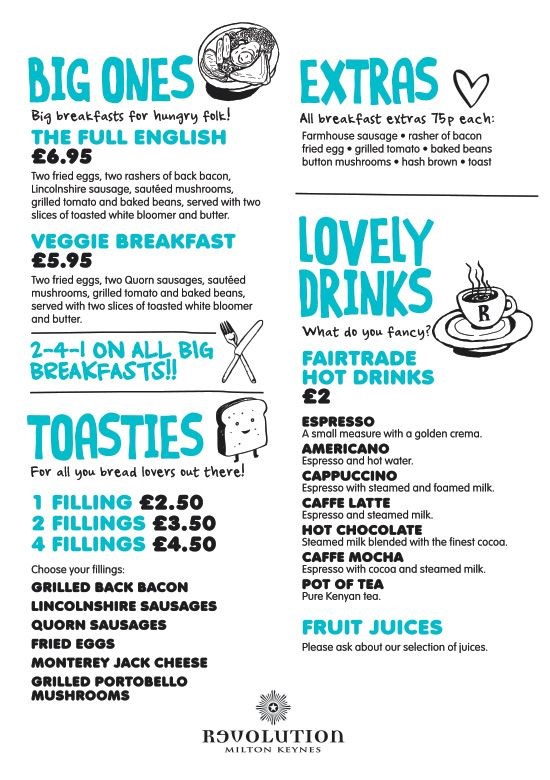 4. Menu design for Revolution
This playful menu manages to be creative while using a simple colour palette of black and blue. The menu features bold rounded lettering teamed with fun little illustrations and chatty phrases. Perfect to sum up the bar's fun personality!
5. Menu design for Brewdog
This menu for Brewdog – a Scottish craft ale company - features typewriter style font along with metallic embossing on the logo. To give the menu that DIY punk feel associated with Brewdog, it is pulled together using a large bulldog clip.
6. Menu design for Moi Helsinki
Moi Helsinki, a Finnish bar with a long list of beers, offers up this quirky menu. The front cover is designed with the words 'Ways to order a beer in Helsinki' in a metallic embossed font. This fun little list provides the customer with six ways to order a beer in Finnish, encouraging them to have a bit of a giggle and give it a go! This also works as a clever ice breaker. Who knew a menu could do so much?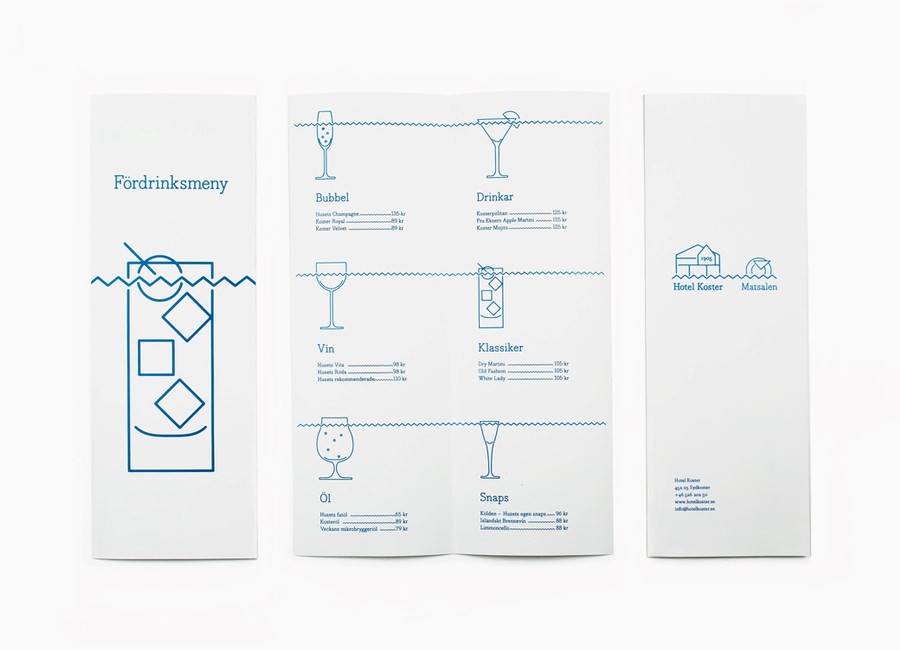 7. Menu design for Hotel Koster
This simple menu for Hotel Koster in Sweden works well with its minimal illustrations and tri-fold design. The use of empty space and drink options equally spread throughout the categories gives the menu a relaxed and uncomplicated feel.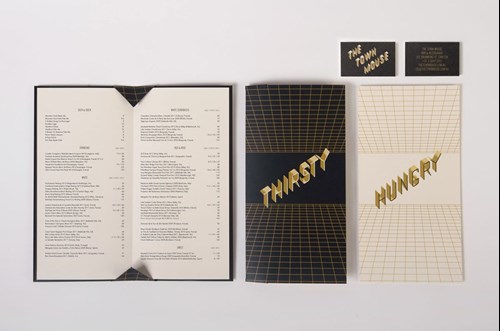 8. Menu design for The Town Mouse
The Town Mouse opt for two menus in this design – one labelled Thirsty and the other Hungry. This unique method appeals to the customer's emotions more than just 'Food' and 'Drink' and the slick design inside makes their selection nice and easy.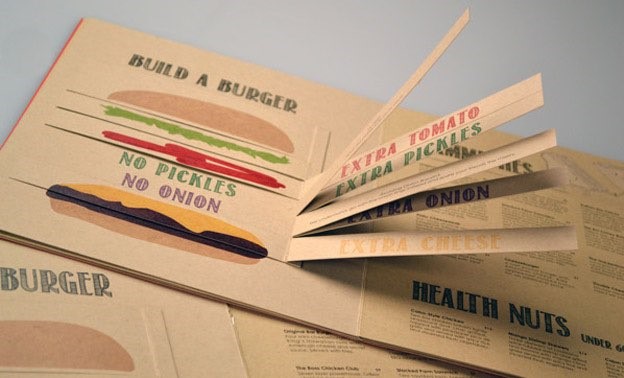 9. Menu design for Ruckus Burger
This smart, interactive menu for Ruckus Burger features fold out sections for the customer to add or take away part of their burger order. The extra bit of personalisation is not only fun but also makes the customer feel comfortable to order their burger exactly how they like it.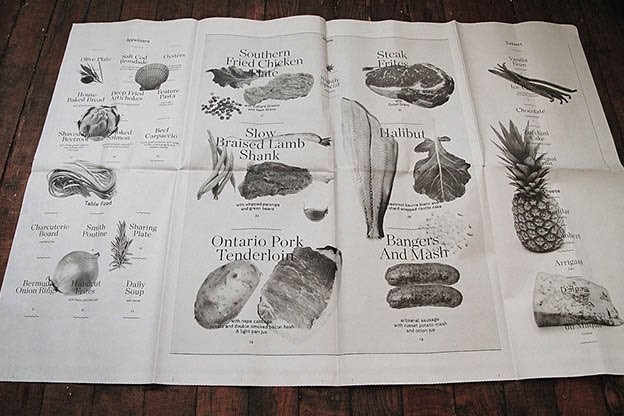 10. Menu design by Tracey Ma
Smith's newspaper style menu can be reused as wrapping for take-aways! Perfect for restaurants who want to reduce waste. The menu features large black and white images of ingredients along with bold titles for each dish.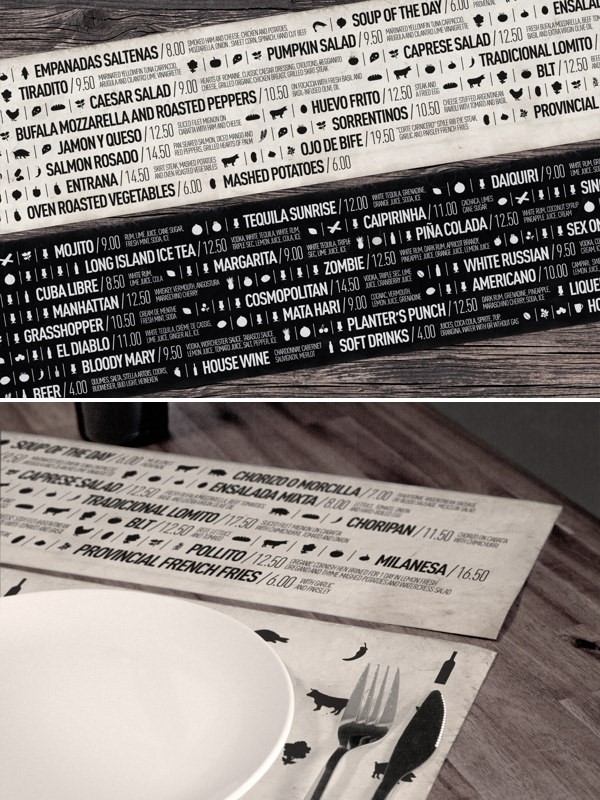 11. Menu design for by Morphoria Design Collective
Here, A.Restaurant have chosen an unconventional shape and size for their menus. This menu sits neatly above their place settings and co-ordinates well with the restaurant's branding. We love the use of block capitals and little ingredient icons.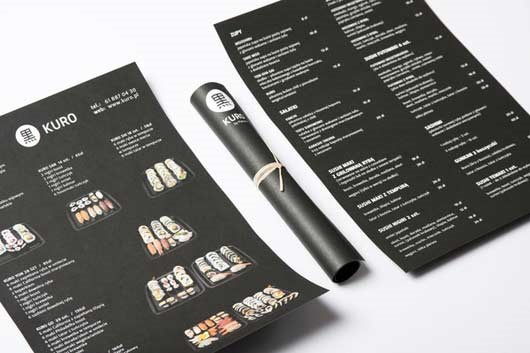 12. Menu Design for Kuro
Sushi restaurant Kuro present their menus as scrolls with their logo showing at the top. This interactive approach gives the restaurant authenticity and leaves the customer eager to find out what's inside.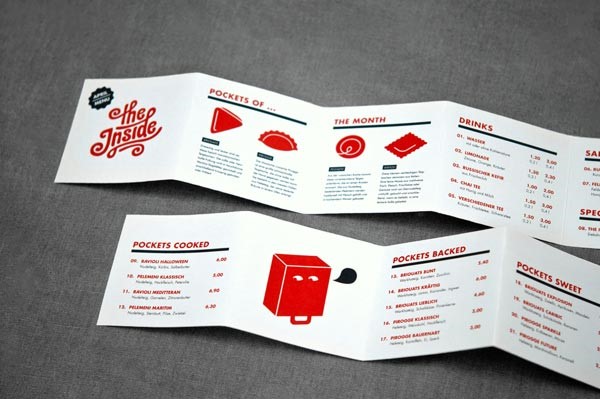 13. Menu design by Alexandra Turban
This small and square folded menu is designed to look almost like a CD ; INSERT. The designer adds a sense of humour with small illustrations and draws the customer in with the fold-out format.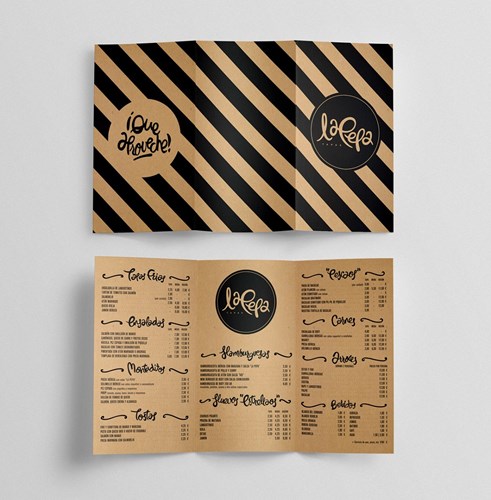 14. Menu Design for La Pepa
This stylish menu from restaurant La Pepa uses brown paper with a black swirling font and stripe design. The tri-fold menu is set out neatly inside and is illustrated with the tapas restaurant's logo.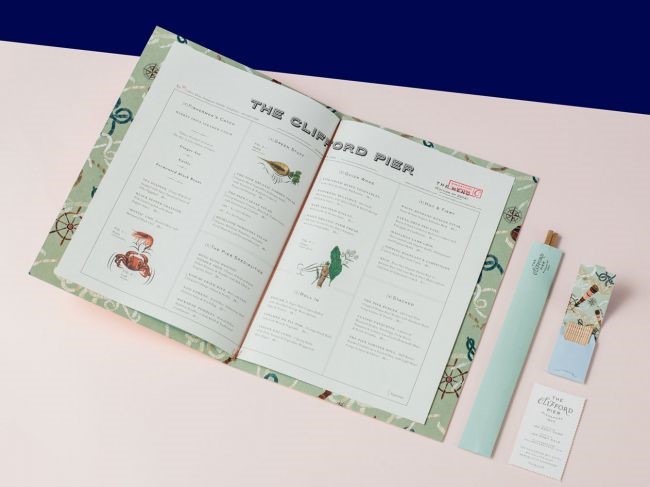 15. Menu design for The Clifford Pier
This beautifully illustrated menu for The Clifford Pier restaurant in Singapore takes inspiration from the busy port area in the 1930s. We love the use of patterned backing and matching toothpick and chopstick holders.
16. Menu design for Cellar Maker
This interesting menu for the Cellar Maker strays away from the classic list approach and instead details each beer in its own rectangle, with the company's logo in the centre. The serif font teamed with the subtle monochrome colour scheme gives the menu a vintage look.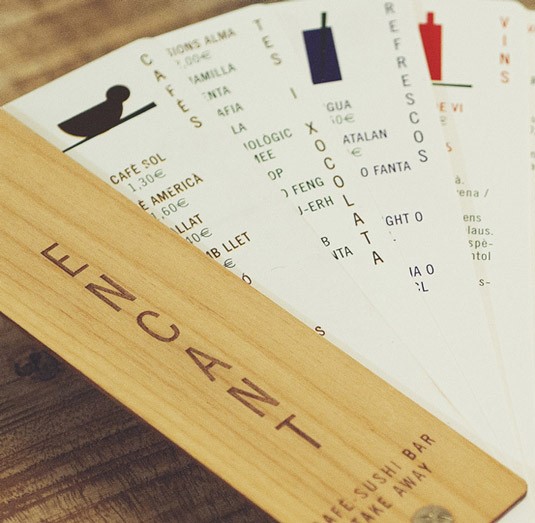 17. Menu design by Nuria Vila
This menu design for L'encant sushi restaurant almost mimics the shape of a pack of chopsticks. The small and minimalistic menu displays the food and drink options across a number of narrow pages.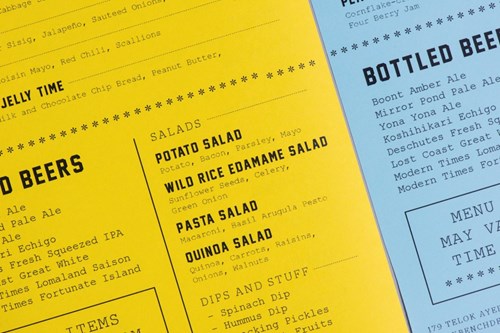 18. Menu design for Park Bench Deli
This fun menu makes use of bold colour to represent the restaurant's lively personality. We love the use of vibrant colour teamed with trendy typewriter style lettering!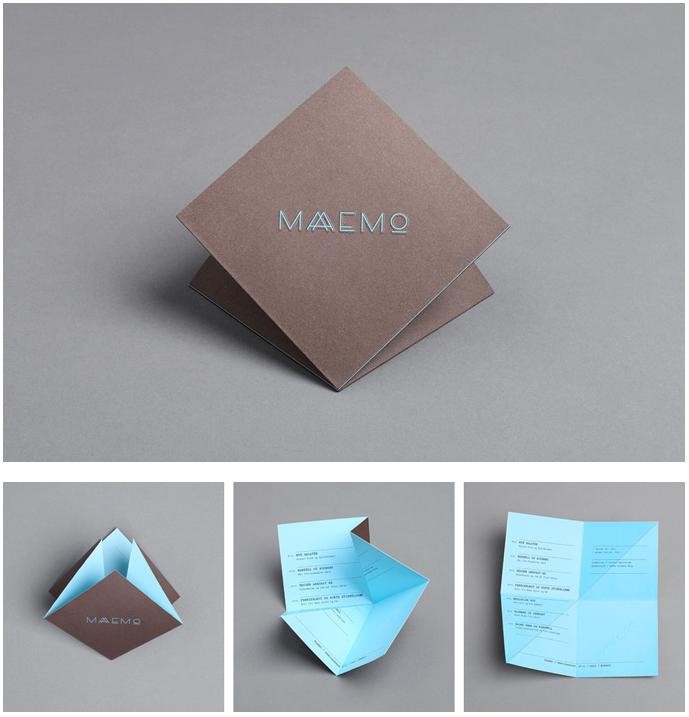 19. Menu design by Ludvig Bruneau Rossow
We adore this unique square menu! The pale blue menu is origami-folded into an interesting shape and left on the tabletop for the customer to unfold. This is a great example of how a simple menu can be approached in a creative way.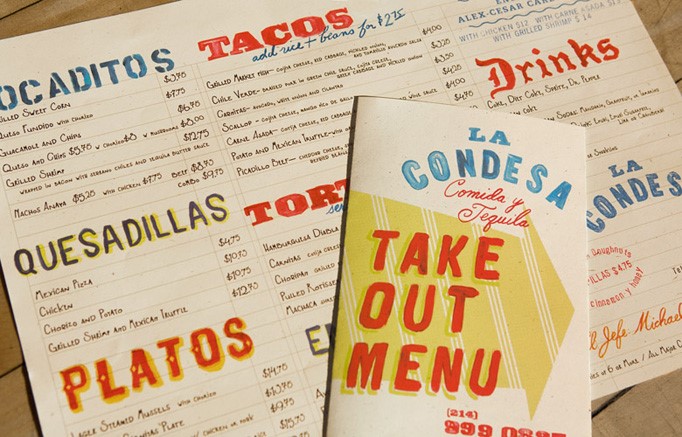 20. Menu design for La Condesa
This eclectic menu is designed with handwritten style lettering and a range of bold colours. The menu gives the customer an impression of the company's easy-going personality while showing the dishes available in a simplistic way.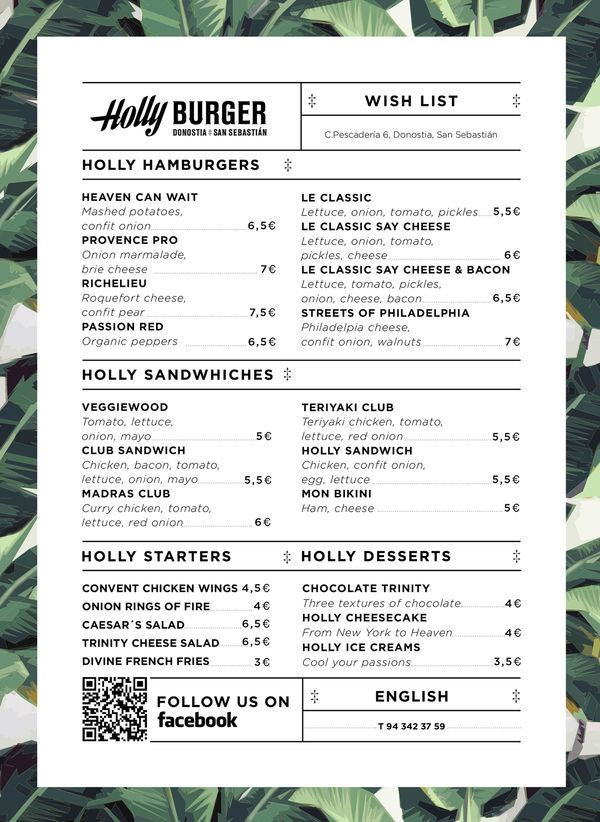 21. Menu design for Holly Burger
This menu is designed with an on-trend foliage pattern along with a cleanly laid out list of dishes. The restaurant has even featured a QR code to allow the customers to find their Facebook page.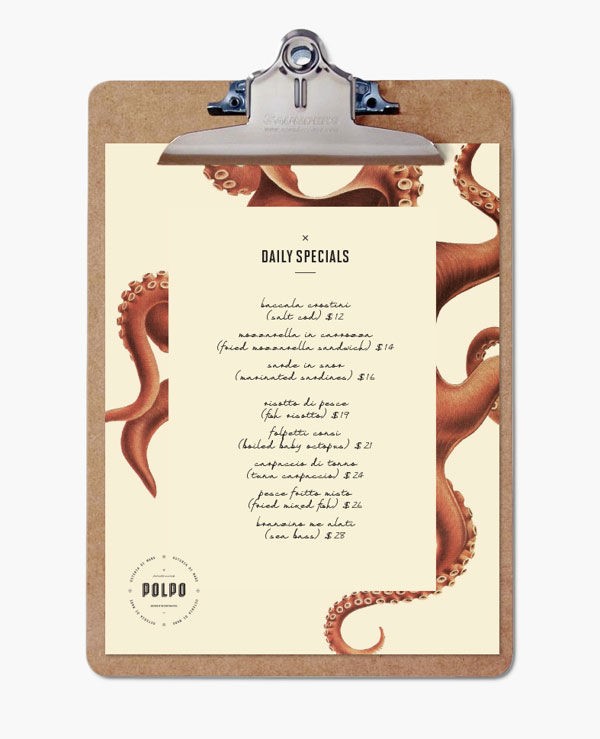 22. Menu design for Polpo
Michellin star restaurant Polpo mirrors their octopus logo in the background of this menu, ensuring branding is streamlined throughout all of their print. The menu is laid out beautifully, complete with an elegant handwritten style font and trendy bulldog clipboard.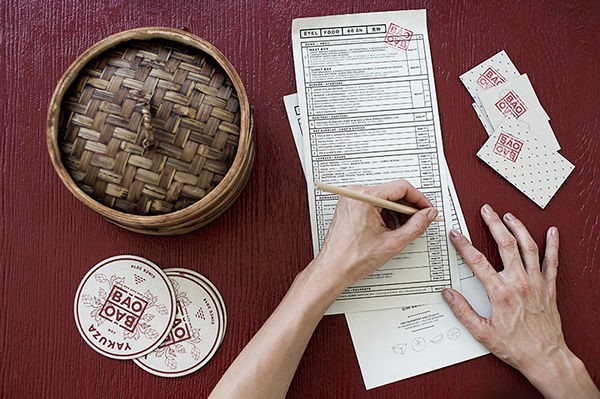 23. Menu design for BaoBao
This menu design for dim sum restaurant BaoBao allows the customer to tick off what they would like on the menu and hand it back. The menu is inspired by the designer's travels to the far East and features a long rectangular format.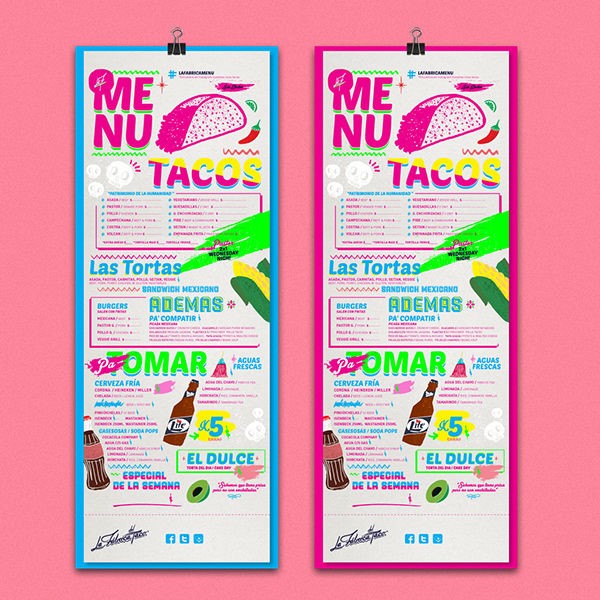 24. Menu design for La Fabrica Del Taco
This bright and cheerful menu features bold headings and colourful illustrations. You get a great impression from this menu that the restaurant is a vibrant place to be. The long format menu also features the restaurant's social media logos at the bottom of the page so their customers know to follow them.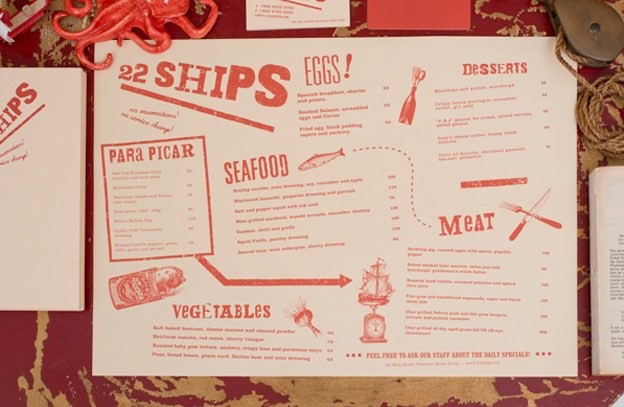 25. Menu design for 22 Ships
This menu opts for landscape orientation and uses the space available in a really creative way. Rather than just displaying each option in a uniform list, the dishes are spread across the page in slightly angled sections along with bold headings and unique illustrations.

We hope this post has given you some inspiration on how to approach your own restaurant's menu. A menu can give a lot away about a restaurant's style and personality and in this way can be an incredibly useful marketing tool. If you've seen a great menu design that you'd like to share, let us know on Facebook or Twitter!