Our Artwork Services
FREE SERVICE
Want to make a quick edit before sending across your final artwork? Or would you just feel a little more comfortable after one final check from a professional in the print industry? Our Personal Artworkers provide a range of pre- and post-order checks to give you peace of mind with your print.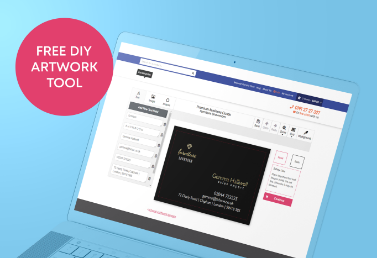 FREE DIY TOOL
Create your own design online with our free drag and drop tool. Pick from a huge range of designs to customise or start your own from scratch. Available on our most popular ranges, from business cards to folded leaflets, you can create a design that's perfect for your business's needs.
New to Creating Artwork?
If you're not sure where to start with setting up your design for print, check out our beginner's guide to artwork to learn the basics.
READ NOW
What Happens to my Artwork?
First, pick your print options on our website and whether you want us to design your artwork for you and add your selection to your basket and continue to our proofing tool.
For most of our products, you'll then be prompted to upload your artwork, however some products need extra attention, so after you've placed your order you'll need to email artwork@instantprint.co.uk
If uploading online, follow the instructions on our proofing tool to upload and check your artwork. Something not look right? Our Personal Artworkers can take a look for you!
Once you're happy with how your artwork proof looks, you can approve it online. Once this has happened, it is sent to our Studio team for a final check.
A member of our Studio team will check your artwork using our 10 point check, which covers things like resolution and legibility. This ensures your artwork is set up to print correctly.
Your artwork is sent to print! Your artwork goes on a journey around our factory as it's printed, cut to size and finished before being hand-packed and sent on its way to you.
How to Upload Your Artwork
Here's exactly how to upload your artwork online using our proofing tool.
READ NOW
Print Specifications
These are the specifications we require for the perfect print.
1Format - PDF or JPEG
2Colour - CMYK
3Bleed - 3mm
4Image Resolution - 300dpi
5Fonts - Embedded
6No printer or crop marks
Exporting a PDF
We prefer you to send your artwork as a PDF. You can convert your artwork to PDF using this free and easy tool:
File Types We Accept
Although we prefer to receive your artwork as PDF or JPEG, we accept all of the following file types:
AI, DOC, DOCX, EPS, JPEG, PNG, PDF, TIFF, PUB, PPTX
File Sizes
Our online proofing tool can only accept file sizes smaller than 20MB. If your file is larger than this, you can complete your order by heading straight to the basket, continuing to pay, then sending (via wetransfer) us your artwork and order reference number to:
Colours
Please note: RGB and Pantone colours will be automatically converted to CMYK which may slightly affect the colour of your print.
Your colours may also differ between products and batches. This is down to the machines we use and paper type you choose. For help achieving the right colours, simply email our personal artworkers.
Online Guides to Bust Print Jargon
Frequently Asked Artwork Questions