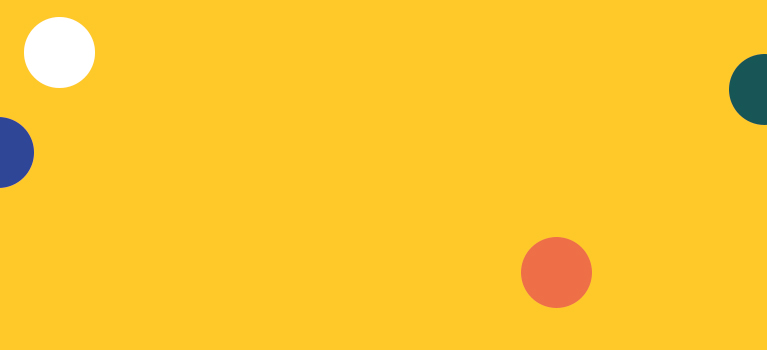 Sign Printing - Indoor & Outdoor Signage
From lightweight indoor foam signage to heavy-duty outdoor signs, you'll find an effective, affordable way to promote your business thanks to instantprint's sign printing service. Perfect for clear social distancing and new service signage during the COVID-19 pandemic, as recommended by the government, as well as promoting your big reopening.
Our personalised event, shop and business signs are available in a variety of sizes and materials – and we can print on one or both sides too. You'll be spoilt for choice with our superb internal or external signage options – so, why not let us help make your business stand out from the crowd?
Shop by Product Type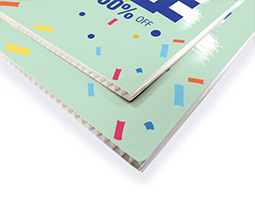 Available in sizes A4-A0
100% recyclable white fluted Correx® by Corplex
Our most affordable custom signage
Indoor and outdoor, budget-friendly sign printing
Clear signage to comply with social distancing regulations 
Next day delivery available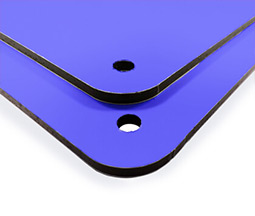 Durable, corrosion-resistant aluminium signage
Available in sizes A3-A0
Pre-drilled holes for easy set up
Outdoor social distancing reminder signs
Delivered within two working days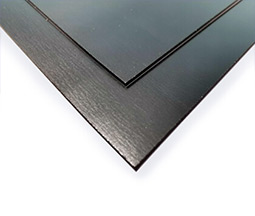 Available in sizes A4-A1
0.85mm gloss magnetic vinyl
Suitable for your vehicle/metal surface
Easier to replace and sturdier than car stickers
Advertise your business as your drive
Delivered within two working days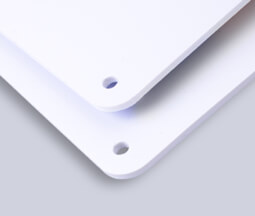 Available in sizes A3-A0
3mm and 5mm Foam Boards
An affordable indoor option
Square, rounded or drilled corners available
Perfect for indoor hygiene signs
Delivered within two working days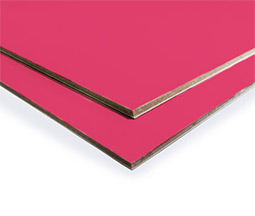 Available in sizes A3-A1
2000mic display board signs
An affordable indoor option
Fully recyclable
Great for indicating queuing areas
Delivered within two working days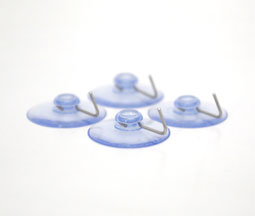 Hang posters and signage from your windows
40mm Circle
Perfect for lightweight foam signs
Attach to glass or acrylic surfaces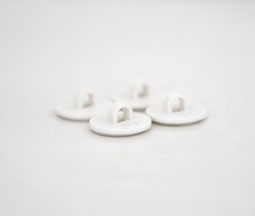 Small plastic loops with self-adhesive backs
Hang signages and posters from your ceiling
Stick to indoor ceiling materials
We recommend using with our ceiling hooks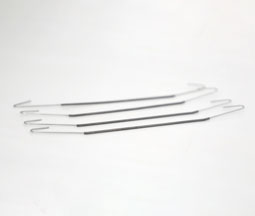 Spring metal coil attached between two loops
Hang signage and posters from your ceiling
Can link multiple signage hangs together
We recommend purchasing with our ceiling loops
Our Customer Reviews
Why Choose instantprint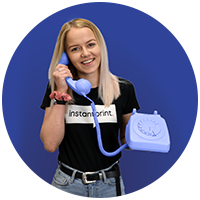 Friendly print experts on hand to help you at every step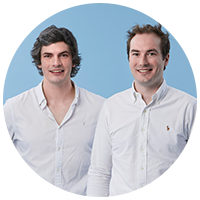 Everything you need to get your business running safely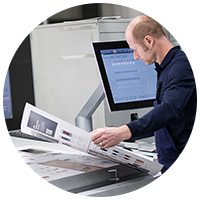 Quality paper, sustainably sourced from our carefully chosen suppliers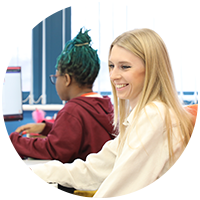 We check every piece of artwork that goes to print
How to Set Up Artwork for Print in Photoshop CC
Online Printing Design Setup Tutorial
Here at instantprint, we want to make printing simple and easy so business owners can make the signs they have in their head a reality. And we know that for many people, seeing the right process really helps.
That's why we've created this quick video on setting your design up for print using the ever-popular Adobe Photoshop CC. We'll show you how to set the size of your document, add bleed and save the file with the correct settings.
For more artwork and design help, check out our artwork guides.
What Can I Use Custom-Made Signs For?
Flexible, durable and great for getting your message spotted – there's almost no limit to the uses of custom-made signs. With instantprint, create your own signs for any purpose and location – whether it's indoor, outdoor or even on the move.
Information: 

Do you have something to say? From safety signage to simply telling the world your business is here, signs are a great way to communicate with people.

Promotional: 

Got a seasonal sale on? Looking to advertise an exciting new product line to customers? Hoping to make a striking impression at a trade event/exhibition? Nothing can say it faster and more effectively than a custom sign.

Directional: 

Tell visitors and customers how they can reach your business or easily find different product categories in store with clear and reliable signs made to order.

Mobile signs: 

Spread the message on the go with instantprint's range of magnetic signs for vans, cars and lorries – adding mobile marketing into your business mix.

Safety signs:

 From social distancing and limited numbers to hand-sanitising reminders, clear signage is crucial for keeping customers and staff safe during the pandemic.

Reopening signs:

 If it is safe and permitted for you to open your shop to the public, let customers know you're reopening with bold indoor and outdoor signage.
For more safety and reopening print, check out our full Coronavirus safety range.
How Can Personalised Signs Help My Business?
Using high-quality outdoor signs to advertise your business can often be the first impression you make on potential customers – so it's really important that the design of your business or shop signs reflect the quality of products or services you offer.
Like banners, good signage can be the silent salesperson of your business. Exterior signage has the power to capture the focus of passers-by. Meanwhile, indoor signage won't just help your customers to find what they're looking for, it can boost those all-important impulse sales too.
But, most important of all, custom signs have the power to get your brand out there. Whether it's bespoke event signage to stand out from the rest at a trade show or something stunning to sit in a prominent roadside location, your sign lets people know who you are and what you do.
What Type of Signage is Available?
At instantprint, make your own sign to order thanks to our unbeatable choice of materials and size options. For indoor or outdoor use, our sign printing service works to your specifications:
Correx: An affordable option that's perfect for short-term indoor or outdoor use, our Correx signs are made from 100% recyclable white-fluted plastic material.
      

Ideal for estate agent signs, safety signs and directions.

      

Thickness: 3mm

      

Available from: £18
Aluminium: Our most durable option for long-term outdoor signage, aluminium signs might be our most expensive option – but it offers the best value, as it's such a long-lasting product.
      

Ideal for outdoor advertising signs, traffic directions and mounted menu boards.

      

Thickness: 3mm

      

Available from: £80
Magnetic: Gloss magnetic vinyl signage is an effective, affordable vehicle branding solution. And once you're done with your sign, you can simply peel it off!
      

Ideal for vans, cars, lorries, large metal doors and fridges.

      

Thickness: 0.85mm

      

Available from: £44
Cardboard: For a temporary indoor solution, our cardboard sign boards are superb at advertising sales and promoting your business at indoor events. Fully recyclable.
      

Ideal for in-store promotions, exhibition stands and event signage.

      

Thickness: 2mm

      

Available from: £22
Foamex: Looking for something to brighten up your indoor spaces? Easy-to-install, our Foamex board signs can be placed anywhere indoors and are very lightweight.
      

Ideal for health and safety signs, event stands or interior decoration.

      

Thickness: 3mm

      

Available from: £20
How is instantprint Signage Made to Order?
At instantprint, our custom signage – like all large-format print products – is produced using our HP Scitex printer right here at our state-of-the-art UK production centre. We're always investing in new machinery so that we're able to produce high quality products quickly, while keeping our costs down at the same time. So, you get the best print solutions at the best price!
How To Set Your Sign Artwork Up For Print?
It's our aim in life (seriously) to make sure you can design and print signs online easily – so we've made the whole process really simple. Here's a little checklist to help make sure you've set your artwork up correctly:
Size – You've set the size up to the correct size of the sign you want
Colour – If possible, you've set your colour mode of your preferred design program to CMYK for printing
Bleed and safety – You've added an extra 3mm around the edge as a bleed area so there are no unexpected white lines after we've trimmed your sign down to size and you've got an additional 3mm safety zone inside your document to avoid important info getting trimmed
Resolution –For high-quality printing, we recommend using high resolution images and logos, and saving your file with a resolution of at least 300dpi
Fonts – We'll manually check your design to make sure it prints perfectly, so flatten your fonts by saving your artwork as a JPEG or PDF before sending it to us so none of the fonts change or move about when we open it up
Holes – Remember that some of our signs have pre-drilled holes in the corners, meaning it's a good idea to keep important information away from the corners
For more information, check out our artwork guides here.
How Do I Make My Own Sign?
Stuck for inspiration? No money to spend on design services? With our free design tool, it only takes a few minutes to create awesome indoor or outdoor signs for your business. We've loads of sign templates to choose from and customise, so you won't be short of ideas.
If you've already got your design sorted, that's no problem either. Just upload it to us and we'll take care of the rest.
We also offer a full print design service with our in house graphic designers. Simply click 'yes' when asked if you would like us to 'design this for you' and you can add the service to the basket. One of our designers will be in touch as soon as the order has been placed to discuss your brief. If you prefer a more personal approach you can always chat with your designer in person via our video consultancy service. Simply click here to book a slot through our online chat team.
Jennie's Top 5 Business Sign Design Tips
Custom signs for your business are fantastic for promoting your store, giving directions and even for health and safety signage – and their size means you can get really creative with your design. Here are my top tips!
Use big, bold fonts 

– Signs are used to attract attention from a distance, so it's important that the reader can actually read your message. So don't be scared to ramp up your font size!

Make sure text is clear 

– Speaking of fonts, it's a good idea to choose a blocky sans serif (not a curly-wurly) font. If it makes it even clearer, see what your sign looks like with all capital letters!

Use bright colours 

– We offer full colour printing on all of our signs, so choose something that stands out, whether that's your brand colours, a yellow hazard sign or bright red for a sales promotion.

Be mindful of your background

 – Where is your sign going to sit? Is it by some bushes on a fence? If so, avoid green), don't use white if your sign is going on a white wall, etc. If you want it to stand out, pick a contrasting colour to your background.

Pick your sides

 – Some of our signs, like correx, can be printed double sided. This is useful for when you can see both sides of a sign, like an estate agent board. If you can, add an extra side so you're covered from all angles.
What Information Should I Include on My Sign?
Great business signs can tell people a lot about what you're offering without actually including a huge amount. After all, pictures can tell a thousand words – so why not consider using a logo or a drawing to represent what your brand stands for?
It's also important to get the use of colours right. Not only do you want to make sure you stand out, you'll want to make sure that passers-by pay attention to any text or imagery you're using.
And what about the text? Well, it's essential to include what your business does or exactly what you want someone to get from your sign. Research has shown that 75% of people driving down the street pick out a key word from a sign the first time they pass it. So, make sure they do!
You might also want to consider including a catchy slogan, contact details and a call-to-action.
How Do I Order Custom Signs Online with instantprint?
Printing signs online has never been easier! Just follow these easy steps, and your sign will be with you in no time.
Pick your sign – choose your material and size

Add to basket – once you're happy with your choice, add it to your basket

Upload your artwork – upload when prompted or add it in your basket

Place your order – we'll check your artwork and get it printed ASAP!
Where Can I Order My Sign

?

Need a UK-based sign maker online who you can trust to deliver exceptional signage fast? Look no further than instantprint. As soon as you decide which one of our sign printing options is the ideal one for your business, click 'Shop Now' and follow the simple ordering process.
How Long Until My Signage Arrives?
All sign orders approved by 6.30pm (weekdays) will be dispatched for delivery the next working day, with delivery taking a further working day. So, approve your order by 6.30pm Monday and we'll dispatch it on Tuesday for it to arrive with you on Wednesday.
If you need your signage sooner, next working day delivery is available.
Why Choose instantprint?
We know what it's like to be a small business – and we know how important getting an amazing print product can be. We're one of the leading signage companies in the UK, delivering fantastic indoor and outdoor signs to businesses across the country at an equally fantastic price.
And with upwards of 5 million print jobs completed, we've helped over 350,000 small businesses just like yours with their advertising. With over 380 experts on hand at our production centre, we're waiting for you to get in touch and see how we can transform your business.
And if you needed any more persuading as to why you should choose instantprint for your custom signs, our customers rate us as 'Excellent'.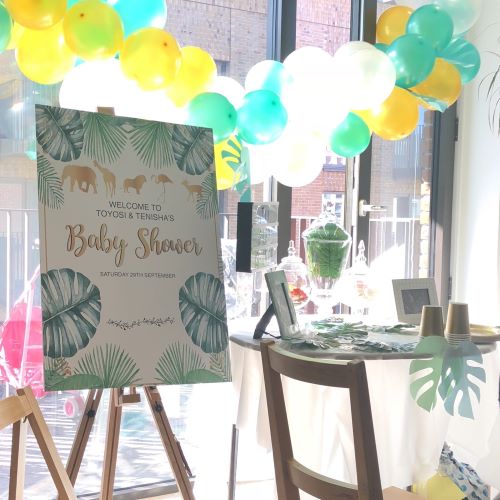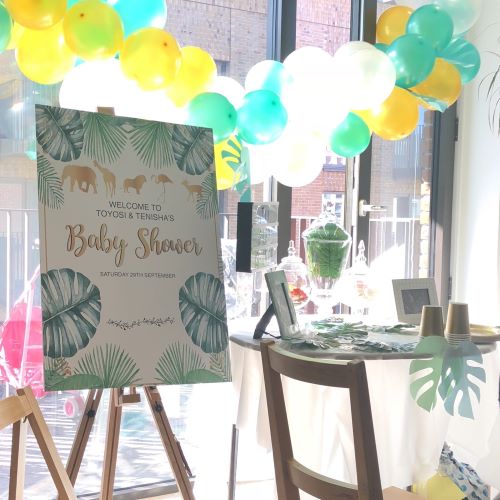 What Do Our Customers Think?
"The biggest reason I go to instantprint time and again is the ease of uploading documents and proofing the items. Printing A1 sheets is easy and the quality is great." - Nichelle, Owner of Erith Designs