Shop by Folded Leaflets Type
Shop by Folded Leaflets Use
Folded Leaflet Guide: Fold Types
Folded Leaflet Guide:
Want to know your c-fold from your z-fold? Our fold types video shows you exactly how our folded leaflets fold, as well as giving tips on how you can get the most out of them!
Customer Reviews for Flyers
Our Inspirational Blogs
Frequently Asked Questions
What type of design is right for my folded leaflet printing?
What you plan to use your brand new leaflets for will determine what kind of fold you think you'd opt for. It also depends on the size of leaflet you pick too. You can choose from the following folds:

Half fold – a single fold down the centre of your leaflet, so it opens a bit like a card.
Z-fold – a bi fold option that creates a 'Z' shape, great for sales brochures.
C-fold – a bi fold option that creates a 'C' shape, perfect for showcasing your sale.
Roll fold – created by folding down one section, then another in the same direction until 8 panels are created.
Cross fold – folded in half and in half again, ideal for maps and guides.
Still not sure which folded flyer is best for you and your business? We've created a handy guide so you can get a better idea here .
Which size fold out leaflet should I choose?

Our standard folded leaflets come in three different sizes. If you're unsure which size to pick and would like a standard size, we recommend you choose A4. This size will allow you to get plenty of information on there, without it being too big for clients and customers to be able to take away with them. Here is our full list of folded flyer sizes:

Check out our full list of folded leaflet sizes:

C-Fold
A5 C-Fold – Flat size - 148mm x 210mm - Finished size - 70mm x 148mm
A4 C-Fold – Flat size - 210mm x 297mm - Finished size - 99mm x 210mm
A3 C-Fold – Flat size - 297mm x 420mm - Finished size - 140mm x 297mm
Z-Fold
A5 Z-Fold – Flat size - 148mm x 210mm - Finished size - 70mm x 148mm
A4 Z-Fold – Flat size - 210mm x 297mm - Finished size - 99mm x 210mm
A3 Z-Fold – Flat size - 297mm x 420mm - Finished size - 140mm x 297mm
Half Fold
A5 Half Fold (Folded to A6) – Flat size - 148mm x 210mm - Finished size - 105mm x 148mm
A4 Half fold (Folded to A5) – Flat size - 210mm x 297mm - Finished size - 148mm x 210mm
A3 Half Fold (Folded to A4) – A3 Half Fold (Folded to A4)
What are the folded leaflet printing paper stock options?
When we say 'stock' we're talking about the material your folded leaflets are printed on. For some print products, this can range from classic printer paper to card and even to PVC and foam board.
These stocks are measured in 'GSM', or grams per square metre. The larger the number, the thicker (or heavier) the paper is and the better quality.
Here are all the stocks we offer for folded leaflet printing:

150gsm Value Silk - Our thinnest and cheapest stock, this is a popular choice for takeaway menus or bulk leaflets
250gsm Classic Silk - Our most popular paper for folded leaflet printing, it's a great marketing all-rounder
350gsm Premium Silk - A thicker stock, ideal for high-end brands or for messages targeting high value customers
Using our free folded leaflet templates
No matter if you're designing half fold leaflets, a C fold leaflet or Z fold leaflet, we have a variety of folded leaflet templates available online on the instantprint website. You don't need to have any previous design experience or a be a wiz on Photoshop or InDesign either!
We have 1000s of designs to choose from and they're all completely customisable. Whether you're looking for a completely blank template to pop your ideas down onto, or need a helping hand in the creativity department with something pre-designed, we have something for every business. Start designing now!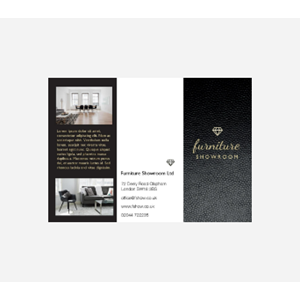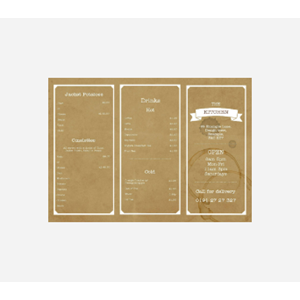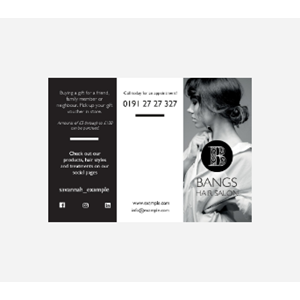 How can I distribute my leaflets?
Once you've worked on your folded leaflet design ideas and have your marketing ready to go, it's key that you know where they should be distributed. If you're a local business you may want to place them in nearby cafés, restaurants and other small businesses; whereas if you're a B2B firm, you could put some aside to give out at conferences and networking events.
Wherever they go, folded leaflets from instantprint are sure to make the right first, and lasting impression.
Top tips for designing a folded leaflet
Folded leaflet designs get a bit of a rep for being tricky – not only do the folds sometimes make it hard to visualise where content should go, things can also get messy if your images or text spread across the folds. We asked instantprint Creative Lead Jennie for her top tips for designing a folded flyer or leaflet.
Visualise the Folds
If you haven't already, go and watch our video showing the different kinds of folds and how they work. It's so important to be able to recognise where your design needs to go, what order your message should go in and it will help you get the orientation right.
Mind the Crease
When things are getting folded and unfolded, the creased area can crack, which is a perfectly normal thing to happen. I'd recommend keeping text away from the folds so that it's always legible.
Navigate the Reader
Don't overwhelm the reader by putting too much on the page. Leaving some white space (with no text or design elements) actually helps the reader to navigate the page chronologically and makes the design more aesthetically pleasing. Think about navigation across the folds – where will the reader naturally start?
How can I design a fold out leaflet?
Want to design your fold out leaflet yourself? It's quick and simple to get your blank canvas set up on whichever design programme you're using. From Photoshop and InDesign to Adobe Illustrator and PDF; for help setting up your file, check out our guide .
If you don't want to use professional design tools, you can just as easily create a sleek folded leaflet design in Microsoft Word. This step-by-step guide shows you exactly how to set up your folds in Word.
We recommend saving your folded leaflet design as a PDF – this stops anything changing or moving when we open up your file to manually check it before sending it to print!
Remember how the folds will look once your leaflet has unfolded. If you're designing a C-fold, the middle panel will be bigger, but we'll automatically do this for you when you submit your design, so keep all of your panels the same size when designing. For cross folds, some of your panels make look upside down – just visualise putting it together, or get a personal artworker to check it over for you if you're not sure you've got it right.