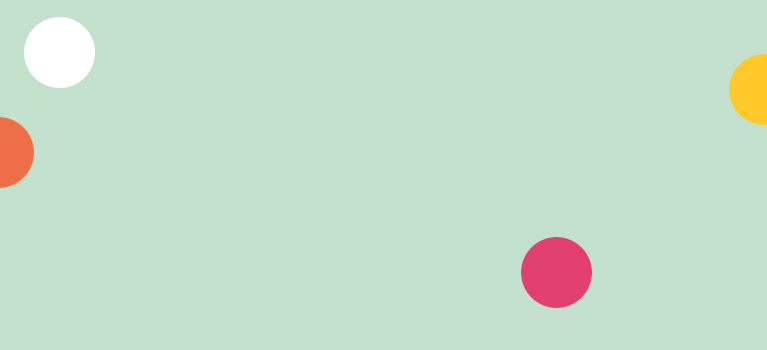 Stickers & Label Printing - Design, Make & Print Custom Business Stickers
Using personalised stickers can boost your brands recognition and give your products, packaging and presentation an on brand and professional finish. Our range of stickers are available in three different styles – small logo stickers, vinyl floor stickers and window stickers – and with our easy to use sticker design online feature, you can even create your own today.
Whether you're looking to create your own stickers to build your brand's awareness, to use as social distancing or re-opening signs or to perfect your gift-wrapping, stickers are one of our most versatile and creative products. Our quick, easy step-by-step ordering process makes ordering personalised stickers a breeze.
Shop by Stickers Type

Video Consultation Service
Chat to one of our customer service team face to face!
Simply click our live chat button in the bottom right corner to book your time slot
Sticker Customer Reviews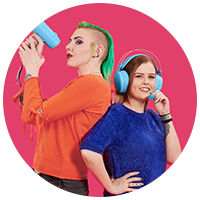 Top 50 Company for Customer Service 2018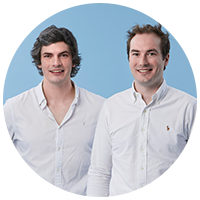 We get what it's like to be a small business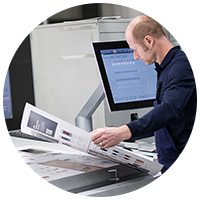 Quality paper, sustainably sourced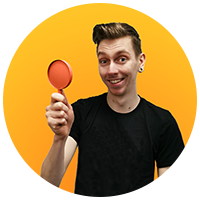 We check every piece of artwork that goes to print
Using Stickers to Help Charity Candy Flourish
Meet Kamran Zaman: Founder of Charity Candy
In 2015 we launched a search to find Britain's most inspirational small business owner. Our search brought us to sweet lover Kamran Zaman.

Kamran spotted an opportunity to sell Halal sweet boxes for charity in his community and Charity Candy was born. The business sells sweets at a whole host of shops, offices and events. Kamran was awarded £1500 for winning along with a selection of printed stickers and other products like our business cards, flyers and posters.
How to Make Your Own Stickers
Selecting a Size
We offer a huge range of sticker sizes for multiple uses. Here's a quick rundown of our shapes and sizes and how to best use them:
Small circle, square and rectangle – we recommend only using this size for logo stickers as text can be illegible; use them for sealing envelopes with your logo on for quick and affordable branding
Medium circle, square and rectangle – ideal for sales stickers and event handouts, they benefit from minimal text on the design
Large circle and rectangle – these make great branded laptop stickers and are large enough to have legible text
Extra large rectangle – the perfect size for bottle labels or address labels
Setting Up Your Artwork
If you want to create a circle sticker design, you don't actually need to set your artwork up as a circle! Set them up as a square and that'll act as your bleed area, like this: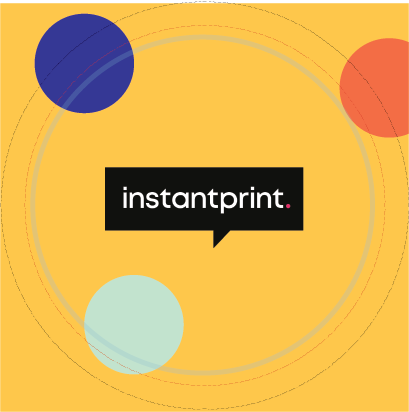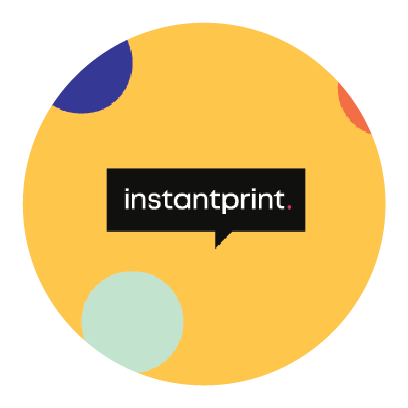 Due to the small size of your stickers, we recommend using a resolution of at least 600dpi to make sure the final printed product is high quality. Here's how to check and change your resolution.
Need extra help with your design?
Click on the sticker you want on this page and download a free blank template on the next page! Simply click on the design program icons to download a blank template you can edit in the Adobe Suite. Not familiar with Adobe? Don't worry, we've also got loads of pre-designed sticker templates that you can customise for free online. Check out our full range here!

We also offer a full print design service with our in house graphic designers. Simply click 'yes' when asked if you would like us to 'design this for you' and you can add the service to the basket. One of our designers will be in touch as soon as the order has been placed to discuss your brief. If you prefer a more personal approach you can always chat with your designer in person via our video consultancy service. Simply click here to book a slot through our online chat team.
Uploading Your Sticker or Label Design
All that's left to do is send your artwork to us! Simply add your chosen size and quantity to your basket and you'll be prompted to upload your design. Or, you can carry on shopping and upload your artwork in your basket.
How Do My Stickers Arrive?
We send your stickers out to you on A4 sheets of adhesive stock. Your stickers will arrive in an A4 envelope ready for you to kick-start your branding quest. You'll then be able to peel them off to use straight away or cut them out for easy distribution. Here's how each size sticker will arrive:
37mm (small) circle: 35 stickers per sheet                76mm (medium) circle: 6 stickers per sheet              88mm (large) circle: 6 stickers per sheet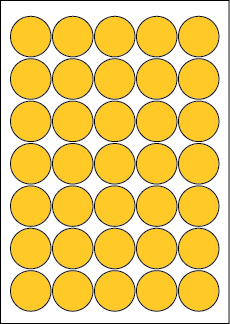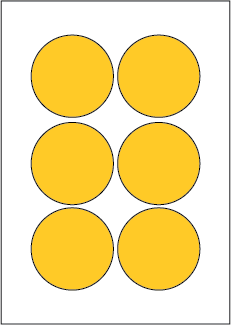 37mm (small) square: 35 stickers per sheet              45mm (medium) square: 24 stickers per sheet         80mm x 45mm (small) rectangle: 12 stickers per sheet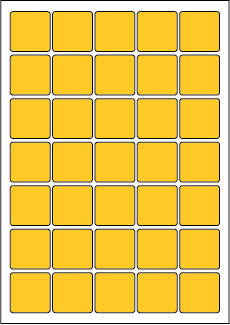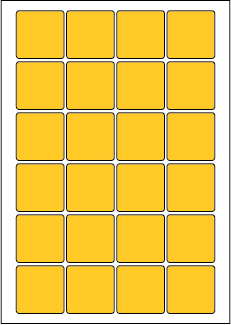 88mm x 63mm (medium) rectangle:                         110mm x 75mm (large) rectangle:                               140mm x 94mm (extra large) rectangle:
9 stickers per sheet                                                     4 stickers per sheet                                                       4 stickers per sheet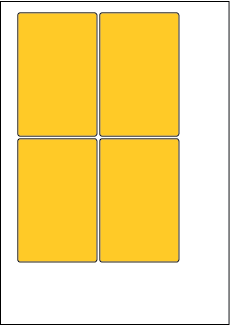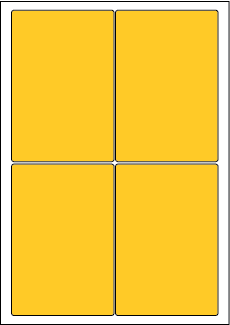 As our stickers are produced on flat sheets, they aren't going to fit into a machine for automated sticker application. Our stickers are geared towards our small business audience who are after a cost effective way of enhancing their branding.
What are stickers made from?
Stickers are types of labels printed on paper or vinyl with an adhesive on one side. These materials are pressure sensitive, meaning they stick to a surface once you apply pressure to them. Stickers are available in all kinds of shapes and sizes and they have lots of different uses, from functional to decorative. The material you choose for your stickers depends on what you intend to use them for. Here's a quick summary of what each of our different kinds of stickers are printed on.
Standard stickers & labels
Our circle, square and rectangle stickers and labels are all printed on 190gsm white silk adhesive stock, which gives a thick premium feel with a slight gloss and permanent-adhesive qualities. We supply these on A4 sheets.
Vinyl floor stickers
We print our floor stickers on 95mic white removable floor vinyl, which is a super-adhesive removable stock that's really thin, which prevents tripping and the edges from peeling. Once printed, we then apply a 100mic clear PVC film over the top of the sticker which protects is from fading and scratching as well as making them slip-resistant.
Window stickers
Printed on 95mic removable vinyl, our window and wall stickers are a long-term option, yet easy to remove without any mess. This material will stick on any smooth surface – the possibilities are endless!
Window clings
Window clings are printed on 150mic gloss white self-cling and are designed to be resusable. The beauty of window clings is that, if you don't like how you've positioned your window sticker, you can just peel it off and re-stick it! This material uses the static from your window to stick, rather than an adhesive, so there are no sticky marks left behind after use.
Sticker Delivery Information
Depending on the quantity of stickers you order (i.e. if the package will fit through a letterbox or not), you may get a choice of couriers at the checkout. For smaller orders, you can choose Royal Mail's first class delivery for £2.99 and you will expect to receive them in 1-2 working days after we've produced them. You can also choose DPD standard delivery for £4.99 and they'll be with you 1 working day after production. Check out our delivery timetable here.
How to Remove Sticker Residue
When you've been using a sticker for a long time, it can leave a sticky residue on the surface of whatever it is you've stuck it on.
Although it can be tempting to scratch it off with something sharp, this can cause damage to the surface of your products. To safely remove the residue, we recommend applying an acetone-based nail polish remover to a slightly damp cloth to gently roll the residue off. Use hot soapy water for any remaining residue.
Can I Write on My Stickers?
Your artwork will be printed on A4 label sheets on an adhesive silk paper. This means it is silky paper on one side and sticky on the other. You'll be able to write on the paper side of your stickers easily with a pencil or ball point pen.
How Sticky are instantprint's Stickers?
Our standard stickers are printed on 192gsm white satin matt stock, which has permanent adhesive qualities that make our range perfect for long- or short-term indoor use. You can stick our stickers to cardboard, plastic, walls, metal surfaces, clothing and even plastic and paper bags, making them a fantastic all-rounder to add to your promotional toolkit.
What Is the Best Way to Use My Stickers?
1) Packaging
If you make your own stickers, you've immediately got the finishing touch for perfect packaging. Seal a box with a sticker which reads "enjoy", or personalise packaging with a sticker printed with your logo and the product description. Stickers showcasing your company colours will bring all packaging in line with the rest of your branding. A pop of colour from your sticker will go a long way to spruce up otherwise plain packaging!
Jars, boxes, bags, bottles, wrapping…  however you decorate your product, add your brand's touch to it. Not a product-based business? Placing them on your envelopes or correspondence cards will also add a quirky twist to your communications and instant recognition for your brand.
 
2) Address & Return Labels
Why not design your own stickers to create address labels which are unique to your brand? Use rectangle stickers to write the address of your customer on, or print your own address onto them as a Return Label. It's a much funkier option than your standard label and a fantastic touch for your brand.
Simply leave enough room to scribble down your customers' address when designing your sticker and you've got yourself another amazing way to promote your brand, delivered straight to your customer's door!
3) Name Tags
Hosting an event? Attending a conference? Go old-school and create customised nametags that will spark introductions. Especially useful when there's a gathering of people from lots of different companies and you want the conversation to start flowing. Choose fonts and colours that align with your brand and get talking!
4) Social Distancing
To make sure you've got everything you need to re-open your business safely, we've introduced a new range of stickers, including floor stickers for 2 metres intervals and window stickers to let passers-by know you're open – and any new services you might be offering to help keep them safe.
5) Promote a Sale
Stickers are perfect for attaching temporary pricing to your products when a sale is on. Use bright colours to attract attention and stick on labels, shelves or stands to inform your customers of the saving. Even without a sale on, stickers are the perfect way to price up your products or stick on menus.
Go one step further and make a sticker that simply reads "thanks" to pop on receipts to show customers your appreciation and create a lasting impression after purchase. Check out our free stickers templates to create the perfect design!
How do our customers use stickers?
 "Around Christmas I host calligraphy workshops and have been using the beautiful silk sticker option from instantprint for a luxurious, professional feel." – Dash Designs
Find out more about how Founder of Dash Designs Carla (and her gorgeous little pup, Dashy) use print for their bespoke stationery business here.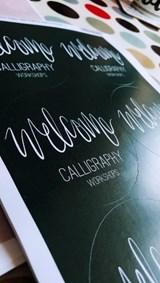 Be inspired: Customer sticker designs
We're always incredibly inspired by your designs – in fact, there's nothing we love more than scrolling through your creations that are tagged #instantprintuk on Instagram. Make sure you use this tag for a chance to be featured on our website, mailers or social media channels!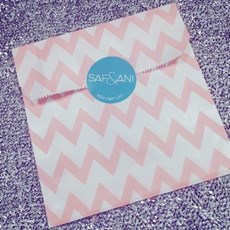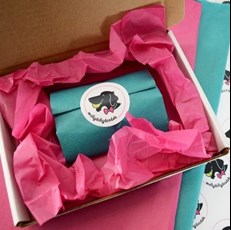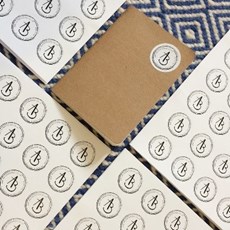 @safandaniboutique                          @mollydollydoodah                             @amie_bradshaw