Updated: 6 June 2022
Hello! Hollie here. I'm one of instantprint's Personal Artworkers, and I'd like to share a quick size guide with you to help you make your design print-ready.

The table below is based on printing a portrait document at 300dpi (dots per inch) – meaning it'll print in really high quality. You can use these measurements to set up your document in your preferred design software program based on what size product you want.
Size Name
Size in mm


(without bleed area)

Size in pixels 300dpi


(without bleed area)

Size in mm


(with bleed area)

Size in pixels 300dpi


(with bleed area)

Business Card
85 x 55 mm
1004 x 650 px
91 x 61 mm
1075 x 720 px
DL / Comp Slip
99 x 210 mm
1169 x 2480 px
105 x 216 mm
1240 x 2551 px
A7
105 x 74mm
1240 x 874 px
108 x 77 mm
1276 x 909 px
A6
148 x 105 mm
1748 x 1240 px
154 x 111 mm
1819 x 1311 px
A5
210 x 148 mm
2480 x 1748 px
216 x 154 mm
2551 x 1819 px
A4
297 x 210 mm
3508 x 2480 px
303 x 216 mm
3579 x 2551 px
A3
420 x 297 mm
4961 x 3508 px
426 x 303 mm
5031 x 3579 px
A2
594 x 420 mm
7016 x 4961 px
600 x 426 mm
7087 x 5031 px
A1
841 x 594 mm
9933 x 7016 px
847 x 600 mm
10004 x 7087 px
A0
1189 x 841 mm
14043 x 9933 px
1195 x 847 mm
14114 x 10004 px
Roller Banners
800 x 2000 mm
9449 x 23622 px
806 x 2006 mm
9520 x 23693 px
A Quick Guide to 'A' Sizes
The table below compares the different A sizes available for printing, giving you an idea of how big your finished print item will be once it arrives. Many people are aware of the size of an A4 sheet of paper, so it may help to picture A4 paper size when thinking about the aspect ratio. Be sure to measure your desired advertising space before printing to ensure your print fits the space.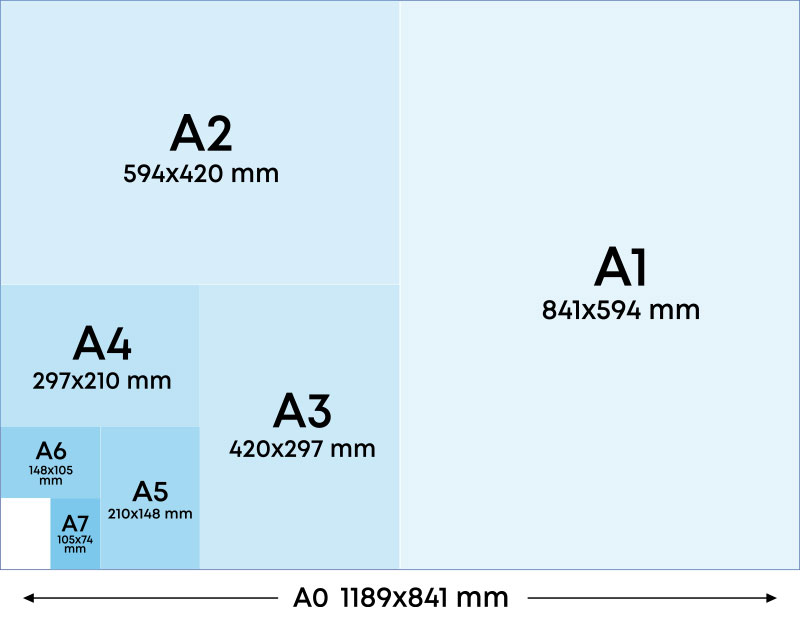 Booklets
We offer booklets in the following sizes:


We also offer a short edge bound stapled and wirebound booklets (in all sizes except DL) which means you will have a landscape booklet. For this, all you need to do is flip the measurements round.

Please note that our thread sewn hardback and paper back books are only available in sizes A4 and A5. If you require a different size of thread sewn book, please get in touch with our account management team who'll be happy to arrange a bespoke print order for you.

Business Cards
We offer business cards in the following sizes: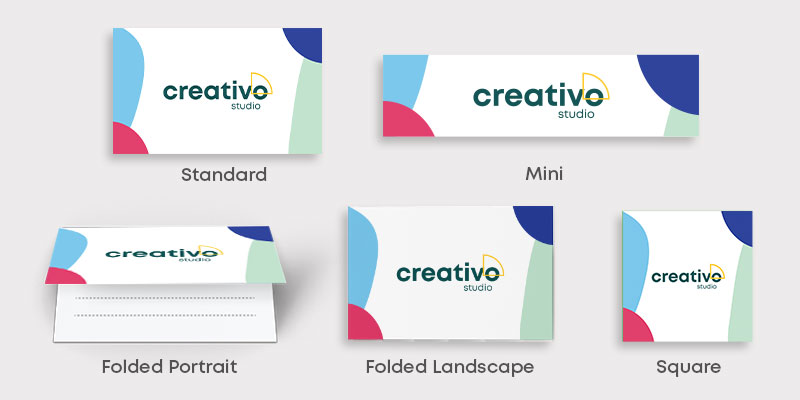 *Standard business card size includes our premium, economy, loyalty, recycled and Kraft business cards.
To see how these sizes compare with international paper sizes, and business cards in the USA and Canada, check out our business card size guide here.

Exhibition Stands
We offer exhibition stands in the following sizes:

We name our exhibition stand sizes in numbers like this because of the amount of panels in each one. All of our stands are split into 3 sections (2 are not fully visible) and the middle section is split depending on how big the stand is.

As exhibition stands are a lot bigger than our other products, we need the resolution to be set at 150dpi.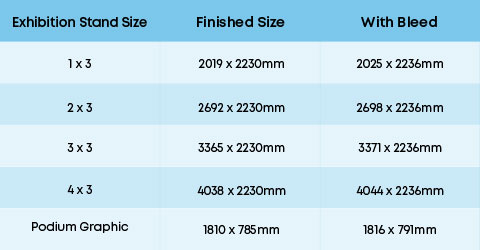 All of our exhibition stands come with a podium. This is to store your stand whilst you're not using it and as a handy table for your event. The podium graphic is the same size for all of stand sizes.
Flags
We offer flags in the following sizes: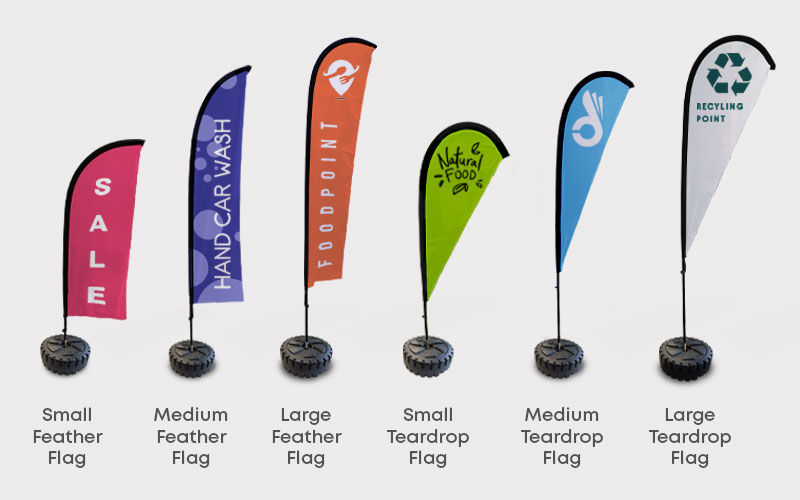 When setting up flag artwork, we recommend using one of our templates and filling the entire area with your artwork.
In the table below, we've listed the total area of the artwork which is what we will print before your flag is cut and the visual area is the part that you will see once the flag is finished.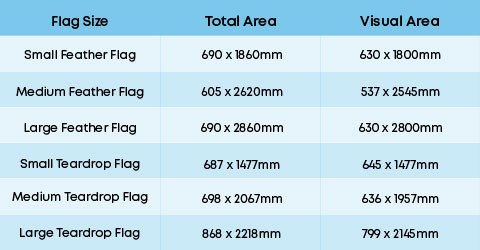 Flyers & Leaflets
We offer flyers and leaflets in the following sizes and styles: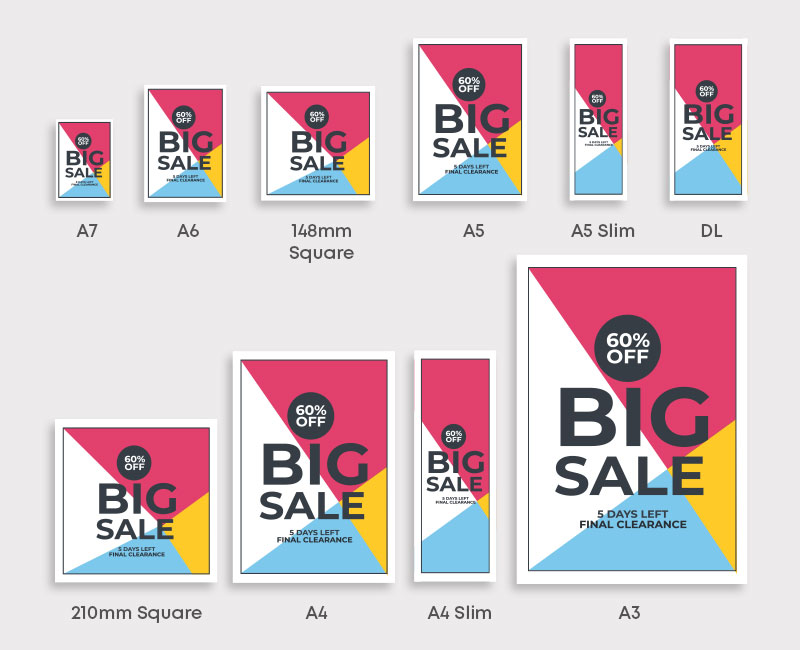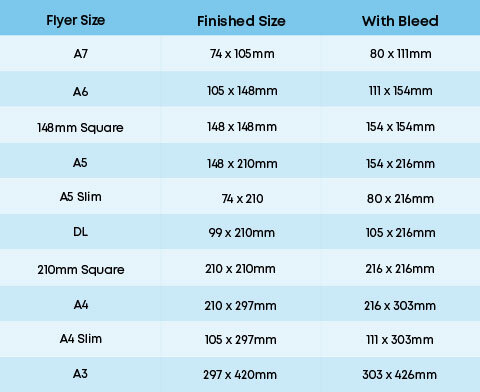 Folded Leaflets
We offer folded leaflets in the following sizes and styles: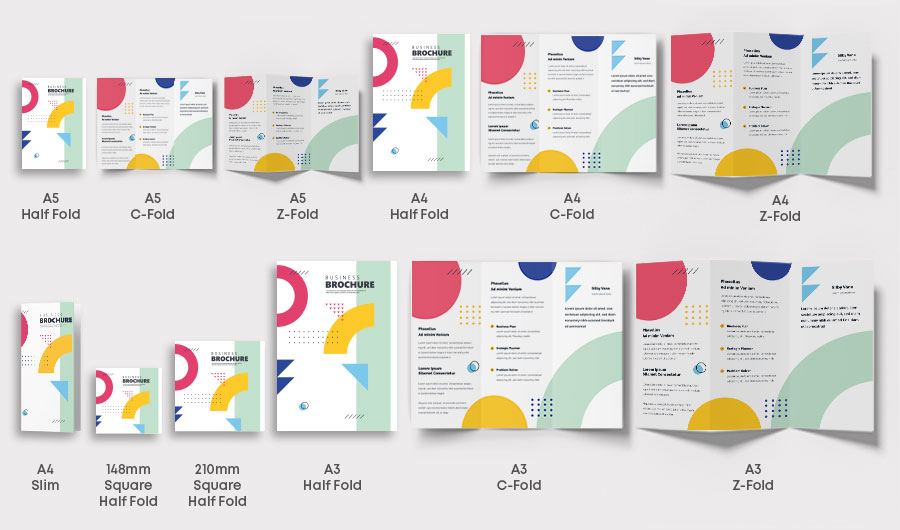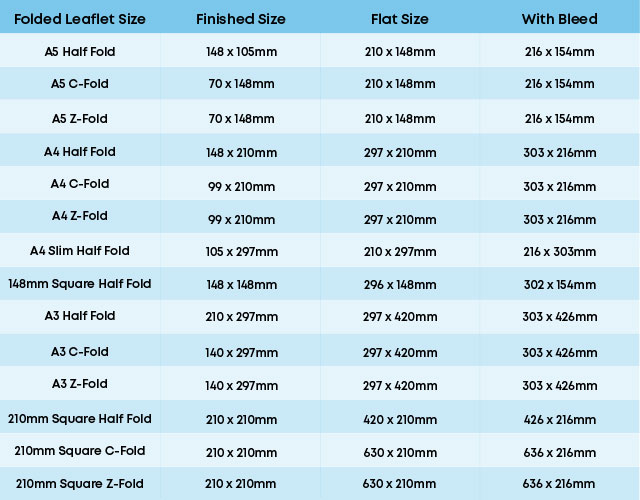 Posters
We offer posters in the following sizes: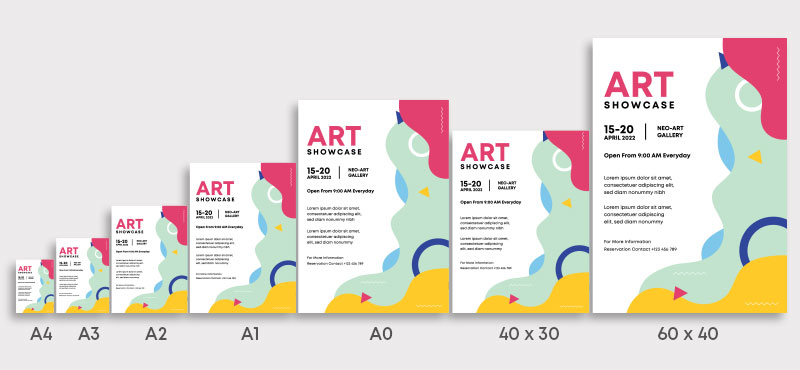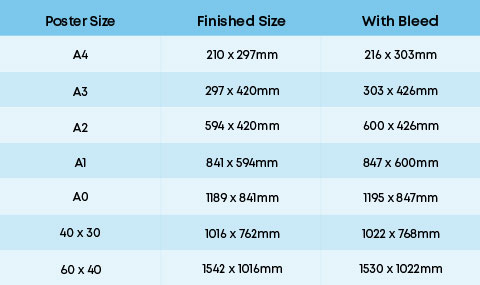 Indoor and outdoor poster frames are available in sizes A4, A3, A2 and A1. Pavement style A-frames are also available in sizes A2 and A1.
Roller Banners
We offer roller banners in the following sizes: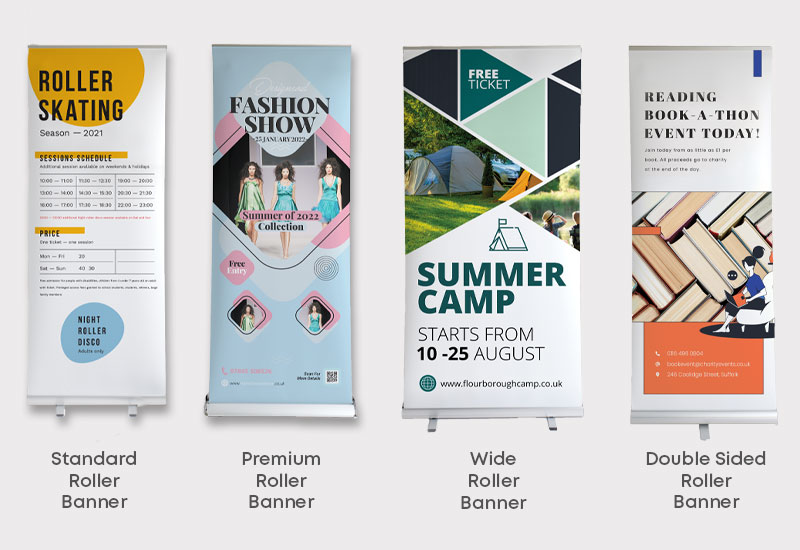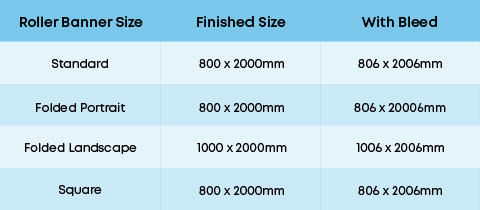 Signage
We offer signage in the following sizes: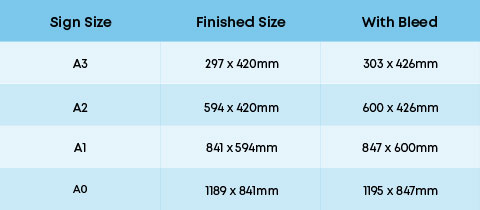 Stickers
We offer stickers in the following sizes and shapes: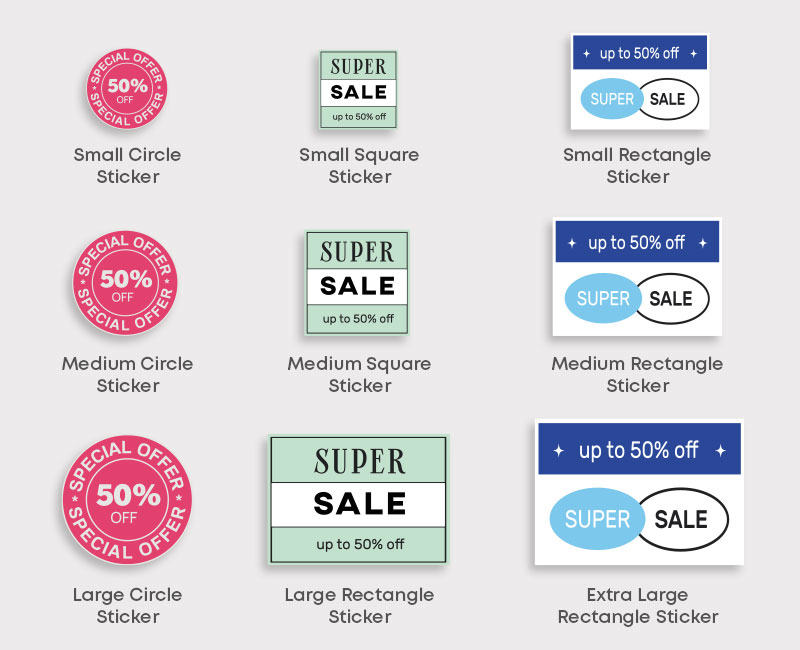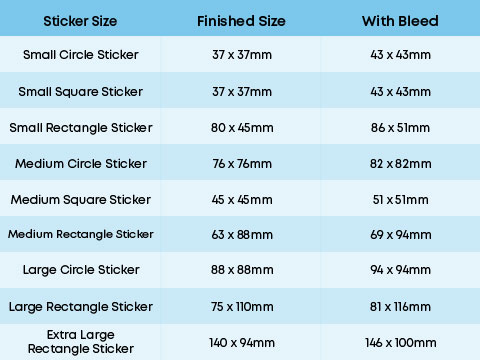 When setting up your circle sticker artwork, please set it up as a square. For example, for a 37mm circle sticker, please set your artwork up as a 37mm x 37mm square and keep important information away from the edges. The corners will act as your bleed area.

Top Tips
Set your document size before you start designing; getting your prep right is so important for fantastic print
You can also look at the product you want on the website to find the exact sizes in mm
Need More Help?
If you'd like more advice on choosing the right size product for your print needs, please get in touch with our client service advisors who'd be happy to support you. Alternatively, our free sample pack features of a range of popular products in a variety of sizes. You can order a free sample pack here.
Shop the Products in the Blog...