Does size matter? When it comes to your business card, definitely! We all have different requirements from our business cards, whether that be the amount of information we want to include or the quality of the stock that they're printed on. With a wide range of options available, printed double or single-sided, it's important that you find the size or stock that's right for you and your business.
To help you do this, we've put together a handy guide to our business cards sizes and stocks. From fun and folded to mighty mini, there's a style to suit all.
Premium
Dimensions: 85mm x 55mm
The standard business card size is 85mm x 55mm, making our premium business cards the perfect fit for any wallet or business card holder. Similar in size to a credit card, it will always be on hand to whip out whenever you see an opportunity to network. Choose between regular or rounded corners, and add Spot UV to make your card extra special.
Stock: Ultra-thick 450gsm Silk
Top tip: Add a special glossy, matt or velvet coating to give your business card design the edge.
Economy
Dimensions: 85mm x 55mm
Although our cheapest business card, our economy range doesn't compromise on quality. We use the same stock as our competitors' standard business cards to create a luxury feel at a cheaper price. They're standard UK business card size, so they'll fit easily into your new contact's wallet! If you choose rounded corners, here's what your artwork will look like.

Stock: 350gsm
Top Tip: Our economy cards are uncoated, meaning they work wonders as loyalty cards too, so why not reward your customers for their valued repeat business?
Square
Dimensions: 55mm x 55mm
These days, it's definitely hip to be square! At least where your business card is concerned! This stand-out size is quick to grab the attention of any potential clients or investors. As it's the same depth as the standard business card, there's more than enough room to include your contact details, as well as your logo, Facebook name or Twitter handle.

Stock: Heavyweight 450gsm silk
Top Tip: Go double sided with your logo featured on one side and your contact info on the other.
Mini
Dimensions: 25mm x 85mm
Our slim-line card may be small but it's sure to make a big impression! With its modest and unique specifications, there's just enough space on the mini business card for all your vital details. This unique shape is sure to help you make a winning first impression – especially if you add a special laminate coating for a glossy or matt finishing touch.

Stock: Top-quality 450gsm silk
Top Tip: Use your mini as a social media calling card to boost your following. Have your Instagram name or Twitter handle on one side and your business name and tagline on the other.
Folded Business Cards
Dimensions: short edge 170mm x 55mm, or long edge 110mm x 85mm
Our folded business cards are guaranteed to stand up and stand out. With four printed sides rather than the standard two, they're great for appointment cards in hair salons or doctor's surgeries.

Stock: 350gsm silk and 350gsm uncoated
Top Tip: If you're planning on making your own appointment cards, we'd recommend choosing an uncoated stock. That'll make them a lot easier to write on!
Loyalty Card
Dimensions: 85mm x 55mm
Printed on uncoated stock, these custom loyalty cards are specially designed to enhance your customer loyalty or rewards programme. You won't have to worry about pen or ink smudges with this super-absorbent stock. And at standard business card size, customers can keep them in their wallets at all times!

Stock: 350gsm uncoated
Top Tip: Create an offer that encourages repeat buying – like make 9 purchases and get your 10th free.
Recycled
Dimensions: 85mm x 55mm
Looking for an eco-friendly alternative at the same size as a standard business card? You don't have to compromise on quality with our 100% recycled business cards printed on a sturdy 350gsm paper. The perfect choice if you want to make business communications a little greener. Printed on uncoated paper, they're ideal for appointment and reward cards that'll last.
Stock: 100% recycled 350gsm uncoated silk
Top Tip: Because these cards are uncoated, it also means they can be recycled too.
Kraft
Dimensions: 85mm x 55mm
With their iconic earthy brown shade and rustic touch, our Kraft business cards are a trendy and modern alternative to classic silk paper. Perfect for that handcrafted look with a professional finish. These custom, standard-sized business cards would best suit café and restaurant owners or crafty businesses.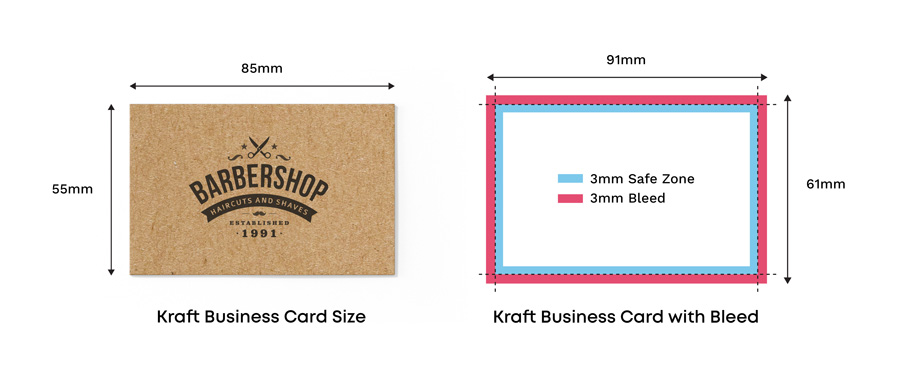 Stock: 457mic Kraft board
Top Tip: We recommend only using dark colours on Kraft due to the brown texture of the paper. Lighter colours will not show through as brightly.
Metallic
Dimensions: 85mm x 55mm
The metallic business card is dressed to impress and will add a touch of 'dazzle' to your networking. Printed on a shimmery stock, this style is well suited towards wedding caterers, craft businesses and anyone in the creative field. And at standard business card size, it'll look great in your client's wallet.

Stock: 350gsm Ice Gold
Top Tip: If your service is tailored to entertainment or leisure, the Metallic will help to enhance the feel of luxury and fun.
Now you're an expert on business card sizes, why not have a go at our highly accurate quiz, 'Which Business Card Are You?' And while we're on the subject of sizes, have you seen our Guinness World Record breaking big business card?