Foil Printing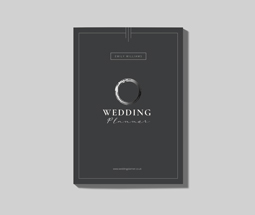 Five sizes to choose from
A premium booklet printing option
Different inner page types to select from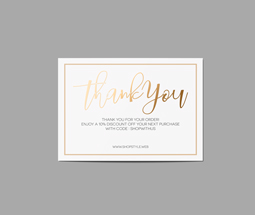 Printed at A6 size
Coated in a single sided matt lamination
Choose from Gold, Silver or Copper foil.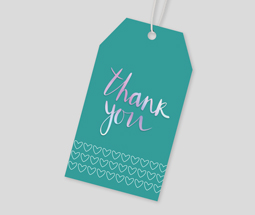 Add more luxury to your gifts
Parcel and Swing tags available
String included for attaching to gifts
Setting Up Your Artwork for Print
How to Make Print-Ready Files in Photoshop CC
Setting up your document is the first step in designing your own print materials, but it can be daunting if you've never done it before. How do you add bleed? What resolution should it be? Not to fear, we've slowed the whole process down and taken it step-by-step to show best practice and answer your questions. In this video, we'll show you the best way to make a print-ready PDF with bleed using Adobe Photoshop CC, including how to add bleed, inserting images and exporting the document as a PDF so it's ready for print. For more artwork and design help, check out our artwork guides here.
Our Inspirational Blogs
Frequently Asked Questions
How Does the Foiling Process Work?
After we've printed your artwork, we'll apply a layer of spot gloss to the area of your design you want the foiling to be. This is a slightly raised gloss that the foil sticks to.
A foil sheet is then applied to this area and cured under UV light. The curing process essentially sticks the foil to the areas of your design where gloss has been applied.
Why is Foiling Only Available with Matt Lamination
Foiling is available on matt laminated stocks because this gives the best contrast in textures.
How Do I set My Foiling Artwork Up for Print?
Creating a foiling design requires a little more work than normal artwork because you'll need to create multiple files. Here's the simplest way to do this.
Create your artwork as normal and save it as a PDF. Then, delete any elements you don't want to have foiling on. You'll need to delete the background or set it to transparent so your entire design isn't covered in foil.
If you want any other foiling elements that aren't part of your original artwork – like a background pattern or border, add these now.
Then change all these elements to a bright colour, like orange, so our team knows which areas to apply foiling to.
Save with the same name as your original file, but with _Foiling at the end, e.g. Business-Card_Foiling.
For more advice, and to see some examples of what your foiling artwork might look like, check out our Foiling Guide here .
Do you offer double-sided foiling?
We recognise the importance of high-quality print for our customers, which is why we never send out any finished product that doesn't meet our gold standard. When we apply foil to our print, it must be cured at a high temperature to set it into place. When we apply heat to the second side for double-sided foiling, this can leave the first side looking less than perfect. For that reason, we don't offer double-sided foiling.
What Are the Best Ways to Use Foiling?
The beauty of custom foiling printing is you get to choose exactly where you want your gold or silver foil to go! If you're not sure, or want some more ideas, here are some examples of ways you can enhance your design with a foil finish.
Foil logo – adding foiling to your logo is probably one of the most common ways foiling is used. Why? Because it looks fantastic! And it's pretty easy to do. If you want foiling added to your logo, our team can do this for you – just get in touch with us here !
Foil border – Although we don't recommend using foil all the way up to the edge of your print, adding a border 3mm away from the outside edges is a great way to frame your design, and add a minimalist (yet classy) gold or silver accent.
Repeated background pattern – from flecks to spots and stripes, using foiling to create a pattern is never a bad choice!
Foil icons – if you include social media icons and a telephone icon, add gold or silver foiling and your all-important contact details will be impossible to ignore.
‍