What is Foiling in Printing?
Foiling is a finishing technique where heat, pressure and glossy UV are used to bind a thin film of metal (foil) to paper or card. Foil printing is generally used to create a memorable and high-quality finish and is popular for premium businesses' print and wedding stationery.
It's applied to specific sections of a design rather than the whole design, meaning you can use it to highlight text or logos against a contrasting matt background.
If you're looking for new ways to help your print stand out, there's nothing quite like gold and silver foiling to achieve that luxurious look and feel you're after. If you don't know what foiling is or you want to learn more about it and the different ways you can use it to enhance your wedding invites, business cards and more, we've got it all covered in this blog – here's everything you need to know about foiling in printing.
What Foiling Colours Are Available?
Print foiling is available in a range of different colours, from classic gold and silver to red, blue, green and even copper and holographic. We currently offer the ever-popular gold, copper and silver as well as festive red and green, bright blue and holographic – but watch this space for new arrivals!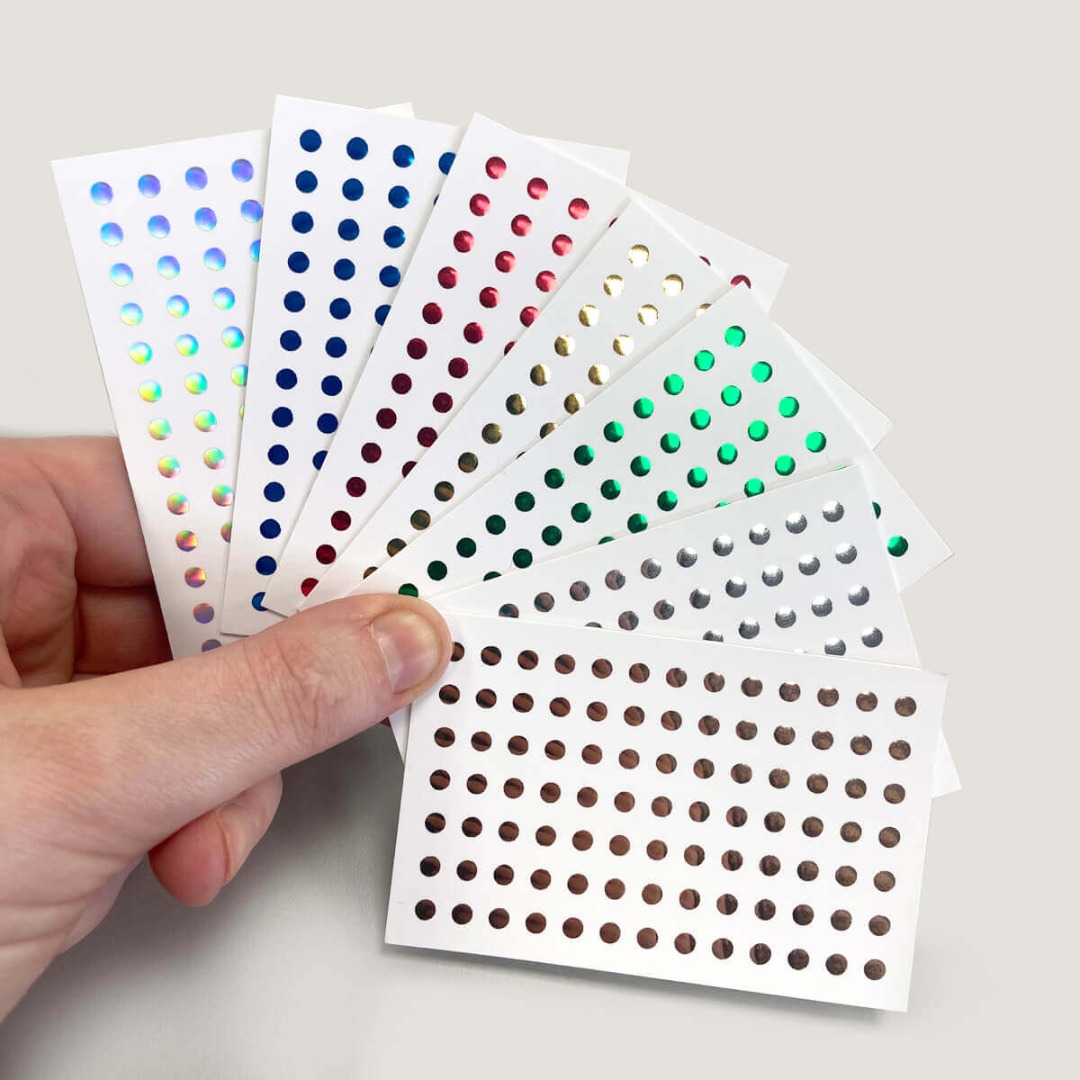 What Are the Benefits of Print Foiling?
People add foiling to their print designs for a range of different reasons – here are the tops ones:
To stand out
Let's face it, when your print looks this good, you're bound to stand out! One of the main benefits of using foiling for your print is that there are loads of ways you can use it to make your print stand out. The perfect way to differentiate yourself from competitors, foiling is sure to make your customers pay attention.
Premium branding
When was the last time you wanted your brand to look 'average'? Our guess: never. When we see gold and silver foiling, we can't help but think of luxurious metals, which is why adding a touch of sparkle to your design can never do any harm to the quality of your print.
Highlight key details
Just like magpies, our eyes are naturally drawn to reflective, shiny things. Foiling is applied to certain areas of a design, so you can pick and choose which parts you want to make stand out, be that your logo, contact details, or a snazzy background pattern that ties together the whole look of your design.
Celebratory
From a New Year's party to a wedding or even your company awards night, there's nothing like adding a touch of gold or silver to ramp up the celebratory tone. There's a reason foiling is always used on birthday and Christmas cards – it's the perfect touch for a special event!
How to Use Foiling to Enhance Your Print Design
It's easy to see foiling and want to add it everywhere, but as is often the case, less is definitely more with this gold or silver finish. Here are a few foiling print examples to give you some ideas of where to apply it to your design.
Add it to your logo
Gold foiling works beautifully on these white and black business cards for an interior design business. In this example, we chose to add foiling to the majority of the logo, but you can add as much or as little as you want.
Foil a background pattern
This design uses foiling everywhere! Including the logo and a stunning star pattern.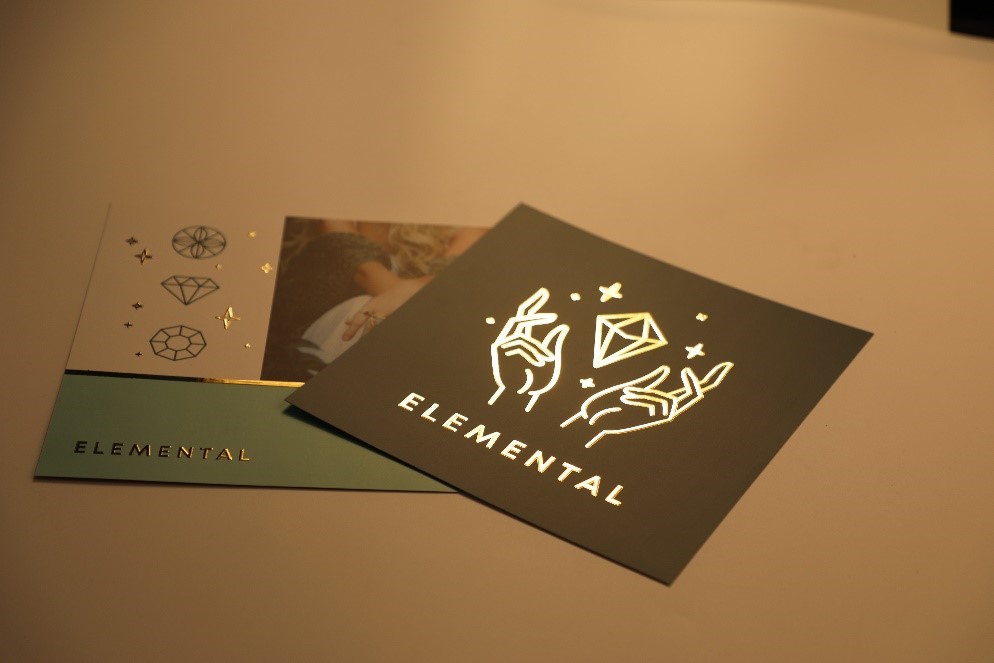 Add it to text
Foiling works great on text that's 8pt or bigger. You can use it on any kind of text, from your business's name to your contact details, but we love this silver foiling example on a swirly cursive font.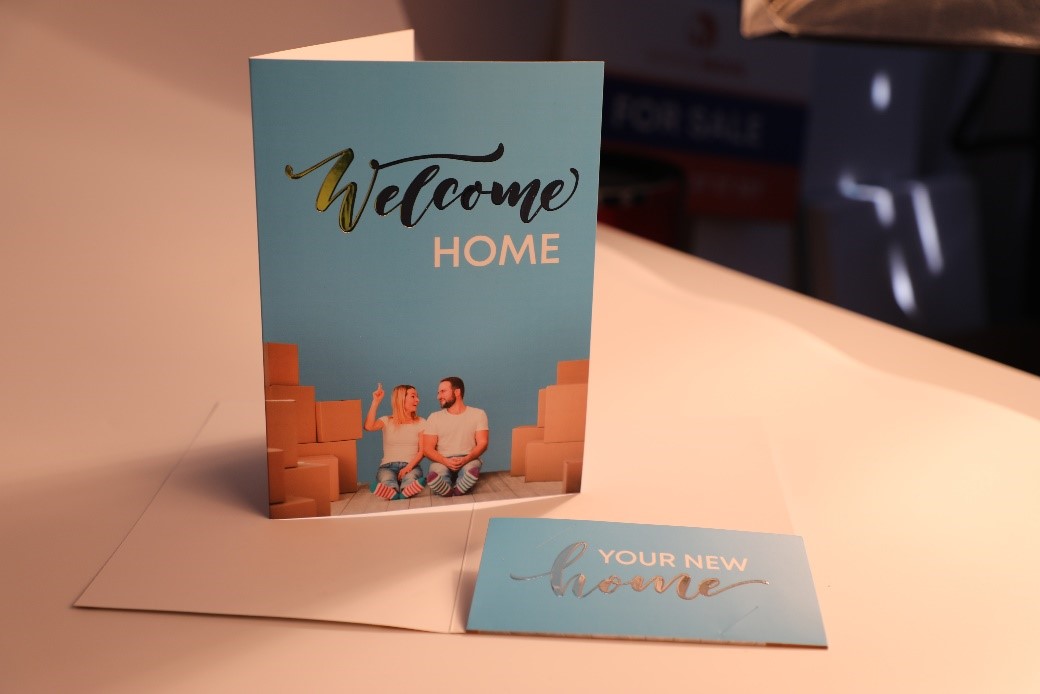 Enhance an image or background
Adding foiling directly to your background to create or add to a pattern is also a fantastic use of this type of finish – like this intergalactic space scene!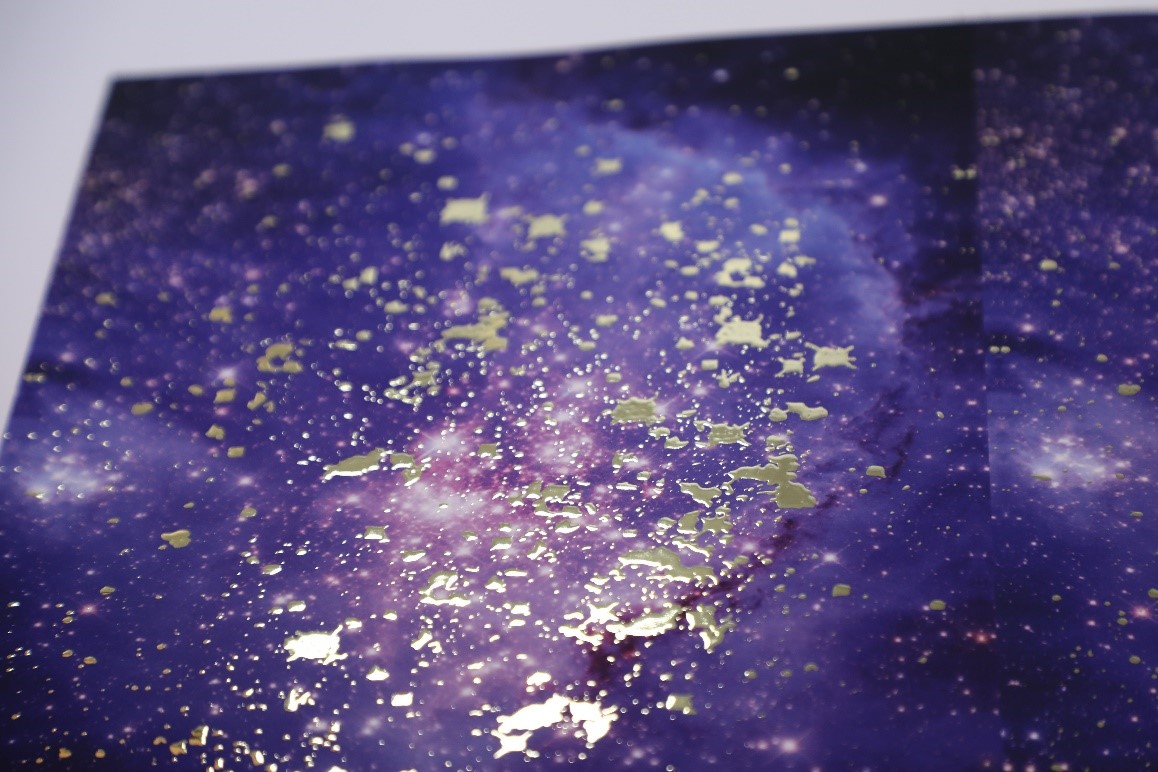 What Print Items is Foiling Available On?
Now that you've seen our foiling examples and heard about all the cool ways this gorgeous technique can be used, we bet you can't wait to start creating your own design with foil printing. You can find the foiling option on the following products with 350gsm or 450gsm silk stock and matt lamination:
How Do I Add Foiling to My Order?
It might look complicated, but adding gold and silver foil to your print design is actually pretty simple! For easy instructions on how to set up your foiling artwork, check out our full foiling artwork guide here.
If you'd like some more help or advice on print foiling, get in touch with our team and we'll be happy to help you choose a foiling, pick a place on your design where it'll look awesome and we can even set this up for you for free if you'd prefer us to do if for you! Or check out our full foiling range here.