Once your design is ready to go, the only thing left to do is send it to us and approve your proof! If you're not sure how to upload your artwork, what a proof is or what you're supposed to look out for when checking your proof, we've got it all covered in this handy guide.
Uploading Artwork Online
For the majority of our products, you can upload your artwork through our website using our free online proof-checking tool. Here's a quick step-by-step guide on using this tool to upload your artwork.

STEP 1: Add your product to the basket
Pick your size, stock and quantity, then add to basket!
STEP 2: How would you like to supply your design?
Here you'll have a few different options for supplying your design; you can either upload your finished design, or view our range of artwork options, which includes design online for free and our in-house graphic design service.

Upload a complete design
Simply choose your artwork file from your computer and upload! File not uploading? Make sure you're using the right size and file format.
Customise a free template or create your own design
These options will take you to our design online tool, where you can either create your own design from scratch or customize one of our free templates. Here's a full guide to designing online to get you started!

STEP 3: Are both sides of the design in the same file?
Uploading a double-sided product like a folded leaflet? Here you will need to select whether the front and back of your design is in the same file (e.g. a PDF) or separate files (e.g. 2 JPEG images). This is an important step as the next window will either ask you to upload one file or two sides.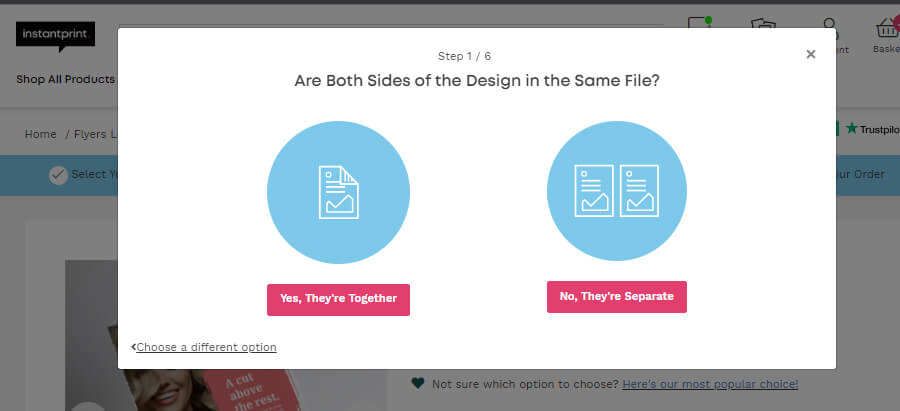 STEP 4: Creating your proofs
At this stage, your file is being uploaded to our proofing system. Here, we check that everything's set up to print perfectly, like colours, resolution and bleed area. Don't worry if your artwork is not setup in CMYK (the colour mode used for printing); our tool will automatically convert them!

Creating proofs can take a while depending on your file size. If you are waiting at this stage for longer than 30 minutes, get in touch and we'll email across your proof to you instead.
STEP 5: Download and Check Your Artwork
Here you'll be asked to download your proof. Once you've checked them over and made sure they're exactly as you want them to be, continue to summary to confirm that you're happy with the proofs. If you need any extra help with checking your proof, check out our proof checking guide. You'll then be asked to tick to confirm that you've downloaded and checked your artwork – and all that's left is to click 'Approve for Print'. Now that your artwork is approved in your basket, you can proceed to checkout!

What do the autocorrect options do?
Original – this keeps your artwork the same and places it directly onto the product of your choice. If your artwork doesn't fit the size of the product you've chosen, you'll be able to see a white border around it.
Fit to finished size – fits artwork to the trim and automatically adds 3mm bleed. This means that when we print and cut your artwork, there'll be no white border. This is the best option to choose if you haven't already added bleed to your artwork.


Uploading Artwork from Your Basket
If you choose to continue shopping after you've added something to your basket without uploading artwork, you can still add your design to your order at in the basket. Once in your basket, choose to either upload and proof your artwork or create a design online using one of our free templates. To proof your uploaded artwork, click 'Proof ready to view' in the basket and then follow step 4 of this guide.

Sending Your Artwork to Us Via Email
Some of our products aren't as easy to create a proof for as others, especially things with multiple pages and customizable flaps (like booklets and presentation folders). That means a member of our team will need to create a proof manually. He's how to complete this type of order and receive your proof.
STEP 1: Place your order without uploading artwork
If you need to email your artwork into us after placing your order, once you've added your print item to the basket, you'll get this notification: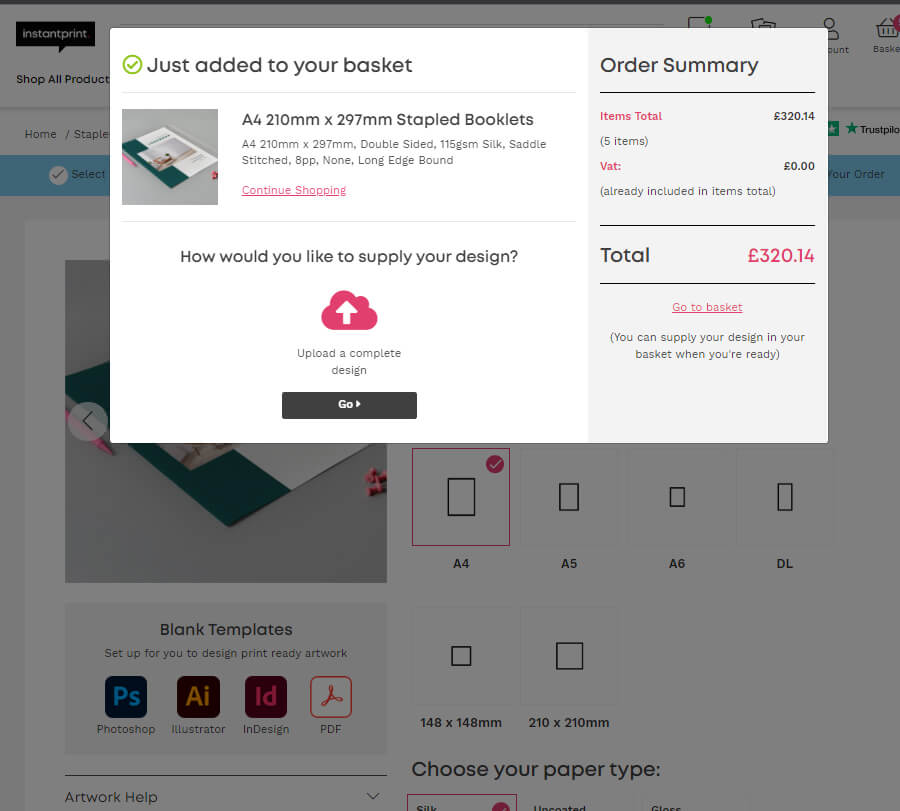 After you've placed your order, you'll get an email with your web order reference number.

STEP 2: Email over your artwork
Using your web order reference number as your subject line, send your artwork to us via email at artwork@instantprint.co.uk.
Please note: if your file size is over 20MB, you'll need to use WeTransfer.com to send your artwork to us. To do this, simply go to WeTransfer.com, upload your artwork and send to us at artwork@instantprint.co.uk with your web order reference number as the subject line.
STEP 3: We'll send you back your proofs to check and approve
A member of our team will aim to get your proof back to you within two working hours. To approve your proof, simply reply to the email to let us know you're happy with the final artwork.

Checking Proofs
Before we can print any job, you've got to approve, or 'proof' it – this is really important to make sure what's printed is exactly what you want. Here are a few examples of what your proof might look like.
Stickers
Flyers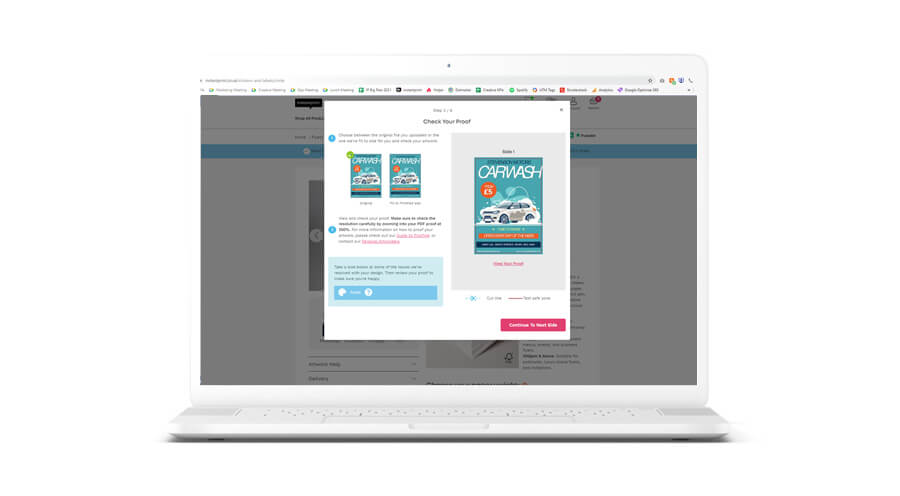 Double sided print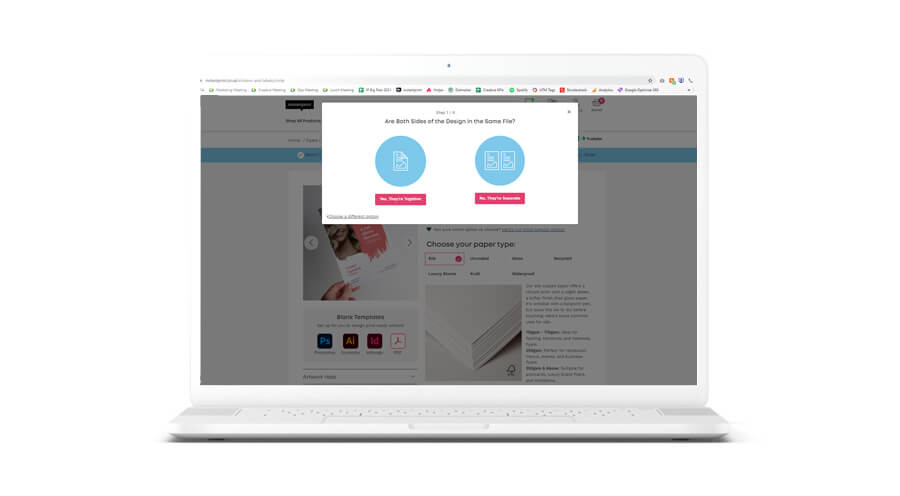 Manual proofing message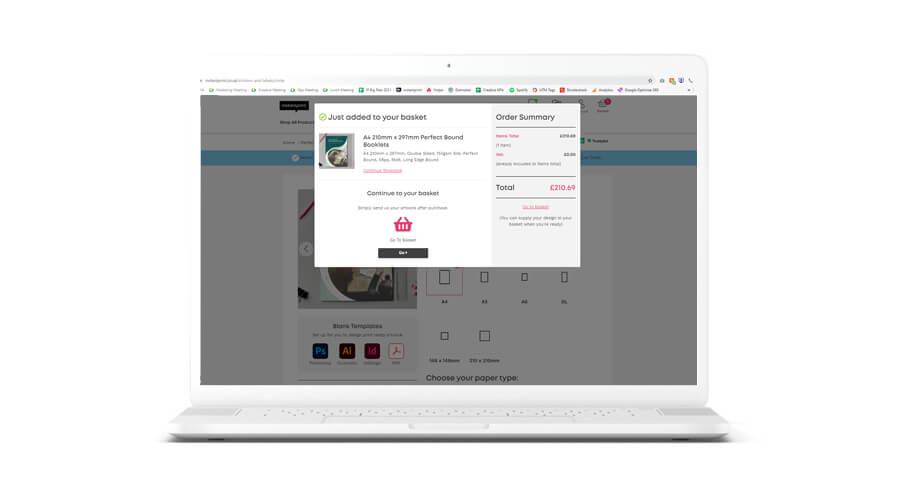 Key areas to check:
Spelling, grammar and punctuation
Contact details (phone numbers, names, email addresses, dates, times)
Legibility
Pictures and logos (are they sharp enough?)


Spelling, grammar and punctuation
Very often, a designer will retype information they've been supplied when creating a proof. That's why you need to check every element of the design to make sure it's correct.


Size & legibility
When you're designing your product, it's common to zoom in to check all the details. For example, when you view a business card, you might be zoomed in at 200%, meaning the text looks a lot bigger than it would in the final printed product. It's a really good idea to zoom out and view your design at the final printed size to check that all the text is legible and easy to read.


Pictures and logos
If you've supplied us with your own pictures or logo, it's worth checking that they'll print clearly. Always use the highest quality pictures you can and avoid scanning existing printed products, like business cards, and using those scanned images for your design. If you need some more help with this, we have a handy guide on resolution here!


What we check
Although we can't check for things like spelling and dates, there are 10 key checks out Proofing team performs before setting up your artwork for our printers. This is a free manual artwork check we use on every single design you send us to make sure your artwork is print-ready every time.
If we spot any issues that we can't fix at this point, we'll get back to you with some advice on what to do next.