Shop by Booklet Binding Type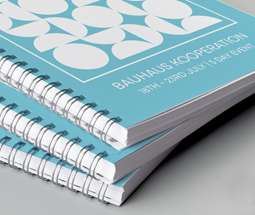 Wire bound personalised notebooks
Uncoated writable stock
Delivered within four working days
Wire bound (silver wire)
Pre-designed 2024 diary inner pages included for free
Delivered within four working days
Staple bound
Printed on traditional uncoated silk
Delivered within two working days
Our Booklet Customer Reviews
Our Inspirational Blogs
Frequently Asked Questions
How Do I Make a Brochure?
Creating a document with multiple pages can be a little daunting, especially if it's a business brochure which is designed to show off a lot of important information. But it doesn't have to be, we promise! Our step-by-step guide shows you how to set up the artwork for your booklet online for print in a range of popular design programs, such as:
Microsoft Word
Microsoft Publisher
Apple Pages
Google Docs
Adobe InDesign
How to Make a Booklet in Word
This easy-to-use and common tool is ideal for those wanting to make a simple yet effective booklet design themselves. It requires very little design or technical know-how to create one yourself. Setting up your promotional booklet is easy – simply change the layout to multiple pages, select the "book fold" option, increase all margins by 3mm and away you go!
Depending on what size booklet you're designing, you'll also need to change the paper size. Don't forget to tick the boxes to show Ruler and Gridlines as these come in particularly handy! Need more information? You can view the full step-by-step guide here .
How to Design a Marketing Brochure in InDesign
If you're stepping up your design game, then InDesign is a great tool to do this with. Once you've mastered it, it's an impressive skill to have. This specialist piece of software allows you to create almost anything – including your next printed marketing brochure design!
Start by creating a new document and choose your desired size from the pre-set options available. Add your 3mm margin, select the number of pages you want, tick facing pages and away you go!
Need more help with using InDesign? Don't worry, our in-depth guide can give you further advice, as can as our experienced customer service team , who are happy to help with whatever questions you may have.
What Sized Brochures & Booklets Are Available?
Both our stapled and perfect bound brochures come in six sizes, meaning there's plenty of options available to ensure you find the perfect size.
A6 brochures are perfect for handy mini guides and compact instruction manuals
A5 booklets are a popular choice for recipe collections, menus or product catalogues, since they are small enough to pop in your bag with plenty of room to experiment with design
A4 booklets have ample room for all the information you want to get across. Play around to find the perfect format since there's plenty of space for a dramatic, informative and gorgeous brochure
We have two sizes of square booklets , 140mm and 210mm which are ideal for estate agency booklets, programmes or corporate magazines
DL brochures are our sleekest option, with a slim line shape for a professional flair and elegant finish
What's The Difference Between the Binding Options?
Different binding types suit different needs. They also take different amounts of time to complete. Here's a quick run-down of what the different brochure printing binding types means.

Stapled (AKA stitched) – Books are bound with a long metal wire that's folded, a bit like a more advanced staple. This affordable option is best used for magazines and sales brochures.
Perfect bound – The pages are glued to a spine, creating a clean, polished finish resembling a paperback book. This quality booklet is perfect for high-end magazine printing, catalogue printing and prospectus printing.
Wire bound – This book is bound with a silver coil. It has a hard back and front cover, and is ideal for activity books, manuals and diaries.
Our in-depth article explains all about each process and which we would recommend for each product.
How Do I Place an Order of Booklets?
We like to set up your artwork up manually for booklets, so we ask that you send your artwork to us after placing an order.

1. Place your order without artwork
2. Send your artwork to us at artwork@instantprint.co.uk with your web order number as the subject line
3. We'll send you a proof ASAP
4. Approve your proof for print
If your file is bigger than 20MB, you'll need to use WeTransfer.com to send your artwork to us.
What Does 'pp' Mean?
When we say 'pp', for example a 40pp booklet, this is short for 'printed pages'. When you design booklet artwork for print, you'll have to create a design for both sides of every piece of paper. A printed page is one side of the piece of paper. So, a 40pp booklet will only actually have 20 physical pieces of paper in it. Your front and back cover are included as part of this.
Why Do Booklet Pages Go Up in Fours?
Due to how our booklet pages are bound together, page counts for printing are in multiples of four. After printing, the pages are folded and then bound together to create the book. The folding is what creates four pages – a front page, two middle pages and a back page.

How Are Booklets Made?
We decided to give our customers a sneak peek at the process our products go through, from applying your booklet design all the way through to dispatch.
Take a look at how we utilise the latest technology in our 100,000 square ft production facility to ensure the best products possible are delivered to you. In this video , you can see one of our impressive Heidelberg presses, our Muller Martini booklet maker as well as one of our Polar guillotines in action.
Our facility is based in South Yorkshire, which means we can offer brochure printing in the UK with fast turnaround.
What's the Difference Between a Booklet and a Brochure?
The booklet vs brochure argument is about as old as the bap vs cob vs breadcake argument – and when it comes down to it, they're basically the same thing. Some people prefer to call them booklets and others prefer to call them brochures, so we use both terms to help both groups of people find the print product they're looking for.
What Do Our Customers Think?
Looking for inspiration? We find there's nothing quite as inspiring as the booklet designs our customers create. Here are just a few of our happy customers' booklets! Fancy being featured on our website? Make sure you tag us in pictures of your print on Instagram using @instantprintuk or #instantprintuk.