When it comes to booklets, there are so many possibilities as to what you can use them for. Whether you need a corporate brochure or a fun magazine, they provide you with a generous amount of space for detailed content.
But when there's this much opportunity to grow your business, where exactly should you start? To help give you a few pointers – and a little marketing inspiration – we've collated some of our favourite ways to use booklets, including some of the ways our marketing team uses them, for the biggest impact!
Product Catalogues
There's something very satisfying about flicking through the pages of a product catalogue. In a world dominated by online shopping, sometimes it's nice to cast your eyes over a thick, perfect bound brochure rather than clicking through a website.
Whether you need them to give out as a marketing tool at your next exhibition or as a mailer to promote a new seasonal range, a product catalogue could be just the ticket.

(graphicriver.net)


We recommend printing your product catalogue on a perfect bound booklet or a stapled booklet, depending on your marketing budget. Perfect bound books are glued to a spine, for a polished, professional finish. Stapled books are cheaper, but just as sturdy with a metal staple keeping the pages together.
Make sure you use high quality images of your products, with brief descriptions and the price, as well as where your customer can find them on your website. This gives the reader everything they need to know to go on to make a purchase after receiving your catalogue.

Flicking through our Christmas 2019 catalogue, printed on a landscape A5 stapled booklet
Want some inspiration for what to put in your next product catalogue? Download the eBook version of our Christmas 2019 catalogue for free here.
Branded Magazines
Whether it's a monthly newsletter or a handy guide for your customers, using a booklet as a magazine gives you the opportunity to really engage with your customers on topics that interest them. We're particularly big fans of the Waitrose Kitchen magazine which strikes the perfect balance between content and promotions.
(45worlds)
Glossy magazines show your brand off in the best possible light, and give you a chance to showcase all the hard work your team has been putting in, as well as giving your customers space to shine too! Play around with feature articles that are relevant to your business, your industry and your customer base to create a riveting read.

The first ever issue of our VIP magazine, featuring the team dressed up as Co-Founders Adam & James for instantprint's 10th birthday

We send out magazines to our very top VIP customers as a thank you. This gives them an exclusive look into our Yorkshire-based HQ, including the high-tech machinery that we use and what new products and features we're about to add to our range. Giving customers an exclusive look into your brand's world is a great way to build loyalty.
Staff Handbooks
In every organisation there are various training and procedures that staff members need to be aware of. Use a handy booklet as a go-to manual; include corporate values and the history of your business, or perhaps turn it into a workbook filled with eye catching info-graphics and training activities.
(bpando.org)
Whenever a new colleague starts at instantprint HQ, we'll send them a folded with a small perfect bound booklet inside – this is the handbook that tells the new employee everything they need to know about working for us. Perfect bound is an excellent choice for this as it's the hardiest of booklet printing options, so it's built to last!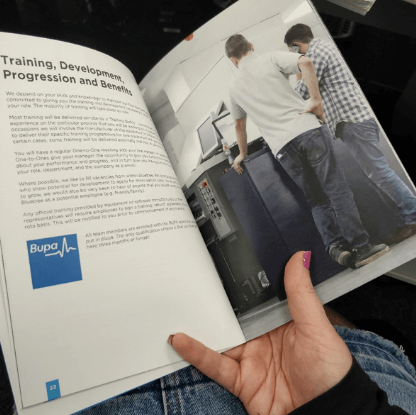 Training and development benefits explained in the staff handbook
Coffee Table Books
Another fantastic use for booklets is to send them out as look books or coffee table books – especially if you're a creative business or have lots of fantastically talented customers like we do!
These are very visual, very easy to flick through books that show off your (or your customers') designs. We recently created a booklet called Bright Ideas, showcasing the different ways our customers use print. Not only did this build excitement for our featured customers, but it also gave others inspiration for their own print designs and uses.
Want a closer look? You can download our Bright Ideas book for free here!
Activity Books
If your customer base is targeted towards parents or children then why not produce an activity book as a little bit of fun? Ideal for use in cafés, playgroups and family-friendly restaurants, a good old colouring book or word search is bound to go down a treat. You could even throw in a voucher for the adults too!
(Heidi's Pies)
We get that our small business customers have a lot of pressure, so to help them de-stress during the work day, we sent an activity book filled with brain training activities. We used word searches, challenges and even sudoku – all quick activities that take your mind off work and give you a short break, ready to come back to whatever task you're completing with fresh eyes. And proving you don't need to be a kid to enjoy a good puzzle!
Have you got an interesting or alternative use for booklets? If so, we'd love to see them! Tag us on Instagram and Twitter using @instantprintuk or #instantprintuk.