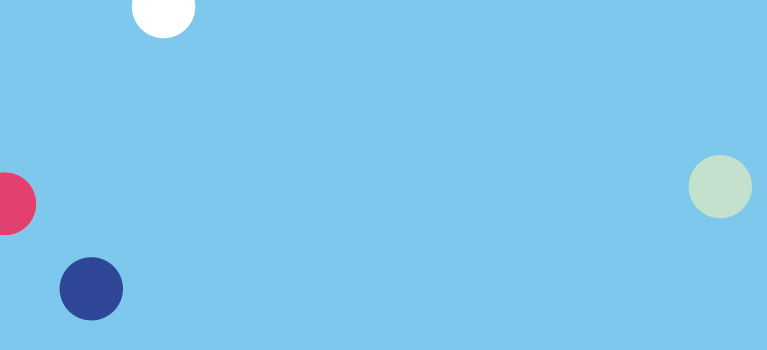 Point of Sale & Large Format Printing
One of the best ways to build up your brand identity is by showing it off! Get your name out there with our collection of large format print products including our increasing exhibition and point of sale (POS) range. With regulations surrounding businesses opening during and after lockdown, make sure you're running successfully and safely with large format print that's compliant with government guidelines – you'll find a range of safety, hygiene and social distancing templates for banners, stands and more so you can keep your business, and your customers, safe.
Shop by Large Format & POS Type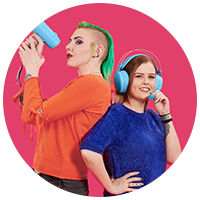 Top 50 Company for Customer Service 2018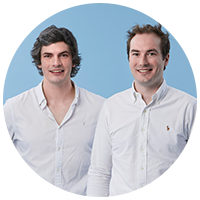 We get what it's like to be a small business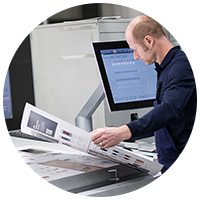 Quality paper, sustainably sourced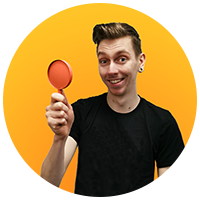 We check every piece of artwork that goes to print
The instantprint Story
Printed by People Who Want Your Business to Flourish
Hello. Adam and James here. We're the founders of instantprint. To us, it's much more than a printing business. Since day one, we've been about helping our customers reach their customers in the best possible way – with print that makes them look amazing. But, why did we start in the first place? A long, long time ago (2006), at a university far, far away (Bristol), we decided to launch a student night. But we really struggled to find a printer who took the time to understand what we needed from our promotional posters and flyers. We knew there had to be a better way. Fast forward to 2009, and we took matters into our own hands and launched instantprint – the only printing company that really 'gets' its small business customers. Since then, we've seen business bloom. We put that down to the people who work with us – a passionate and enthusiastic bunch of talented individuals who genuinely want your business to flourish.
Print Excellence, Guaranteed
We pride ourselves on being able to provide exceptional large format printing services. Our constant investment in industry-leading print machinery means that through our large format digital printing, we can produce a high quality at competitive prices. Check out this video for a behind the scenes peak at how we produce excellent quality print.
PVC Banners or Posters?
With waterproof PVC options available on posters, which should you choose for your outdoor promotions: banner or poster printing?
Your decision will depend on what you need them for. Here's a quick run down of the pros and cons of both choices.
Large format posters are a much more affordable option. You can also choose between two thicknesses of PVC material. However, they don't come with eyelets already built in for easy attachment and they aren't as sturdy as banners. If you're looking to run short term outdoor advertising or window graphics, PVC posters are your best option on a budget.
Although more expensive, the banner PVC we print on is a thicker, sturdier material than that used for PVC posters. This makes for fantastic long-term outdoor advertising. There's also a wide range of sizes to choose from, so you can find the perfect banner for your display area.
The Ultimate Exhibition Kit
The best way to grab attention at exhibitions? Get your brand out there with our banners and large format print products! With unrivalled space to get across your name and message, our banners and pop up ranges are the perfect way to show off. Below we've rounded the best products from our large format printing collection which are unmissable when you're taking your business to an event.


What if I Don't Have a Banner Design?
We also offer a full print design service with our in house graphic designers. Simply click 'yes' when asked if you would like us to 'design this for you' and you can add the service to the basket. One of our designers will be in touch as soon as the order has been placed to discuss your brief. If you prefer a more personal approach you can always chat with your designer in person via our video consultancy service. Simply click here to book a slot through our online chat team.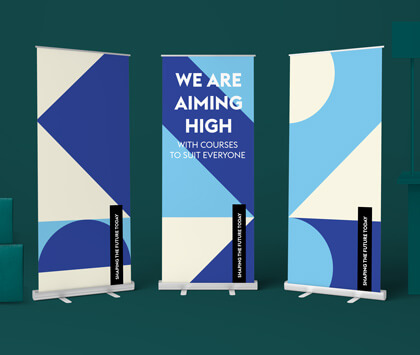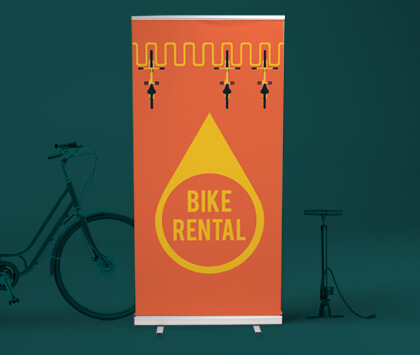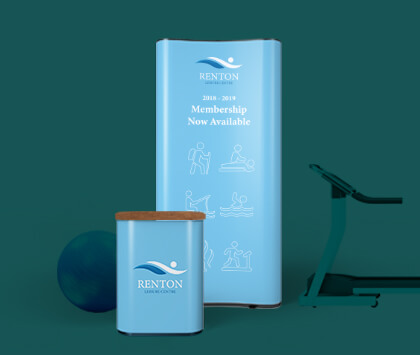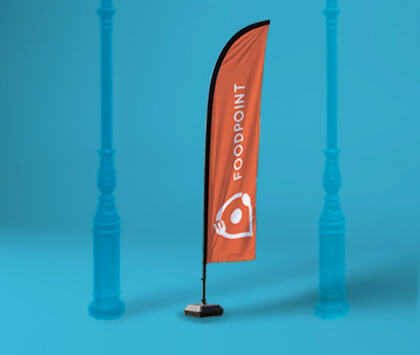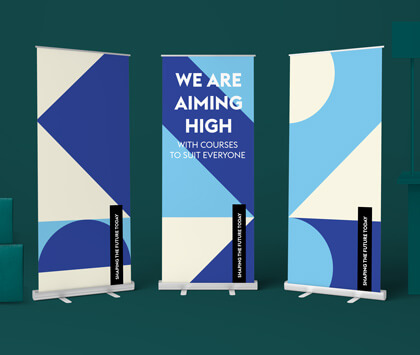 Roller Banners
Our roller banners or pop up banners are free-standing, meaning you can concentrate on networking whilst your banner captivates attention. They measure up at 80 x 200cm so they are easy to assemble whilst remaining tall enough to pull in passers-by.
They're printed on a durable 300mic and built to last, with a free lightweight carry case to ensure stress-free transportation. Keep your pop up stands designs simple, bold and on brand to make the biggest impact at your exhibition. Need some inspiration? We've got hundreds of free roller banner design templates for you to personalise for some real promotional pizzazz.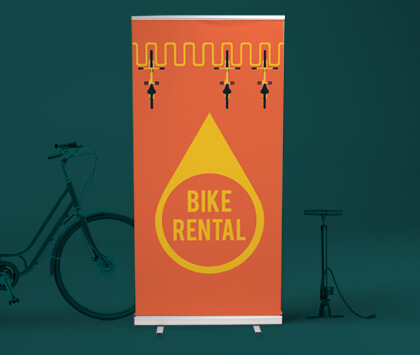 Wide Roller Banners
When you need to make an impact, the wider the better! Our wide format banner stands come in at a whopping 200mm broader than our standard roller banners, whilst keeping the same height of two meters to be seen at a distance.
The lightweight carry case makes it easy to transport even with the extra width, with an aluminium pole for simple assembly. Get creative with your designs and take advantage of the fuller surface area for a striking message that makes waves at your exhibition.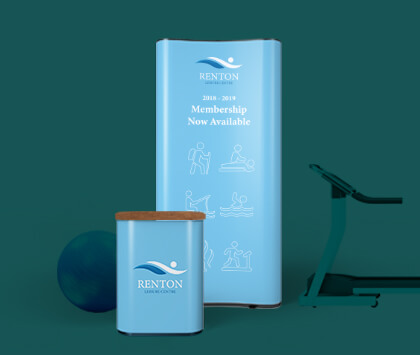 Pop Up Display Stands
Exhibition stands are certain to cause a scene and get you noticed at exhibitions and events. Everything you need to set up a successful stand is included, from the aluminium frame to the carry case which is also used as the podium.
Halogen lamps ensure your message shines, whilst the 500mic PVC/Latex Hybrid ensures durability. We have four sizes available to suit all exhibition sizes and needs, from the sleek 2019 x 2230mm through to a mammoth 4038 x 2230mm.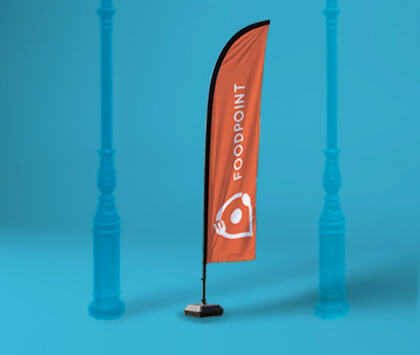 Flags
If you've got a trade show or event coming up, why not steal the show with a personalised printed flags? Our range comes in two styles, feather flags and teardrop flags. They're available in three different sizes and come with a free flag pole! Available at a cheap price in range of small, medium and large sizes.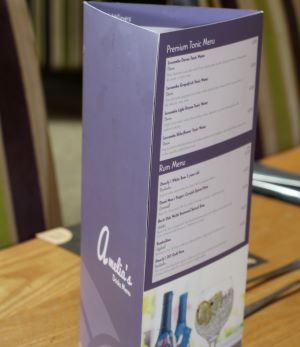 What Do Our Customers Think?
"We also use table talkers to advertise our wine lists, special events, restaurant deals, and Sunday carvery and guests can spot these in every caravan across the site." - Chris, Cofton Holidays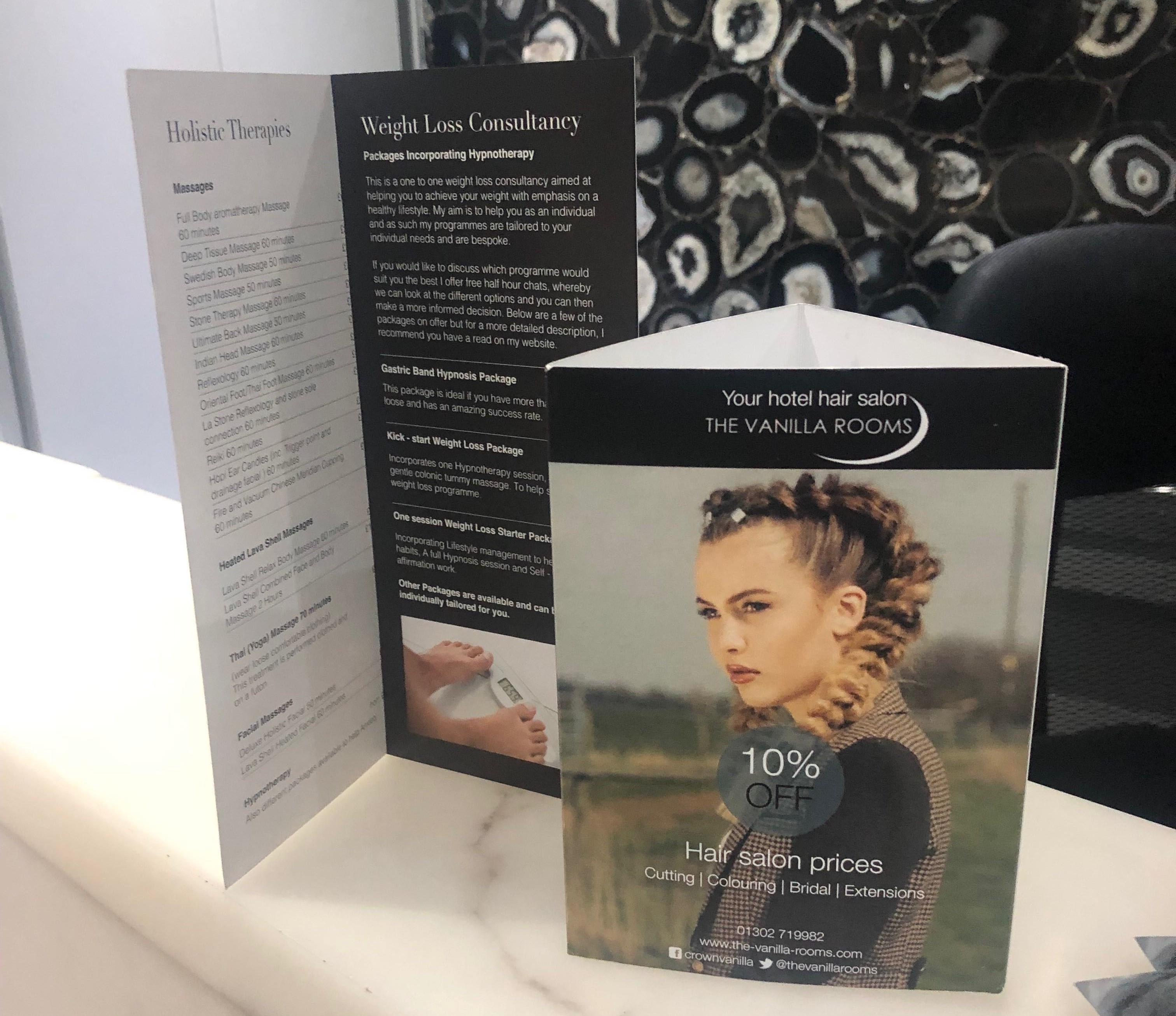 "I really love the quality of our table talkers and strut cards - they're perfect to showcase this seasons offers and new products" - Rebecca, Vanilla Rooms