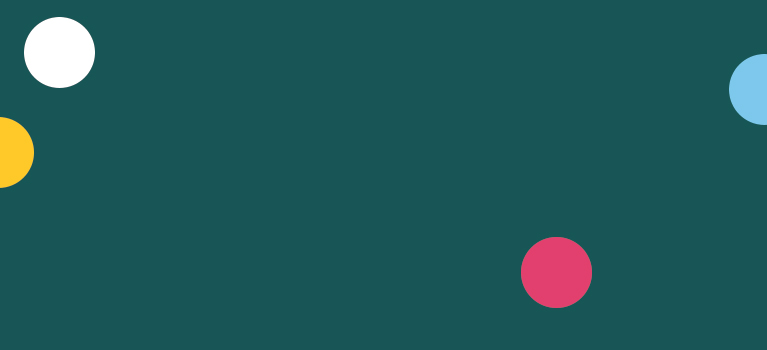 Banner Printing Online
Events, exhibition stands or in-store promotions – printed banners are the ultimate marketing solution for companies who want to make a splash. With instantprint's comprehensive banner printing services, you'll make an outstanding impact on passers-by without breaking the bank. The instantprint range of printed banners are available in various sizes, materials and formats to ensure you find your perfect promotional tool for indoor and outdoor events and campaigns. Easy to set up, convenient to move from place to place and simple to put away – if it's printed banners you want, look no further. Our multi-purpose business banners do the important work of getting your business noticed, so you're free to focus on completing the sale or deal.
Our products are easy to set up and pack away, so you can concentrate on the important stuff at conferences. Our premium roller banners even come with their own luxury carry case.
The Roller Banner Collection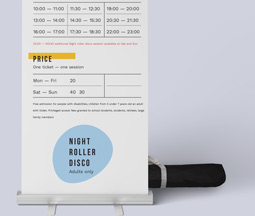 Printed on 220mic PVC
Measuring 800mm x 2000mm
Next day delivery available
Free roller banner design templates here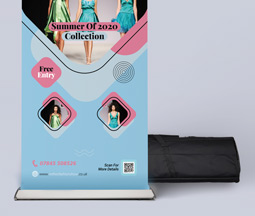 Printed on 220mic PVC
Measuring 800mm x 2000mm
Next day delivery available
Free premium roller banner design templates here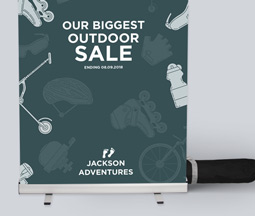 220mic PVC material
Banner dimensions are 1000mm x 2000mm
Delivered within two working days
Free wide roller banner design templates here
Strong, flexible 220mic PVC
800mm x 2000mm
Two pull up banners for extra impact
Next day delivery available

Check Out Our PVC Banner Range
Perfect for indoor and outdoor use. They come in a variety of different sizes for all your business needs.
Shop PVC Banners
The Exhibition Stand Collection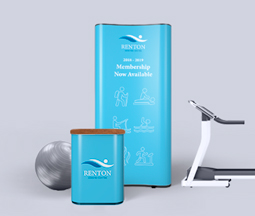 2019mm x 2230mm
Our smallest pop up stand
Easy to fit into your exhibition space
Free carrycase that doubles as a podium
Delivered within two working days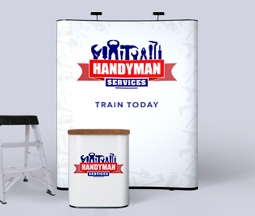 2692mm x 2230mm
Great for any indoor event
A great all rounder without breaking your budget
Anti-scuff finish
Delivered within two working days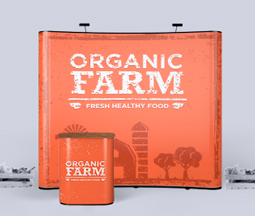 3365mm x 2230mm
A large option that'll get your noticed
Halogen lights included
Great for busy events with large stands
Delivered within two working days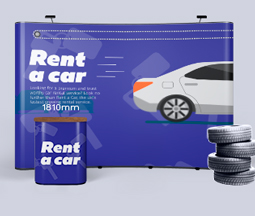 4038mm x 2230mm
Our largest display stand
Sturdy aluminium frame
All eyes will be on you
Delivered within two working days

Need to stand out with outdoor advertising?
Demand attention indoors and out with personalised flag banners.
Shop Flags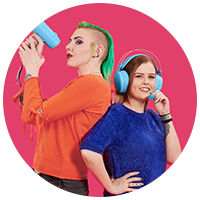 Top 50 Company for Customer Service 2018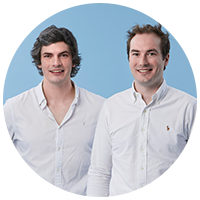 We get what it's like to be a small business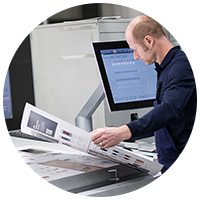 Quality paper, sustainably sourced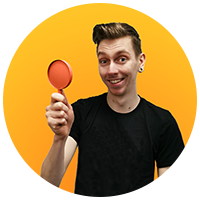 We check every piece of artwork that goes to print
Print for Every Business
How do I set up my roller banner?
Just received your personalised roller banner(s)?
Taking it out of its carry case for the first time, you know it'll be the perfect promotional partner for your business – whether you'll be using it onsite or for your custom exhibition stand.
But, while your online printing journey was seamless, simple and stress-free, how do you set up your roller banner to do the job you want and need it for?
If you're unsure about how to put up or put away your pull-up banner, we made a helpful video to show you the process and best practice for keeping your banner in good condition.
Why do I need a printed banner?
A printed banner can be a highly effective and value-for-money way to promote your business. Are you launching a new line? Giving out in-store samples of your product? Decorating a trade show stand? Or showcasing your brand at a conference or community event?
The type of printed banner you need will depend on what you're it using for. But there can be no doubt that custom banners can help to shape an eye-catching promotional display with superb pulling power. For indoor or outdoor use, create your own banner with instantprint today
How can a printed banner help my business?
Make a connection: Did you know 84% of young people born after 1997 take notice of out-of-home advertising? It's not just the so-called 'Generation Z' either. Printed banner advertising is a great way to connect with people of all ages who are passing by your business or event stand.
Show off your personality: With the right colours, designs and wording, promotional banners can tell potential customers all they need to know about your business and what you're offering – instore, on the high street or on the show floor. Think of a banner as a silent salesperson.
Cost-effective advertising: Unlike print, radio and other types of advertising, printed banners are relatively cost-effective for any business. We offer custom banners made to order, complete with your logo and branding, that you can use in any location and capture new customers.
What types of printed banner are there?
At instantprint, we can deliver different types of printed banners to suit all your business needs. The type that's right for you will depend on what you'd like to use it for.  
Perfect for attracting the crowds at trade shows or exhibitions, our pop-up banners are long-lasting, easy to move around and unbeatable promotional solutions:
−    Creating mobile in-store displays
−    Showing off your latest sales/deals
−    Using as display boards
For indoor or outdoor use no matter the weather, look no further than a PVC banner – available in a range of sizes and built to impress potential customers and clients. With pre-made eyelets, they're easy to fasten to a wide range of surfaces
Need to make a lasting impression at your next event? Our exhibition pop-up banners are practical and easy to put up. They also come with a carry case that can double as a podium, which means extra branding opportunities for your business too.
How are my banners printed?
All our banners are printed using our large format printer, the HP Scitex 11000 Industrial Press. We now have two of these printers, following our £3.25m investment in 2018, both of which can print custom banners to order in no time at all.
To make your banners, we use the following material:
−     220mic PVC stock (pull-up, wide PVC and premium roller banners)
−     400gsm banner PVC (PVC banners)
−     500mic PVC/latex hybrid (exhibition pop-up banners and stands)
How do I design a banner?
With instantprint, it's easy to create your own banner design. To get started, download our free blank banner templates from the product page of your choice. You'll find that our templates are available for a range of popular software including Photoshop, Illustrator, InDesign and Acrobat.
Not sure you can design a banner from scratch? No problem.
A faster, easier way to make a banner is to use our free online design tool. We've got hundreds of roller banner designs to choose from. And don't forget – our design team are here to answer any questions you might have about your custom banner. So, all you need to do is ask.
How do I upload my banner design?
For all pull-up and roller banner orders, you'll be asked to upload your banner design when you add banners to your basket. You can also upload artwork later if you want to continue shopping.
If you're looking to order PVC banners or exhibition display stands, upload artwork after placing your order. To do this, complete your order and then email your banner design to our dedicated studio team who'll set up the print for you – artwork@instantprint.co.uk.
What information should my banner include?
Looking to create a personalised banner for your business? There are a few important things to bear in mind when you design your banner that'll help make sure you get the most out of it:
−     Keep it visual: Printed banners with a huge amount of visual appeal can really draw in the crowds of people walking past your exhibition stand or place of business.
−     Put your logo first: Place your company logo at the top of your display banner or stand so that it stands out and can be easily recognised in a busy environment.
−     Don't forget curves: If you're designing an exhibition stand, don't forget the sides will curve around – something to keep in mind when working on your design.
−     Add some colour: Use bright, bold colours (that fit with your brand identity) to make a real impression when there's plenty of businesses competing for attention.
If you'd like more tips on how to make your printed PVC and roller banners truly stand out from the crowd, read our helpful guide on how to design an exhibition stand.
How do I order printed banners for my business?
Whether it's our Small Exhibition Stands or Extra Wide Roller Banners, click Shop Now to get started.
Depending on which type of banners you're planning to order, we'll take you through all your options step-by-step – quantity, production time, size and single/double-sided printing.
Why choose instantprint for your banner printing?
Need an online printing company that understands small businesses and what they need? At instantprint, we're dedicated to helping you succeed by providing you with printing solutions that look amazing. And our fantastic range of PVC, roller and vinyl banners are no exception.
Our friendly, talented team are here to help. You can talk to us about your print concerns or needs – and we promise to share our print knowledge with you, with tips and advice that are easy to understand and jargon-free.
With 4 million print jobs helping more than 500k small businesses, you can be confident that your print banners will look the part if you choose us. And you don't just have to take our word for it either – we're rated Excellent on Trustpilot from 7,000+ independent reviews.
What do I get with my instantprint order?
Order your roller banners and exhibition stands from instantprint and we'll give you some extra products at no extra cost.
Roller banners:
−     Carry bag
−     Base cassette for early setup
Exhibition stands:
−     Carry bag that doubles as a podium
−     Halogen lights
−     Aluminium frame
How long until I get my banner?
We don't want you waiting around for your customised banners and exhibition stands to arrive, so we'll get them to you as soon as possible. Our delivery times will depend on the product you order, but you should never be waiting more than four working days.
Roller banner and exhibition stand printing
Orders approved by 6.30pm are sent out for delivery the next working day. Delivery will take a further working day. So, if you approve your order by 6.30pm on Monday, we'd dispatch it on the Tuesday for you to receive on the Wednesday.
PVC banner printing
Approve your PVC banner order before 4pm and it'll be sent out within three working days. Delivery will take a further working day. Order by 4pm on a Monday and it'll be dispatched by Thursday for you to receive it by the end of the week.
Need your roller banners urgently? Next day delivery is available on our standard, premium and double-sided roller banners thanks to our Express option.