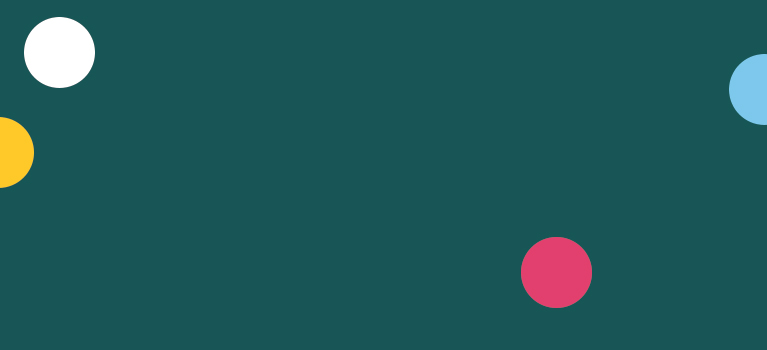 Printed Banners
Whether you're preparing for an event, exhibition or instore promotion, banners are the ideal marketing solution that will make a big impact without breaking the bank. Our range is available in a variety of sizes and materials, providing you with the perfect promotional tool for both indoor and outdoor events.
Our products are easy to set up and pack away, so you can concentrate on the important stuff at conferences. Our premium roller banners even come with their own luxury carry case.
The Roller Banner Collection

Check Out Our PVC Banner Range
Perfect for indoor and outdoor use. They come in a variety of different sizes for all your business needs.
Shop PVC Banners
The Exhibition Stand Collection
2019mm x 2230mm
Our smallest pop up stand
Easy to fit into your exhibition space
Free carrycase that doubles as a podium
Delivered within two working days
Shop Now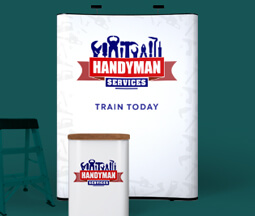 2692mm x 2230mm
Great for any indoor event
A great all rounder without breaking your budget
Anti-scuff finish
Delivered within two working days
Shop Now
3365mm x 2230mm
A large option that'll get your noticed
Halogen lights included
Great for busy events with large stands
Delivered within two working days
Shop Now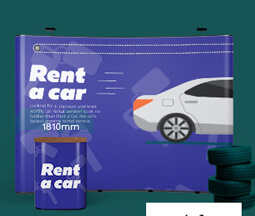 4038mm x 2230mm
Our largest display stand
Sturdy aluminium frame
All eyes will be on you
Delivered within two working days
Shop Now

Need to Stand Out with Outdoor Advertising?
Demand attention indoors and out with personalised flag banners.
Shop Flags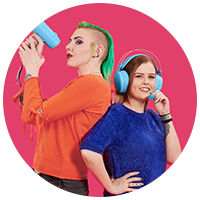 Top 50 Company for Customer Service 2018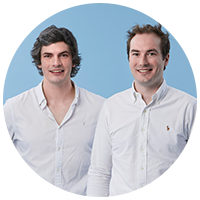 We get what it's like to be a small business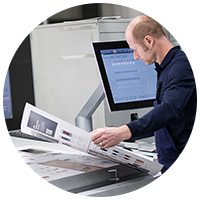 Quality paper, sustainably sourced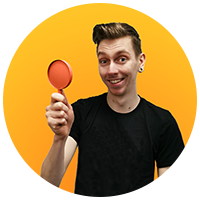 We check every piece of artwork that goes to print
Print for Every Business
How to Set up a Roller Banner
You've just received your personalised roller banner through the post. You take it out of the carry case, knowing it's going to be the perfect accompaniment for your custom exhibition stand. The online printing journey was pretty seamless, but how about the set-up? If you're unsure on how to set your roller banner up (or disassemble and put away) – or you just want to know the best practice to keep your banner from getting damaged – we've created a handy video showing you exactly how easy it is.
Why Print with instantprint?
Here at instantprint, we pride ourselves on being the only online printing company that really 'gets' small businesses. We want to do everything we can to keep costs low and quality high so you can reach out to customers with print that makes you look amazing. We know that there's a lot of cost involved in launching and running a small business, so through investing in the latest printing technologies (such as our most recent £3.25mn in July 2018) we're able to keep the price of our print products as low as possible.
What Banner Should I Get?
If you're a frequent exhibition-goer (or would like to be), you'll know that roller banners and exhibition stands are an essential marketing product to help give your business the edge when it comes to credibility and catching eyes. If you're looking to enhance an indoor display, our premium roller options are perfect for showing customers what you're about. Or if you're taking the show on the road, our wide roller range and exhibition stands are sure to make you stand out. Need something a little more weather resistant for outdoor advertising? Our PVC prints are completely waterproof, so your message will shine through all day long.
What are the Benefits of Using Banners in Marketing?
Whether you display them proudly on the shop floor or in a window display or take them with you to your next event or exhibition, banners are the best way of making a huge impact on prospective customers and contacts, and they also make great conversation starters about your business. As well as being easy to assemble, they're also portable – especially with our free lightweight carry cases that are delivered as standard with all orders from this range. Click here to discover even more benefits.
What Information Should Be Included on a Banner?
It's important to keep your design visual; you want to really draw in the crowd of people walking by. Make sure your company logo goes at the top of the display stand or banner so that it stands out over the crowd and everyone can recognise whose stand it is. For more display stand design tips, check out this blog.
Artwork Setup Guides
Here at instantprint, we're passionate about helping your business flourish. That's why our team of print experts have put together the following guides to cut the jargon and help answer any questions you might have. Check out the guides we've put together below:
Our 10 Point Quality Check
Every piece of artwork you send to us goes through our unique and rigorous 10 point quality control process. This means that your artwork is checked by your very own Personal Artworker automatically assigned to you as standard, as soon as you upload your artwork. Your Personal Artworker will review your artwork to make sure that your print products are of the highest quality. They check your artwork's compliancy with bleed and safety zones, they check whether you have the correct number of sides and pages for the product you're printing and also whether the resolution is suitable for print!
Why Use a Banner?
Banners are an eye-catching and cost-effective tool for promoting your brand. Choose from our wide range to find an effective marketing solution fit for any event or promotion. Our products feature high-quality print and are easy to transport and assemble, making them a great choice for your next print marketing investment.
How to Design a Banner
Download our blank templates from the product page and get to work in Adobe Illustrator. Or, make your own online using our free design tool. Our artwork team are on hand to answer any of your design related questions, so don't hesitate to ask.
How to Assemble a Roller Banner
To assemble your roller banner, simply remove it from the carrycase and turn the feet out at 90 degrees, slot the pole together and secure to the base, then pull your banner up to the top of the pole and secure.