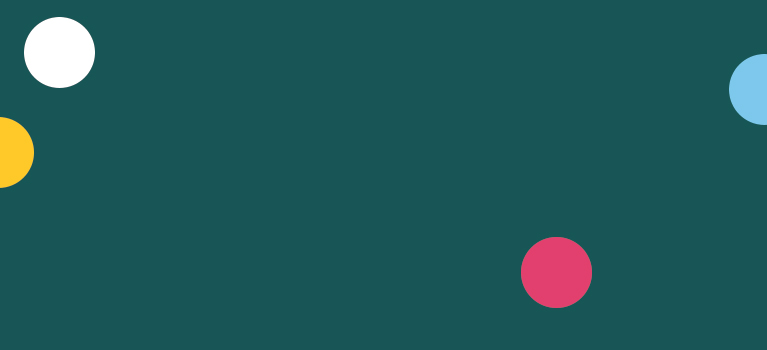 Custom Posters
Promote your business with custom posters that can help get your marketing messages across effectively. If you have your own design, we can provide a printing service to meet your needs. No design? No problem! We have a range of free design templates to help you get creative with artwork that showcases your brand. Whether you're looking for A1 printing or something a little smaller, take a look at our range of options below and find the perfect choice for your company.
F
Shop by Poster Prints Type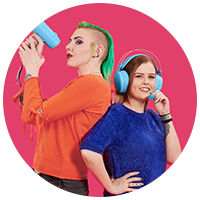 Named a Top 50 Company for Customer Service 2018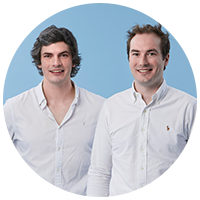 We get what it's like to be a small business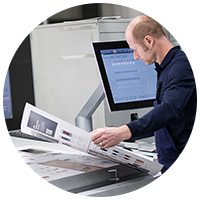 Quality paper, sustainably sourced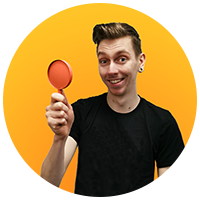 We check every piece of artwork that goes to print
The instantprint Story
Printed by People Who Want Your Business to Flourish
Hello. Adam and James here. We're the founders of instantprint. To us, it's much more than a printing business. Since day one, we've been about helping our customers reach their customers in the best possible way – with print that makes them look amazing. But, why did we start in the first place? A long, long time ago (2006), at a university far, far away (Bristol), we decided to launch a student night. But we really struggled to find a printer who took the time to understand what we needed from our promotional posters and flyers. We knew there had to be a better way. Fast forward to 2009, and we took matters into our own hands and launched instantprint – the only printing company that really 'gets' its small business customers. Since then, we've seen business bloom. We put that down to the people who work with us – a passionate and enthusiastic bunch of talented individuals who genuinely want your business to flourish.
Make a Poster to Boost Your Marketing Mix
Looking to create eye-catching visuals that convey your brand messaging? With the right design, our personalised posters could enhance your marketing mix.
How to Design a Poster
We have a wide range of different templates for you to choose from to bring your ideas to life. You can then introduce your brand messaging and use our printing services to make sure your marketing materials engage your customer base.
Fast Poster Printing with Next Day Delivery
With next day delivery options available, our printing services can help you reach your marketing deadlines quickly and efficiently. What's more, all of our products go through a comprehensive quality control process to ensure they are at the highest possible standard.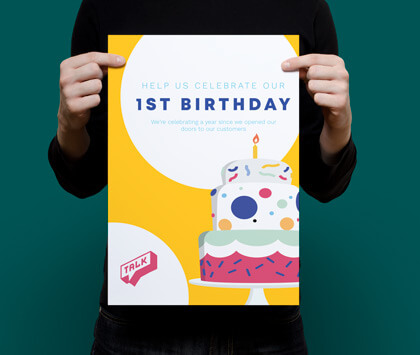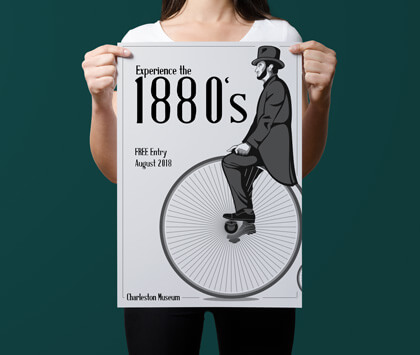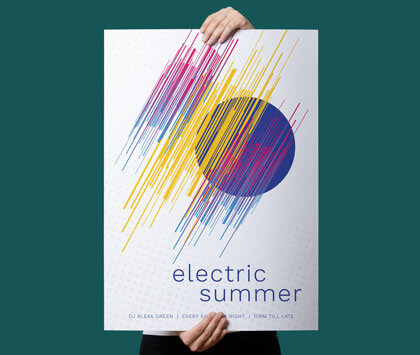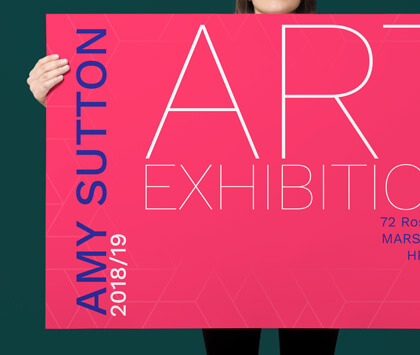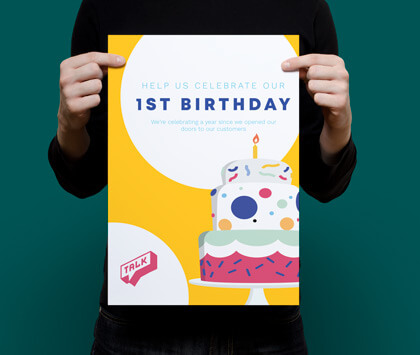 Dimensions: 29.7 x 42cm / 297 x 420mm / 11.7 x 16.5 inches.
A3 posters are double the size of your standard A4, making them ideal for advertising indoors. If you've got a sale in your shop, want to promote a new product or even if you want something for your bedroom wall, they're the perfect solution. Even better, our online poster maker lets you customise free templates to create an eye-catching design in A3.
A3 posters are available on value 150gsm, classoc 250gsm or premium 350gsm silk paper which are all suitable for indoor placement, making it the most cost-effective of our range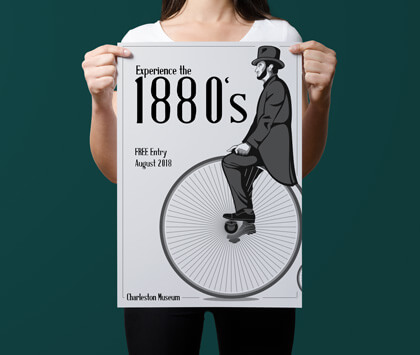 Dimensions: 59.4 x 42cm / 594 x 420mm / 23.4 x 16.5 inches.
A2 posters are one of our most versatile sizes. Small enough to be placed in shop windows or behind receptions and large enough to be seen at a distance, they're made for multiple uses. Take them with you to exhibitions or place them on a wall outside your venue to draw in the crowds.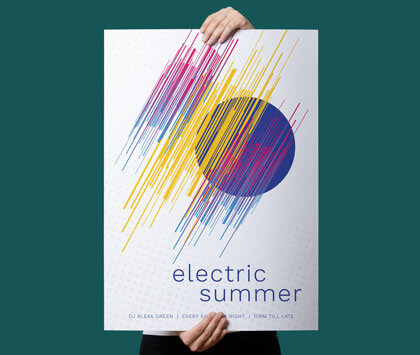 Dimensions: 84.1 x 59.4cm/841 x 594mm/33.2 x 23.4 inches.
A1 posters are big, bold and perfect when you want to make a statement. Ample space and a huge surface area means there's plenty to play around with when it comes to design. You could showcase your price list, list the times of performers at your event or simply present one bold image for a dramatic design that grabs attention.
These posters are also ideal for popping inside an a-frame and leaving outside your shop to attract passers-by if you're busy running the show inside!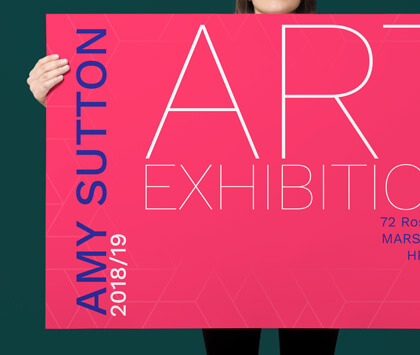 Dimensions: 118.9 x 84.1cm / 1180 x 841mm / 46.9 x 33.2 inches.
If you want a poster that refuses to be ignored, the A0 is for you. Choose from 250gsm silk, weatherproof 220 or 400 micron PVC for outside placement and maximum exposure. Advertise fundraisers, gigs, business launches or any message your business is proud of.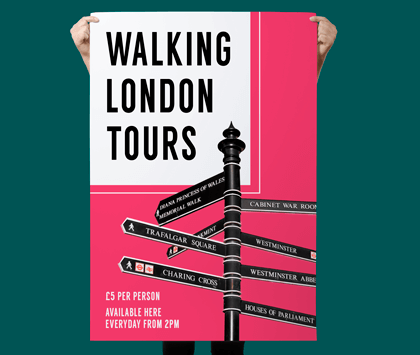 Dimensions: 101.6 x 76.2cm/1016 x 762mm/40 x 30 inches.
Just smaller than an A0 poster, our 40 x 30 size has the potential to wow. Using one of our free templates, it's easy to create a design that informs and impresses in equal measure. Whether it's the opening night of your new restaurant or a description of your latest stock, 40 x 30 will get the message across. We recommend using a combination of larger fonts and smaller text for a well-balanced and effective campaign. Check out the science behind the perfect poster for more info!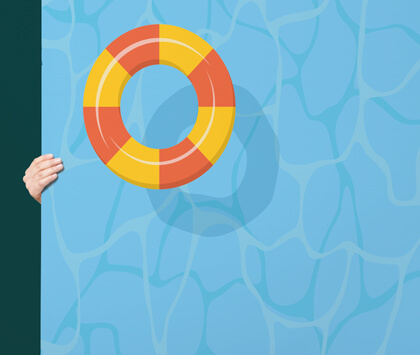 Dimensions: 152.4 x 101.6cm / 1524 x 1016mm / 60 x 40 inches.
Larger than life and ready for action, our 60 x 40 inch is the biggest size we offer. These posters guarantee exposure for one of the most effective marketing tools out there. Bus stops and outside display stands or anywhere people are passing are perfect places to house your supersized advert.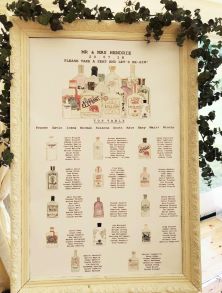 What Do Our Customers Think?
"I love velvet lamination on my business cards for a luxurious and professional feel and have launched my first limited edition prints on A4 silk paper posters." - Carla, Owner of Dash Designs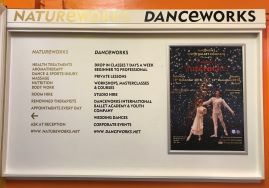 "As an arts business, we need strong visual content and mixed scaled prints that will stand out to our consumers and increase sales. Therefore, we choose to print various formats of artwork such as A1/A0 posters and flyers as we believe the printing, colour and paper quality are powerful tools for delivering our brand messaging." - Sabrine - Marketing at Danceworks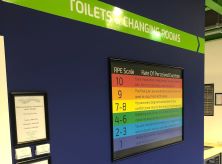 "We have a variety of printed posters throughout the studio, from A0 - A4 in size as well as a number of banners. These enable us to promote our class timetable, for instance, and other key fitness instructions." Tom, Managing Director at The Fitness Expert