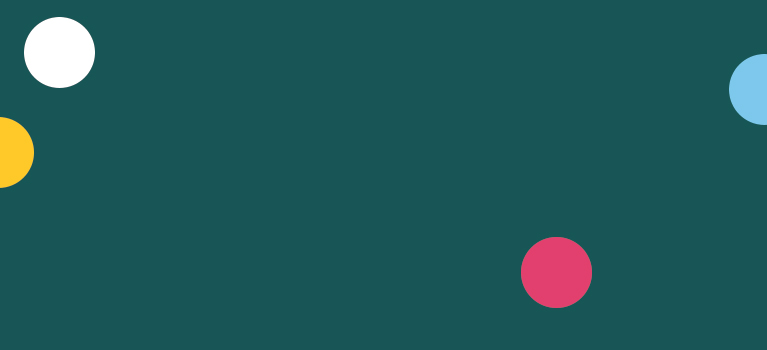 Poster Printing - Design & Make Custom Posters
Promoting your business with custom printed posters can help get your marketing messages across effectively in an eye-catching and memorable way. The right poster design can ensure that no matter where your poster prints are on show, passers-by stop and read what you have to say. If you have your own design already, our poster printing services are just what you need, and our innovative technology ensures your designs come out perfect, every single time.
With a wide choice of sizes and shapes available in our range of options below, you can make the perfect poster for your company, no matter what you're shouting about.
Shop Posters By Size
Poster Customer Reviews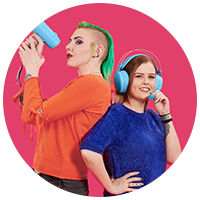 Named a Top 50 Company for Customer Service 2018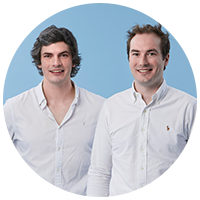 We get what it's like to be a small business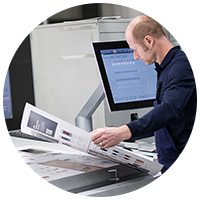 Quality paper, sustainably sourced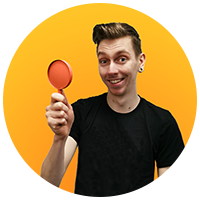 We check every piece of artwork that goes to print
The instantprint Story
Printed by People Who Want Your Business to Flourish
Hello. Adam and James here. We're the founders of instantprint. To us, it's much more than a printing business. Since day one, we've been about helping our customers reach their customers in the best possible way – with print that makes them look amazing. But, why did we start in the first place? A long, long time ago (2006), at a university far, far away (Bristol), we decided to launch a student night. But we really struggled to find a printer who took the time to understand what we needed from our promotional posters and flyers. We knew there had to be a better way. Fast forward to 2009, and we took matters into our own hands and launched instantprint – the only printing company that really 'gets' its small business customers. Since then, we've seen business bloom. We put that down to the people who work with us – a passionate and enthusiastic bunch of talented individuals who genuinely want your business to flourish.
How to Make a Poster
The first step in making your own awesome poster is setting up your artwork file. Did you know that you can design a poster yourself using one of the many popular programs, such as Word or PowerPoint? Or if you dabble in more complex design programs, why not create yours in Photoshop or Publisher? However you create your masterpiece, here are some of our top tips on getting set up.
PowerPoint – If you're a budding designer, PowerPoint is a great tool to get you going. Set up your blank canvas by opening a new presentation, going to design > slide size > custom slide size and enter the width and height of your required poster size.
Word – If you're looking for another quick and easy way to create your artwork, Word is another good tool for beginners. Simply open up a new document, head to layout > page setup, increase all your margins by 3mm (this is the safety zone), choose your poster size and add 6mm to the height and width to allow for the bleed.
Click here to check out the in-depth guide on everything you need to know about creating a poster on PowerPoint and Word, and to find out more around how you begin designing your artwork on Photoshop and Publisher.
What If I Don't Have a Poster Design?
No design? No problem! We've created a handy library which is full of poster templates! Whether you're looking for an A1 poster size, A2 poster size or an A4 poster size, we have the ideal blank canvas for you. Need some inspiration? Our expert design team have created some fantastic poster design templates to get you started. So no matter whether you're organising a bake sale, showing off your new coffee shop menu or advertising a student night at your bar, we have a template for everyone.
What Stock Is Best?
We offer digital online poster printing on both indoor and outdoor stock options, so whether you're wanting to display your advertisement or artwork, we have the perfect solution for you. Here's a quick rundown of our stocks, and tips on picking the right one for your poster designs.
170gsm value silk – a thin and affordable option that's best used for temporary posters. Have a concert or event coming up that you want to shout about? Posters printed on value silk are ideal if you're looking for affordable but high quality, cheap posters.
250gsm classic silk – a sturdier stock with a high quality look and feel. Looking to show your customers new seasonal menu options in your restaurant or special treatments on offer in your salon? The classic silk option will work wonders for your custom poster.
Waterproof PVC – at 220mic, this thin weatherproof option is ideal for outdoor A-frames. If you're advertising an exclusive offer and need an outdoor sign, your A2 poster, A1 poster and A0 posters will look high quality and withstand the British weather, all while keeping costs down.
Heavyweight waterproof PVC – outdoor signs or long-life posters are the best use for this 400mic PVC option. Get all of your permanent posters printed on this stock if you're wanting to make an impression for a longer period of time.
We offer special laminate finishes on our classic silk stock. These add extra protection to your advertisement poster and give it a special look or feel. Choose from:
Matt – a smooth, no-shine finish that softens the colours
Gloss – a visible high-shine finish that brightens the colours
How to Design a Poster
Once you've set your file up correctly, the real fun begins! Designing a poster isn't always black and white – there are a wealth of things to think about when deciding where to start. Here are some tips on what makes an inspiring and memorable poster design:
Use bright, eye-catching colours
Make sure you can read the main message from a distance
Play around with fonts
How To Choose The Perfect Frame
Got space in or outside your store? Why not try an A-frame? There are so many to choose from such as the A0 frame, A1, A2, 20 x 30 poster frame and more! An A-frame is the ideal way to show off your poster design from two sides at once to get maximum exposure. When you order this product you'll receive two poster prints and an aluminium frame to display them in.
How To Choose The Right Size
The size you choose will depend on what, where and when you're thinking of displaying your message. If you need to include more information, the bigger the better, but remember – you'll need to ensure potential customers can read the main message from a distance to help draw them in. Here are the poster sizes we offer: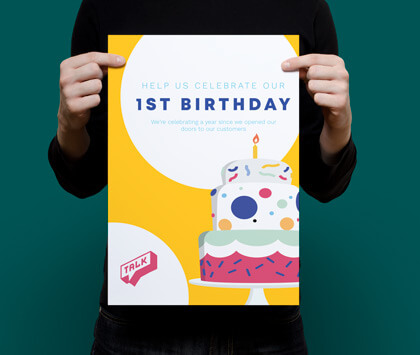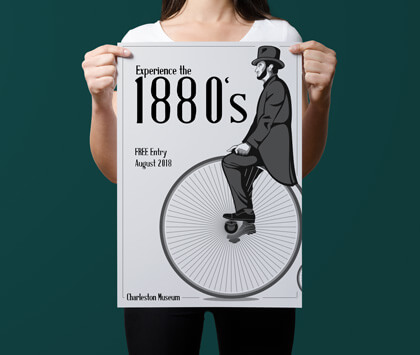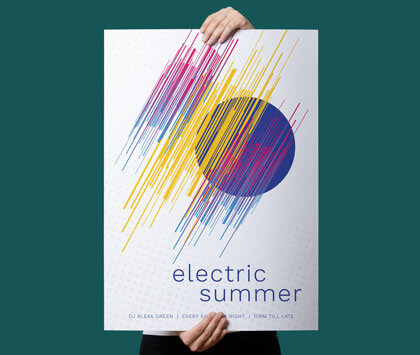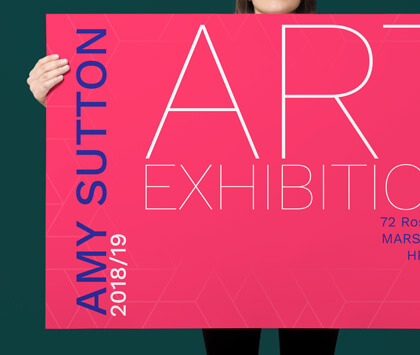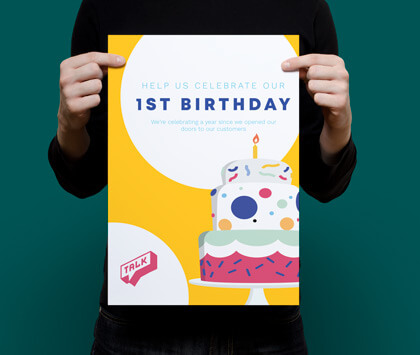 Dimensions: 29.7 x 42cm / 297 x 420mm / 11.7 x 16.5 inches.
A3 posters are a larger size that's great for indoor advertising. Use it to promote sales in your window display or as a place mat menu.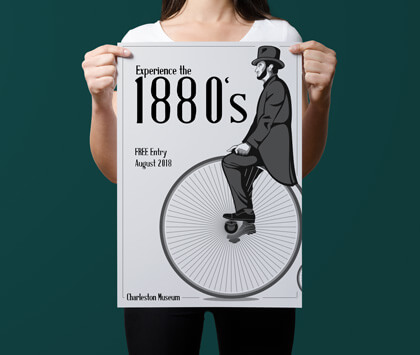 Dimensions: 59.4 x 42cm / 594 x 420mm / 23.4 x 16.5 inches.
You can pick an A2 poster to make a big statement at indoor events, or to go outside in a waterproof stock.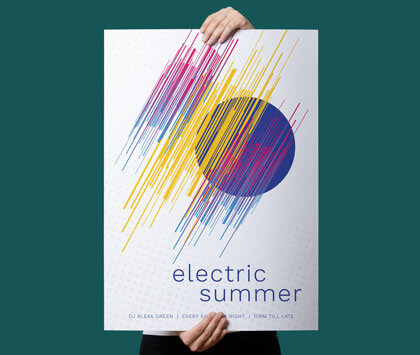 Dimensions: 84.1 x 59.4cm/841 x 594mm/33.2 x 23.4 inches.
A1 posters are huge! Great for listing times of performers at a concert, or for adding a huge splash of colour to a window display.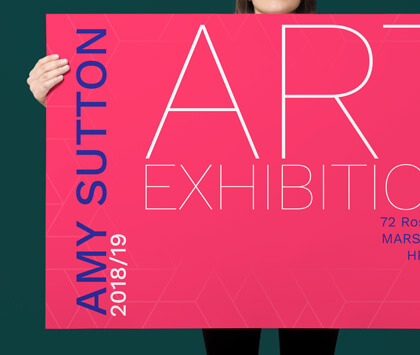 Dimensions: 118.9 x 84.1cm / 1180 x 841mm / 46.9 x 33.2 inches.
Use this large format option for affordable event signage indoor or out! Perfect for enhancing your presence at an exhibition, place it on the wall behind your display.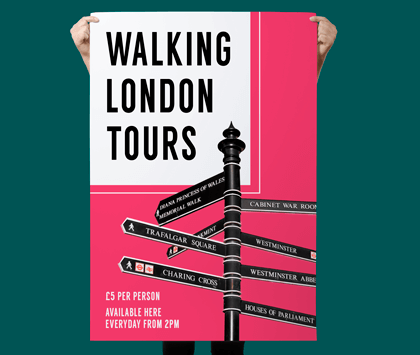 Dimensions: 101.6 x 76.2cm/1016 x 762mm/40 x 30 inches.
Slightly smaller than A0, 30 x 40 is classic movie poster size. Print your own custom posters for personal use or show off big events at your business.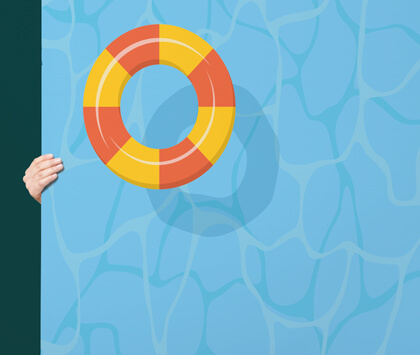 Dimensions: 152.4 x 101.6cm / 1524 x 1016mm / 60 x 40 inches.
Bus stop advertising just got easier! These personalised posters are the perfect size to fit in a bus stop display case.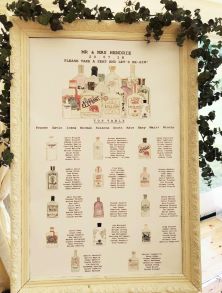 What Do Our Customers Think?
"instantprint's A4 silk posters gave me a platform to launch my very own limited edition prints. The quality is superb and brings out the colours in my designs." - Carla, Owner of Dash Designs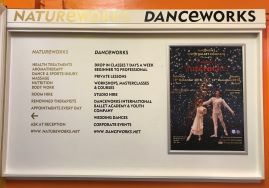 "As an arts business, we need strong visual content and mixed scaled prints that will stand out to our consumers and increase sales. Therefore, we choose to print various formats of artwork such as A1/A0 posters and flyers as we believe the printing, colour and paper quality are powerful tools for delivering our brand messaging." - Sabrine - Marketing at Danceworks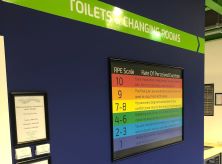 "We have a variety of printed posters throughout the studio, from A0 - A4 in size as well as a number of banners. These enable us to promote our class timetable, for instance, and other key fitness instructions." Tom, Managing Director at The Fitness Expert