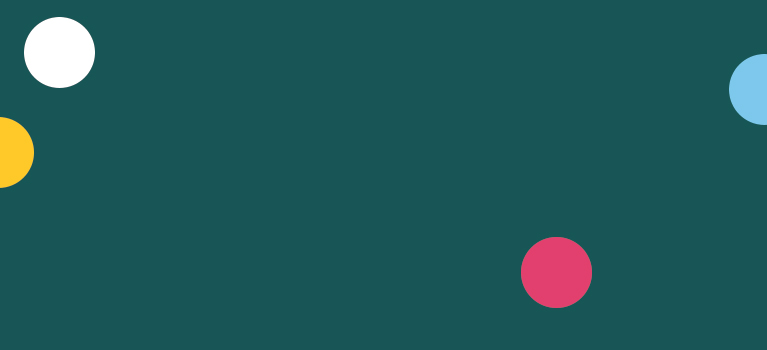 Poster Printing
Promoting your business with custom posters can help get your marketing and health & safety messages across effectively in an eye-catching and memorable way. The right personalised poster design can ensure that no matter where your custom printing is on show, passers-by stop and read what you have to say. If you have your own design already, our poster printing services are quick and easy with next-day delivery available. Or why not try our range of free poster templates? It includes government-compliant designs for social distancing and handwashing posters.
With a wide choice of sizes and shapes available, you can make the perfect poster for your company, no matter what you're shouting about.
Shop Posters By Size
210mm x 297mm
Choose from value, classic and premium paper
Our smallest poster size
Use as hand hygiene posters
Next day delivery available
297mm x 420mm
Six stocks to choose from
Our most affordable option
Remind visitors of social distancing rules
Next day delivery available
420mm x 594mm
Choose standard indoor paper with a special finish
PVC stocks for outdoor use available
Reinforce sensible queueing in your store
Next day delivery available
594mm x 841mm
Two affordable indoor paper options
PVC stock available for outdoor advertising
Make a 'We're Re-Opening!' window display
Next day delivery available
841mm x 1189mm
Indoor and outdoor stock options
Add a finish to our silk posters
Perfect for showing customers where to queue
Next day delivery available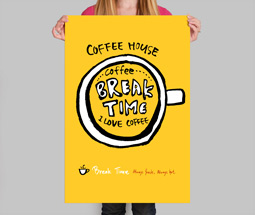 508mm x 762mm
Choose from PVC or silk stock
Ideal for refreshing your workplace
Poster printing for one-way systems and more
Next day delivery available
Buy Now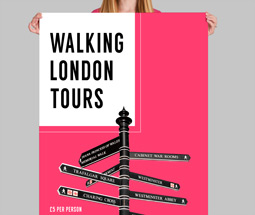 762mm x 1016mm
PVC or silk stock options
Pick a glossy or matt finish
Advertise your collections & delivery service
Next day delivery available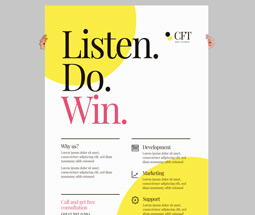 1016mm x 1524mm
Available in silk paper or waterproof PVC
Our largest custom poster
Perfect for promoting your store re-opening
Next day delivery available
Shop Poster Display Accessories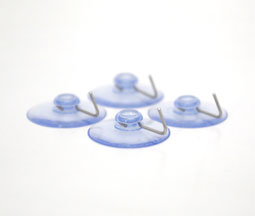 Hang posters from your windows
SIze is 40mm Circle
Next day dispatch available
Attach to glass or acrylic surfaces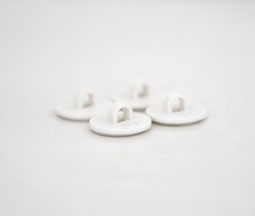 Small plastic loops with self-adhesive backs
Hang posters from your ceiling
Stick to indoor ceiling materials
We recommend using with our ceiling hooks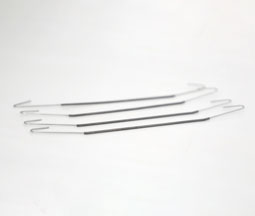 Spring metal coil attached between two loops
Hang posters from your ceiling
Next day delivery available
We recommend purchasing with our ceiling loops
Our Poster Customer Reviews
Why Choose instantprint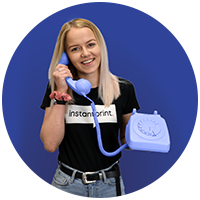 Friendly print experts on hand to help you at every step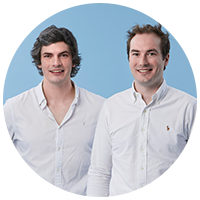 Everything you need to get your business running safely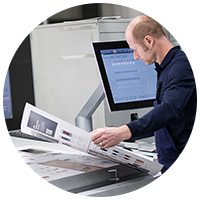 Quality paper, sustainably sourced from our carefully chosen suppliers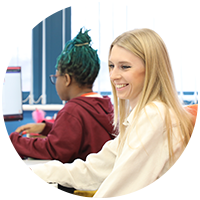 We check every piece of artwork that goes to print

Don't Know Which Poster Stock to Choose?
Check out our guide to picking the right stock for your poster
Read Guide
How to Flatten a Poster
Video Tutorial: 2 Ways to Flatten a Poster and Avoid Creases
One of the most exciting aspects of ordering posters online is the moment they're delivered. But when they've been rolled up in a tube, laying them flat can become a bit of a challenge. This video shows the best ways to flatten a poster to avoid creases and wrinkles. The first method is to roll the poster back on itself and secure it around the outside of a tube. Leave this for at least an hour and voila – an unrolled poster! The second method is to weigh down the edges of the poster. We'll always roll from the long side of the poster meaning it's easier to flatten when it arrives.
How Do I Make a Poster?
The first step in making your own awesome poster is setting up your artwork file. Did you know that you can create your own poster using many popular programs, such as Word or PowerPoint? Or if you dabble in more complex design programs, why not create yours in Photoshop or Publisher?
Check out our in-depth guide to everything you need to know about creating personalised posters on PowerPoint, Word, Photoshop and Publisher.
Once you've set your file up correctly, the real fun begins!
Designing a poster isn't always black and white – there are so many things to think about. Here are some tips on what makes an inspiring and memorable poster design:
• Use bright, eye-catching colours
• Make sure you can read the main message from a distance
• Play around with fonts
What If I Don't Have a Poster Design?
We've created a handy library full of poster templates. Whether you're looking for an A1 poster size, A2 poster size or an A4 poster size, we have the ideal blank canvas for you. Need some inspiration? Our expert design team have created some fantastic poster design templates to get you started.
We also offer a full print design service with our in-house graphic designers. Simply click 'yes' when asked if you would like us to 'design this for you' and you can add the service to the basket. One of our designers will be in touch as soon as the order has been placed to discuss your brief. If you prefer a more personal approach you can always chat with your designer in person via our video consultancy service. Simply click here to book a slot through our online chat team.
What Paper Stock is Best?
Whether you want to display your advertisement or artwork, we have the perfect solution for you. Here's a quick rundown of our stocks, and tips on picking the right one for your poster designs:
170gsm value silk

 – a thin and affordable option that's best used for temporary posters.

250gsm classic silk

 – a sturdier stock with a high-quality look and feel.

Waterproof PVC

 – at 220mic, this thin weatherproof option is ideal for outdoor A-frames.

Heavyweight waterproof PVC

 – outdoor signs or long-life posters are the best use for this 400mic PVC option.
We offer special laminate finishes on our classic silk stock. These add extra protection to your advertisement poster and give it a special look or feel. Choose from:
Matt

 – a smooth, no-shine finish that softens the colours

Gloss

 – a visible high-shine finish that brightens the colours
What Poster Sizes Are Available?
Dimensions: 29.7 x 42cm / 297 x 420mm / 11.7 x 16.5 inches.
A3 posters are a larger size that's great for indoor advertising. Use it to promote sales in your window display or as a placemat menu.
Dimensions: 59.4 x 42cm / 594 x 420mm / 23.4 x 16.5 inches.
You can pick an A2 poster to make a big statement at indoor events, or to go outside in a waterproof stock.
Dimensions: 84.1 x 59.4cm/841 x 594mm/33.2 x 23.4 inches.
A1 posters are huge! Great for listing times of performers at a concert, or for adding a huge splash of colour to a window display.
Dimensions: 118.9 x 84.1cm / 1180 x 841mm / 46.9 x 33.2 inches.
Use this large format option for affordable event signage indoor or out! Perfect for enhancing your presence at an exhibition, place it on the wall behind your display.
Dimensions: 101.6 x 76.2cm/1016 x 762mm/40 x 30 inches.
Slightly smaller than A0, 30 x 40 is classic movie poster size. Print your own custom posters for personal use or show off big events at your business.
Dimensions: 152.4 x 101.6cm / 1524 x 1016mm / 60 x 40 inches.
Bus stop advertising just got easier! These personalised posters are the perfect size to fit in a bus stop display case.
What Posters Do I Need to Re-Open My Business?
Posters are an essential tool for reopening your business. We recommend using posters before, during and after your reopening to make sure you're giving customers all the information they need to visit your business safely.
'We're reopening' posters - Let passers-by know your new opening date and time by posting one of these in your shop window a week or two before the big day.
New services posters - Make customers aware of any changes to your services you've added to make sure you're running a COVID-secure business, like collection and delivery.
Hygiene posters - Remind customers to sanitise their hands and use 'how to hand wash' posters in toilets so that everyone follows best practice.
Social distancing posters - Use posters to let people know they need to stay the required distance apart at all times in your store.
What Are Posters Used for?
When you're designing your own poster for print, it's essential that you've got an end goal in mind. Whatever your poster goal is, here are a few of the most popular ways our customers use them:
Advertising Products - One key way posters are used are to advertise products, services and businesses in general. These can be in-store offers or star buys, or even bus stop ads and other outdoor large format poster advertisements like billboards.
Promoting Events - If you've got a big event coming up, posters are a great way to advertise this. All you need is the single sheet to let passers-by know the date, time and location and you're good to go! Just make sure you put it somewhere with a lot of potential to grab attention.
Communicating Important Information - From hygiene posters to health and safety information, posters play a vital role in many organisations. For long-lasting posters like these, PVC materials are the best to use since they're sturdy and easy to wipe clean.
Where Are the Best Places to Put Posters?
One of the first decisions you'll need to make before choosing what kind of poster you want to print is where you're going to put it. Will it be indoor or out? In a permanent spot or just temporary? How much room will you need? These are all factors that will impact your decision.
But just where should you put posters for maximum impact? And more importantly, where are you allowed to put posters? Check out our guide to poster placement ideas and find more on the rules around putting up posters.
How to Print Posters Online with instantprint
Choose your options and add them to the basket
Upload your poster design
Approve your artwork proof
Place your order!
If you need any help at any stage of your journey, our team is happy to help and advise. Get in touch today!
How to Choose the Perfect Frame
Got space in or outside your store? Why not try an A-frame? There are so many to choose from, such as the A0, A1, A2, 20 x 30 poster frame and more! An A-frame is the ideal way to show off your large posters from two sides at once to get maximum exposure. When you order this product you'll receive two poster prints and an aluminium frame to display them in.
What Do Our Customers Think?
"instantprint's A4 silk posters gave me a platform to launch my very own limited edition prints. The quality is superb and brings out the colours in my designs." - Carla, Owner of Dash Designs

"As an arts business, we need strong visual content and mixed scaled prints that will stand out to our consumers and increase sales. Therefore, we choose to print various formats of artwork such as A1/A0 posters and flyers as we believe the printing, colour and paper quality are powerful tools for delivering our brand messaging." - Sabrine - Marketing at Danceworks
Choose your options and add them to the basket

Upload your poster design

Approve your artwork proof

Place your order!
If you need any help at any stage of your journey, our team is happy to help and offer expert advice. Get in touch today!