Updated: January 2022
High resolution is the secret to print that looks amazing – but what is it and how do you make sure your artwork has got it? In this UK guide to image resolution for printing, we'll answer all your questions and show you some quick tips for getting it right.

What is Print Resolution?
Print resolution is all about how many tiny pixels make up an image. It's measured in dots per square inch. The easiest way to picture this is to imagine that when you increase the image resolution, you're increasing how many pixels (or dots) live in that square inch of the picture. And the more dots, the more detail!
For example, 300dpi resolution means there are 300 tiny dots in each square inch. The result? Loads of detail – which is what makes your finished image look high quality.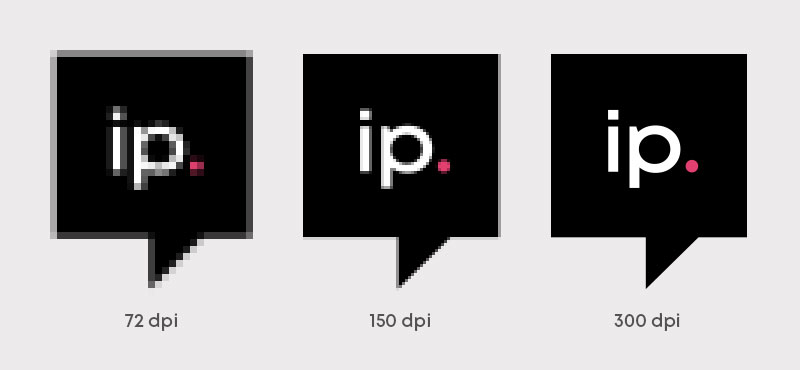 The higher the print resolution, the higher the quality. That's why when you come to set up artwork for print, you should always start with an image resolution of 300dpi.
What does good print resolution look like?
Resolution can range from excellent to poor, what we want to do is give you an idea of the standard that we require your artwork to be for print that would be exceptional, acceptable and what we wouldn't recommend as printable.

Below we've used an A5 flyer with the same artwork ranging in 3 different qualities.


1) This artwork is excellent for printing, as it does not contain any low-resolution elements or pixelation. All the content on the flyer, especially the text, is clearly readable.

2) Compared to the first flyer, this version has a lower resolution and contains areas of pixelation, particularly in the image and text. Despite these low-resolution elements, it falls within the acceptable tolerance for printing. However, our artwork team will assess if the quality will be noticeable in the final print and provide you with feedback accordingly.

3) Unfortunately, this design is of the lowest quality and is not suitable for print. It suffers from heavy pixelation, making the text illegible. We strongly advise against using this version for printing. Instead, we recommend submitting a higher-quality version of your design, where all the contents can be clearly read.
Hopefully, these examples have provided you with a clear understanding of the criteria we consider when reviewing customers' artwork and the level of quality we expect.

This artwork is for an A5 flyer but what about something larger?
When it comes to larger formats, any imperfections caused by low resolution become more prominent and easily noticeable. Due to this, we advise customers to provide artwork in the highest resolution possible to ensure the best print quality. If you are uncertain about the suitability of your artwork for the product you are ordering, you can place an order without uploading the artwork and send the design to artwork@instantprint.co.uk, along with your web reference number. Our Studio team will perform a free artwork check for you and provide feedback on your design.

Does Print Quality Differ from Screen Quality?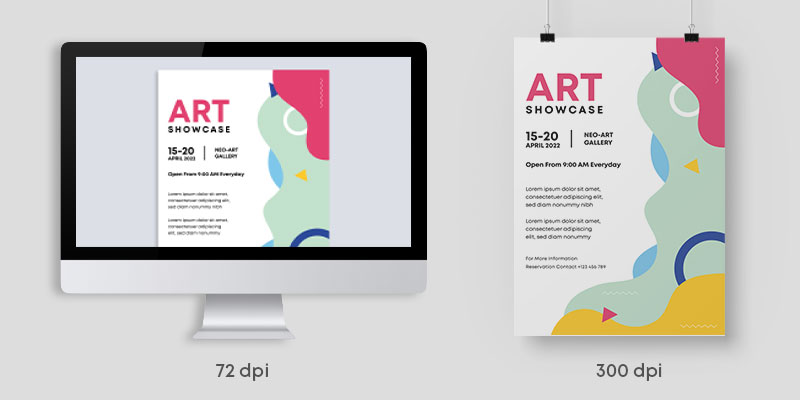 When your artwork is on screen, it's usually displayed at 72dpi. When your work is printed, however, it will be 300dpi.
If you imagine watching an old black and white film on a top of the range TV, it wouldn't look as clear as the latest Hollywood blockbuster would because it wasn't designed for that size screen, just like how your computer resolution isn't meant for printing.

How to Make an Image 300dpi
If you're trying to print something that has an image resolution of less than 300dpi (dots per inch), the odds are that the image is going to be pixelated (that's technical jargon for blurry). If artwork is less than 300dpi, we would always recommend you have your printed products redesigned for the best quality materials.
Here's how to optimise your print resolution quality using two popular image-editing platforms: Photoshop and InDesign.
Photoshop
To create a print-ready image with 300dpi in Photoshop, select the following: File > New, then in the resolution box type '300'. Note: Ensure that your canvas' colour mode is set to CMYK.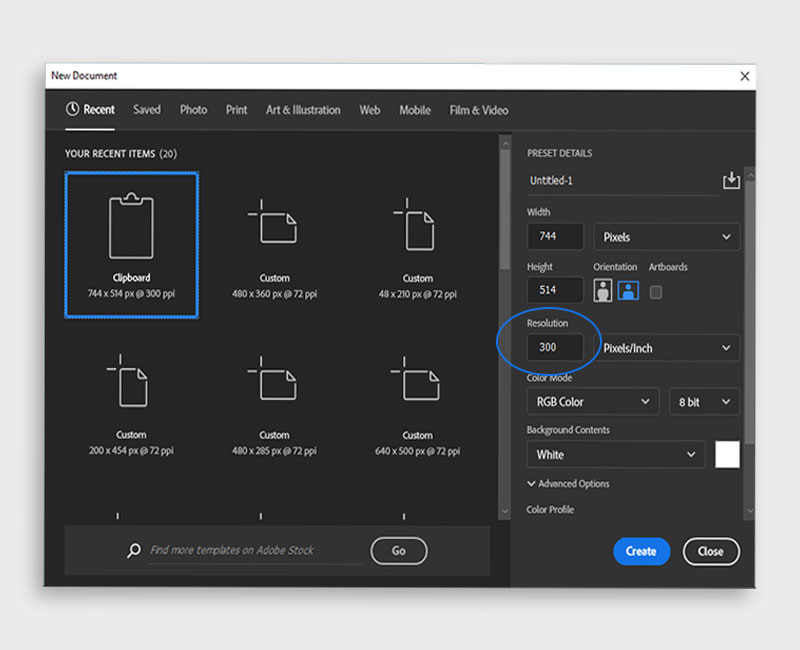 InDesign
If you're using InDesign, there are lots of different bits of content that have no resolution – like vector-based logos. You'll only be able to specify the dpi when you export your file to a different file format, like PDF or JPEG.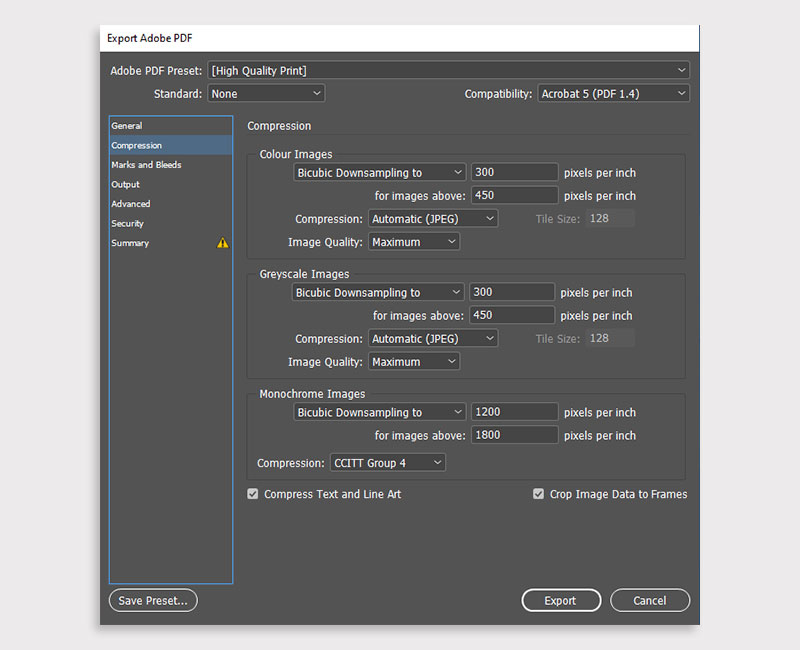 This is why, if you're using images in your design, you should try and source the highest quality images. Check out my top tips below for how to do this.
Top Tips to Avoid Image Resolution Issues

Check the source of your assets/images. The most common reason behind a low print resolution is search engines being used to search for assets. If you do use search engines for royalty-free assets, I'd recommend using resolution filters to find the highest resolution images. Then once the assets have downloaded, always double check the image file's properties. Make sure the image resolution matches the 300dpi resolution of your artwork. We would recommend you source high-quality images from stock image sites such as Shutterstock or Pexel.
Avoid using a high ISO setting on your camera. Photos are a great way to make potential customers aware of your products, locations, and services in action, and adjusting your ISO settings is a great way to combat dark lighting. However, this can sometimes result in your photos appearing a little grainy. When producing professional marketing materials, we would recommend using a photo that's well-lit and grain free.
Make sure your settings are correct when saving/exporting your artwork. Most of the time, changing the options given when saving to a pdf or jpg image can solve this problem. The print resolution options should always be set to a minimum of 300dpi, and compression options should be set to maximum.
Frequently Asked Questions About Print Resolution
Q: Can instantprint improve the print resolution of my design?
A: No, technically this is not possible, this will have to be done in the design software that you have used to create the design.
Q: What can I do if I can't improve the resolution of my design?
A: There are two main options. You could either pay to have a new design professionally made or you could print the document "as is". We would not recommend printing a document below 300dpi for the reasons outlined in this article.
We hope this UK guide to image resolution for printing has proved useful. If you still need help, you can ask our Personal Artworker team any questions about print resolution. Email your artwork and questions to artwork@instantprint.co.uk.