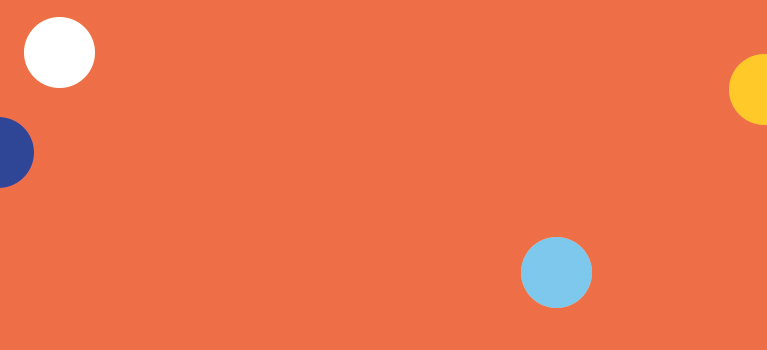 Presentation Folders
Look the part when you walk into that big business meeting with the perfect Presentation Folder. Our new range offers two stunning styles in two different sizes, giving you plenty of choice for when you need the ultimate business companion. So whether you're after the simplicity of Interlocking folders that offer a slick spot for your business card; or the sturdiness of a Glued folder, which manages to hold up to 15 sheets of paper in its pocket; both can be snapped up in either A4 or A5. Printed double-sided on quality Silk paper, you can opt for Matt or Gloss lamination for a smooth, professional finish. 
Shop by Presentation Folders Type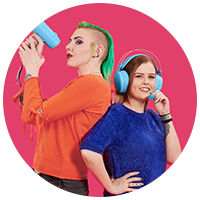 Top 50 Company for Customer Service 2018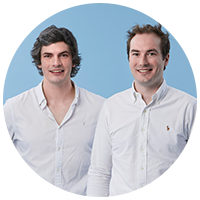 We get what it's like to be a small business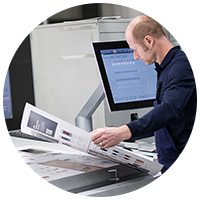 Quality paper, sustainably sourced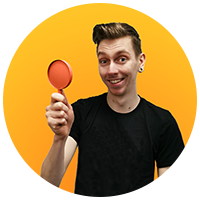 We check every piece of artwork that goes to print
Britain's Most Inspirational Small Business Owner
Meet Kamran, the UK's Most Inspirational Small Owner
Here at instantprint we work daily with small business owners to help them grow. We soon realised the stories behind each business really touched us and we were delighted to see how many inspirational start-ups there are out there. So last year we set out to find the Most Inspirational Small Business Owner the UK has to offer. Since we print a whole range of marketing materials, from PVC Banners to Presentation Folders we awarded our winner a range of print products and £1500 cash to help support their business. Watch on to see why Kamran Zaman from Charity Candy was deservedly crowned our Most Inspirational Small Business Owner of the Year.
Why choose Presentation Folders from instantprint?
Our Presentation Folders are printed on the only HP Indigo 10,000 in the UK, which allows us to print smaller runs of your folders on a quality which rivals litho! Interlocking Presentation Folders are printed on our premium 350gsm Silk, which means they're sturdy, professional and able to hold approximately 15 sheets of paper at once. Our Glued Presentation Folders are glued down one edge by our expert finishing team for a secure hold. We have three laminations available which are applied by our expert finishing team to top off your Presentation Folders, from Matt, Gloss to Velvet.
Presentation Folders: Types and Printing Considerations
Presentation Folders are the perfect way to keep your documents looking professional. Unsure which binding type or size is right for your needs? We've created a guide to show you the different options of Presentation Folders we offer so you can find the perfect one for your business.
Interlocking Presentation Folders
Interlocking Presentation Folders fit neatly together with a long flap which runs vertically up one side of the folder and a shorter flap which is attached to the bottom edge. These sides interlock together to form a sturdy pocket, making them perfect to take to meetings and events. Interlocking Folders also feature a nifty Business Card holder which is ideal when you have a networking opportunity! The folders are also printed on a thick 350gsm stock with Matt, Gloss or Velvet laminations available to add an impressive finish.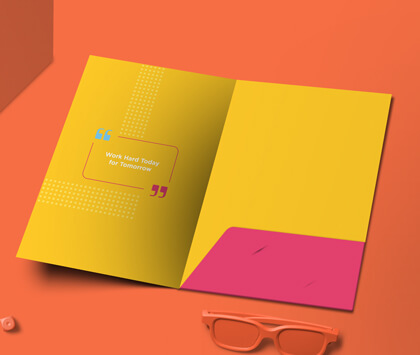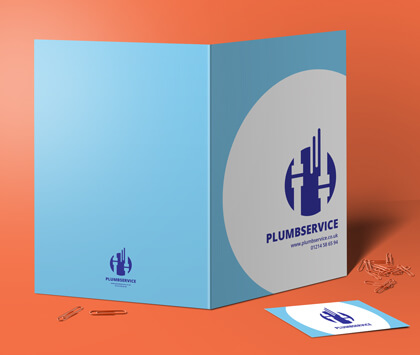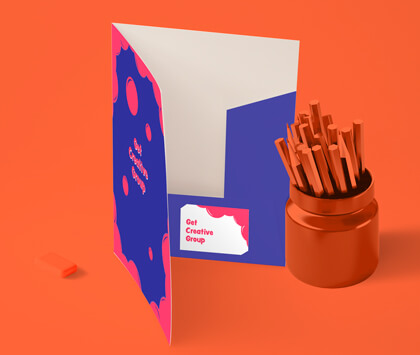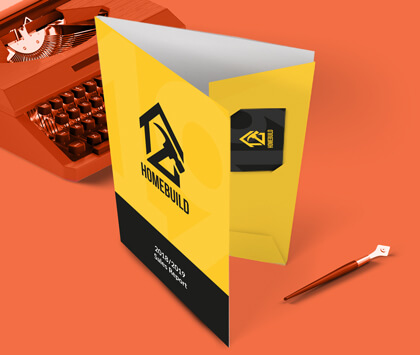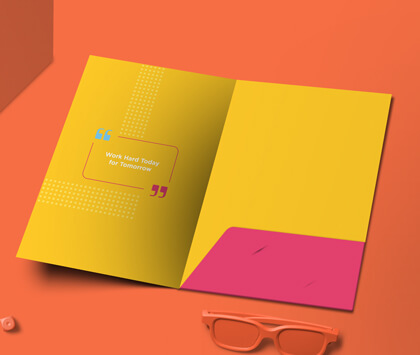 Glued Presentation Folders
Glued Presentation folders have a premium feel with a strong pocket glued down one side to hold up to 15 sheets of paper. This option will guarantee a professional look with the knowledge that all your documents are safe and secure. Matt, Gloss and Velvet laminations are also available for Glued Presentation Folders for an extra-stylish coating.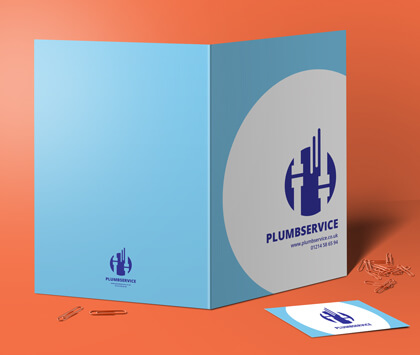 A4 Folders
A4 Folders are a classic choice to bring along to big meetings, presentations and pitches. Include all the notable points in documents up to A4 size for your contacts to take away and absorb the information. These folders are oversized so there's no risk of your papers becoming crumpled.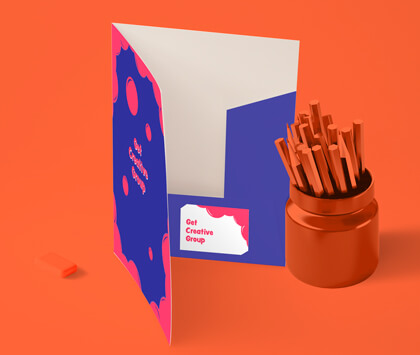 A5 Folders
A5 Folders are ideal for promotional packs that showcase important information about your business. You can fit different flyers, cards and documents in a smart folder that can be easily sent through the post. A5 Folders are also a firm favourite to take to events and hand out to potential clients. The folder is slightly oversized, meaning you won't have to worry about your documents becoming creased.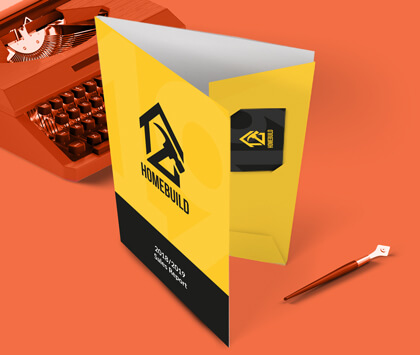 Printing Considerations
When submitting your designs, make sure the bleed reaches all the way to the edges of the folder and completely covers the net span. We ask that you upload artwork that covers one whole side of the folder when laid out flat, which is easier than designing each individual section. This makes sure your folders are cut with a neat, sharp finish. For A4 Folders you should supply your artwork in a 454mm x 383mm document, or 332mm x 297.5mm for A5 Folders.