Presentation Folders are great for when you want to keep your documents in one convenient place. Whether you use them for important meetings, networking events or to send out product samples to potential clients, they'll help to highlight that you're organised and professional; two traits that are sure to make the very best impression.
Setting up your presentation folder for print might seem a little daunting, so help you get started, we've put together a useful step-by-step guide so that ordering your presentation folders will feel like a walk in the park!
Pick Your Poison
First thing's first, you'll need to select which folder type you fancy. Presentation Folders are available as either Glued or Interlocking. With Interlocking folders, the edges are locked together to create a sturdy pocket. The advantages of these over Glued is that they have a long flap that runs vertically up the side of the folder as well as a shorter flap that runs horizontally along the bottom. Because of this, your documents will be held firmly in place, which is great if you're carting them around from meeting to meeting.
With Glued folders, you're getting a more premium finish. This robust option boasts a large pocket that is glued on one edge and fit to hold around 15 sheets of paper. Pop in some swatch samples, a stack of business documents or your university work and you can really showcase your stuff in style!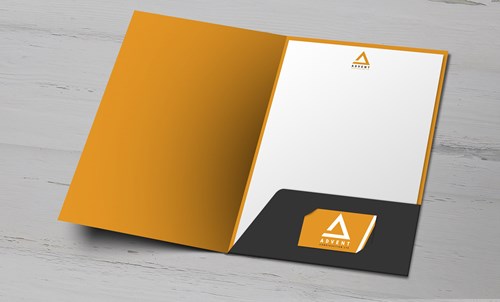 Both folder types offer the space and durability to keep your documents safe and secure. They even offer a nifty slot for your business card, so whichever one you choose, you'll always be ready to network!
Select Your Size
The size of your folder depends entirely on what you want to put in it! If you're after something that will hold important business documents then A4 is just the ticket. If you want to put together a promotional pack that you can send through the post, A5 is probably your best bet. Whichever size is right for you, just remember that both options are slightly oversized. This is so that your documents will fit snugly inside the folder without any creasing.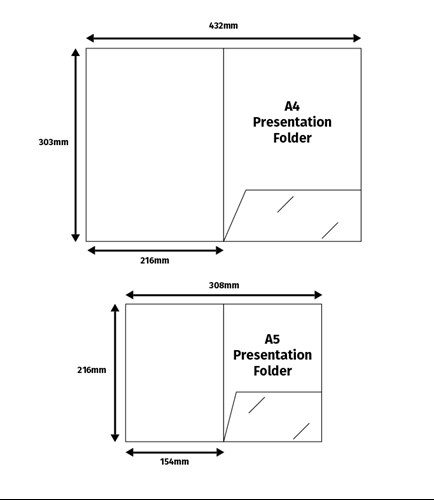 Supply Your Artwork
So here's the tricky bit. When designing your artwork for Presentation Folders, you have to take the layout into account. If you take a look at image below, you'll see that the artwork bleeds to the edge of the document, completely covering the net of the folder. This is easier than having to design each section separately and it ensures that you get a nice, neat finish once the folder is cut.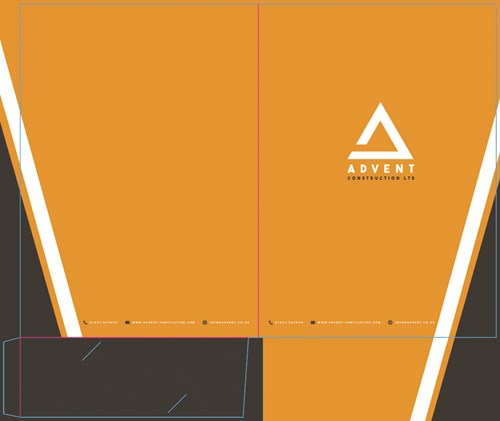 Artwork for Glued Folders should be supplied as a 454mm x 383mm document for the A4 sized folder and 332mm x 297.5mm for the A5 sized folder.
For print we recommend that you stick to these specifications:
Size with bleed:
A5 - 332mm x 297.5mm
A4 - 454mm x 383mm
Resolution:
300 dpi
Format:
PDF or JPEG
Colour:
CMYK
Fonts:
Outlined or Embedded
Bleed:
3mm
Safe Zone:
3mm
So now you're ready to get printing! If you have any more questions about setting up your presentation folders, get in touch, we're always happy to help!