Shop by Flag Type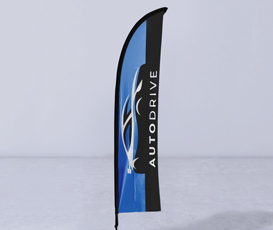 115gsm Aeromesh
Super strong and weather resistant
Delivered within three working days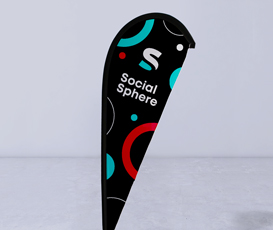 Durable 115gsm Aeromesh
Choose a base
Delivered within three working days
Our Flag Customer Reviews
Flag Assembly Tutorial
How to Properly Put Up a Promotional Flag
Your flag has arrived and is ready to assemble, but just how do you do that? Which part fits where? What's the best way to fill the base? Don't worry – we've got all your top questions answered! This tutorial will show you exactly how to properly put up a flag, including inserting the poles and filling up the flag base. These instructions have been written to make flag set up as quick and easy as possible. Whether you choose a feather flag or teardrop flat, all of our options work in the same way, meaning these instructions are representative of all.
Our Inspirational Blogs
Frequently Asked Questions
Feather or Teardrop?
You can choose between two different styles of our custom printed flags. Here's a little bit more about each style:
Feather – long and tall, you'll have more room to get your message across. They also look great when they catch the wind!
Teardrop – a fun teardrop shape that's a little sturdier in the wind. Slightly smaller design are than the feather style, but just as effective.
What Size Should I Choose?
The size of your flag will depend on what you're using it for. Smaller flag banners are ideal for indoor showrooms and sales, whereas the larger sizes are best used at outdoor events like sporting events and festivals or outside roadside shops.
The table below shows the different sizes of our flags to help you make your decision:
*We require an additional 60mm of bleed to be added on to your artwork to make sure trimming doesn't leave any white borders on your design. Keep important information at least 60mm away from the edge to account for the trimming and the black, handstitched lining of the flags.
The easiest way to create your flag design is to use our free flag templates. You can find these on the product page once you've chosen which size flag you'd like to print.
We don't currently offer custom size flags, however if you're after more choice we offer a huge range of PVC banner sizes which is another fantastic way of getting a message across outdoors.
Which Flag Base Should I Get?
We offer three different bases for our flags. Here's a little more information to help you decide which to get.
Eco Spike – our most affordable base option, this is a metal ground spike that can be used for pushing into fields. Best used for one-day events.
20ltr Standard Base – A strong, square base you can fill with 20 litres of water. This is a great option and can hold any size flag.
30ltr Tyre Base – our heaviest flag base, it holds 30 litres of water. This option will hold your message high on even the windiest of days!
What are Flags Made From?
We print our flags on Aeromesh, which is a polyester fabric. This material weatherproof, sturdy and flexible, making it ideal for high quality flag printing.
How to Set Up Your Flag Design for Print
Because of their unusual feather or teardrop shape, it's easy to find designing a flag daunting – but it doesn't need to be! Whichever size or shape you choose, we've got a free template so you can get the shape and size just right. We recommend starting your design with our free templates – you can find these in the 'Artwork Guide' tab once you've chosen which style and size flag you'd like to print.
Here are a few extra recommendations for setting up your flag design for print:
Add an extra 60mm around the edge of your artwork – this is the bleed area and will help make sure there are no white borders on your finished flag
Save your design as a JPEG or PDF to flatten fonts and other 'lose' elements like your logo – this means when our Studio team checks your design, nothing will change or move about
Change your colour mode to CMYK to get an accurate view of what the colours will look like when they've printed
Top 3 Flag Design Tips
Designing a flag is a great way to add your own touch to your large format point of sale marketing. But there are a few pitfalls, and equally a few things to consider if you really want to make a big impact with your flag banner design. Here are our top tips for designing your own custom business flags.
Quick attention capture – think about how long a viewer will have to look at your flag – if it's outside your store on the high street, they'll probably have more time to take in your message than if they're driving past your flag on a busy road. Make sure your message is big enough to quickly communicate in the time frame you have.
Bright colours – the whole point of flags is that they grab attention, so adding a bright colour to the mix is only helping you achieve this goal. Try and pick a colour that contrasts with your background (e.g. showroom wall, green/brown field or the grey road) to really stand out.
Put your logo or key message high up – this is especially important for events. If you're taking a branded flag to promote your business, make sure your logo and/or key message is visible, no matter where the viewer is stood.
We love these flag designs from our wonderful customer Global Camps UK. They chose to use two bright, contrasting colours for their teardrop flag designs and keep their logo high up to make sure their brand is the bit the stands out the most.
‍
‍