Shop by Most Popular
Shop by Flyers & Leaflets Size
Customer Reviews for Flyers
Design Like a Pro with instantprint
Unleash Your Creativity with our New Design Tool!
At instantprint, we want to make printing simple and easy so business owners can make the designs they have in their head a reality. In this video, we'll introduce you to instantprint's new design online tool, packed with thousands of templates for business cards, flyers, banners, and more. Whether you're a gardener, makeup artist, florist, cafe owner, or restaurateur, this tool has something for you. 
With its user-friendly interface, you can quickly create stunning designs that represent your brand in just a few clicks. No need to hire a professional designer or spend hours figuring out complicated design software.
Need extra help? Read our
handy guide
on how to get started.
Our Inspirational Blogs
Frequently Asked Questions
How Do I Make a Flyer?
Making a flyer for print is a lot easier than you think! All you need to do is:
Set up your document size to the flyer you want to make (top tip: you can find specific measurements in mm by clicking on the flyer size you want on this page)
Make sure you're using the right colour settings
Add some high-resolution images , like your logo
Save your document as a PDF
Send it to us!

1. Set up your document size to the flyer you want to make (top tip: you can find specific measurements in mm by clicking on the flyer size you want on this page)
2. Make sure you're using the right colour settings
3. Add bleed and safety areas
4. Add some high-resolution images, like your logo
5. Save your document as a PDF
6. Send it to us!
For more thorough advice on how to do all of these different things using a variety of design tools (like Word and InDesign), check out our full guide on how to make a flyer here .
What Flyer Paper Should I Choose?
 Value 150gsm Silk 
Pros: A cheap flyer printing option for businesses that don't want to scrimp on quality.
Feels like: Thin takeaway menus and weekly magazines – a lightweight paper that's still smooth and silky.
Ideal for: Bulk flyer printing on a budget, takeaway menus, large quantity handouts for shows and exhibitions, club and events advertising.

 Classic 250gsm Silk
Pros: A good midweight paper, that's versatile and can be used for a range of different things.
Feels like: A thin card that stands up straight when you hold it up with a silky finish.
Ideal for: Most marketing activities, including advertising flyers and magazine inserts.

 Premium 350gsm Silk
Pros: This super thick stock gives the impression of luxury and lasts a long time, especially if you add a protective, splash-proof layer of lamination. Also available with Spot UV on matt lamination.
Feels like: A thick card, like a restaurant menu card or business card.
Ideal for: Long-term marketing like menus or high-end business flyers for impressing top clients.

 Recycled 350gsm
Pros: Print environmentally-friendly flyers on 100% recycled card.
Feels like: Thick card, just like our premium stock but slightly less ink absorption.
Ideal for: Any business looking for an eco-friendly alternative to their standard advertising flyers.

 Kraft 225gsm
Pros: Gives flyers a hand-crafted, DIY look but with a professionally printed finish.
Feels like: An earthy, textured card, like those brown recycled envelopes you can get but thicker!
Ideal for: Independent businesses, crafters and café menus.
How Do I Design a Leaflet?
Designing leaflets or flyers online is quick and easy, especially if you have your own design team or are happy to dabble in the creation yourself! On each of the different product sizes, you'll find the design specifications clearly listed for you to utilise.
These include:
·       Finished leaflet size
·       Artwork set-up size
·       Bleed, colour mode, and the dots per inch (DPI)
Once you've completed your masterpiece and you're happy with your advertising leaflet design, upload your artwork to our site so our quality control team can make sure everything is A-OK.
Flyer Design Top Tips
We've been printing flyers for over 10 years, which means we've seen some pretty nifty flyer designs in our time. Using our experience, we've compiled our top tips for designing your own flyer – here's our best advice.
Keep text to a minimum
Flyers are meant to be easy to digest, which means keeping your text short and sweet – it should never take longer than a few minutes to read everything on a flyer. We recommend having no more than 250 words on your flyer – even less for A5 and smaller.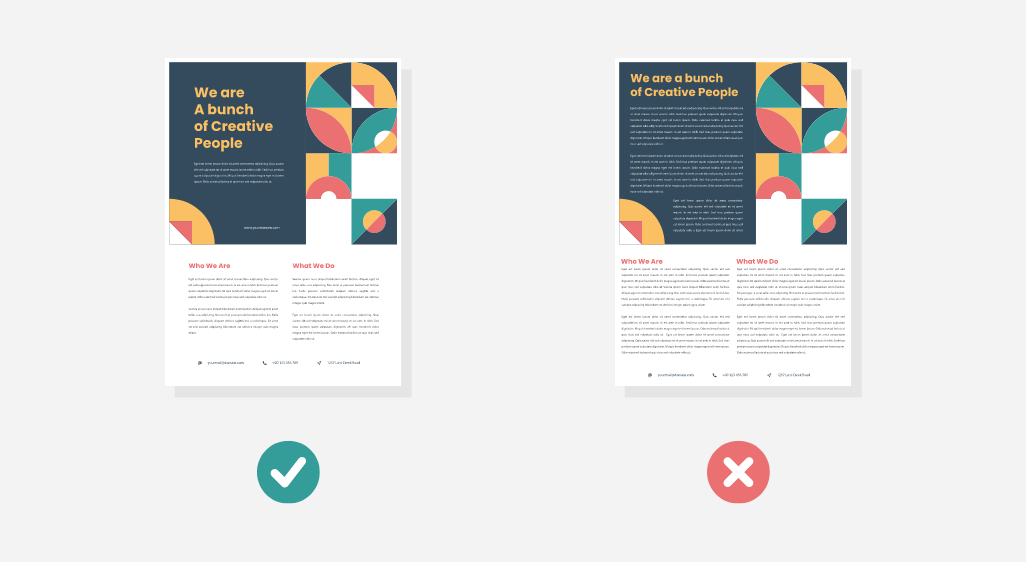 Use headings
Design your flyer like you're telling a story – you'll need one big heading to summarise the entire flyer, then smaller headings to direct your reader's attention onto the next important piece of information. This helps create hierarchy in your design and makes it easier to read.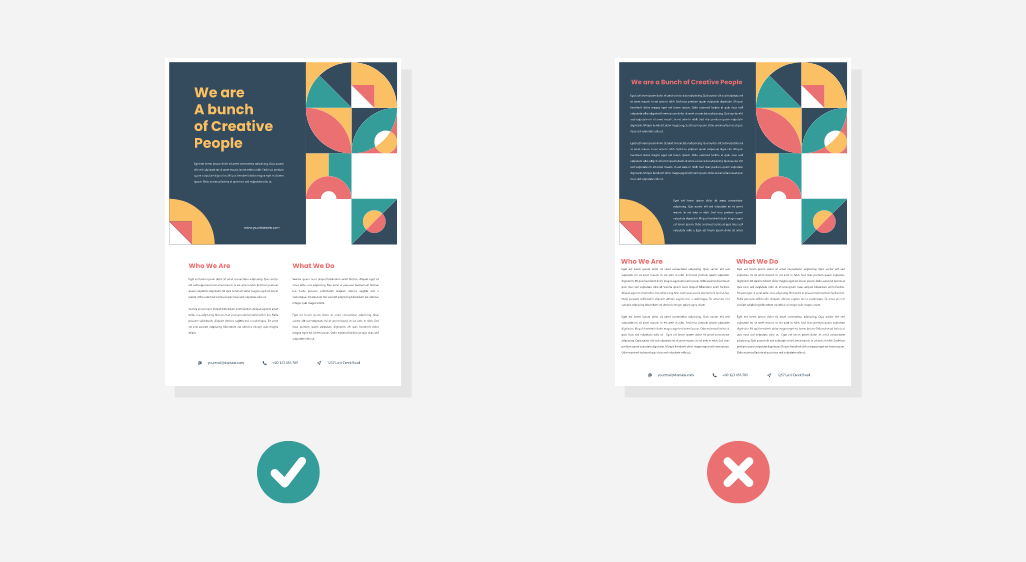 Stick to your brand colours
Adding lots of different colours can be distracting. We recommend choosing two or three of your brand colours that really complement each other and make your message easier to read.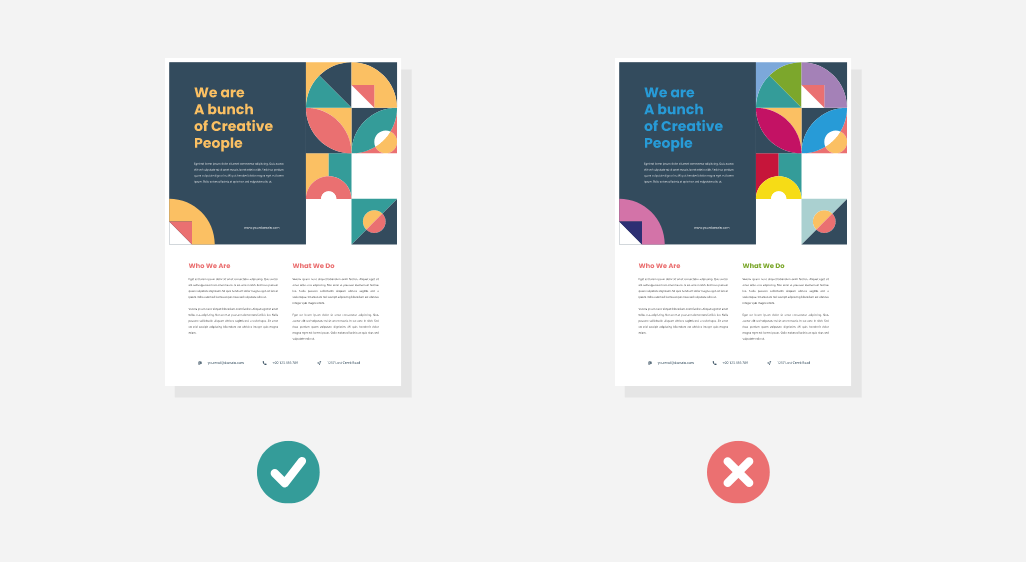 What If I Don't Have a Leaflet Design?
We understand that finding the right leaflet design for your brand can be a challenge, but we can help you decide what to include when designing leaflets online with our range of useful templates. No design? No worries! Whether you have an idea of what you want or not, our online tool has a variety of templates for flyers that can help you design a perfect leaflet.
We have templates available in our library for a wide array of company types and events. If you're a gym or a fitness establishment looking to advertise a new selection of classes or services, no problem! We have the perfect flyer advertising design for you.
Promoting seasonal menus for your restaurant or café? You'll want everyone to know all about the new tasty delights you have on offer. A flyer template from instantprint is the perfect way to show new and existing customers the up-and-coming menu options available.

How Do I Order Flyers Online with instantprint?
Placing a flyer order at instantprint is totally fuss-free! If you haven't designed your artwork yet, you can design it yourself. Simply use our free online tool.
Once your design is ready, choose the product you want on this page. Choose your stock, quantity, and delivery options – then click add to basket.
You'll then be greeted by a pop-up tool asking how you'd like to supply your artwork. Upload your design and we'll automatically create a proof for you to review. This is what your finished artwork will look like, with lines added on to show bleed and safety zones (we won't print the bleed lines!).
If you're happy for us to print this, approve your artwork for print and place your order. A member of our Studio team will then manually check and set this up for you – like a print safety net!
How Are My Flyers & Leaflets Printed with instantprint?
Since launching in 2009, we've printed over a billion business leaflets and other flyer designs for our customers! All of our flyer printing is done using the latest cutting-edge technology and each design is checked carefully by our experienced in-house studio team.
If you order fewer than 500 flyers, we'll print them on our state-of-the-art iGen or Indigo press. If you order more, we'll print them lithographically using our Heidelberg.
How Can I Distribute My Printed Flyers?
Once you've worked on designing a leaflet and have your marketing ready to go, it's key that you know where they should be distributed. By ordering a stack of cheap flyers, you'll have plenty of potential customers to try and hit! A local business may want to place them in nearby cafés and restaurants, whereas B2B firms should save them for conferences and networking events.
What is the Difference Between Flyers and Leaflets?
In short, there really isn't a difference! The reason that both terms are used across our site is that the two are interchangeable. They both have similar characteristics such as they're unbound, single sheets of printed paper, and can be used for marketing and non-marketing purposes including advertising events, products, services, special offers and promotions.
Why Choose instantprint For Your Printer Flyers ?
We've been helping businesses like yours since 2009 and we pride ourselves on being the only online printing company that really gets small businesses. Not only that, but every piece of artwork you send to us goes through our unique and rigorous 10-point quality control process.
This means that your artwork is checked by your very own Personal Artworker, who is automatically assigned to you as standard, as soon as you upload your artwork. Your Personal Artworker will review your masterpiece to make sure that your leaflet printing and business flyers are of the highest quality. They check your artwork's compliancy with bleed and safety zones, check whether you have the correct number of sides and pages for the product you're printing, and also whether the resolution is suitable for print!