Menu Printing

You may also like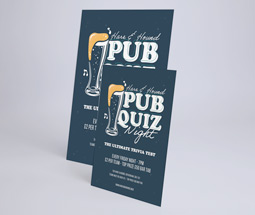 A4 & A5 strut card signs
Free-standing countertop signage
3-4 working day turnaround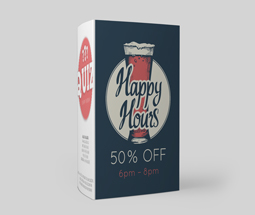 Three sizes to choose from
Printed on thick 350gsm silk card
Arrive ready to assemble
A5 and A6 freestanding displays
Ultra thick 450gsm silk card
Add a protective lamination
Customer Reviews for Flyers
Our Inspirational Blogs
Frequently Asked Questions
Hospitality Printing: How to Choose Your Perfect Print Menu
When we were deciding which types of menus to print, we wanted to leave a lot of the choice up to you – which is why we offer so many different kinds of menus. Although this means you can print exactly what you want to create a menu you're proud of, it also means there are lots of decisions to make before you purchase. Here are a few quick questions to ask yourself to determine what kind of menu to print.
What's Your Budget?
A lot of the choices you'll make will be made depending, first and foremost, on your budget. We'd always recommend going for as thick of a stock as you can. We measure most of our stocks in gsm (grams per square metre). The higher the number, the heaver (or thicker) the stock, so our 350gsm menu cards are a lot thicker than our 150gsm ones. Thicker menus have a premium feel, and they're more likely to last longer, so they're definitely worth the investment.
For smaller budgets, we recommend our thinner stocks – the thinner the stock, the cheaper the menu! We still print the exact same quality no matter what stock you choose, so images and text will still look as sharp, and colours will still be as vibrant no matter which stock you go for.
What Kind of Establishment Do You Run?
Every business is unique – for example, a pop-up cat café will need a very different menu to a cocktail bar – so it's important to choose the right kind of menu for you!
Does Seasonality Affect Your Menu?
Who doesn't love a seasonal special? Our favourite kind of menu for specials is the table talker. With three faces to design, you can add a special option or deal to each side without having to buy a full set of new menus every time to you want to change it. Simply pop your table talkers in the middle of the table and let them do all the hard work!
Top 3 Custom Menu Design Tips
Not sure where to start with your print menu design? Check out our top 3 essential tips for designing a menu!
1. Use Hungry Colours
According to colour psychology, certain colours can actually make us hungry! These are usually warm colours like red, orange and yellow. We recommend choosing two to three colours for your menu so it looks sleek and professional without looking cluttered.

2. Divide it Up!
Having clear sections for each course of your menu is an essential design tip. We recommend starting with the course you order first – the starter! And then carry it on in the order you'd expect, with specials dotted here and there.

3. Use Effective Typography
Using a different font for your headings is a great way to make sure customers can easily navigate your menu. Although it's best practice to keep the fonts you use for your food names and descriptions easy to read, you can get a little more creative with heading fonts.