If you've got a big event coming up, one of the best ways to advertise this is by putting up posters in your local area; not only is poster printing cost effective, but a fantastic custom design has the ability to demand total attention.
Once you've created the perfect design and printed out your posters, only one question remains: where exactly should you put them? Here are some high-impact places that are perfect for spreading the word to your target audience.

Share with Shoppers
High-traffic areas like shopping centres and high streets are great places to shout about your event or business because there are always going to be people around. And if the event is local to the shopping place, that's even better!
No other form of advertising is as fast as posters when it comes to achieving high reach rates. So, take advantage of the increase of outdoor shoppers on the high street in summer, and the surge of indoor shoppers using shopping centres to shelter themselves from the elements in winter.
To make sure the sun and rain don't dampen your message, it's a great idea to invest in weather-resistant posters. Ask local shop owners if you can put your posters in their windows. As long as you've got permission, you can post away!

Brighten Up Your Office
Changing your workspace is a great way of improving your mindset and attitude towards work and can even positively impact job satisfaction. A great way of doing this is by putting up posters around your office. You could design them with your brand colours in mind, they could feature your brand values, or even have motivational messages on for you and your staff.
We've recently put up posters around our office to make it a bright and more attractive working environment. We used our brand colours to showcase the values we strive towards everyday (see below).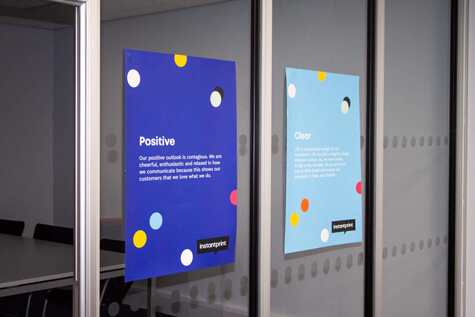 Grab Attention in Waiting Areas
If you've ever been in a waiting room at the GP surgery, hospital, dentist, opticians (the list goes on…), you'll know that your eyes will wander around the room, reading everything you can to try and entertain yourself while you wait for what seems like the longest 15 minutes of your life. So, if your poster is up on a noticeboard or on the wall, it's a given that people will see it and read every last word.
By making sure your poster is entertaining and brilliantly designed, you can easily make an impression. A 2017 study of GP surgery waiting rooms found that connections to the surrounding community created a comfortable, welcoming environment. So, appeal to that community vibe with your design. Like before, just remember to ask for permission before you hang flyers or posters.

Appeal Locally with Public Noticeboards
Whether it's an outdoor board in your local village or town, or a community board in the library or supermarket, bulletin boards are a great way of spreading knowledge about local news and advertising events in the area. This is because you're targeting the people who live locally who'll see this board when they're out and about. These boards are often chockfull of local advertising though, so you'll need a killer design to make sure you stand out from the crowd! Give passers-by a reason to notice your Poster.
(Source: Pinterest)
Grab Attention at Bus Stops
From commuters to students, there's a huge target market that regularly uses public transport to get around. Our 30" x 40" posters are the exact size used for bus stop advertising, making it a fantastic option for any business looking to create their own.
This can be a more expensive option, but if it's part of a wider campaign it can be extremely successful. The right design could even encourage word of mouth promotion amongst these travellers, so make sure every detail is perfect!

Other Businesses
If you're a small business, why not ask other small local businesses in your area to put up your posters? This could be on a staff noticeboard, or around where their customers will be. For example, cafés, gyms and hairdressers/salons are great places to ask.
If you're advertising an event in the area, local businesses are usually more than happy to share this with their customers. You could even do a swap with them – if they've got any posters or flyers they're looking to distribute, you could help support their business too by taking some of those for your place of work.
Good Practice for Posters
One thing you've got to be really careful of is making sure what you're doing isn't classed as fly-posting. Fly-posting is displaying advertising material on buildings without the owner's consent. This is illegal and the person displaying their materials without permission can be prosecuted. Whatever you publicly post, make sure you've got the right permission to do so. Different city councils have different guidelines on this, so it's a good idea to research the specific rules around putting up Posters in your local area.
Ready to start designing? Here's a step-by-step guide on how to make a poster using a range of popular design programs.