You've just booked an amazing space for your exhibition to feature, it has great footfall and it's close to all the main attractions, but does your exhibition stand up to the mark? In this guide, we'll be taking a step-by-step approach to setting up your exhibition stand artwork for print and a few design tips to make sure you're going to make a big impact at your next big event.
Designing for an exhibition stand requires a completely different approach to that of an A4 flat flyer. You have to consider the message you want to get across to your target audience and how you want to display it through colour and imagery. It's important to remember that simplicity is the key. The message needs to be clear at first glance so that people walking past know exactly who you are, what you do and how you can help them.
How to Design an Exhibition Stand for Print
1. Use a template
The hardest part about designing an exhibition stand is setting up your document for print. So, we took all the hard work out of it and created free blank templates so you get all the dimensions right the first time.
You can find our free templates by choosing your exhibition stand here. They already have bleed and safety areas marked out on them, meaning all you need to do is create a design on top of the template.
Just remember to delete the guideline layer before saving your design!
2. Colours
Commercial printers, like the ones we use, usually print using colours in the CMYK spectrum. You can usually set your document to CMYK mode to get a more precise idea of what the finished colours will look like but don't worry if not; our team will do this for you before sending you a proof to approve for print!
3. Resolution
Make sure that any images or logos have a resolution of at least 300dpi and save your file with high resolution too. This ensures your final print will be of high quality.
Sometimes this will mean that your file is too big to email across, however, you can still send your artwork to us using WeTransfer.com in the exact same way once you've placed an order – just use your order reference number as the subject line so we can match your design up to your order.
4. Saving your document
We accept lots of different file types but prefer you to send us JPEGs or PDFs, so please save your document as one of these if you can.
Saving as a PDF embeds text and images, which means when we open up your design to quadruple check it before it goes to print, nothing accidentally changes or moves.

Exhibition Stand Design Tips + Examples
It's important to remember that simplicity is the key. The message needs to be clear at first glance so that people walking past know exactly who you are, what you do and how you can help them.
For help with how to create a knock-out pop-up stand, here's a quick roundup of our top 6 design tips…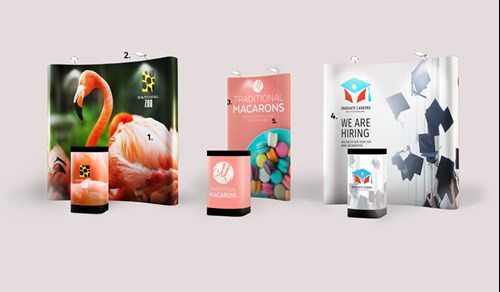 A Picture is Worth a Thousand Words
This is something to keep in mind when designing for an exhibition stand. Using one large high resolution image will create a big impact.
Reach for the Stars
People walking by will only glance at your exhibition stand, so your logo needs to be clearly visible at the top of the design. It's also handy to place any important information or imagery in the top half of your stand so it's not hidden by the rest of your set up.
Keep it Short and Snappy
Use large, clear fonts that can be seen from a distance and try not to use full sentences or drawn-out paragraphs as passers-by won't have enough time to read it all.
Go With the (Reading) Flow
People tend to read from left to right and top to bottom so make sure the design flows well from their point of view.
Check it, then Check it Again
Triple check for grammar and spelling mistakes - not just on your stand but on your roller banners, flyers and business cards too. It's such a simple thing to do yet it could have the most damaging effect on your campaign.
Pure and Simple
Don't overcomplicate the design, it might look amazing but if people can't understand what your business does or what your message is, they'll just carry on walking.
We hope this guide has given you everything you need to know to create your own stunning exhibition pop up design – and we're sure you'll look awesome at your next event!

If you'd rather leave the designing to someone else, be sure to check out our new Design Service. Our team of in-house designers is raring and waiting to help you create the exhibition stand of your dreams! Get in touch for a quote today.