When you've poured all your creative juices into designing a booklet, you're going to want the finish to do it justice. But with so many options available, it's sometimes difficult to know the best types of booklet binding to achieve your desired result. From paper to wiro binding – there are lots of choices to weigh up!
To help you along, we've broken down the three most popular types of booklet binding. So, if you want to know your wiro from your perfect bound, or get the low down on stitched booklet binding, here are all the types explained.
Stitched (AKA Stapled)
Stitched (also known as saddle stitched or stapled) is a method that uses a long metal wire to bind your booklets together. It works a lot like a sewing machine; the collated sheets get fed into the machine, then aligned to make sure they're stacked neatly. The machine then pierces the paper and feeds the roll of wire through the stack, before the wire is folded into something that acts as a staple. Intricate, right?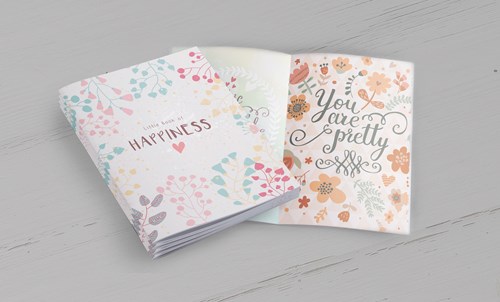 Stitched is typically the most cost-effective option and is suitable for a whole army of bound documents, including programmes, prospectuses and magazines.
Although not as sturdy or luxurious as a perfect or wiro binding, stapled is a fantastic option for displaying a lot of information at a low cost.
There are a few things to consider if you're going to use stitched binding for your booklet:
Try not to go over 50 printed pages. Any more than that and the sheets will spring up in the middle, which will keep your booklets from sitting right.
As it's folded in multiples of 4, make sure your design follows the same rule.
The size you pick will depend on what you want to use the booklet for. A6 works well for instructions or product manuals, A5 for dessert menus, A4 for catalogues or a la carte menus – you get the idea! You can find more size recommendations on our stapled booklets page.
You can also choose from a range of stock options for the cover and inside pages. Keep them the same thickness, or switch them up for a more high-end feel that doesn't break the bank.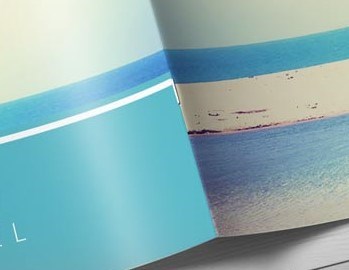 Perfect Bound
If you're looking for something sturdy and sophisticated, perfect bound books are ideal. This method involves gluing a stack of paper on the spine edge using PVA glue, before wrapping a cover around it to secure. The result is essentially a paperback book; clean, stylish and a professional finish.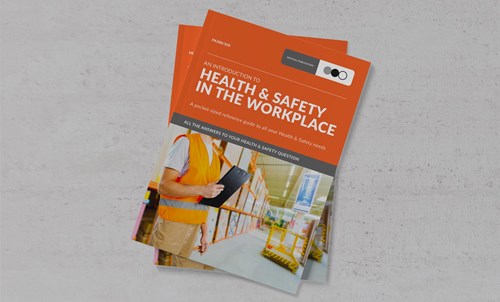 The rule of thumb for perfect bound is to have a minimum of 40 printed pages. Any less than that and the spine won't be substantial enough to take to the glue. Most often, the book cover will be thicker than the inner pages. This makes it easy for the spine to be written on or designed on – this method lends itself to books that will be stacked on a shelf.
We print ours on a choice of thin or medium silk stock and writable stock, with a thick 250gsm cover for a high-quality look and feel.
If you're wondering what perfect paper binding is best suited for, it's usually the kind of booklet that is kept and referred back to; for example catalogues, directories, prospectuses, car handbooks and self-published novels. It's also a fantastic option for employee handbooks to give to new starters in your business.
We'd avoid this option if you're after a bulk order of magazines on a budget – our stapled range is the best choice for these!
For an extra special finish, you can also add a coat of lamination to your book cover. This is a special coating that gives the cover a distinctive feel – choose between our three options: no-shine matte, high-shine gloss, or soft-touch velvet.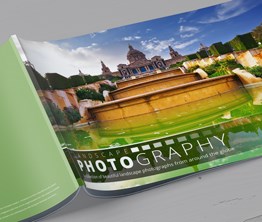 Image: binding101.com
Wiro
You'll have probably come across wiro binding at school or around the office. This method is used for notebooks, document printing, sketchpads, calendars and planners. It's hugely popular and great if you need to rip pages out of your book without leaving a mess behind!
Some people prefer this option as it allows pages to lie completely flat, as they move around a central silver coil.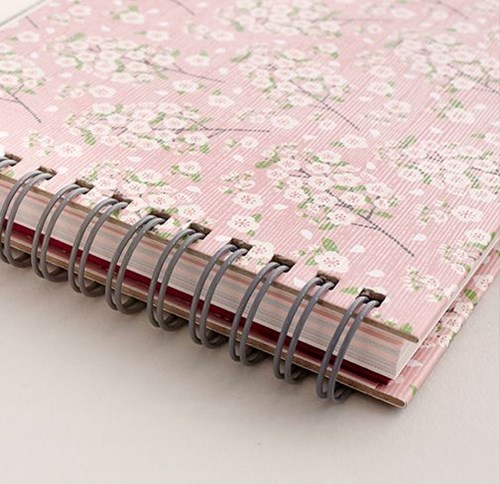 Image: mochithings.com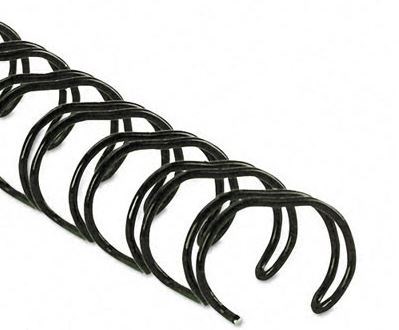 Image: wayfair.com
The wiro binding method is more straightforward than you'd think. It involves a stack of paper that is hole-punched down one side and an open metal wire is then placed through the holes and secured. Easy breezy! Our metal coil is silver in colour and has diameter options of 6mm-14mm, depending on how many pages you choose to add.
Wiro binding will usually create a hardback book as the cover is made from a thick card. This is there to protect the pages and act as a sturdy surface to write on. As pages are slid into the stack individually, designing for wiro binding is relatively uncomplicated. This booklet binding option is cost-effective and easy to use. What more could you want?
Your paper type decision will depend on whether you want to be able to write in your wire bound booklet or not. A smooth silk or high-shine gloss paper is ideal for sales catalogues or manuals, whereas uncoated stock is the best option for notebooks and activity books.
Looking to send a mailer? You can easily fit our perfect and stapled bound booklets into an envelope, but stick to wiro if you're making handouts or activity books. We recommend having no fewer than 20 printed pages and no more than 104 for the best overall result. You can choose from plain paper, lined, or both!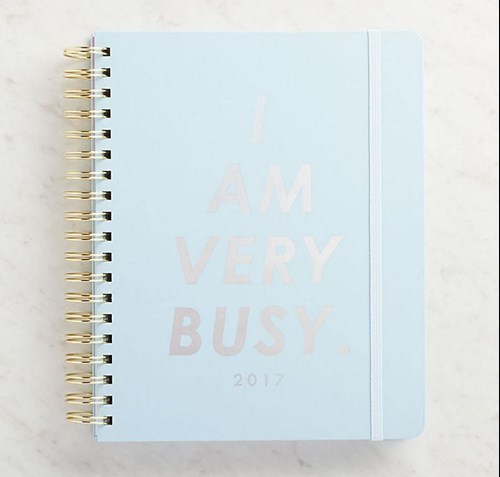 Image: papersource.com
So, now you're brushed up on your booklet binding methods, go and get creative! Whichever option you decide on, there's no feeling quite like picking up a copy of your gleaming, finished booklets fresh from the printer!

If you're not sure where to start, here are some easy step-by-step instructions for making a booklet in Word, Publisher, Pages, Google Docs and InDesign. We cover all the basics for creating eye-catching designs, including setting up the document with bleed, inserting text boxes and images, and saving your work in a print-ready file type.