Spot UV is a cool technique that makes certain areas of a document high-shine and glossy. This makes any area you wish to stand out against a matt lamination really pop. However, it does require a little extra work in the design stages to make sure your artwork is set up correctly to achieve the Spot UV that you desire.
What is Spot UV in Printing and How Does it Work?
Spot UV is the final finish in the printing process. This means that all ink layers are laid down, any paper lamination is added, and the drying process completed first. The Spot UV is then printed on top of the paper, as a clear gloss, and then dried for the finished result.
Choosing Your Spot UV Areas
When it comes to Spot UV, the general rule of 'less is more' applies. This is because it's a unique texture that brings depth to your document – but if you use too much, that can detract from the final product. The idea behind Spot UV is to draw attention to selected areas by creating contrast in texture – too much and this dramatic finish becomes so-so as it blends in with other elements.
If you want full gloss on your document, there are other ways to achieve this, such as choosing a gloss lamination (instead of matt or velvet) during the order process.
It's also wise to remember not to put Spot UV anywhere near a fold! The high-gloss finish, if put on a fold, can crack or peel away, as it becomes fragile if it is cut. This is because the gloss relies on a regular surface tension – and the folding and creasing may weaken the finish, causing cracks.
What Should You Highlight?
With Spot UV, you can make anything on your document stand out more than the rest. For business cards, this is usually the company logo, or the name of the company. Text is easily created with Spot UV finish, and can make a business card look really sleek and professional.
You might want to draw attention to your social media icons, or your website address. You could even highlight a single image that demonstrates what your business does – it really is entirely up to you!
More Ways To Use Spot UV
You can use Spot UV finishing on a blank background – there's no need to put colour behind it. The gloss finish is applied as a separate layer in the printing process, so if you want to add interest to a plain white (or other solid colour) background, you can add texture with dots or patterns of Spot UV.
You can also use Spot UV on a block background to give depth and texture for a sleek look, like this: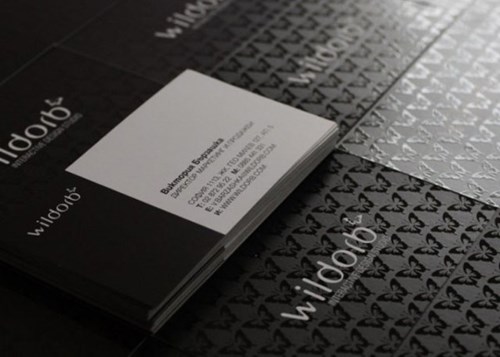 How To Set Up Your Artwork Document For Spot UV Printing
Here's the technical bit you've been waiting for! Spot UV is easily created at the design stage of a project: it is much harder (or impossible, if the final document is a JPEG) to go back and add Spot UV directions later on.
When in your design programme, create an extra layer and name it Spot UV.
Next, pick or create a very bright colour (here at instantprint we use orange), and save it as 'Spot UV'.
Go to the first layer(s) of your document, and copy any elements that you want to have highlighted with a Spot UV finish. Next, paste these elements on your new Spot UV layer, in exactly the same position.
For all elements added to the Spot UV layer, colour them with your saved Spot UV colour. Your final artwork will look pretty strange when you view all layers together!
You can then submit your PDF document for proofing. It's up to you whether you wish to send a separate document for your Spot UV layer and your original artwork layer, or as one single PDF. Your proof will come back with three pages: one showing the artwork layer, one showing only the Spot UV layer, and one with both layers overlaid so that you can check the Spot UV is correctly aligned with the original artwork.
For step-by-step instructions and pictures of what your Spot UV layer should look like, check out our Spot UV artwork guide.
What Print Products Can I Use Spot UV on?
As a UV printer, we offer UV varnish on the following products:
Spot UV is a great way of adding the wow-factor to your custom business card design. Make sure to pick matt lamination when making your order and then selecting 'Spot UV'.
Click here to see our entire range of free downloadable Spot UV templates for business cards.
Advertise your offers in style with Spot UV flyers! Flyers are such a tangible form of marketing, and how they feel really influences how consumers perceive your brand. Adding spot gloss to your flyer design adds an extra layer of interest and makes your promotion stand out. Just choose matt lamination on our classic and premium silk.
Impress delegates at your next conference with a stunning presentation folder with Spot UV applied to the cover. Ideal for handing out before presentations, or as a way of bundling all of your marketing materials at events. Spot UV on a matt folder cover creates a high-end feel for your high-end brand.

Top Takeaway Tips