When it comes to your Big Day, you'll want everything to be perfect, including your Order of Service. Getting creative with this staple keepsake will make it all the personal for your guests and by adding extra details such as ribbon and handwritten text, your Order of Service will be transformed.
If you like the idea of enhancing your Order of Service and want to give it a go, here are a few ideas to help…
Ribbons and String
Adding a touch of string or ribbon to your Order of Service can give it a vintage, handmade feel. This method is cost effective and simple to do whether you tie it along the spine or thread it through to secure it together, it's a quick way to enhance an otherwise traditional item.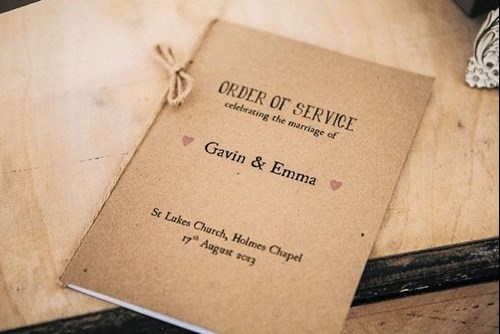 Image: bohoweddings.com
Pearls, Diamonds and Lace
If you're feeling creative why not add some lace, diamantes or pearls to your front cover? A little bit goes a long way and a touch of sparkle is never a bad idea!
Image: weddinginvitationboutique.co.uk
Bunting
A big trend at weddings and parties right now is bunting, so if this ties into your theme, why not incorporate this into your Order of Service? We love this simple order of service with triangles of cotton or lace attached to a length of string, it's really easy to tie it into your décor.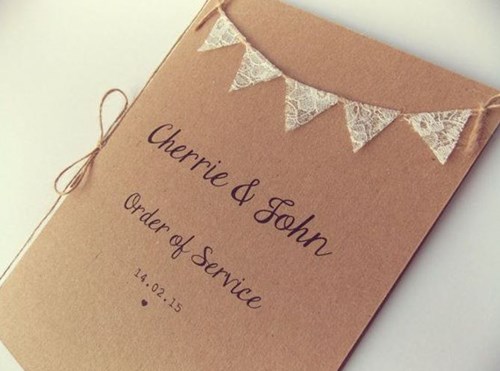 Image: etsy.com
Something More
We've seen some great examples of 3D elements gracing the covers of an Order of Service and they really do look amazing! How about a little pocket for confetti or perhaps some mini flags? Both provide a unique talking point and will allow for some fun photos with your guests.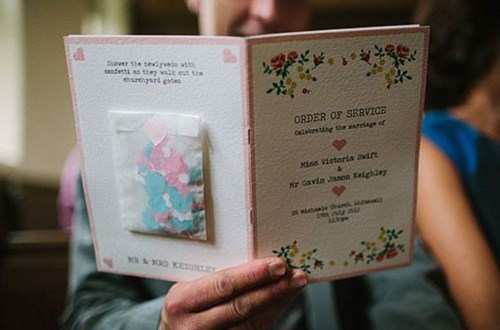 Image: lovemydress.net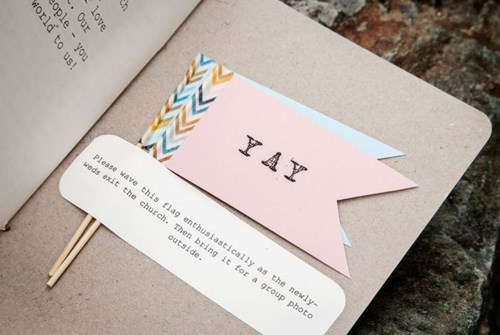 Image: newzealandweddings.co.nz
If you're unsure of where to begin, check out our helpful guide on How to Make an Order of Service.