On the 19th of July, all restrictions on social contact are to be lifted in England. That means social distancing, limiting numbers in confined spaces, the rule of 6 indoors and wearing face coverings – all the safety measures we've gotten used to throughout the Coronavirus pandemic – are set to, legally, become a thing of the past.
However, in his announcement, the prime minister was quick to advise proceeding with caution as we reach the final stage of the lockdown lifting roadmap, stating that "this pandemic is not over."
And although health secretary Sajid Javid told the House of Commons cases could reach 100,000 a day later in the summer, he was confident that a summer wave would not put unsustainable pressure on the NHS, thanks to the protective wall the vaccine rollout has created.
To help make sure your business is set up to operate safely and to ensure you're aware of all the rule changes that will affect your business operations, we'll be laying out everything you need to know in this blog.

The Biggest Changes Following Lockdown Lifting
While all legal restrictions are lifting, reverting back to exactly how things we pre-lockdown is still some way away, as some safety guidance does remain.
Although Boris Johnson has stated that he hopes these changes are 'irreversible', some rules may be reintroduced in exceptional circumstances, such as a new variant of the virus.
Here's everything that has been confirmed will change from 19th July.
Face Masks
Face coverings will become voluntary in all settings, including shops, restaurants and on public transport. Instead, the public is being advised to exercise their personal judgement when using masks to stay safe.
Both Professor Chris Whitty and Professor Sir Patrick Vallance have stated that they will continue to wear their face masks after the 19th of July. Whitty highlighted three scenarios where he would continue to wear a mask:
In any situation which is indoors and crowded
When required to by any competent authority
Out of common courtesy if someone else was uncomfortable if he didn't wear a mask
So, although masks will no longer be mandatory, many of your customers will feel safer wearing one. Some businesses are choosing to advise mask-wearing, or making it mandatory for workers and customers to mask up on their premises.
For example, London Mayor Sadiq Khan has said that passengers on London's transport network must still wear face coverings despite the easing of restrictions.
Other industries that have stated that masks will still be required following the 19th July lockdown easing (unless you are exempt) are healthcare, such as hospitals and GPs, and several airlines and airports.
Supermarkets Sainsbury's and Tesco, as well as shoe repair shop Timpsons and booksellers Waterstones, are also encouraging customers to use face masks when using their shops.
Other businesses, like offices, are also choosing to make masks mandatory in certain areas or keeping their current mask rules to keep teams safe.
You will need to communicate whether masks will be mandatory in your business as you return to full capacity this summer. Create signage and posters with the guidance you'll be setting, whether that's wearing masks in communal areas or when there are four or more people in the shop, for example.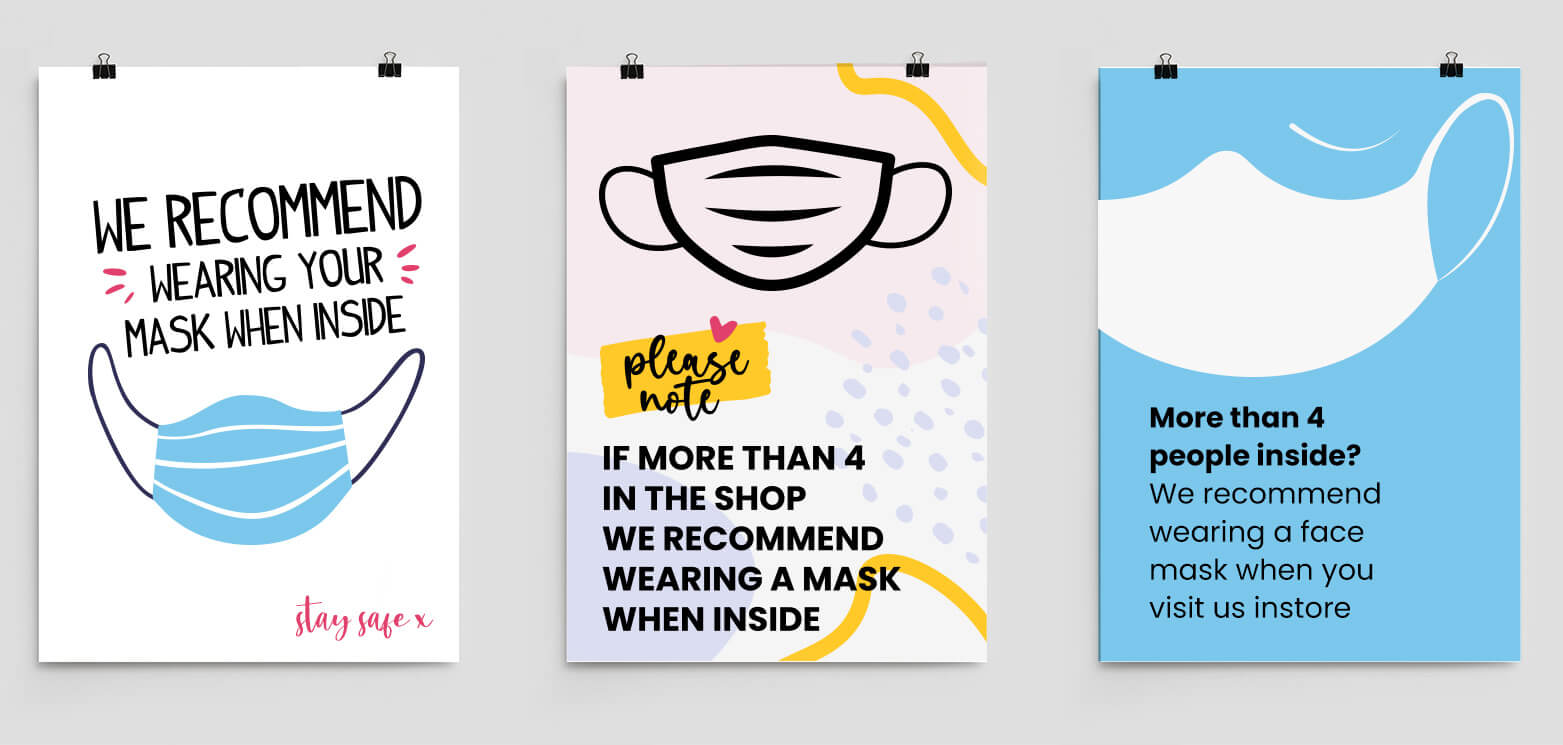 Hospitality & Events
With social distancing being lifted completely, this will allow for certain premises, such as nightclubs and bars, to open with no caps on capacity.
Customers in bars will also now be able to walk up to a bar to place an order instead of using table service.
There will also be no requirement for customers to scan a QR code or give their details to a business for Track and Trace if they object to doing so.
However, companies organising large scale events such as festivals are being encouraged to use so-called 'COVID passports' to record proof of a negative COVID test or full vaccination before entry.
Although all of these measures are currently optional, the prime minister has said that they may become a legal requirement in time.
Self-Isolation
Self-isolating after receiving a positive COVID-19 test or being in close contact with someone who has will still be necessary for those who are not fully vaccinated.
However, health secretary Sajid Javid has announced that those who've received both jabs won't need to self-isolate if they've been in contact with someone who's tested positive – as long as it's been over two weeks since their second jab.
If a fully vaccinated person tests positive for the virus, they will still need to self-isolate for ten days.
Hopefully easing the rules around self-isolation will help keep businesses open and fully staffed during the summer rush.
Back to the Office
The government will no longer be encouraging workers who are able to work from home to do so, allowing companies to choose whether their employees should come back to the office, stay at home or adopt a hybrid way of working.
Not only will office workers heading back in mean fewer Zoom calls, but it will also give a much-needed boost to cafés and shops in the nearby areas – if this is you, make sure you've got plenty of takeaway menus to send out to the local businesses you've missed over lockdown.
Majority of Brits Support Maintaining Some COVID-19 Restrictions
When reopening or changing guidance in your business, it will help to know how comfortable your customers and staff feel about forgoing masks and social distancing.
In a recent study by Ipsos Mori for The Economist, they revealed that a strong majority support extending certain restrictions after the 19th of July to prevent the spread of Coronavirus in the short term while it still poses a threat.
70% would like it to remain compulsory to wear face coverings in shops and on public transport for another month, 64% would like this restriction to remain until COVID-19 is under control worldwide and 40% would like this to become a permanent rule.
The study also showed that 66% of Britons support the continuation of social distancing in theatres, pubs and sports grounds for the month following July, and 6 in 10 of us want to continue using the NHS contact tracing app a little while longer.
In our recent research into the gross office habits that we don't want to see post-pandemic, handwashing (particularly after using the toilet) stormed ahead as something we all want to be mandatory moving forward, with 42.9% in agreement that not doing this was the most disgusting behaviour in the workplace. Handwashing has been an important measure throughout the pandemic, and will still be crucial moving forward.
What Safety Measures Should You Keep in Place in Your Business?
Using the data presented in the above study and your own judgement, you will need to set your own sensible guidelines for running your business safely. Whether you decide to ease up on safety restrictions or abolish them completely, take into account that the virus is still here and still poses a threat, especially to those not fully vaccinated.
To help make your customers and staff feel comfortable on your premises, we recommend using signage to encourage the use of face masks during busy times, set customer-facing roles up with countertop sneeze guards, apply antibacterial lamination to menus and flyers, and use floor stickers to keep customers spaced out in a queue.
Although lockdown is officially lifting on the 19th of July, the majority of government advice is still focused on encouraging the restrictions rather than directly enforcing them. It may take a while for us to feel fully confident to ditch social distancing measures completely until COVID-19 is no longer considered a significant threat, and supporting staff and customers to feel comfortable using your business will be the number one priority as we exit lockdown.