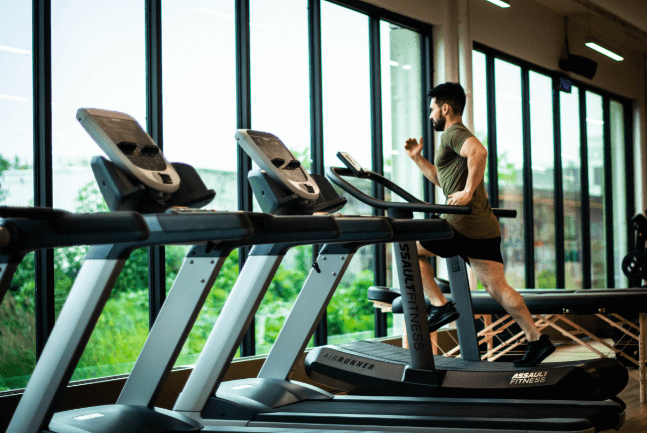 Whether you've just opened your first gym or you're a well-established, multi-site leisure centre, drawing in new members (and keeping them!) will always be one of your top priorities. That's where your marketing strategy comes in!
In this article, we'll share our top 20 fitness marketing ideas to help inspire you to try something new and reach out to would-be gym members in your community.
1. Introduce a Member Referral Scheme
Refer-a-friend schemes benefit everyone. They benefit the existing member, who'll be rewarded for getting their friends to sign up to your gym, they benefit the new member who'll discover your fantastic facilities and get fitter, and they benefit you as your member list just keeps on growing!
In terms of rewards for members who refer their friends and family, you could gift them a free month of access, cash rewards or even give away your gym merchandise.
2. Create a Free Workout Plan
One way to show that you're a gym that really gives its members extra value for their money is to create free resources, like workout plans. Print them out and pop them in a dispenser on your welcome desk to encourage members to give them a go or send them out digitally on social media and email.
You could even differentiate them by difficulty to help people get the most out of their workout!
3. Start a Fitness Challenge
Fitness fans are notoriously competitive – so why not encourage a little healthy competition in the form of a fitness challenge? This can help your gym stand out from others in the community and appeal to those with a competitive streak. Here are a few collective gym challenges you could use to motivate your whole gym into taking part:
Running – challenge gym members to see who can run the farthest in 30 minutes
Swimming – find out who can swim the most lengths each month
Calories burned – in a week, who can burn the most calories?
Weight loss – celebrate members weight loss achievements and inspire others to keep going with their journey
After each challenge, you could reward the winner with cashback on their membership fees, or let them rejoice in the sheer joy of winning by putting their picture up on a winner's board!
4. Offer a Free 7-Day Pass
A gym contract can feel like a big commitment to some people, especially if they've never experienced what your leisure facility offers. A free weekly pass gives these kinds of potential customers the chance to try before they buy – and if they're impressed by what they see and experience, are then more likely to sign up as a paying member.
5. Offer Free 1-2-1 PT Sessions
A complimentary training session with a personal trainer can be a very powerful tool for converting gym prospects into paying customers. It's important to use this opportunity to make the best first impression you can of your gym, so make sure to sell the benefits of signing up and make them feel welcome.
We recommend prescribing a workout to them after the session to reel them into coming again, by saying something like:
"Based on your goal of X, I recommend working out four times a week: twice with me and twice on your own following a custom program I've designed for you. How does that sound?"
6. Create a Class, Gym & Swim Bundle
If your leisure centre offers multiple ways to work out – like swimming, classes and a gym area – why not encourage people to sign up for all three with a bundle? This could be an extra £5 a month than a singular package, which would be a great incentive for getting members to spend a little more with you – and you'll both reap the rewards!
7. Organise a Direct Mail Campaign
When it comes to gym and fitness marketing strategies, it's all about making your brand irresistible to a local audience. And one great way to target potential customers in a particular area is to send out a mailer encouraging them to visit.
For something small and affordable, sending out flyers is a great way to spread the word without breaking your bank, or you could go bigger with a more creative campaign. For example, you could create a workout calendar to send to customers with a folded leaflet brochure detailing all of your gym's benefits.
At instantprint, we offer a direct mail service, meaning we can print, package and mail out your campaign for you. Get in touch with one of our friendly account managers if this is something you'd be interested in!
8. Host a Giveaway
Giveaways always generate a lot of attention – what can we say? People love freebies! To host a giveaway for your gym:
Pick a platform – will your competition take place at the gym? On social media?
Decide on a prize – you could offer a year's free use of the pool or a

tote bag

filled with goodies!
Run the giveaway – will you get people to tag their friends on social media? Sign up to receive your emails? Make sure what you want people to do is really clear
Pick a winner – assign each entry a number then use a random number generator to pick a winner
Announce the winner – publicly announce who the winner is to celebrate the end of a successful competition!
9. Email Out Meal Plans
Digital marketing is still big news for gyms, and making sure you're sending out relevant content to new, existing and potential members is a great way to keep your business at the forefront of their minds.
As well as newsletters, updates and offers, there are lots of other ways to use email to engage with your audience and get them to sign up for your services. If you're wanting to build your email list up, you can get them to sign up to receive meal plans (alongside your other marketing communications) as an incentive.
10. Use Gym Influencers
If you've been on Instagram or Tik Tok recently, you'll have noticed an influx of gym and fitness influencers. These popular accounts can gain hundreds of thousands of followers who tune in for inspiration and advice – so how awesome would it be if you're the brand they're promoting?
By collaborating with these social media influencers (for example, sending them free merch, giving them free membership at your gym in exchange for shoutouts and promotion), all of their followers will then know about your gym. Furthermore, hearing good reviews from a trusted source, like an influencer, can be a lot more influential (hence the term 'influencer') than straight from the horse's (your) mouth!
If you're based in one specific area, you might want to target influencers who are local to you to make this kind of campaign ultra-relevant.
11. Start a Fitness YouTube Channel
Teaser videos for your workouts on YouTube are a great way to entice fitness fanatics into your gym. Post videos with a five-minute screening of one of your most popular classes or a really short session with one of your PTs to highlight how fun and effective they are, without giving the whole workout away! That way, people will need to sign up to your gym to get the full experience.
12. Get Active on Social Media
There are nearly 4 million of us across the world active on social media right now, which means a huge proportion of your target audience is literally a click away! Social media is a fantastic platform for engaging the public with your gym's activities – you can post updates, offers, competitions, feature your popular classes and free passes, as well as talk directly to potential members to hear what they want from your gym through polls and questions.
We recommend setting up on Instagram, Facebook, Twitter and Tik Tok to hit the widest range of potential gym members.
13. Start a Fitness Blog
By writing content that's relevant to your ideal member, you can drive exposure for your gym. If you haven't got any specific content about your gym – like events or fundraisers – you could also post video tutorials, useful warm-up and cool down tips, and recommend other tools and resources that your audience will be looking for online.
14. Differentiate Your Gym with Specialised Classes
One of the key marketing tactics for gyms is finding what makes you unique compared to other facilities in the area. For some, it's their low prices, for others it's their size.
One way to differentiate yourself from the competition is to offer specialised classes or classes that no one else is doing. For example, you could offer something really unique and fun like Disco Barre, which combines all the discipline and strength training involved in classical ballet, but with a funky disco twist that encourages members to don a little fancy dress!
15. Collaborate with a Health Brand
Having a strategic fitness business partnership can also benefit your business – as well as another business in your local community! For example, why not set up a deal with a local supplement or health store so that when their customers shop with their store, they also win points towards free workout sessions at your gym?
You can also print flyers for other local businesses to dispense in their stores with discounts for your gym memberships, and in return, you can offer to feature their flyers in your centre too.
16. Create an App for Your Gym
The easier your gym is to use, the more appeal it will have for potential and existing members. By creating an app where members can book in for a session, manage their progress and access fitness resources, you're making it as easy as possible for people to use your facilities.
17. Promote Member Success Stories
We're naturally going to be more inspired by hearing about real fitness success stories, and it'll look particularly good for you if they've achieved their success using your gym! With your members' permission, post about their success and how they've reached their goals on your website, social media or print them out on postcards to pin on your noticeboard.
18. Organise a Charity Event
If there's a charity close to your heart, why not host a fundraising event? This helps get your community involved and helps you raise money and awareness for a good cause. You could host a 5K, get people to sign up for a sponsored swim, or simply keep a fundraising box on the counter for people to add donations to. Whatever event you plan on running, you'll get the maximum engagement if you advertise it first – so pop up banners around your gym to encourage members to join in.
One thing that's important to note is that the focus of your event should be on the charity, and not your gym – however, the fact that you're the one who's organised the event will give you some positive brand recognition as a side effect of this!
19. Run Educational Seminars & Workshops
Another strategy that goes above and beyond what members might expect from you involves running educational fitness classes and seminars. In the years leading up to the 2020 pandemic, the fitness industry market grew to over £2 billion, and that's set to start rising again.
With this renewed interest in fitness and people eager to get back to their gyms, seminars and workshops are a great idea to offer extra value for members and help them understand their exercise regimes a little better. Put up posters in your local area and inside your gym to advertise these events.
20. Get Trainers to Promote Your Gym
The personal trainers that work at your gym will have their own circle of contacts, as well as friends and family who might want to get into fitness. Create business cards for your PTs so that they can recommend your gym to whoever they might spark up the conversation with.
We recently ran biometric testing to find out what the scientifically perfect business card looks like for each industry. You can find out what makes the perfect gym and personal trainer business card here!
We hope these gym and fitness marketing ideas have given you plenty of inspiration for your upcoming campaigns. If you're ready to kickstart your new marketing strategy, check out our dedicated gym printing range to find all the materials you need at an affordable price.