Roller Banners
When you print a pull-up roller banner stand, you're investing in your business's impact, from your event and exhibition banners to your in-store sale. We know you want to do everything you can to stand out – and standing tall at 2m tall, personalised roller banners are the perfect way to get your products and services across.
Easy to pop up, these custom banners are promotion essentials, and, just because it's you, we'll even include a free carry case with every order to make transporting your branded banner as easy as possible!
Shop By Banner Type

Meet Movie Mania
"We incorporate roller banners into our trade stands and film and comic
conventions for that striking edge."
Find Out More
Our Roller Banner Customer Reviews
Why Choose instantprint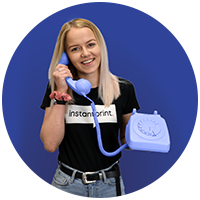 Friendly print experts on hand to help you at every step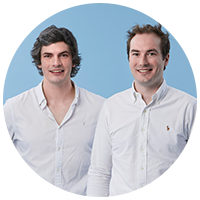 Everything you need to get your business running safely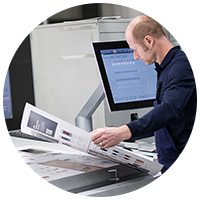 Quality paper, sustainably sourced from our carefully chosen suppliers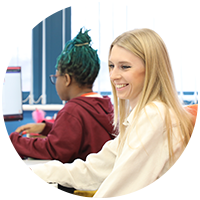 We check every piece of artwork that goes to print
Set Up Your Roller Banner
What is a Roller Banner?
A roller banner, also known as a pop up banner, pull up banner or roll-up banner, is a self-standing advertising display made up of a banner graphic (usually made from a vinyl material) and a stand that doubles as a case. The banner rolls up into the base for easy transport, making it an event and exhibition favourite.
Standard or Premium Roller Banner Stand?
And more importantly, what's the difference? A roller banner needs a sturdy base to make sure it stays standing tall. On our standard roller banners, we use a smaller base which means you need to prop the little feet out for extra support. It's no less sturdy than our premium roller banner, but the legs aren't exactly sleek. For a more professional finish, our premium bases hide the legs.
Another added benefit of going premium is the luxury padded carry case included in the price. A plusher option than the one that comes with our standard pop up banner, this case is the best one for protecting your graphic from dust and scratches, so is better for banners you intend to keep for a while.
Roller Banner Printing: How They're Made
Our roller banners are printed on our large format printer, the HP Scitex 11000 Industrial Press. We now have two of these printers, following our £3.25m investment in 2018, both of which can print personalised roller banners to order in no time at all.
To make your banners, we use the following material:
−     220mic PVC stock (pull-up, wide PVC and premium roller banners)
−     220 PET plastic (clear roller banners)
What Roll Up Banner Is Best for Me?
With this much choice, we don't blame you for taking a moment to consider your options. To help you come to the right decision for your business or event, here's a little bit more about the different kinds of custom roller banners we've got on offer.
Standard & classic roller banners
Standard and premium roller banners have a classic size of 800mm wide by 2000mm tall, making them a great addition to any event or exhibition stall or for easily popping up in your store to attract attention towards a sale, star buy or other promotion.
Double sided roller banners
If you need your message to be seen from both sides of the banner, our double sided option does what it says on the tin. Two banners with the same display are held by one base, meaning you can pop up either or both sides to suit your surroundings.
Wide roller banners
In print, size really does matter. Our wide roller banners are available in 1m, 1.2m and 1.5m widths so you can literally expand your brand wherever you take them! Perfect for large expos where you need all the marketing collateral you can get to stand out against competitors.
Clear roller banners
Easily wipeable, clear roller banners are all about blocking airborne particles to help prevent the spread of infection. Their clear appearance doesn't block light and keeps your business as light, airy and friendly as always, making it a popular option for gyms, restaurants and hair salons.
Desktop roller banners
Lightweight, portable and attention-grabbing, desktop roller banners are ideal for counter-top marketing and point of sale displays, whether you're informing visitors on your signing in process or fundraising at a charity event.
Be inspired: What do our customers think?
"I feel that no other marketing tool is able to communicate to prospective customers who you are, what you're about and help drive a conversation like I've found a roller banner can. I always use photos of real customers or staff because I've found, by doing this, it makes us a relatable brand. There's a real value to producing relatable print, especially in the hair and beauty industry."
Find out more about how The Vanilla Rooms hair salon in Doncaster use banners to promote their business here.