If you're looking to send your friends and family, or even co-workers, something they can treasure this Christmas, why not try your hand at designing your own cards?
Putting your own spin on your festive greetings is much more personal than buying generic Christmas cards from the store, especially if you're sending them out to customers as a way to thank them for their support throughout the year. Original, heartfelt card designs can help to make any recipient feel valued.
If you'd like to give it a go, but you're not sure where to start, we've put together everything you need to consider when designing your own personalised Christmas cards, from the colours you use to those all-important festive finishing touches…
Message
The first thing to think about when designing your own card is the message you want to convey. There's absolutely nothing wrong with a simple 'Merry Christmas', but if you want to make your design more personal, it helps to think about who you're going to send it to.
Is it for family? Friends? Co-workers? Clients? Maybe you want to design something sentimental for your other half? Make sure to establish your audience beforehand and write a message that's tailored specifically to them to make them feel all the more special!
Don't forget to think about how you'll display your message. You might want minimal text on the front, with the main body of copy inside. Alternatively, you might want to your message to take precedence on the front cover, much like the cards below. Whichever way you design it, the point of greetings cards is to let someone know you're thinking about them.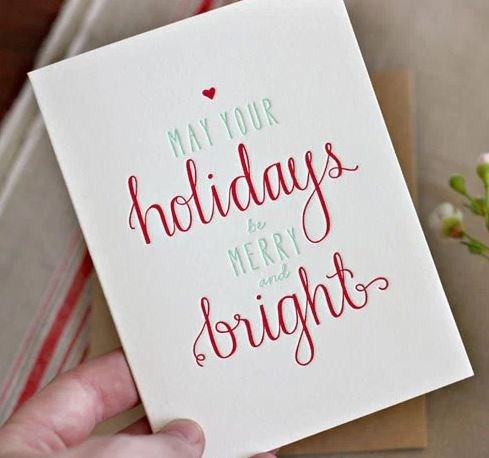 Image: bloglovin.com
Image: etsy.com
Theme
Next up, you need to decide on a theme for your card. Perhaps you're a fan of cutesy animation (who doesn't love a nice penguin, reindeer or polar bear card at Christmas!), or do you prefer the traditional styles? Maybe something humorous is more for you? A good pun always goes down well!
No matter which style you go for, make sure it's something that expresses your personality, or perhaps even the personality of the recipient. If they're into quirky design, give that a go. If you're known for your fantastic wit, make your design funny! The more the design represents your own taste or the taste of the recipient, the more personal it will be for the people receiving it.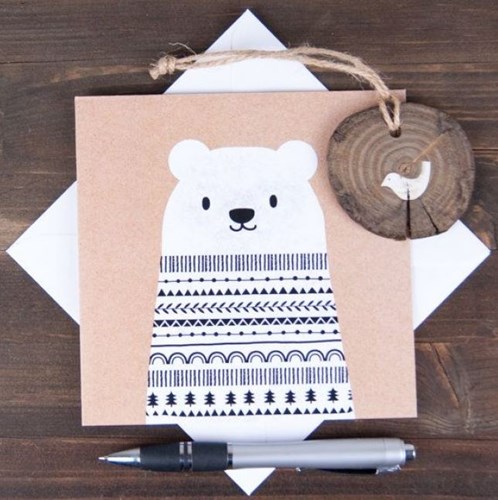 Image: pinterest.com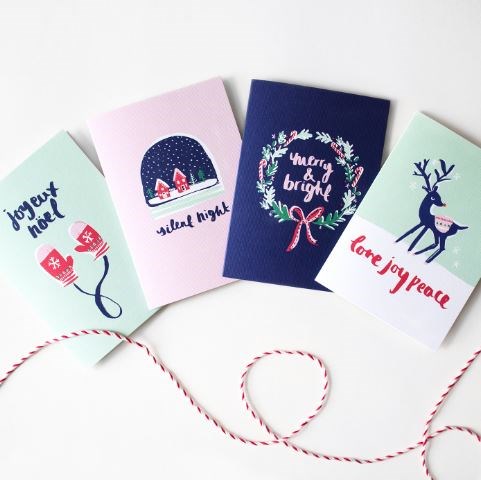 Image: thelovelydrawer.com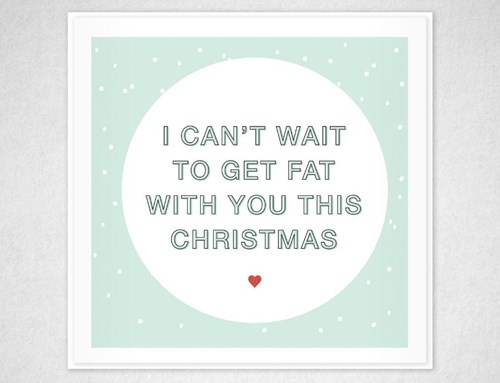 Image: etsy.com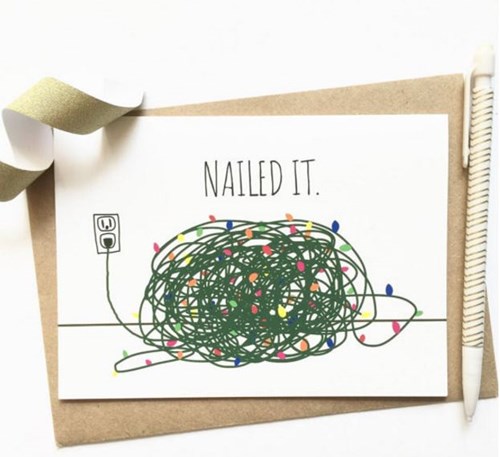 Image: etsy.com
Imagery
The fun thing about custom Christmas cards is that you can really get creative with imagery. You could go down the more traditional route, using robins, Christmas trees, sleighs or stockings, or you could draw inspiration from the things you love, such as cats, pop culture or cacti (see below!)!
The kind of imagery you use is dependent on your theme, for example, if you've settled on animation, then animal illustrations would be perfect. If you want your design to be humorous, you could use photography or funny graphics. You can find some great free stock images from a number of online sources, though if you're a dab hand at illustration, then you could always draw the images yourself and have them printed onto the cards.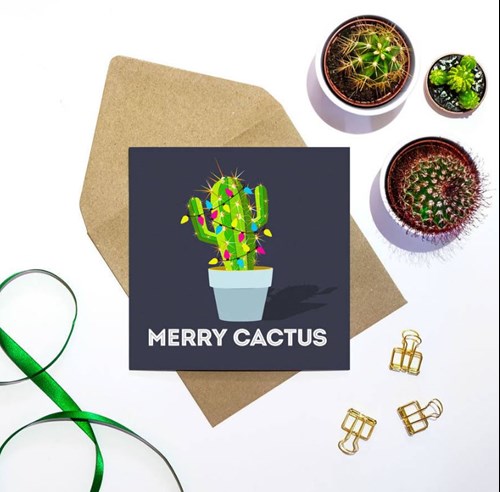 Image: etsy.com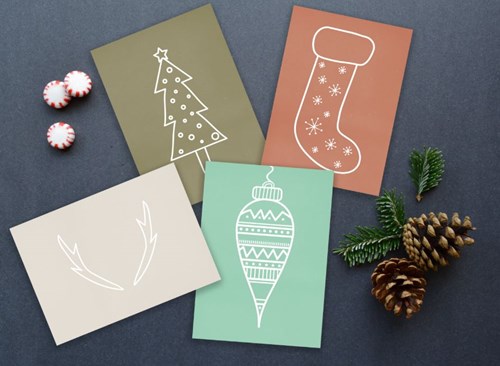 Image: etsy.com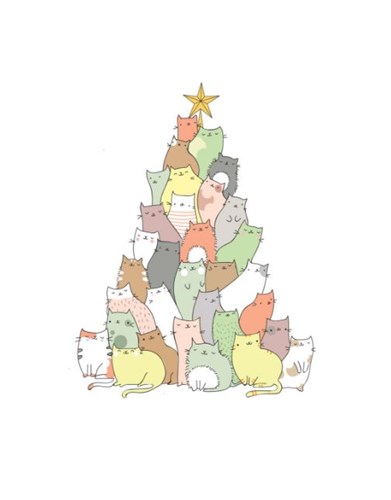 Image: etsy.com

Colour
The key to spreading festive cheer with your cards is to inject some Christmas colours! You can never go wrong with the classics – red, green and white; although black, gold, silver and blue can also look great. Unless you want your card to look like Christmas has exploded on it, the best thing to do is to pick a colour scheme of just 2-4 colours and stick to them, much like you would when you're decorating your tree!

Font
If your design is typography-based or if you want to add a message alongside your imagery, you're going to want to use a nice festive-looking font. Brushed, handwritten-style fonts such as Wisdom Script, Sweet Pea or Brusher work great on Christmas cards thanks to their decorative styles. But if you'd prefer something bolder and more traditional, go for strong serif font like Caslon.
Image: inspirationhut.net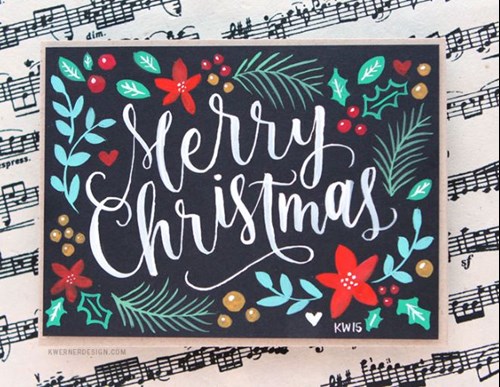 Image: kwernerdesign.com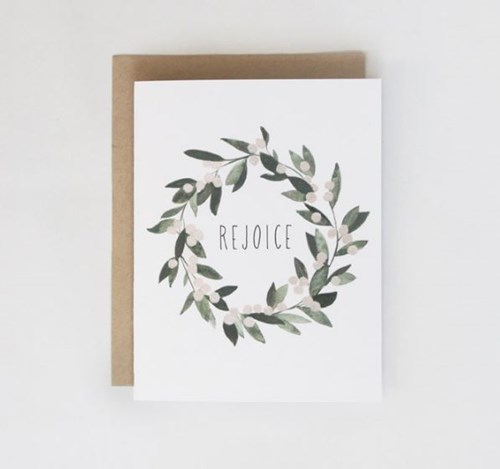 Image: etsy.com
Decorative Extras
To finish off your design, throw in some tasteful, festive imagery like a dusting of snow, a sprinkle of glitter, a dash of holly or a bauble or two! When it comes to those extra special Christmassy touches, we say the more the merrier!
Image: etsy.com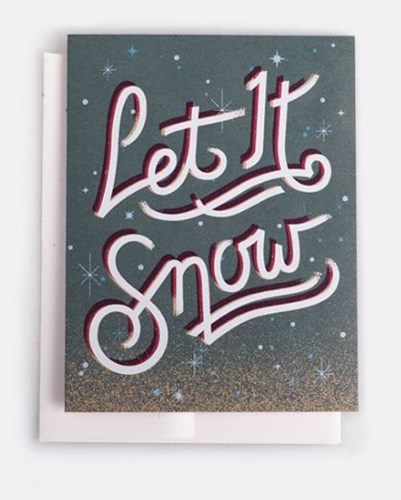 Image: inspirationhut.net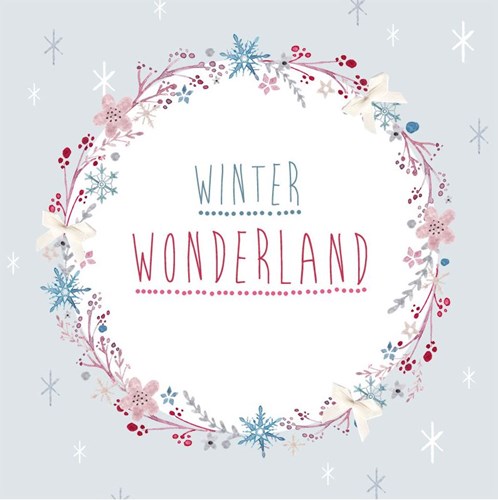 Image: felicityfrench.co.uk
Stock
Of course, your Christmas cards wouldn't be complete without a premium quality paper stock to print them on! Our 350gsm Silk cards offer a smooth feel and slight sheen with the option of lamination, while our 300gsm Ice Gold cards have a luxurious pearlescent shimmer that's perfect for the festive season. With plenty of choice on size and envelopes included, you're sure to find a style that compliments your design.
Now you've nailed the basics, all that's left is to start designing. We'd love to see your Christmas card designs – share the finished cards with us on Instagram or Twitter by tagging us @instantprintuk or #instantprint UK for a chance to be featured.

If designing from scratch isn't your cup of tea, we offer a whole range of gorgeous festive Christmas card templates that you easily customise on site. Just select the design you like and use our simple Design Online tool to add text or change the image for a card that's tailored to you. Or start from scratch and create cards online with our blank templates.