A beautiful and on-brand letterhead is not only a professional, orderly and formal way to contact a business associate but it's also a smart marketing opportunity and subtle way to further your brand awareness.
Although at first, it may seem trivial, designing your letterhead is just as important as creating a logo and deciding on your company name. Your letterhead will be seen by important investors, vital suppliers and potential customers, so it's important that your correspondence is in line with all your company branding.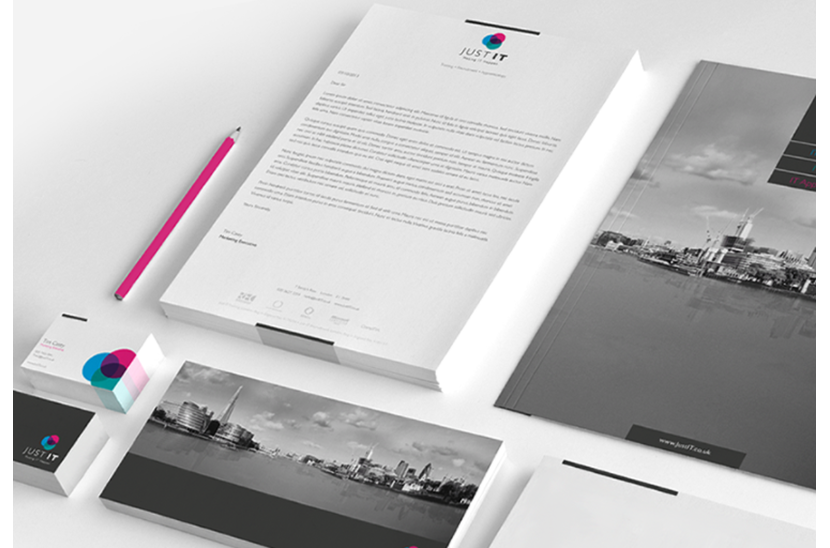 If you're unsure how to design your letterhead - what vital information to include, where to place everything and inspiring ideas on how to bring it to life, then keep reading for our expert tips on designing a killer letterhead!
1. Choose the Right Template for Your Brand and Industry
Usually, it's wise to keep a letterhead design simple and clean, as you don't want to draw too much attention away from the content within the letter.
However, if you have a vibrant and fun brand then you could express this with a more playful letterhead design.
Looking for some food for thought on which design would suit your brand? Our online design tool is filled with a beautiful range of letterhead templates, and to make it even easier all the designs are segmented by industry.
2. Consider the Hierarchy of Information on Your Letterhead
It may seem obvious to some, but for a first-time business owner you may have never had to design a letterhead before, so it can be a little confusing where to place all the information.
Generally speaking, the rule is that your company address will go on the right-hand side, and the recipient's address will go on the left. This way, their address will show when using a window envelope. Any other information, such as your company's registered number, can sit at the bottom of the page. However, you do not have to stick to these guidelines – experiment with positioning to see what works best for you and your brand!
Our design online tool makes this effortless for you with a simple text field where you can easily change the font, size and indentation. It couldn't be easier!
3. Choose the Right Font
If you have a particular font which you use or a selection of fonts within your brand guidelines then it's important that you use this font for your letterhead. Although font may seem like a minor detail, it's just as important as using the right logo and spelling your company name correctly. The font is an important part of branding which will work effectively if consistent across all your print.
4. Be Careful with Colour
You may wish to use colour so that your letterhead will fit in with the rest of your branding, however, we would recommend using colour sparingly. Remember that this is an official company document and the purpose is to contact and communicate with your clients. Therefore, it is important that use of colour does not distract away from the text of your letter.
5. Choose a Paper
A letterhead is another great opportunity to communicate your brand. The paper you use can say a lot to a potential client. Using a high-quality paper can be a wonderful way of letting your customers know that you take your business seriously.
Top tip: Quantities below 500 copies are printed digitally and are only suitable for use with inkjet printers. Runs of 500 or more are printed on a litho press making them compatible with both inkjet and laser printers.
6. Ensure You Have Followed the Requirements
There are certain rules and requirements that you must provide on all company documents and letters. On business letters, you must show;
Your company's registered number
Your company's registered office address
Where the company is registered (i.e. England, Scotland, Wales)
Whether it's a limited company (include 'Ltd.' Or 'Limited')
For more information on regulations behind letterheads, visit Direct GOV.
Consider each of these aspects carefully and you'll be well on your way to creating a successful letterhead! For more information and guidance, do not hesitate to contact one of our team, and remember, we can check all artwork for you on request.
Share your fabulous letterheads with us on Twitter or Facebook, we'd love to see your designs!