Business cards have huge potential for outstanding design, and with so much choice on lamination, stocks and sizes, you can really go to town on making sure that they represent you perfectly.
Our customers often share with us their business card designs, and we're constantly in awe of the creative flair that goes into them. With this in mind, we'd love to showcase a handful of stunning customer business card examples, all of which are giving us a serious case of the pesky green-eyed monster…
@charlotte_Tyson
This fantastically quirky, animated design from blogger Charlotte Tyson has us all in a tizzy! Printed on premium 450gsm Silk with Matt lamination, it's every blogger's dream. Instead of using a photo or generic image for the front of her business card, Charlotte has created her own avatar. As the face of her blog, this is a genius move that will make her instantly recognisable to any potential contacts. Her typeface choices are stylish and easy to read, and the combination of orange and black make the overall finish striking.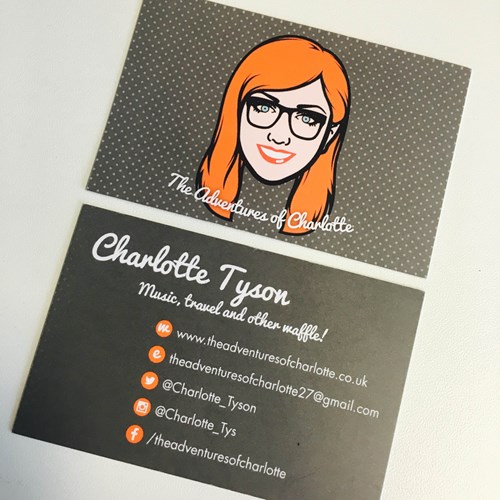 @mazeforhome
We're in geometric heaven thanks to Brighton based design and screen print studio, Maze. Their business card is a dreamy mix of block colours and perfect patterns to ensure that it stands out from the crowd. The text is kept to an absolute minimum, possibly to highlight their astonishing talent for design. As for that logo… wowser! We're obsessed!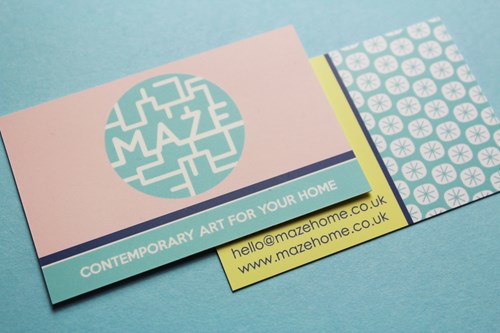 @gonemonteiro
Talented London based illustrator, Gone Monteiro has created a business card that's bound to turn a lot of heads! From the gorgeous hand-drawn illustrations to the cool, modern typeface; this is a design that's packed with character. And that flawless watercolour-effect finish? We just can't get enough! It's definitely the kind of business card you'd pick up and keep.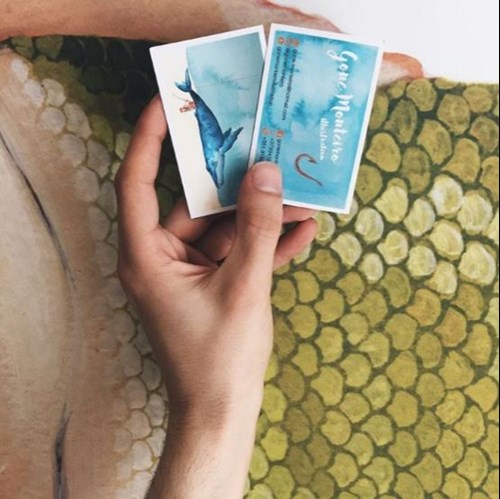 @BringingSparkle
This luxurious card from psychotherapist, relationship and life coach, Catherine Labbett is an absolute stunner! Made from 450gsm Silk with Matt lamination, it perfectly represents the delicate yet empowering nature of her business. The champagne colour gives off a feel of calm and relaxation, while the decorative typeface adds luxury and promotes the idea that you're onto something special. The small heart icon is a nice touch too!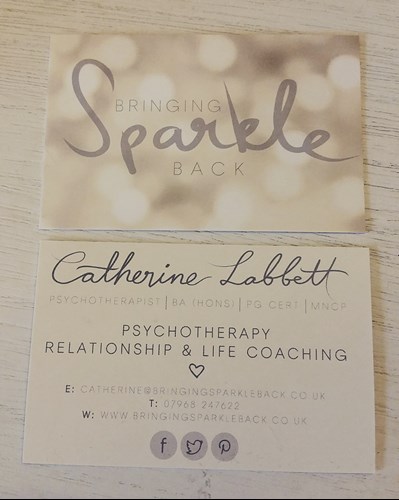 @eclecticgift
We're completely smitten with artist Nichola McGuire's hand drawn business cards. She opted for premium sized cards, making great use of the space to flawlessly showcase a selection of her work. Our favourite thing about Nichola's card design is the self-portrait (complete with signature) she's included on the back. It's a brilliant form of introduction for potential clients and contacts, while it also exhibits her incredible talent to ensure that she's unforgettable.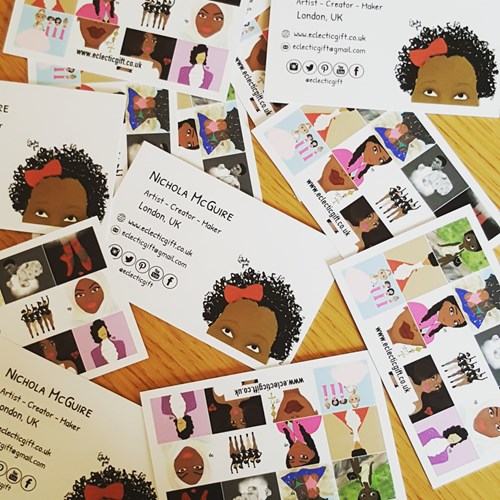 @pjpallets
We're well impressed with PJ Pallet's clever business card design. The family run pallet company have chosen to use a friendly greeting on the front of their card which they've shaped from pallet-themed lettering! The colours they've used work wonders too, as blue is often associated with trust and reliability. They've popped their social and email handles in a neat row along the bottom of the card, leaving their logo and contact details for the reverse. The result is clean, smart and eye-catching, with a hint of playfulness to make it memorable.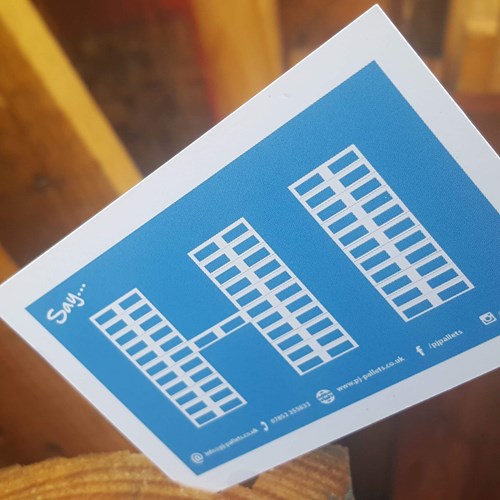 Aren't they great?! We're super grateful to our lovely customers for sharing their business card photos with us. Don't forget that business cards come in all shapes and sizes, with lots of alternative uses should you want something a little different for your marketing.
Next time we'll be showcasing some awesome customer flyers, so tag us in your flyer pics for a chance to be featured!