Are you planning a big Christmas party or event this year? One of the best ways to let people know about it is to WOW them with a festive poster! Posters are great for spreading the word fast. Not only are they highly cost-effective, but if they're done right, they're known to have a long-lasting, action-inspiring effect on the viewer.
Christmas party posters are the most fun to design. By using a steadfast festive formula made up of colour, imagery, text and layout, it couldn't be easier to get people excited about your event. To help you get started, here's our take on how to create an awesome Christmas party poster…
Layout
In order to grab the attention of your audience, the layout of your poster is key. Everything on there, from graphics to text, should be clear, concise and easy to absorb.
A simple way to achieve this is to use a visual hierarchy. Lay out your text in order of size, with the most important information (usually the header – a.k.a the 'what') taking president at the top, and the rest of the information (the 'who', 'when', 'where' and 'why') getting smaller towards the bottom.
This tried and tested method will give your audience a clear indication of what your message is about and helps them process the information faster, often in just a glance.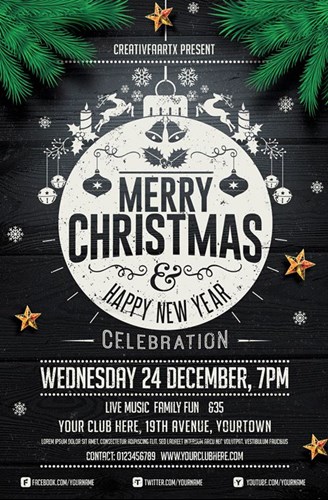 Image: behance.net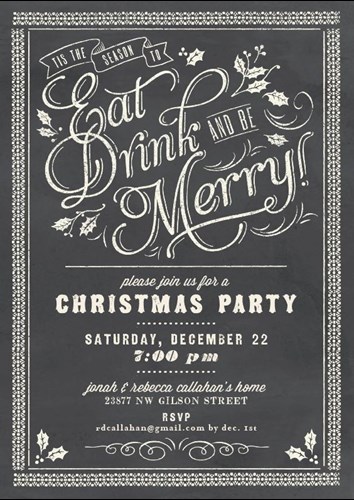 Image: elli.com
Colour
The key to any good Christmas poster is to spread the yuletide cheer, and the easiest way to do this is by injecting some classic festive colours into your design. The most popular colours to use are the usual suspects – red, white and green; although black, gold, silver, grey or blue can also work a treat.
The trick is to design your poster like you'd decorate your Christmas tree - pick a colour scheme of just two or three co-ordinating colours and roll with it.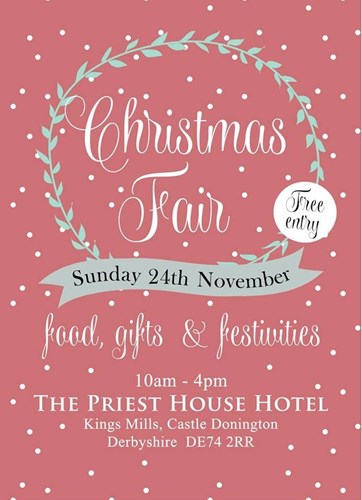 Image: pinterest.com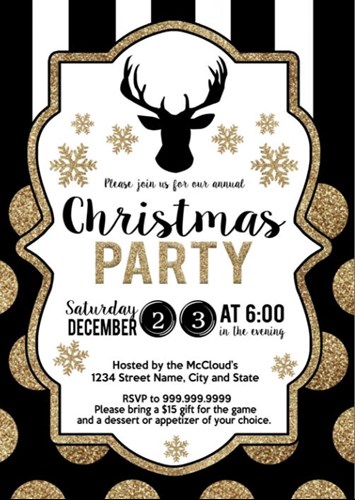 Image: etsy.com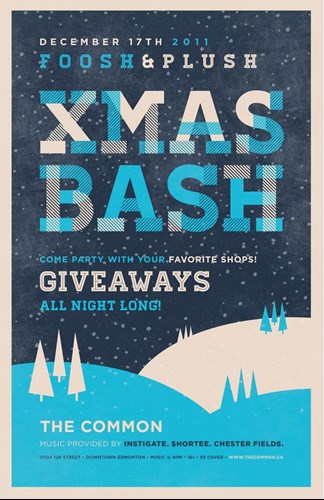 Image: designinspiration.net
Text
While some posters can use imagery alone to make an impact, event posters should include text so that people know what to do and where to go.
There's a lot you can do in design with text, especially when you have a strong theme such as Christmas.
The posters below have brilliantly used text to their advantage by masterfully moulding the key information into the shape of a Christmas tree.
Without using much imagery at all, it's clear from a distance that each poster is a festive one, while the playful typography is neither boring nor overwhelming to the viewer.
In regards to the tone of your text, just remember that this is a Christmas event, so the more fun and joyful the better! Like the posters below, your header should feature key festive words such as 'merry' or 'jolly', so that viewers know instantly that your poster is advertising something Christmassy!
Further down they've used words such as 'celebrate' or 'party' so you know what you're getting yourself in for! If you're hosting any party games or competitions at your event, let your guests know what to expect with a simple yet playful line.
There's never any need to get cryptic with posters (unless your event is intentionally mysterious!). With such a short space of time to get your message across (as people often clock posters as they're walking or driving past one), straight-shooting is the best way to go.

Image: minted.com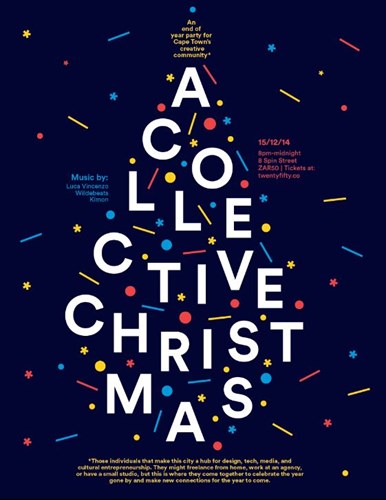 Image: pinterest.com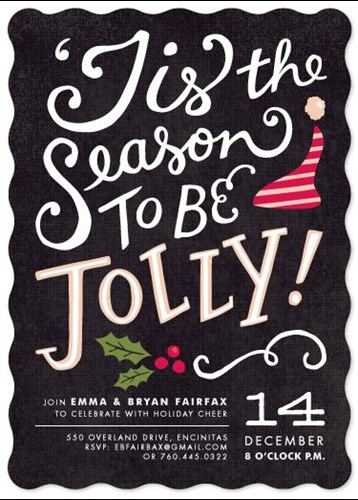 Image: minted.com
What to Write on a Christmas Party Poster
Here's a quick checklist of everything you should include on your Christmas party poster to give your guests all the essential information they'll need to plan for the night – which will improve attendance at your event.
What – what will the party involve? Is it a club night, a meal out, something internal for your business?
Where – where will it be taking place?
When – what date and time will this be taking place? It's essential to get this information out early as people get busy over the weekends before Christmas
How – will you be offering any transport to the event or expecting guests to provide their own?
Extra information – whether there'll be any added benefit to the party like a free drink on entry, or whether there's a dress code

Imagery
Christmas comes with a swell of distinctive images attached to it, from Christmas trees to holly, reindeers to robins, and the big man himself, Santa! To ensure your audience identifies your event as a festive one, all you really have to do is include some jolly Christmas imagery, even if it's subtle, like the tree design below.
If you want to make your imagery stand out (after all, we do encounter A LOT of traditional festive images in the build up to Christmas!), try putting a new spin on it, much like the hipster Santa visual below.
By bringing a modern, humorous twist to something so familiar, you're encouraging your audience to look again, and in doing so, you're planting the seed for people to remember your poster and take action.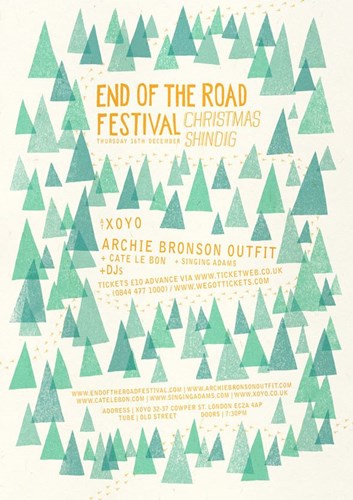 Image: pinterest.com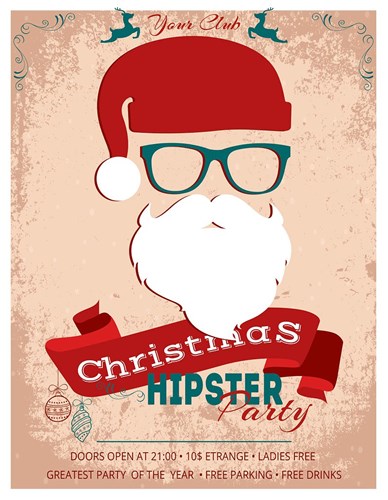 Image: creativemarket.com
So are you ready to impress your audience with your Christmas party poster? Don't forget that posters are perfect for all kinds of advertising, from Christmas events and parties to your business's festive offers, deals and campaigns. Let us know how you use yours!