No matter how advanced online marketing becomes, a good old-fashioned poster can still hold its own. From large prints presented on an almighty A0 to more humble ads produced on a handy A3; whatever size you opt for, a compelling and creative poster placed in a prime location can rapidly increase awareness for your brand.
As Christmas is often a peak time for many businesses, it's definitely worth utilising posters to promote your festive offers, deals and campaigns. If you need a little inspiration to help you along, we've compiled a list of our favourite Christmas posters from the brands who have mastered seasonal marketing. Their eye-catching designs showcase perfectly how creativity, quick wit and clever Christmas visuals make for a highly effective outcome…
Starbucks
Starbucks are widely known for their limited edition Christmas-themed drinks (Gingerbread Latte anyone?), so it isn't surprising that they're up on their Christmas campaign poster game. Their use of snappy taglines, festive imagery and prominent red and green hues does a great job of incorporating all things Christmas into the coffee chain's exclusive products. This does well to create a perception of comfort and warmth, while making us fully believe that we've waited all year long for a taste of their seasonal treats!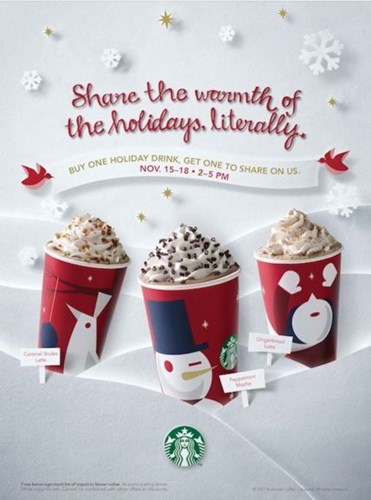 Image: behance.net
Quality Street
Props to Quality Street here for their genius product placement! Spanning out the chocolates to form the shape of a reindeer clearly indicates to the audience that it's a Christmas ad. Pair that with their 'magic moments' tagline (made famous by their Christmas TV ads featuring the catchy song by Burt Bacharach) and you've got the perfect Christmas poster.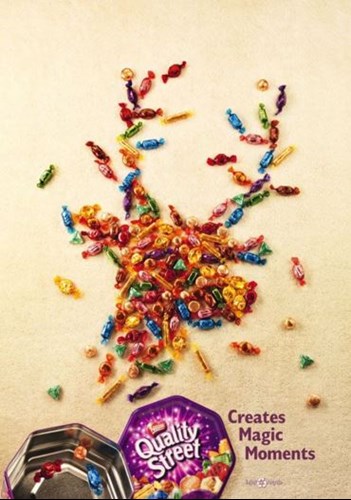 Image: webneel.com
Unicef
More often than not, posters created by charity Unicef are hard-hitting; depicting harrowing images and hard-to-swallow content. This poster takes a more subtle direction to fall in line with Unicef's touching Christmas campaign. Beneath the surface though, it still manages to project a very powerful hidden message. The calm, comforting, Christmassy scene you see is likely a stark contrast to the harsh environments experienced by the children who Unicef are raising funds for. It is through the audience's realisation of this that the poster becomes incredibly effective- demonstrating that you don't always have to use disturbing content to get your point across.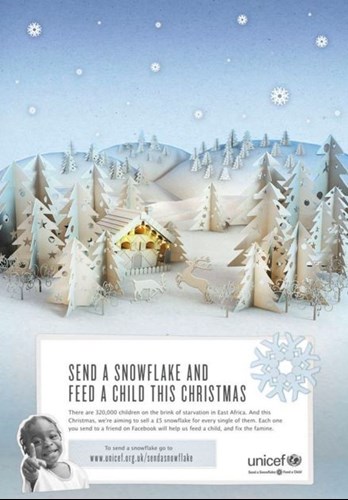 Image: behance.net
Gap
You don't have to see the logo to know that Gap has designed this poster. It perfectly represents what the company is about by being fun, relaxed and pleasantly preppy. The snowflake nods towards the festive season and does a great job of showcasing their range. The use of various shades of red works really well against the clean white background and the overall effect is one of fun family festivities.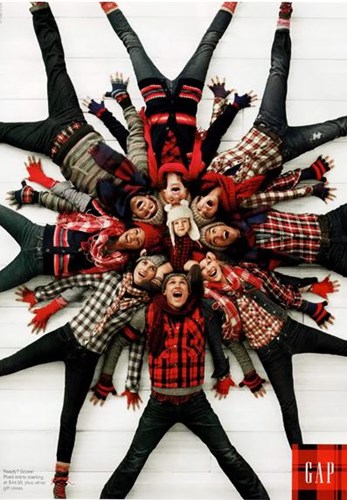 Image: malemodelscene.net
Ikea
Oh Ikea, you're good. Like Quality Street, Ikea have brilliantly used product placement here to create an impressive visual. We love how they've crafted a Christmas tree out of books, and all that's needed to compliment this is a simple 'season's greetings'. Bravo, Ikea, bravo!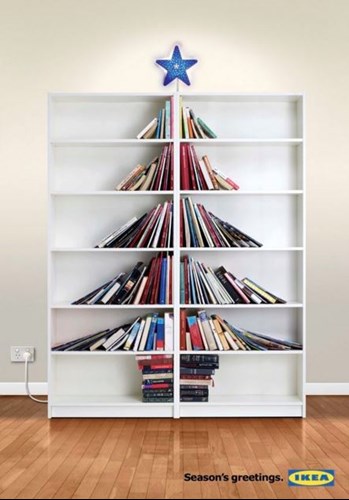 Image: behance.net
Tide
Sweet, simple but oh so good. Detergent brand Tide know the score when it comes to Christmas marketing. Instead of going all out with festive imagery and big visuals, they've opted for a low-key poster which succeeds in telling the audience everything they need to know about the brand. The white shirt, the leaking pen, the tree-shaped stain and the brilliant tagline make for a satisfying blend of genius advertising, all tied up in a clever little bow!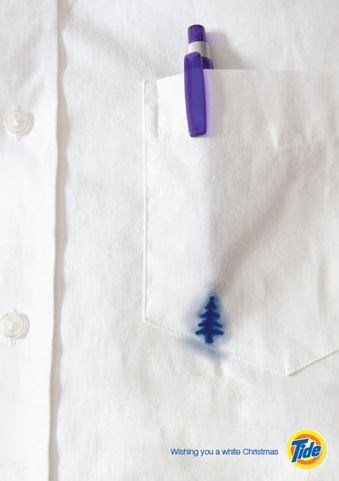 Image: webneel.com
Kit Kat
To round up the collection, here's a warm, Christmassy scene to get us all in a festive frame of mind! Playing on their very famous 'Have a break' catchphrase, Kit Kat have done an incredible job of projecting Christmas spirit onto their audience. The thought of Santa whipping off his beard and grabbing a Kit Kat while he enjoys a quick break from the grotto is enough to draw a smile from the Grinch!
Image: webneel.com
So that's your lot! Which design is your favourite? If you're looking to make your own posters this Christmas try our design online tool AKA our free poster maker!
Shop the Products in the Blog...