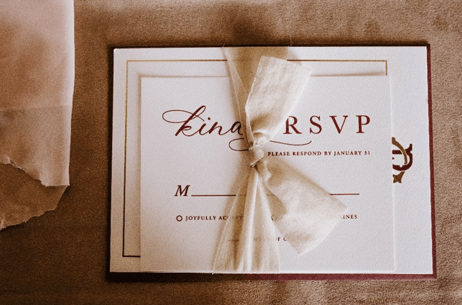 From picking your fonts to your theme, your wedding stationery sets the tone for your whole wedding ceremony, meaning it's essential that you get it right. Whether you decide to design your own wedding invitations and RSVP cards, or you need to brief a professional designer on exactly what you're after, here are a few things to consider before printing wedding stationery for your big day.
Picking a Wedding Stationery Style
When choosing your wedding stationery design, it's important to include the bride and groom's personality as well as a hint at the theme of the wedding. For example, if you've chosen colours for your wedding, make sure to incorporate these in your wedding invitation, menu and order of service designs to tie the whole ceremony together.
You might want to consider…
Your ceremony
Are you having a traditional wedding ceremony or doing something quirky and out there? Going for something romantic, formal or relaxed? Couples opting for traditional formal ceremonies tend to go for elegant white and ivory wedding stationery stocks with swooping cursive fonts, whereas those going for an alternative style might choose darker background colours with gold and silver foil on the text.
Your venue
Whether you're getting married in a church or having a civil ceremony might affect your stationery's design. Similarly, if you're getting married in a different kind of venue such as a castle, garden, hotel or beach, this could also play into your theme.
Seasonal wedding invitations
Pastel florals are perfect for spring and summer, whereas you might think about changing your colour scheme to include deep reds and oranges if your wedding is in the autumn. For winter wedding invites, white and gold are an excellent choice of colour that's still very traditional.
How to Plan Your Wedding Stationery Printing
Making sure you plan your wedding stationery well in advance is the best way to alleviate any additional stress that comes with organising your big day. Once you've decided on a theme and a guest list, it's time to start researching suppliers and designers to bring your stationery ideas to life.
Many printers offer free samples so you can get a feel for the quality of the print and the opportunity to see and touch the different stocks they offer. This can help you come to a decision on who you'd like to supply your stationery.
Attending wedding fairs and joining wedding groups on Facebook or online forums are also excellent ways to get recommendations and find the best places to get your stationery from.
What Kinds of Stationery Do You Need for a Wedding?
Although some couples choose to forgo printed invitations and other stationery, it's a well-loved tradition that also means you and your guests will have something leftover to remind you of your special day. Use this list as a wedding stationery checklist to make sure you've got everything you need.
Engagement party invitations – celebrate your engagement with loved ones with these invites
Save the dates – tell your guests to keep the date free in their calendar
Wedding invitations – formally invite guests to your wedding, letting them know the time, venue and other specifics
RSVP cards – send out alongside your wedding invites for guests to send back and let you know if they'll be attending
Wedding stickers – seal your envelopes with the couple's initials for an added personal touch
Bridal shower invites – invite guests to hen party and stag do
Envelopes – if you print wedding stationery online with us, we'll send envelopes with your order!
Welcome bag

tags

– if you're gifting guests with a wedding welcome basket or gift, add a tag or favour card to match your wedding theme
Wedding orders of service programs – give guests an overview of the proceedings, including hymns and readings
Table name cards – indicate table names to help guests find their table
Place cards – add guests names to a small place card so they know which seat is theirs
Wedding signage – create just married signs, Mr & Mrs signs, or a sign to illustrate who's sat at which table
Thank you cards – thank guests for sharing your special day by sending thank you cards after the wedding
> Shop the full wedding stationery print collection online here <
Do Wedding Stationery Designs Need to Match?
Lots of couples choose to match their entire wedding stationery set as it helps set a continuous theme throughout the event. However, if you've planned out all your wedding stationery on a white silk stock card and then fallen in love with wooden place cards or an acrylic wedding sign, as long as you match your general theme, you'll be good to go.
When to Order Wedding Stationery
Here's a quick timeline to make sure you order and send out your wedding stationery in plenty of time
6-12+ months before – print and send out save the dates
Before placing your order for save the dates, make sure you've finalised your wedding details to send to guests. This includes booking a date and time for the venue and deciding on your guest list.
It's also polite – and practical! – to send save the date cards out to any wedding vendors you've hired for the day e.g., wedding photographer, caterer, officiant, pianist.
4-6 months before – wedding invitations and RSVP cards
Around 6 months before your wedding, send wedding invitations out to the same guest list you sent your save the dates to. Inside the envelope, you should also include an RSVP card so guests can let you know whether or not you will be attending.
It's always a good job to get a few extra wedding invites printed in case you need to invite someone else last minute, you or your calligrapher make a mistake writing on the cards – and a spare to treasure as a keepsake, of course!
2-4 months before – reception items and favours
At this point, it's a good idea to start ordering any print you'll need for your wedding reception, such as wedding signs, table names and place cards for the tables. Now is also time to finalise your menus and get those printed as well.
If you're giving out wedding favours to your guests, remember to order those at this time as well.
1-2 months before – wedding order of service
Your wedding orders of service outline the details of your ceremony, meaning they'll be one of the last pieces you order before the big day. These will be handed out to wedding guests to follow along with the ceremony, giving the order of the day, such as readings, hymns and exchanging of the rings.
3 months after – thank you cards
You're likely to receive wedding gifts for a few months after your wedding, with some guests bringing gifts on the day and others waiting until after your honeymoon period.
It's common courtesy to send thank you cards to those who've given you a gift, although some couples prefer to send thank you cards out to all guests who attended the ceremony.
If you wait up to 3 months after the event, you'll have all your wedding photography by this point to include in the thank you card design.
What to Write on a Wedding Invitation
Getting your wording just right is important for conveying the right information for your guests. You'll need to include the following information on your wedding invites:
Your wedding date, time and place
Wedding reception venue and timings
Parent's names/name of hosts
Full names of the bride and groom (including middle names)
For more information, check out this guide to writing the perfect wedding invitation.
How to Design Your Own Wedding Invites & Stationery Online
Now that you've got all the information you need to create your own wedding stationery, all that's left to do is start designing! You can design wedding stationery online to print with our free online tool – with plenty of templates to choose from, there's something for every soon-to-be newly-wed couple.