You've sorted out your guest list, your save the date cards have been sent out and you've booked the perfect wedding venue. You're delivering your dream wedding on budget and you're about to start inviting guests, which means it's time to enter a whole new territory – wedding invites. No need to panic – our tips are sure to trigger some top ideas for your wedding invitations.
The Wedding Invite Essential Checklist:

* The Bride and Groom are named
* Your wedding's hosts are named
* Wording reflects the wedding mood
* Your guests are named
* Time, Date and Venue Location are mentioned
* Clear RSVP instructions are included
The Bride and Groom's Names
Essential information, such as your names, can be forgotten in the excitement of planning a wedding. It's important to remember to put your names on your wedding invitations – after all, you're playing the starring roles in this love story!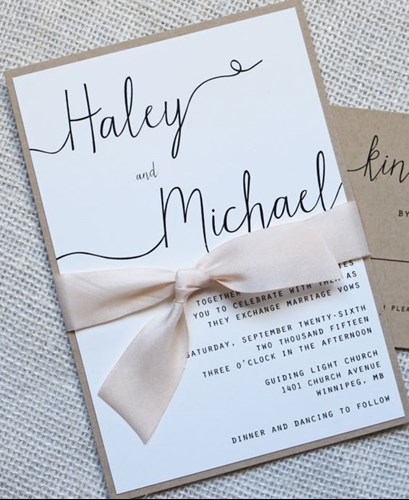 (Source: Pinterest)
Who's Hosting the Wedding?
Traditionally, the bride's parents would send the wedding invitations (as, conventionally, they would be the ones footing the bill!). So, usually for church weddings, the wedding invitation might read like this:
Mr & Mrs Johnson
request the pleasure of your company
at the marriage of their daughter
Clare Louise
to
Mr David Lewis
However, more and more people are choosing non-traditional wedding venues. Many couples choose to send their wedding invites with themselves as the hosts – 'Miss Clare Louise Johnson & Mr David Lewis request the pleasure of your company at their marriage' for example. Or sometimes both sets of parents are hosting the wedding – you get the idea; there are lots of ways this can be reworded to fit your exact situation.
How to word your invite
Your invites should reflect the mood you wish to set at your wedding. Do you want to show your fun-loving side? 'Clare and David are getting hitched!' Or your chilled out and modern perspective? 'Please join us as we celebrate our wedding day'. How you word this part is completely up to you!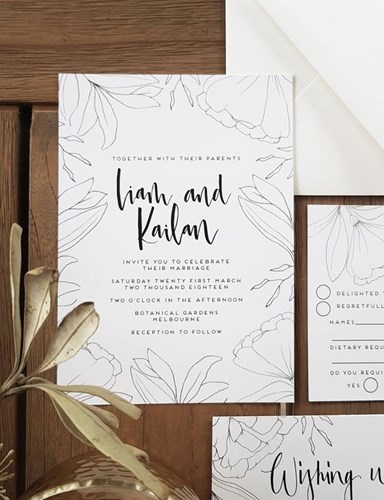 (Source: Pinterest)
Name of the Guest
When printing your wedding invites, remember to leave space for your guests' names so that you can write them in once they've arrived. Whilst writing them yourself adds a truly personal touch, you might be worried if you're not confident in your handwriting skills. If this is the case, you could hire a calligrapher to make sure they're superbly stylish.
Extra hint: Remember to specify if the invite is just for your guest, or if it also includes their kids or a plus one!
Time, Date and Venue Location
It's so important you let your guests know the time, date and venue for your wedding – otherwise it will be a rather… intimate affair.
You should include the time and location of the wedding venue and also where you will be having the evening session. Remember, this information will differ for invitees who are only attending in the evening.
RSVP
Did you know RSVP stands for 'répondez s'il vous plaît' (French for 'please respond)? Well, now you do!
What's the latest date for your guests to respond by and how are they going to let you know? The key thing here is to make it easy for your guests to respond – otherwise they might put off doing it for as long as they can, which is not ideal when you've planned your whole wedding to the minute.
You could leave an email address or phone number, include reply cards, or ask them to send the invite back.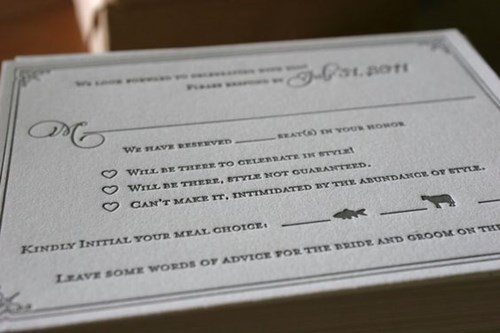 (Source: Pinterest)
Now that you know all the wedding invite essentials, it's time to get going with your own! Make sure all your wedding stationery matches for classy consistency – whether you customise one of our free, carefully-crafted designs, or design your own.