It's World Christmas Card Day on 9th December – so now's the time to start preparing your seasonal greetings cards for print! We've come up with some great ideas to make sure your customers, VIPs, friends, families, and co-workers all sit up and take notice when your card lands on their doormat.
Use Greetings Cards To Boost Loyalty
Christmas cards are a great way to show your appreciation to your customers and you can even include an extra-special seasonal discount code to say thank you!
You might want to have a range of designs on hand, depending on who you're sending your cards to: your super-VIP customers might have a luxury metallic card, while new prospects could benefit from a bright and fun design. This will help you to provide variety, and deliver a tailored approach to your customer communications.
Improve Brand Awareness With Christmas Cards
Creating your own festive greetings cards – and New Year party invitations! – helps to boost your brand, without seeming pushy.
Subtle brand elements can easily be included in your card design – from your logo on the back of the card, to using your brand font on the inside message – without being 'in-your-face' branding.
You'll also want to think about how the style elements reflect your brand style. For example, if you pride yourselves on your environmental credentials, pared-down cards on recycled paper can help bring earthy tones and reflect your brand ethos.
On the other hand, if you're a luxury company with high end products and services, consider using a heavyweight metallic paper stock to reinforce the glamorous lifestyle you want for your customers.
Be Inspired!
We've been taking a look around to help find you some Christmas card design inspiration! Here are some of our favourites…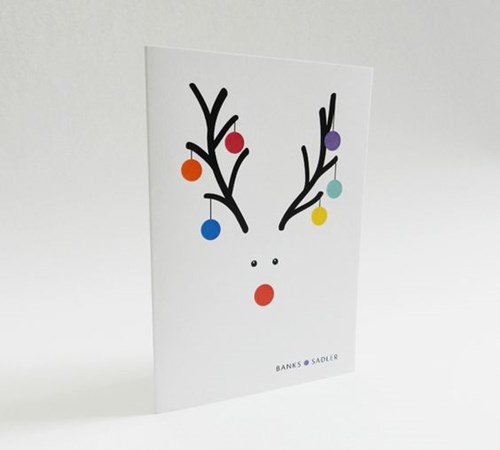 We love the fun use of negative space to create this brightly decorated reindeer! It's simple, effective, and definitely eye-catching.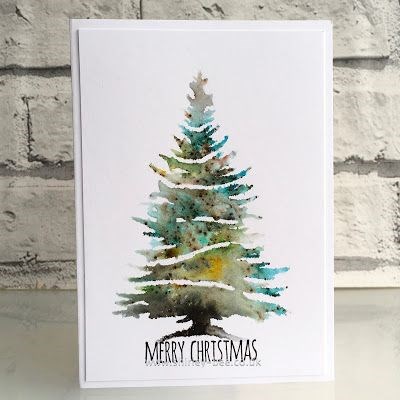 A classy take on the classic Christmas tree, this watercolour would be in keeping with a more traditional business style – whilst still adding some artistic flair to the card.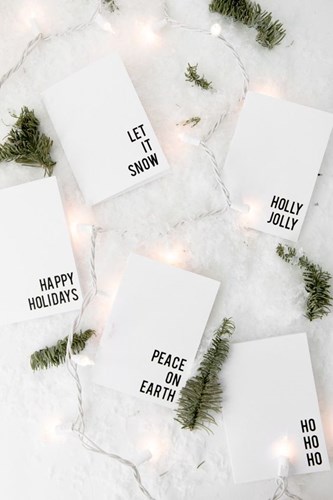 Check out these slick, modern greetings cards! Minimalism at its finest – you can say what you mean without any festive fluff clouding the message.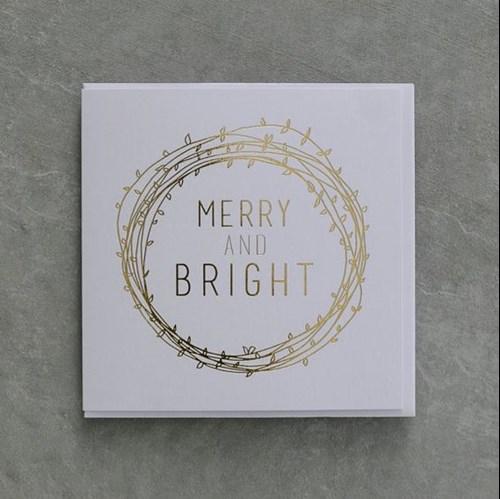 How about adding a luxury feel with some foiling? This card makes the most of festive gold to highlight a simple, but effective, message.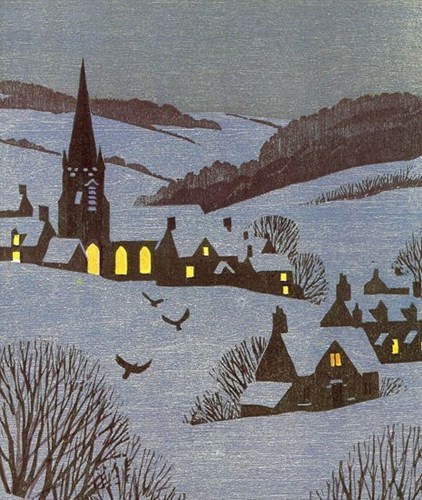 If you're looking for something more traditional, consider a classic snow scene for your custom greetings card. These are great if you want to send out holiday greetings without focusing specifically on Christmas itself.
A modern take on a classic snow scene could be the answer for your business. With bright colours, it's sure to stand out on the mantelpiece.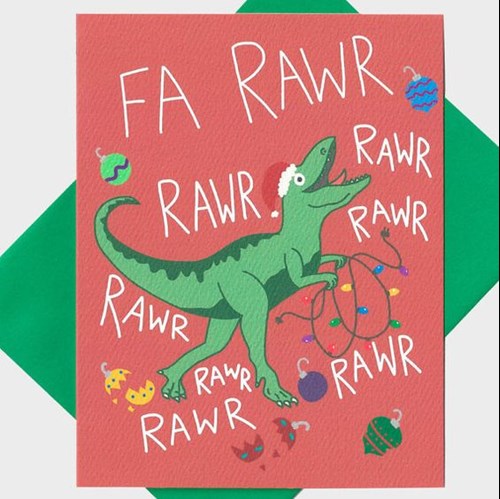 Perhaps you want to inject some humour into the holidays with a card like this! Humour is a perfect way to engage with your customers and reflects a light-hearted side to your business.
Bringing personality to your communications is brilliant for building relationships with customers: they will feel more engaged with your brand as an individual, rather than 'just another corporation wanting my money'.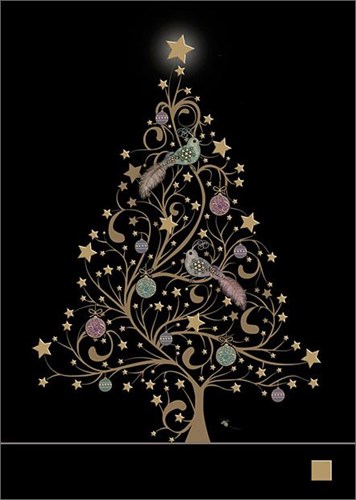 Alternatively, you could go in the other direction: steer away from bright colours and the classic white background. Instead, bring a touch of understated class with a black background and decorative, yet low-key, illustration.
Things To Remember When Designing Your Custom Christmas Cards
There are no real hard-and-fast rules when it comes to Christmas cards: it's a great time of year to play around and let your creativity go wild. If you're looking for some tips for guidance, however, try to remember that:
Cards come in different shapes and sizes – choose something quirky to stand out!
Your audience may not celebrate Christmas, but a neutral greeting can still be used to send your thanks for their custom over the year.
Less is more when it comes to messages – keep it short and sweet, the wordy promotions can be kept for New Year flyers.
A handwritten message feels far more personal – at the very least, sign your cards if you can!
Simple colours, monochrome, and plenty of neutral (usually white) space can really help your design stand out.
You can print your card on standard paper stocks, or choose a metallic version for a really sparkly and festive finish.
Short On Time? Design Online!
Remember, if you're pushed for time, or don't have the budget for a graphic designer, you can always choose from our free design online templates! You'll be able to easily customise your greetings cards or party invitation, and if you choose express delivery they'll be with you in super-quick time, too.