In the digital age, the old school method of sticker marketing often gets overlooked. Stickers are one of the most low cost (and fun) ways to reinforce your brand and highlight a sale or promotion. So if you think stickers are old-fashioned or childish, think again! Here's why it would be foolish to bypass one of the most cost-effective and underestimated marketing tools that will stand the test of time.
The humble sticker holds a promotional power that cannot be disregarded, and as you can get stickers printed with literally anything you can fit on them, the sky's the limit. Your brand can be placed upon clothing, equipment, laptops and stationery that hundreds of people will see each day. Or if you like to think outside the box, there's plenty more creative uses for stickers for you to play around with! We talk a lot about ad impressions these days, that is how many people actually see an ad on screen, but what about physical visual impressions?
There's Proof in the Power
Reddit boasts over 100 million unique visitors per month, and this mighty website owes its sovereignty down to, can you believe it, stickers.
Co-founder of Reddit Alexis Chanian started his business venture travelling around the country with a mere $500 advertising budget to try and promote his website. He would hand out stickers sporting the now iconic 'Reddit Alien' at events, meetups and random people in the street and say to them "Please Sticker Responsibly!" After a few months, brand awareness and a fondness for the Reddit Alien grew to such extremes that people started to create their own fan art, and people were sharing photos of the sticker around the internet (Fast Company).
The simplicity of this marketing campaign is the key to its success. Marketing at a grass root level is still an invaluable strategy to promoting your business, and proves that old school stickers still hold firmly onto its place in today's marketing toolkit.
Stickers Spark Conversation
90% of people would trust a word of mouth recommendation (Nielson), and the Keller Fay Group says 90% of word of mouth recommendations are done offline. Stickers can spark conversation about your product or business, and if someone loves your brand enough to sport it on something they own, consider that one of the highest recommendations there is.
Say you gave out 20 stickers to friends, colleagues or loyal customers to place on something they carry with them for just a day. Think how many places they would go, people they'd pass or actually speak to. That small sticker has a lot of potential to travel far, and take your brand with it!
Think where people with similar interests will congregate in large numbers. Promoting a club night? Try handing out eye catching stickers on a University Campus. Have a new retail shop opening? Head to your town centre on a Saturday afternoon to target the weekend shoppers who would be most likely to visit your store. Stickers are naturally a viral product… the more people who see them, the higher your brand awareness will be.
Promote a Sale
Customised stickers are the perfect way to get your sale known to the world in a fun, low-cost way. Use stickers to highlight any promotions or offers you have on at the moment for a different way of advertising. If someone sees '20% off', or 'Buy One Get One Free' on a sticker with your logo on, then you've just upped your promotional game another notch. It's easy to make your own sticker personalised with whatever message you desire.
Customise Your Packaging
Show your customers that you care about the little details by adding stickers to your packaging. Whether they just show the company logo, or say 'thanks' for purchasing your product, a little goes a long way to show you want to make your customers happy!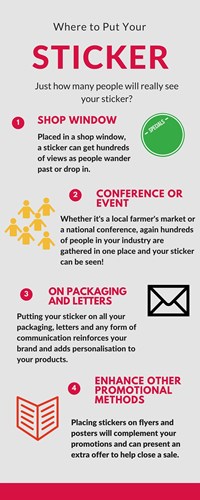 So make sure you don't turn a blind eye to the benefits of sticker marketing. As an easy and affordable method of raising brand awareness, they're certainly worth playing around with to inject some fun into promotion!