As we prepare for the return of Christmas in the office, employees across the UK will start planning their Christmas partywear and office decorations. Christmas time also signals to us the return of office Secret Santa presents. But after a year of not spending the festive season with our co-workers is this a tradition that we would rather leave in the past?
Here at instantprint, we polled employees across the country to find out how they feel about this evergreen Christmas tradition and how attitudes have changed since before the pandemic.
With festive celebrations fast approaching, we have also launched a competition to find the absolute worst Secret Santa gifts the nation has ever received for some much-needed festive fun.
We want to see your worst Secret Santa gifts from across the years – the good, the bad and the ugly (within reason!). To be in with a chance of winning a £100 Love2Shop voucher, submit your entries via the link below.

You're a mean one, Mr. Grinch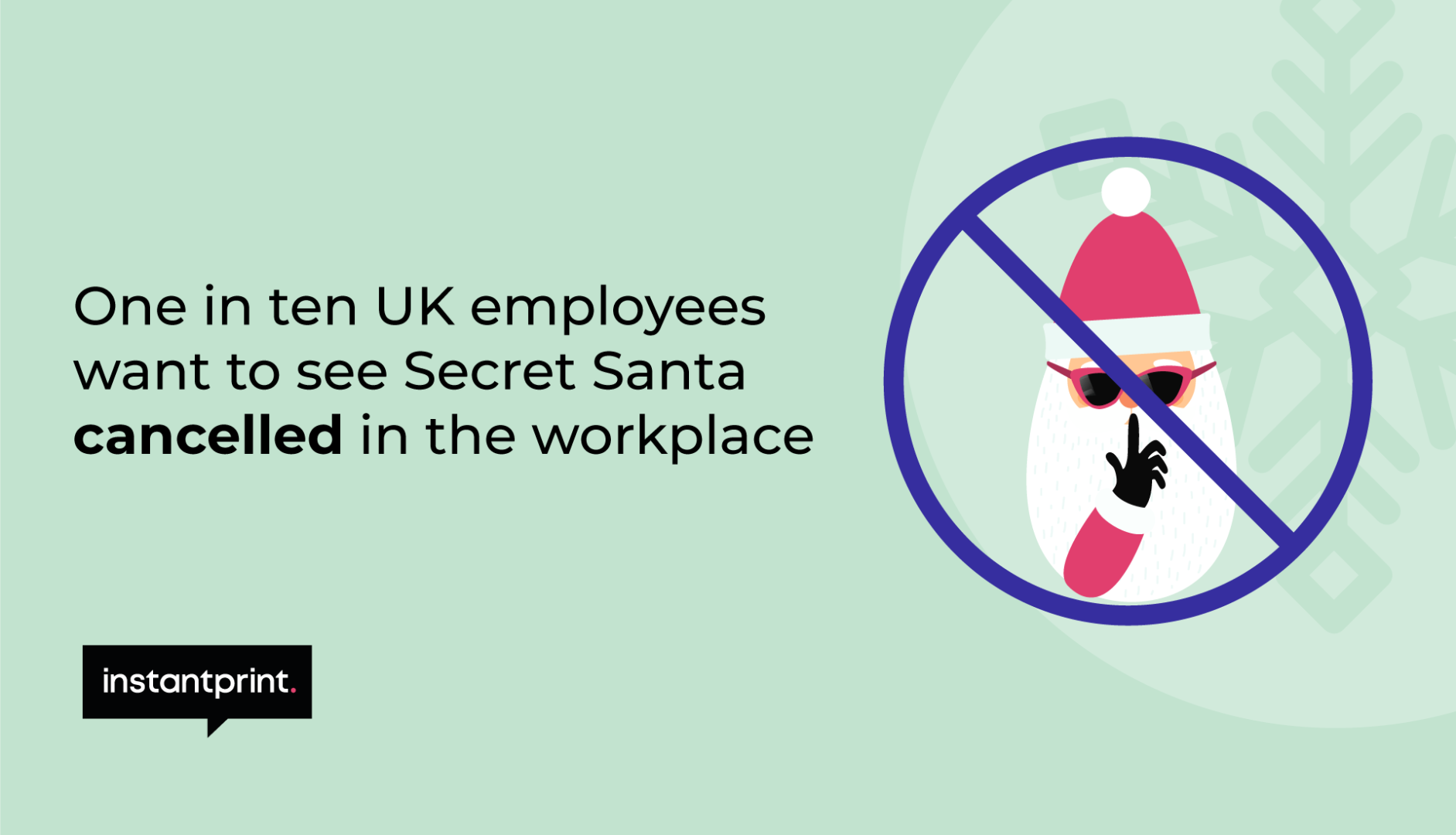 Unfortunately for those who love the tradition, the number of people who dislike Secret Santa has risen from 19% to 31% since 2019, with employees in Sheffield (54%) Manchester (49%) and Belfast (46%) being the nation's biggest "office Grinches".
In fact, one in ten of us want Secret Santa to be cancelled completely. The pressure of giving the right gift is something that puts us off, as a further one in eight (13%) have revealed they don't enjoy exchanging gifts with colleagues as it makes them anxious.
However, all hope is not lost for those feeling festive; over a third (35%) of UK employees still enjoy the gift exchanging tradition.
In 2019, the average price we were spending on our Secret Santa gifts was £10. This average has risen to £12.50 over the last two years. However, a third of us are still sticking to our budget as 34% of us will spend £10 on Secret Santa presents for our colleagues this year.
All I want for Christmas is...
When it comes to the gifts we'd like to receive, it seems we're a sweet-toothed nation, as chocolates and sweets come out on top as almost three in five (58%) would be happy to get this from their Secret Santa. Alcohol (48%) and candles (36%) followed closely as desired Secret Santa presents.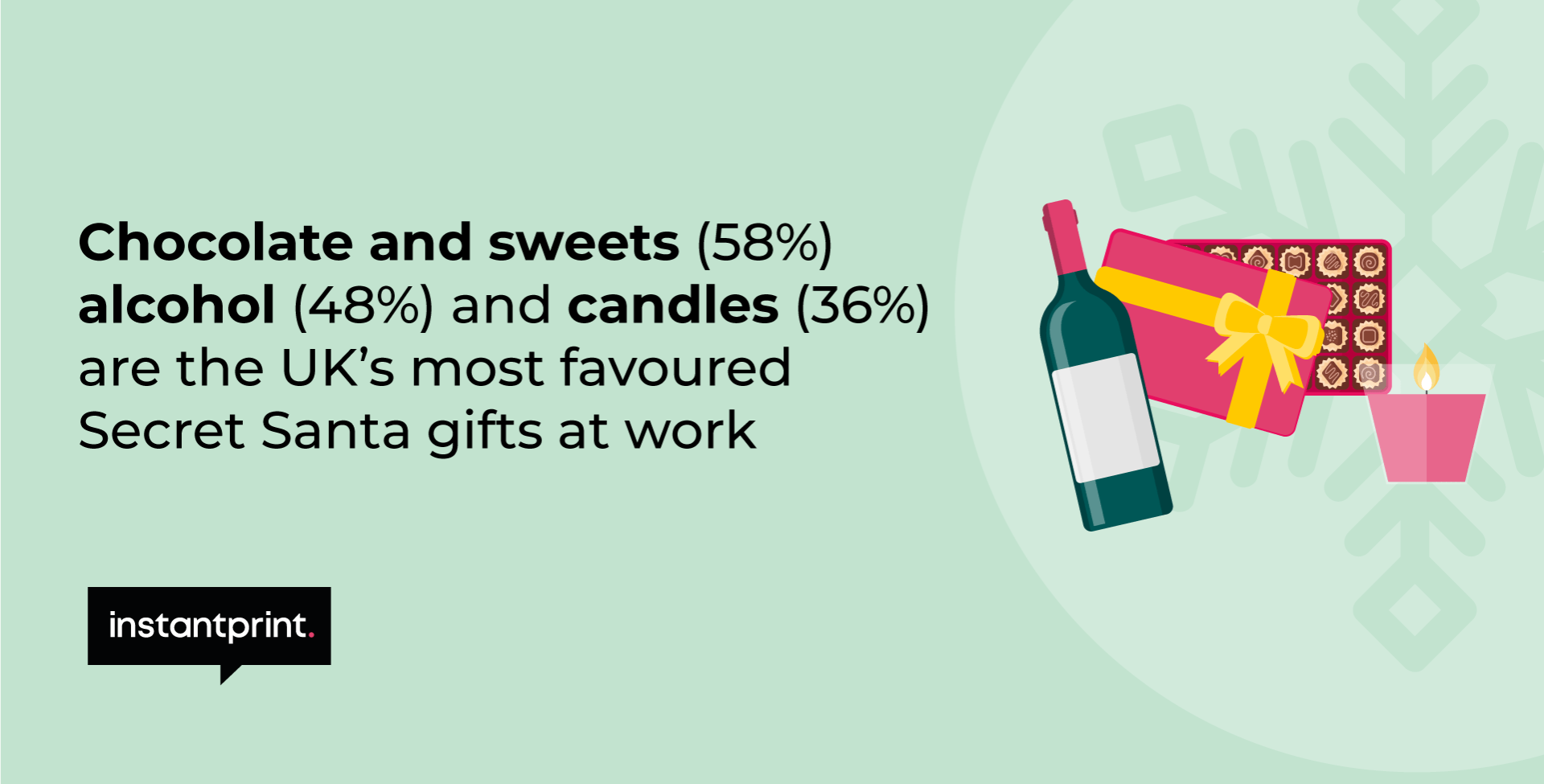 | Top 10 Most Desired Gifts | % |
| --- | --- |
| Chocolate/sweets | 58% |
| Alcohol | 48% |
| Candles/smellies | 36% |
| Food-related gifts | 36% |
| Vouchers | 35% |
| Mugs | 29% |
| Books/magazines | 26% |
| Scratch cards/lotto tickets | 25% |
| Handmade gifts | 21% |
| Cash | 21% |
Underwear and socks are considered the least desirable presents to be gifted, as a third (32%) of us would rather not get these from our co-workers. A framed photo of a colleague came in second as almost three in ten (29%) UK employees wouldn't want to be gifted this.
And those of us with a risqué sense of humour may want to rethink our gifts, as 28% of us wouldn't like to receive something rude or adult-themed from our Secret Santa.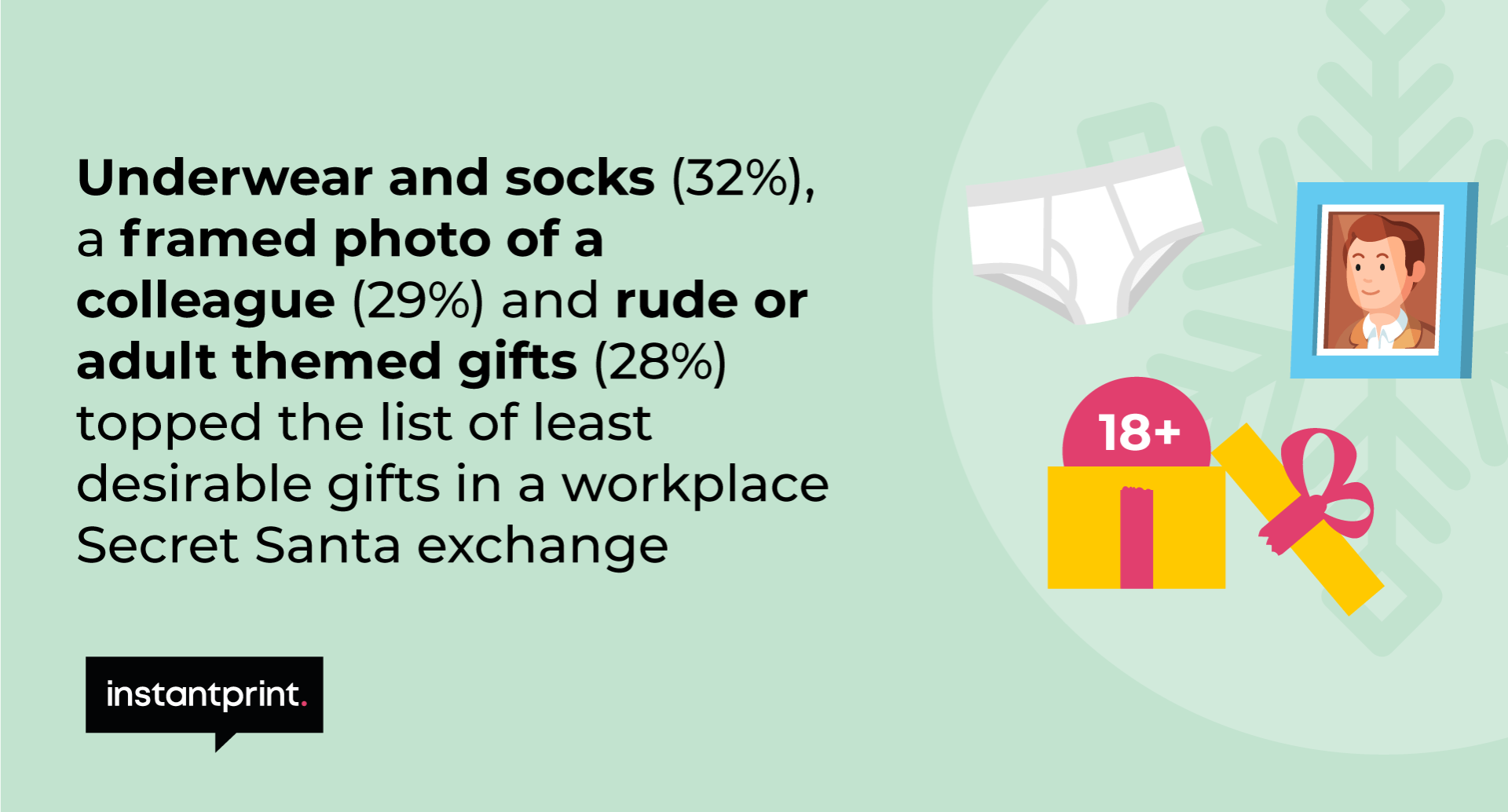 | Top 10 Least Desired Gifts | % |
| --- | --- |
| Underwear/socks | 32% |
| A framed photo of a colleague/the team | 29% |
| Something rude/adult-themed | 28% |
| Soft toys | 23% |
| Clothing | 19% |
| Joke/novelty gifts | 19% |
| Alcohol | 16% |
| Pet-related items | 16% |
| Candles/smellies | 16% |
| Handmade gifts | 15% |

To regift or not to regift?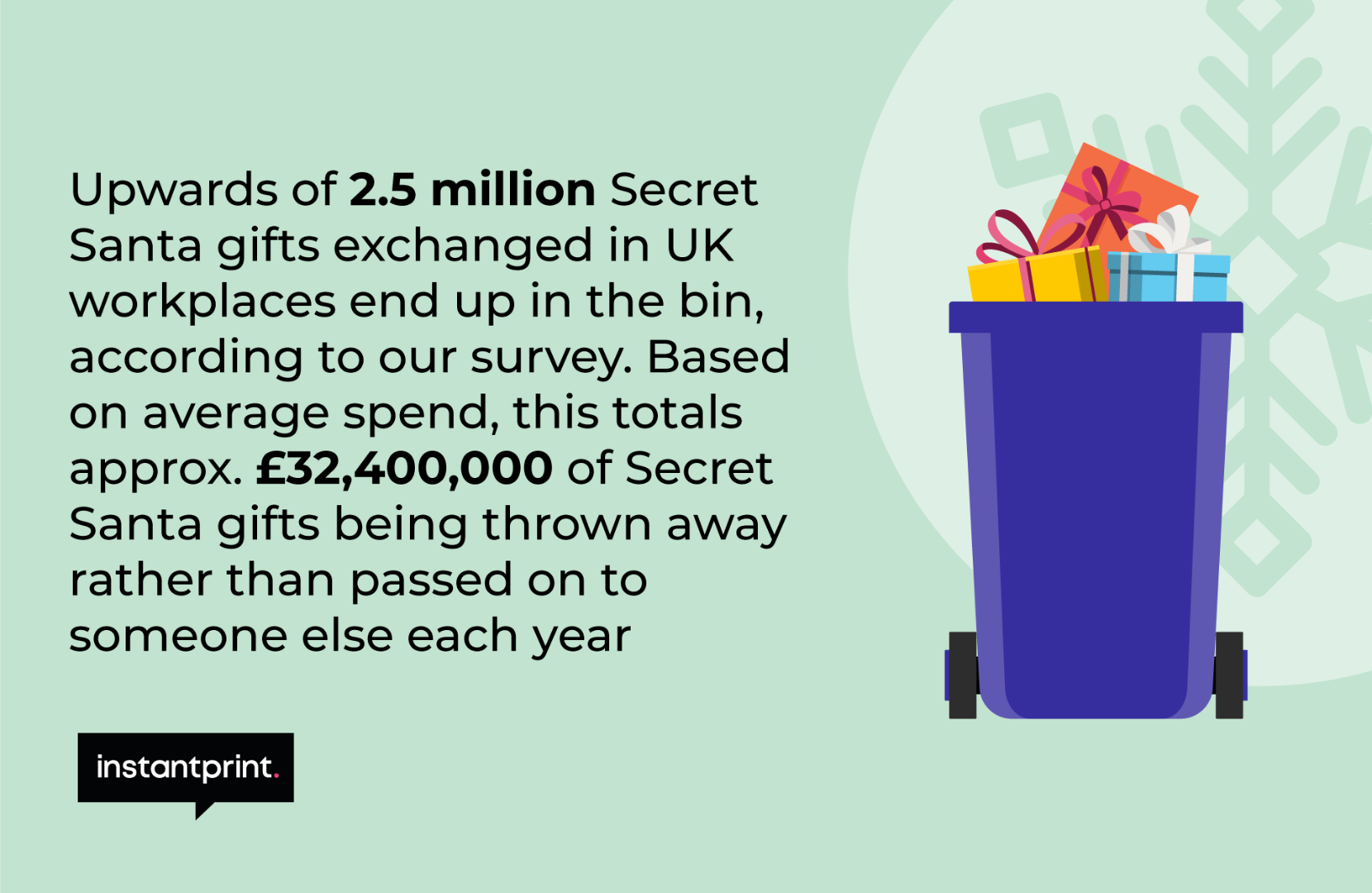 But where do we turn when we get these unwanted gifts? Well, 28% of Brits state that they would donate their present to charity if they got given something they didn't like.
Over a quarter of us (28%) would regift our presents to another person. This is the most popular action with women, as a third (34%) admitted they would be happy to wrap their undesirable presents up and gift them to someone else.
12% of UK employees state that they would hold on to their present even if they didn't like it because they feel too rude to get rid of it.
However, this isn't the case for some as almost one in twelve people (8%) revealed they would simply bin a present that they disliked. This equates to £32,400,000* worth of Secret Santa gifts being thrown away each year, resulting in tons of waste being sent to landfills.
Amidst all the fun and games, we would encourage those taking part to think carefully about how they dispose of their gift once the exchange has taken part. Sustainability is a key issue the world over and something we care deeply for at instantprint, and so recycling, donating or regifting any unwanted items should be prioritised ahead of simply throwing them away.

Ever received a Secret Santa "fail"? We want to hear from you!
Secret Santa gift exchanges have been a staple Christmas tradition in offices across the country for many years, and can certainly help those of us who enjoy the gift swap to get into the festive spirit. As such, it's nice to see from our survey that many UK employees are still enjoying Secret Santa exchanges with their colleagues ahead of Christmas, even if not everyone is quite so keen to get involved.
After so much disruption to Christmas celebrations across the country last year, we wanted to spread a little extra cheer this festive season and so have launched a very exciting Christmas competition to help do so!
"For those entering the competition, we wish you the best of luck, and we can't wait to see your entries!"
So, in a bid to find the nation's funniest Christmas fails, instantprint are asking people to submit pictures of the worst Secret Santa presents they have ever received – the good, the bad and the ugly (within reason!). To be in with a chance of winning a £100 Love2Shop voucher, there are some key steps you must follow:

Share an image of the worst Secret Santa gift you received – but remember to keep it clean!
Tell us a little bit about yourself and the story behind the item
Entry must be made via the entry form below
Entries open on Tuesday 16th November at 10am, and must be made before midnight on the Friday 10th December 2021, or else they will not be counted.

There is one prize available which 1x £100 Love2Shop voucher. No cash alternative is available.  
Full T&Cs can be found below and good luck to all those who enter.
These terms and conditions apply to the instantprint's "Secret Santa "competition ("Competition") run by instantprint "Bluetree Design Ltd" registered at Unit A, Brookfields Park, Manvers Way, Wath upon Dearne, Rotherham S63 5DR ("the Company").
By entering yourself into the Competition, you will be deemed to have read and accepted these terms and agree to be bound by them.
1. Eligibility
1.1 The Competition is only open to residents in the United Kingdom who are over the age of 18.
1.2 You will not be permitted to participate in the Competition if you are an employee of the Company, their families or anyone else who is related or associated with the Competition or its operators.
2. How to enter
2.1 Entries should be submitted via the entry form on the instantprint website to be eligible to win.
2.2 The competition opens at 10:00am on the 16/11/2021, and you must submit your entry via the entry form on the instantprint website by 11:59pm on the 10/12/2021
2.3 You may not submit on another individual's behalf. Agency and third-party submissions will not be accepted.
2.4 Your entry must not include any of the following:
2.4.1 pornography, adult-oriented content or any other sexually-explicit material;
2.4.2 explicit language or content, images of violence, or promotion of illegal activities;
2.4.3 content which brings or is likely to bring the Company or its website into disrepute;
2.4.4 material that promotes bigotry, racism, hatred or harm against any group or individual or promotes discrimination based on race, sex, religion, nationality, disability, sexual orientation, age or any other basis;
2.4.5 content owned by any party other than the entrant or the Company;
2.4.6 material that is unlawful, or which may constitute a criminal offence; or
2.4.7 content which has been manipulated in a way beyond the abilities of the smartphone filter.
2.5 Any entry which does not comply with the above restrictions, in the sole discretion of the Company, will be disqualified from the Competition.
2.6 The Company will not accept: (i) responsibility for entries that are lost, mislaid, damaged or delayed in transit, regardless of cause, including, for example, as a result of any equipment failure, technical malfunction, systems, satellite, network, server, computer hardware or software failure of any kind; or (ii) proof of transmission as proof of receipt of entry to the Competition.
3. Competition Prize
3.1 The prize consists of 1x £100 Love2Shop Voucher. Prize must be claimed within 72 hours of the competition ending or instantprint reserve the right to select a new winner. The winner must reside at a UK address only. No cash alternative is available. The prize will be provided by the Company.
3.2 The Company reserves the right to substitute the prize (or any portion thereof) with one of comparable or greater value at its sole and absolute discretion. The winners are fully responsible for any and all applicable taxes in respect of the prize.
3.3 All costs and expenses associated with receipt of the prize and any use not specified in these terms and conditions as being provided are the sole responsibility of the winners.
4. Winners
4.1 The winner will be determined by instantprint and will be announced by 14/12/2021. The winner will then be contacted via email by the Company to confirm they have won the Competition. The decision of the Company is final, and no correspondence will be entered into after the decision.
4.2 If you object to any or all of your details being published or made available, please contact the Company. In such circumstances, the Company must still provide the information and winning entry to the Advertising Standards Authority on request.
5. Ownership of entries
5.1 All entries and any accompanying material submitted to the Company will become the property of the Company on receipt and will not be returned.
5.2 You agree that the Company may, but is not required to, make your entry available on its website and any other media, whether now known or invented in the future, and in connection with any publicity of the competition. You agree to grant the Company a non-exclusive, worldwide, irrevocable licence, for the full period of any intellectual property rights in the entry and any accompanying materials, to use, display, publish, transmit, copy, edit, alter, store, re-format and sub-licence the entry and any accompanying materials for such purposes.
6. General
6.1 If there is any reason to believe that there has been a breach of these terms and conditions, the Company may, at its sole discretion, reserve the right to exclude you from participating in the Competition.
6.2 The Company will only process your personal information as set out in its Privacy Policy. See also clauses 4.1 and 4.2, with regard to the announcement of winners.
6.3 The Company reserves the right to hold void, suspend, cancel, or amend the Competition where it becomes necessary to do so.
6.4 These terms and conditions shall be governed by English law, and the parties submit to the exclusive jurisdiction of the courts of England and Wales.