If you're looking for an affordable way to redecorate, or you're a budding designer looking to sell their prints, posters are a fantastic tool for creating your own wall art project. To help give you some design inspiration, we've gathered our favourite DIY wall art examples that show posters can really help to transform a space.
Wall Collages
Picture collages within the home are super trendy right now, and you can get really inventive with the style of prints and the layouts you can create. Rather than just having a couple of photos on your mantelpiece, why not create a whole feature wall of photos, patterns and art?
(Source: Fabulous Home Blog)

You can neaten everything up with a grid layout or go wild with a random scattered pattern (this looks even better with different size prints too). It's such an affordable way to update your home and your décor will certainly be unique! It's also a thoroughly modern way of displaying your family portraits.
Colourful Prints
Want a great interior decorating tips that won't break the bank? Create some colourful prints to hang up on the wall – perfect for adding a splash of colour to your home. If pictures aren't your thing, have a go at playing around with a cool mix of fonts and type up your favourite quote or line from a song. They'll look ultra-professional in tidy, matching frames, like the abstract art posters shown below. Recreate this look with A1 posters.
(Source: Lee Taylor)

Top tip: match your poster design colours with your existing colour scheme for a consistent and polished look.
Get Creative with Hangers
You don't just have to stick to putting your prints in frames to show them off you can suspend them from retro hangers or put them on a clipboard for a fun addition to your office workspace. The example below adds an extra quirky, creative level by using wooden boards set out as a grid. Each art design is different, but this would also work well with a pattern, or all the same.
(Source: Pront Decor)
Another creative way of hanging up your wall art is to use string. The following example uses family portraits and large wooden pegs to create rows of pictures. It's a fantastic way of making the most of a small wall area. This is often known as string art.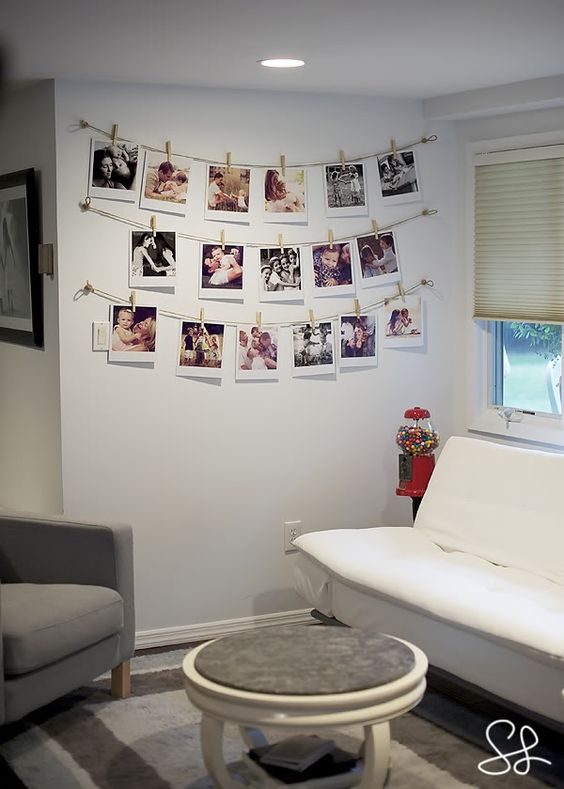 (Source: Decozilla)
String lights, or fairy lights are also another fantastic option. And for smaller poster prints, you can also use washi tape or masking tape for a fun DIY twist!
How Thoughtful
People love a thoughtful present so creating something bespoke for a friend or family member will go down a treat. A collage of high-resolution photos or a fun quote for them to frame, the possibilities are endless.
You might have seen popular quote prints on Etsy. Things like this, especially from films, songs and books your loved ones might enjoy, make awesome gifts. It's an added personal touch that's so easy to convey through a poster. For example, check out this cool Forrest Gump typography print by Inspiration DE. It uses a famous quote and iconic imagery from the much-loved film that makes it ideal for fan art.
(Source: Inspiration DE)
Painting Style
From spray paint to watercolour, handcrafted styles are huge at the minute. But you don't need to get your old shirts and paintbrush out to recreate this modern home décor – just print a paint-style design!
(Source: Elleseal)
This flamingo print is a perfect example. Trust us – all your friends will think you've hand painted your own wall art! And flamingos are a trend we don't see leaving any time soon.
Art Deco Wall Prints
Art deco is a design style that harkens back to the 1920s and 30s. It uses bold colours and geometric shapes – both of which are extremely fashionable trends right now! Think: Leonardo DiCaprio in the Great Gatsby.
This decorative style is really popular, for both selling and decorating with. Here's a fantastic print that exemplifies this vintage style of art. This example is quite a modern take on it, so the colours aren't quite as bold – but we think this would be perfect for a hip bedroom or kitchen wall art print.
(Source: Etsy)
We hope these examples give you all the inspiration your need for your upcoming DIY projects. From living room decorating ideas to easy DIY wall art ideas, we've explored a range of wall decorations using the humble poster as a base.
We'd love to see your next piece of art. Share your decorative posters with us on Instagram or Twitter by tagging @instantprintuk or #instantprintuk for a chance to be featured on our channel.