It would be difficult to run a successful election campaign without all the right marketing materials to support your cause, especially as your competition will have a focused marketing plan in place which will include handing out leaflets, posters, stickers etc.
Therefore, we thought it would be hugely beneficial for anyone running a campaign, or wanting to support one, for us to discuss which marketing materials will benefit you and why.
Plus, we've included some handy information at the bottom of this blog post for Non-Party Campaigners on what you must include on all your marketing materials!
Provide stickers with your party slogan on to increase awareness and reinforce who you are.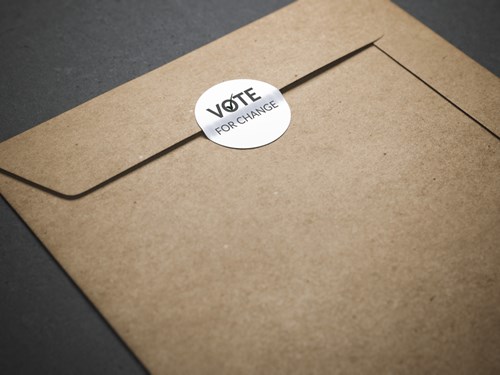 Create a hype around your campaign by handing out stickers to your supporters and to the general public. Handing out stickers is a simplistic way to promote your party and for your supporters to showcase who they intend to vote for.
It's vital that you include stickers in your marketing materials, as if your competition have them but you don't, it will seem as though no one is voting for you.
Postcards can be used to communicate your party's overall message.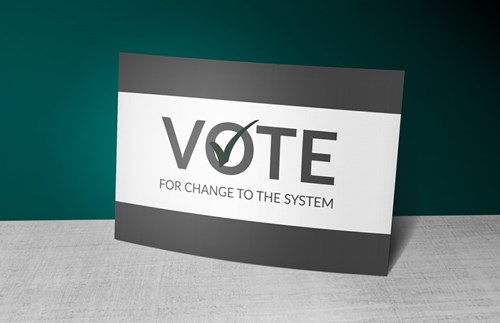 With a postcard, as they are compact and easy for people to take away, hand them out whilst your campaigning to reinforce your party slogan and overall message, so people will know what you stand for. Be short and straight to the point with any text on your postcard, consider what your party's overall goal and aims are if you became in power and ensure that your postcard conveys this message coherently.
A postcard may not be the most ideal resource for you to include all your policies, like a booklet would be, but you could potentially include the most important policies.
Posters should be used to grab attention and emphasise your party's main policy.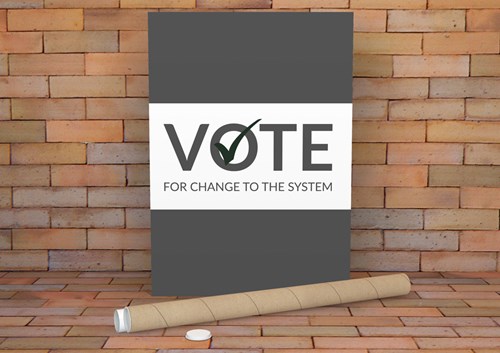 It goes without saying, a poster will grab the immediate attention of the public more than a flyer or a leaflet would, as it's something which a person can't easily miss. If you're handing out marketing materials, such as flyers, it's easy for people to turn them down and not read them, however, as a poster is generally hung up in a public place, there's no escaping your message.
Therefore, make sure that your poster includes your most important message and be creative with it. The whole point of a poster is to grab people's attention, so consider ways in which you can do that. You want to make people stop and take in your poster, then go discuss it with their friends and family. Maybe even take a picture of it and tweet or Instagram it. Your main aim with a poster is to make it stick in someone's mind, more than to provide information, so bare that in mind when designing the creative.
Utilise leaflets and booklets to go into more depth with your campaign policies.
A leaflet or booklet can be utilised to discuss your policies and values in more detail. Although you will discuss these during speeches, it's vital that people have something which they can take away, share with friends and then refer to when they want to remember and research what your party stand for and your policies.
A leaflet can be a fantastic way for you to go into more depth with your policies, which you can't really do with a poster or flyer. It's a chance to impress the public with what your party propose to bring to the country, what difference you would make and how exactly you would achieve that. Remember, the more information the better!
Personalised letterheads.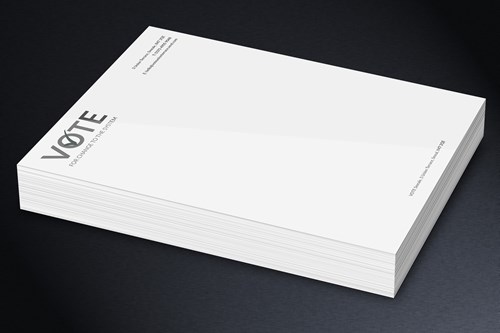 Without a doubt, during your campaign you will be sending out letters to important people and of course you will want those letters to appear neat and professional. Therefore, ensure that all your letters coincide with the rest of your party's marketing materials, by printing a selection of letterheads which will include your party name, slogan and contact information.
Vital information for Non-Party Campaigners.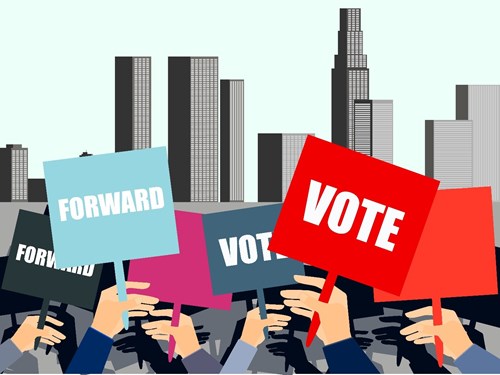 What is a 'Non-Party Campaigner'? Non-Party Campaigners are individuals or organisations who campaign at elections, but are not standing as political parties or candidates.
Under the Political Parties Election and Referendums Act 2000, there are rules about putting imprints on materials. These rules apply at all times for Non-Party Campaigners.
Imprint basically means that whoever created the election marketing material, such as a poster or a flyer, must ensure that you can clearly see who is responsible for that print. This is to ensure that there is complete transparency with who created the marketing material.
You must ensure to include both the printer and the promoter within your imprint on your printed election materials.
An example:
Printed by Bluetree Design & Print Ltd,
United A Brookfields Park, Manvers Way, Manvers, Rotheram, S63 5DR
Promoted by H Moore on behalf of the Campaign Group, both of 113 Saltmon Lane, Leeds.
If you are publishing in a newspaper, then your advert doesn't need to include the printer's name and address.
Ensure to include your imprint on the face of the document if it's single sided, or if the majority of the information is on one side. If it's multi-sided, such as a booklet, then you must ensure to place your imprint on the front and back page.
It's good practise to also include your imprint on all electronic materials, such as your website and emails, plus, it will make it easier for people to get in touch with you if they wished.
It is an offence to not include an imprint on election marketing printed materials.
More information and guidance for Non-Party Campaigners can be found here:
http://www.electoralcommission.org. uk/i-am-a/party-or-campaigner/nonparty-campaigners.
We hope that you've found this blog post both inspiring and informative. If you have any further questions relating to election printed materials, then you can find us on Facebook and Twitter!