Print advertising uses all physically printed media, such as magazines and newspapers, to reach consumers, business customers and prospects. However, now that we live in a more digital world, brands are becoming more experiential with their print campaigns…
Huge brands, such as Becks, Nivea and Ford, are utilising modern technology to create more innovative print campaigns! Some adverts now encourage consumers to sync their mobile phones and iPads with the advert, so it becomes engaging and interactive for the reader.
If you like the idea of creating an interactive print advert but desire a dose of inspiration on how your brand can achieve this, then keep reading as below is a collection of some of our favourites.
1.) Motorola's Colour Changing Phone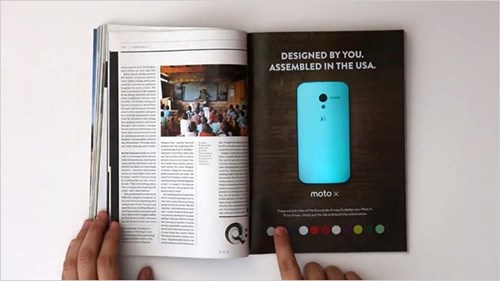 Image Source: http://www.adweek.com/creativity/print-ad-moto-x-lets-you-change-phones-color-push-button-154620.
Excuse the pun, but this advert pushed all the right buttons for consumers, as it allowed them to physically see which colours are available for this model and try out their favourite just from an advert. Amazing.
This was achieved by wafer-thin LED and batteries, which then allowed consumers to easily change the colour of phone within the advert. This type of advertisement is unique, edgy and right on brand for Motorola.
2.) Nivea's Protective Bracelet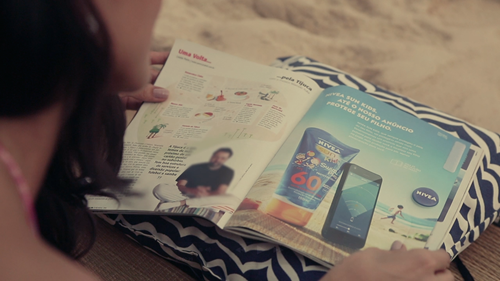 Image Source: http://www.adweek.com/creativity/nivea-magazine-ad-really-protects-removable-bracelet-tracks-your-child-beach-157490.
Sunscreen brand, Nivea created an interactive advert which brought print and mobile together. Nivea discovered that parents find it worrying taking their children to the beach, as they may wander off when they're not looking.
To combat this Nivea created the 'Sun Band', which they attached within their print advert. The idea is to pop the band out of the magazine, wrap it around your child's arm, download an app, sync the app with your mobile phone and set a perimeter. Then, if your child wanders outside your set perimeter, an alarm goes off. This is a brilliant idea which solves a very real problem for parents!
3.) Lladro Lighting Pop-up
Image Credits: https://blog.hubspot.com/marketing/interactive-print-ads#sm.00001j7nqmwvt4fshvnckpwd6s8m3.
Lladro Lighting did an excellent job with this interactive campaign, it is a simplistic idea which allowed consumers to physically create something and interact with the advert.
Additionally, this would work well as a social media campaign, as consumers could share their pop-up lamp creations over Twitter or Facebook, so it also has that shareable, quirky and unique touch to it as well.
4.) Peugeot AirBag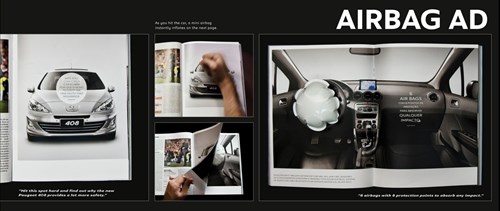 Image Credits: https://aotw-pd.s3.amazonaws.com/images/airbag-english.jpg.
According to research, many people feel unsafe when driving so Peugeot wanted to advertise their new car as being incredibly safe. They achieved this by adding tiny airbags into their print advert, so when a consumer hit the advert the airbag pops out.
This is another beautifully simplistic idea, which doesn't include any digital aspects but showcases how you can transform print advertising just by incorporating a pop out.
5.) Ford Explorer Cool Car Features
Image Credits: https://digitalsynopsis.com/advertising/ford-explorer-innovative-magazine-bbr-saatchi.
Ford created a QR code enabled print advert which demonstrates the cool features of their Explorer SUV when readers scan the QR code and place their phones on the highlighted area. This form of an interactive advertisement is not only engaging but also informative.
6.) VolksWagen Test Drive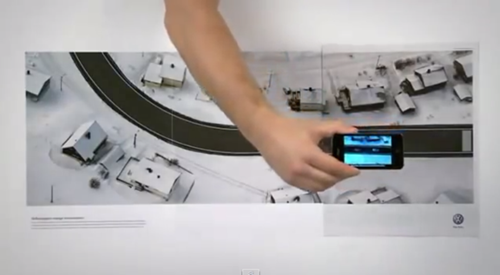 Image Credits: https://blog.hubspot.com/marketing/interactive-print-ads#sm.00001j7nqmwvt4fshvnckpwd6s8m3.
This advert by Volkswagen presents a long stretch of road on a double page spread placed in a magazine and urges readers to download an app which then lets the reader drive the car on the road by simply hovering their iPhone over it. You can also test various features of the vehicle, such as cruise control and lane assist with the app.
We think this is a great idea, which will engage readers with the brand whilst showcasing some of the car's most important features.
7.) C&A Interactive Facebook Like Button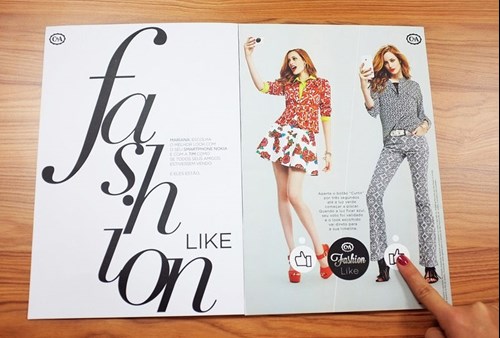 Image Credits: https://www.trendhunter.com/trends/interactive-print-advertising.
Fashion retailer C&A created a fun and clever print campaign which allowed readers to 'like' pieces of clothing by pressing a Facebook like button within their advert.
This was given to customers who registered for a special edition magazine, so it was a smart way to make customers feel valued. The Facebook buttons were linked to the reader's personal Facebook accounts.
This print campaign is not only interactive but also a great social media campaign which will impress readers and certainly get people talking!
8.) Urbanears Scratch Poster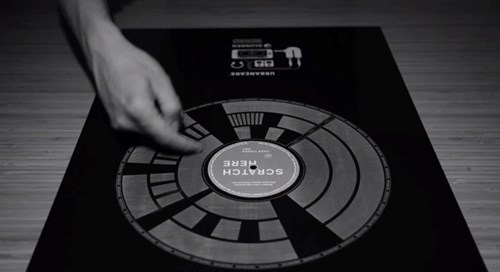 Image Credits: http://archives.vinyloftheday.com/?p=1287.
Innovative lifestyle and fashion headphone producer Urbanears grabbed the attention of tech savvy young customers by creating an interactive analogue sound POS Installation - which was basically a printed and engraved poster. As you scratch the poster it emulates the sound of scratching a vinyl record!
This type of print advertising is young, fresh and cool, which was perfect for Urbanears' target audience.
9.) Glacial Beer Cooling Advert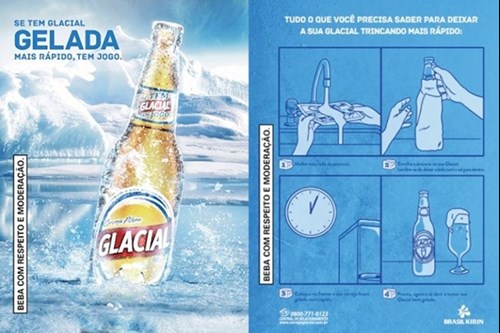 Image Credits: https://blog.hubspot.com/marketing/interactive-print-ads#sm.00001j7nqmwvt4fshvnckpwd6s8m3.
Glacial listened to a problem that consumers face and solved it with their advert…
This magazine advert helps customers get their bottles of beer cold in half the time. All the reader needs to do is soak the advert in water, wrap it around a beer and pop it in the freezer to chill in half the time which it would normally take. How? The advert is made with salt particles which help to expedite the process.
A very cool idea which will impress customers as no one likes a warm beer.
10.) Carlsberg Beer Bottle Opener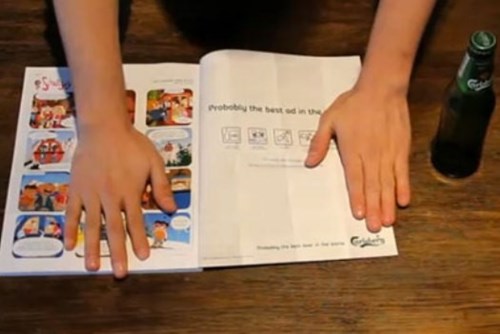 Image Credits: https://www.psfk.com/2012/06/magazine-ad-open-beer-bottle.html.
Possibly the best interactive print advert in the world...Carlsberg made it possible for their customers to open bottles of beer with their magazine advert!
It's a simple idea, all the reader needs to do is tear out the advert, fold it up and then use it to open a cold one. This innovative idea aligns perfectly with their popular 'probably the best beer in the world' TV marketing campaign.
11.) Reporters Without Boarders Talking Print Advert
Image Credits: http://www.adweek.com/creativity/print-campaigns-really-speak-you-131046.
Reporters face many dangers when attempting to uncover the truth behind news around the world and this campaign aimed to get their stories heard.
This advert uses QR codes, which when the app is activated, a pair of lips overtake where the dictator's lips were but the dictator isn't speaking it's the reporter.
This print campaign has depth and meaning, which helped make this stand out from your standard magazine ad.
12.) Nivea Solar Phone Charger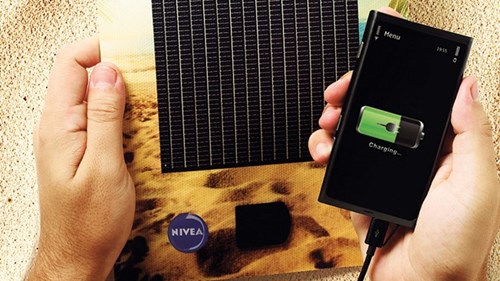 Image Credits: http://www.adweek.com/brand-marketing/gravity-award-winner-nivea-sun-solar-ad-charger-160274.
This print campaign is fun and unexpected but it is also incredibly useful.
Nivea added wafer-thin solar cells and a phone plug so that readers could charge their phones when at the beach. This idea was a huge hit, as many people find themselves stuck at the beach, or out and about, with very little phone charge. This campaign was current and relevant to the tech savvy world around us.
13.) Becks' Playable Poster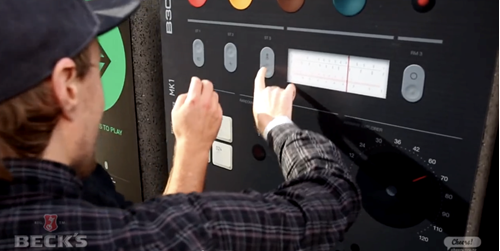 Image Credits: https://uk.pinterest.com/pin/409405422351339949.
Becks explored innovative and fresh ways to bring a poster to life by creating one that plays music.
This interactive artwork plays music every time it's touched. This is an engaging way for people to interact with the brand and to have some fun. Although a playable poster isn't directly connected to the brand, this idea is perfectly suited for Becks' target audience.
14.) Lexus 2013 ES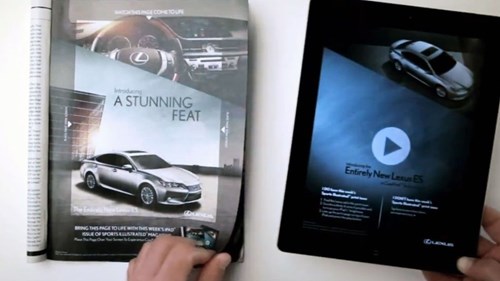 Image Credits: http://mashable.com/2012/10/09/most-interactive-print-ad-lexus/#vu94BvhV6mq8.
To bring the Lexus 2013 ES to life readers can sync their iPad to the advert! All they have to do is place it underneath the advert and then a synchronised display shines through the paper to allow the car's headlights to switch on, its wheels to spin and a cool background to roll past.
This is a very cool way for readers to experience this Lexus model and some of its impressive features!
We hope this post has inspired you to come up with some new and exciting ideas for your next big print campaign.
Why not share your company's interactive print advert with us over Twitter?