Whether you've come to slay your Halloween content marketing or you're looking for fresh new ideas to scare up sales this season, you've come to the right place. Here are five Halloween marketing campaign ideas to treat your customers to this year.
Halloween Spending Stats for the UK
Before we dive right in with our marketing ideas, it's best to get an idea of how the British public spends money during this holiday. With many consumers going all out for the spookiest season of the year, online retailer Notonthehighstreet revealed an 889% increase in Halloween related searches in 2020, which brought with it fantastic opportunities to the 5000 small businesses selling on the site.
Just as impressively, Statista's research also shows that retail expenditure on Halloween products has more than doubled in the UK between 2013 and 2019, rising from £230m to £474m – showing that this wicked trend isn't going away any time soon.
Pumpkins themselves are big business, as a quarter of Brits purchased one in 2020, meaning the total spent on the iconic orange gourd reached £29.7m last year.
So, whether you're selling Halloween décor, bringing pumpkin spiced lattes back to the menu or hosting a ghoulish club night, there's definitely a market in the UK for Halloween products. But how should you market your business at Halloween to stand out from the competition?
How to Create the Best Halloween Marketing Campaign
1. Spooktacular Halloween Themes for Marketing
Maintaining a solid theme across your entire campaign is key to making it memorable and recognisable. Whether you decide to host a trick or treat sale event for your retail store, a witch's cauldron menu for your café, or launch an after-hours Halloween party for your club, try to theme all of your marketing activity using the same style – including colours, fonts and imagery.
2. Halloween Email Marketing Ideas
If marketing emails are already part of your brand's go-to channels, you'll know that switching up your theme is a great way to boost sales and brand awareness. And all businesses – no matter their sector – can tweak their email content with a Halloween twist to suit their audience and capitalise on the holiday.
For example, a tutoring company whose primary audience is parents might send out an email with kids' Halloween costume tutorials or a dental practice might warn patients about the risks of eating too many sugary sweets and remind them of the best toothpaste and brushes for mitigating the risk of cavities. A fashion brand might launch a whole new range of spooky jewellery, a bakery could advertise their first-come-first-serve bat-shaped cakes. There's a world a possibility with a theme this broad!
Or, for something quick and easy, why not host a themed sale? Use Halloween as an excuse to treat customers to 10% off their next order with a fun discount code that reflects the holiday.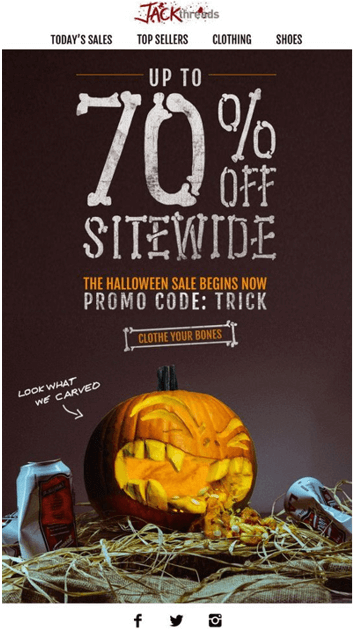 3. Social Media Marketing Ideas
Social media is a fantastic way to engage customers this Halloween. With nearly five million global users (Datareportal), it's often the quickest way to get your message in front of as many people as possible – and you can even specifically target your audience to give them the most relevant message with paid adverts.
Halloween is a particularly popular time of the year when it comes to social media, with the hashtag #Halloween2020 featured in over 963.7K posts, resulting in 5.5 billion impressions last October.
Research from Mintel found that 40% of consumers use social media to inform their Halloween purchases, so curating your posts with a spooky undertone and the right hashtags can help influence customers to shop with you this year.
User-generated content is a great way for B2B businesses to get their customers engaged on social media. Host a pumpkin carving competition or ask people to share pictures of your product in their homes and tag you in them for a chance to be featured on your channel. Starbucks found great success with a similar campaign in 2017 when they launched the #ZombieFrappuccino which was only available for five days. They then shared posts from their customers who'd used the campaign hashtag.
As well as posting about your campaign, it's also a good idea to tweak your profile pictures and banners to add a fun Halloween theme – maybe you could incorporate a spider's web into the corner of your logo or add pumpkins to the banner. The customers who follow you will then see that you're in the spirit of Halloween when you make posts about your campaign.
Best Halloween hashtags for social media:
• #halloween
• #halloween2021
• #happyhalloween
• #trickortreat
• #spooky
• #halloweenmakeup
• #pumpkin
• #spookyseason
• #halloweendecor

4. Revamp Your Website
If you really want to create a spine-tingling customer journey or experience for your website users, why not add a touch of Halloween to your website? Add spooky elements to your website banner, incorporate your campaign theme in your product images, and have a landing page dedicated to your special Halloween deals that you can link to in an email or social media post to convert your audience into buyers.
Online retailer Boohoo.com created a category page dedicated to their Halloween costumes. By using search optimised copy in the description at the top of the page, this allowed them to target those using search engines to find their perfect Halloween 'fit.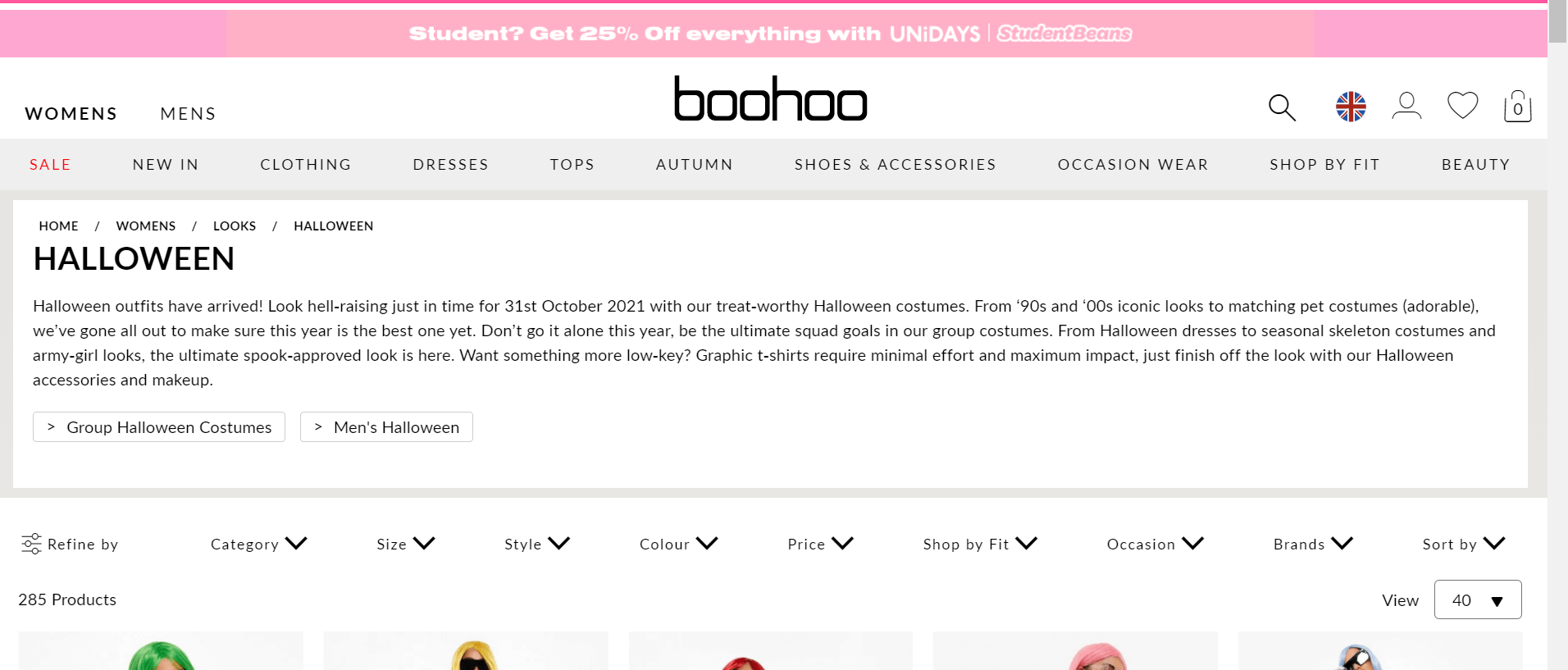 5. Offline Halloween Marketing Tactics
The most effective Halloween marketing campaigns are those that run across multiple platforms, including print. Posters are one of the most affordable and effective methods of getting the word out about your upcoming events – especially if you run a venue that's planning an upcoming Halloween event.
As well as posters, you can print sales stickers, roller banners for your store, flyers to send out in the post and perforated tickets for customers to gain access to your VIP events.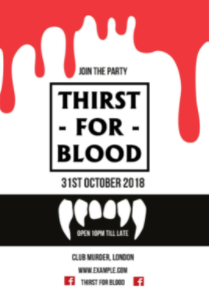 > Customise this free Halloween party poster template here <
6. Launch a New Product
New product launches are always exciting for existing customers and can help you appeal to a new audience too. If your product is only available for a limited amount of time, even better! This appeals to consumers' FOMO (fear of missing out) and drives them to make a purchase while they still can. According to Trust Pulse, 7 in 10 millennials experience FOMO, making it a great tactic to squeeze a few extra sales in this Halloween.
Hotel Chocolat's 2021 special 'Halloween Bites' box is a great example of this. Using classic flavours for this time of the year, this box makes a great treat for loved ones (or yourself!), but it won't be here for long.
Halloween Marketing Words & Phrases
Need inspiration for your Halloween marketing campaign slogan? Here's a list of fangtastic phrases to help you take your advertising copy to the next level.
Spooktacular Deals
Wonderfully Wicked
No tricks, just treats!
Scary good sale starts now
Night of fright
Warm witches
Boo-tiful treats instore
This'll raise your spirits
Whatever you've got planned for your Halloween marketing this year, make it fun! From young children going trick-or-treating to fancy dress parties for the grownups, Halloween is a holiday for all to enjoy. We hope these tips help you create a winning campaign that sets your brand up as the number one choice for customers this year.