With the New Year comes new trends, and we're not just talking about on the catwalk. All industries experience trends and it's important as a business to keep up to date with what's going on. In light of this, we've popped on our Mystic Meg hat to put together the five biggest trends for small business in 2016.
The online revolution continues
It will be no news to you that more and more businesses are moving online, making it a trend that's still growing at a rapid pace. Even if you don't have an online shop, it's important to create an online presence and have a hub of information ready at the click of a mouse for those eager web surfers. Not only are businesses creating their own websites, but more small enterprises than ever before are selling online through the likes of Etsy, Ebay and Amazon.
With many Brits living an increasingly busy lifestyle, the convenience of an online shop can't be beaten. According to The Telegraph, we already spend £1 in every £5 online and this huge internet shopping revolution is set to continue.
Living wage & pensions will increase costs
Not many of us like the thought of getting old, but the fact is that people are now living longer and therefore the pension pots need to be bigger. With the roll out of the workplace pension, we are now at the point where every business large or small has to set up a pension for their employees.According to an FSB survey, 21% of smaller businesses said they had frozen or reduced wages to cover the bill.
But that's not all. The living wage will also play a huge part in small business outgoings over the coming months and years. From April this year the living wage will be £7.20, which for businesses with less than 10 employees, this will see their wage bill increase by 1.5%.
More people will set up their own business
It's far from doom and gloom for the economy and small businesses. The economy is continuing to improve which is great news for people wanting to set up their own venture. We recently surveyed 500 small business owners and 75% of them are now much happier owning their own business.
The office for National Statistics said that the service sector, this biggest part of the economy, grew by 0.7% between July and September of last year so things are looking up after a tough few years. Real household disposable income is also increasing and last year small businesses accounted for 99.3% of all private sector businesses.
Technology will help SMBs remain competitive
Sophisticated IT solutions are more readily available and cost effective than ever before. According to the Wall Street Journal, technology such as 'Cloud Computing' – where IT resources are hired over the internet – is helping SMB's to compete against bigger, more established companies. With a little savvy knowhow, you can create your very own online space and reap the rewards.
Local marketing through mobile will explode
When it comes to promoting your small businesses, mobile marketing cannot be overlooked. In May 2015, Google announced that search queries from smartphones had overtaken desktop. A large percentage of these searches include the term "near me" which highlights the importance of a digital presence for any business with a physical location. This growth in local searches creates a huge marketing opportunity for small businesses.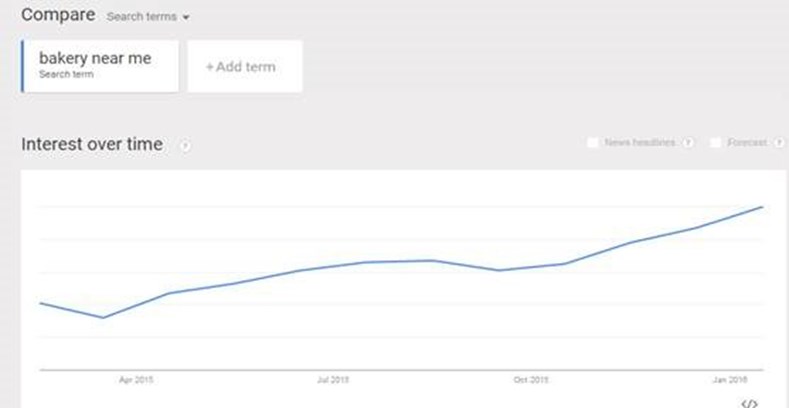 Following the growth in local searches, there's also been huge growth in mobile marketing tools. Google & Bing both have local listings which help businesses appear on maps for local searches. If you have a budget you can create advertising campaigns that target people in the local area searching for the products & services you offer. These campaigns can be targeted at both mobile and desktop searchers.
New marketing channels like iBeacons will also be adopted. This is an Apple brand name for micro-location technology in mobile apps. In a nutshell, devices that have Bluetooth Low Energy (BLE) will be able to transmit signals to each other, so content such as local offers and alerts can be pushed straight to mobile depending on physical location. This alone offers huge opportunities for physical stores as Beacons could be pushed to potential customers near your store.
While some of these mobile marketing tools are fairly new, they're only going to become more sophisticated as searches from smartphones increase and businesses like Google increase investment.
So that's your lot- our top 5 business trends for 2016! If you know of any more that we might have missed, let us know in the comments.