Summer: the season of long, (hopefully) warm days, and events and activities. To make the most of summer for your business, your summer marketing tools should reflect the shift between indoor and outdoor events – think festivals, sports events, summer fairs, trade shows, and even more foot traffic in the high street. And what better way of advertising this summer than a weather-resistant, durable, custom Flag? Whether it's a unique and eye-catching Teardrop Flag, or a large and impressive Feather Flag, there's no denying that promotional Flags demand attention.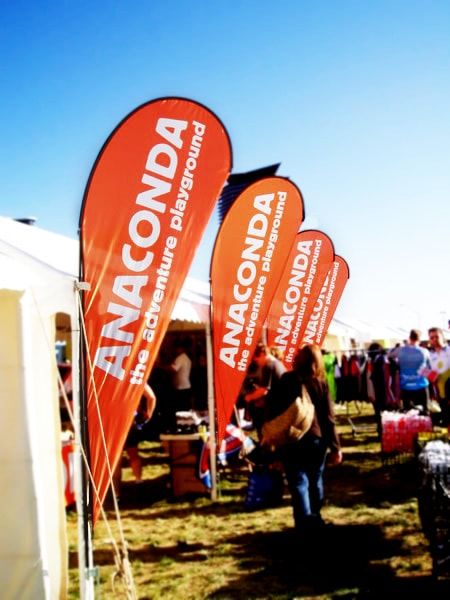 (Source: Pinterest)
A Natural Advantage
Research by Psychologist M.D. Vernon has shown that, whether we want it to or not, movement attracts our attention. When we perceive movement, our natural reaction is to immediately turn our heads to get a better look at what's going on in our peripheral vision.
Now, picture a promotional Flag, branded in your colours, with your company name shining out in the sun. There's a summer breeze, meaning your Flag is fluttering. This moving component of your stand, or advertisement outside your shop, will mean that all eyes are on you. And the best part about using nature (i.e. the wind) to help you grab attention? It's completely free.
An Extension of Your Exhibition Stand
In this study, a whopping 63% of respondents suggested that building brand awareness was the biggest advantage of exhibiting at a trade show, with 48% stating that having an eye-catching display was the most successful method for attracting attendees to their stands. By designing your Flag with your brand in mind, it can act as an extension of your Exhibition Stand, and therefore further develop that all-important brand awareness. You want people to remember your business long after the event, and a great, custom promotional Flag greatly increases the likelihood of this.
As well as this, if it's a busy day and there's some crowding around your stall, adding a QR code or website to visit on your Flag could be a fantastic way of keeping those in the queue entertained while they're waiting, whilst also boosting your business at the same time!
(Source: bestdisplays)
Stand Out Above the Crowd
Whether you're at an indoor exhibition, or outdoors at a festival or fair, it can be hard to see anything for the sea of people attending the event. To make sure that everyone, especially the aforementioned sea of people, notices that you're there, you need an awesome flag to fly above the crowd. With Large Feather Flags up to 3.2m tall, you can promote your business no matter how jam-packed the space is.
Or, if you'd prefer to appeal to those in the more immediate vicinity, a smaller Flag, at eye-level, can have just as big of an impact on those passing by your stand. Either way, the amount of people who are exposed to your business through the use of custom Flags makes them a rewarding, yet cost-effective, way of getting noticed.
Attract Passers-by
The increased traffic brought on by summer's dry spells creates another significant benefit when it comes to promoting brand awareness: the huge increase in potential customers passing by your shop. By placing a promotional Flag outside your place of business, whether that's on the high street or next to a lively road, you're taking full advantage of the increase of people who are out and about by standing out from your nearby competitors with your free-standing flag banner.
(Source: Pinterest)
Indoor and Outdoor Appeal
Flags are well known for their outdoor uses, but what about using them inside your shop? If you want to make your in-store summer promotions really sizzle, it's a good idea to create an attention-grabbing display area. As well as your usual Banners and Strut Cards, the less-common Flag will help you make a big impact because of how unique this is. Whether that's in your shop window, or more centrally in the store, a Small Teardrop Flag, simply featuring the word 'Sale' in a bold, striking colour, could really make this area stand out.
What makes the often-overlooked Flag such a great summer marketing tool is its versatility. It can be used at various events, or even at your place of business. It can be custom designed however you like, to truly reflect your brand. And, it's sturdy – come rain or shine, a weather-resistant Flag won't fade in the summer sun, or (because, let's face it, it's not always blue skies) ruin in the rain.
(Source: Above All Advertising)
Flags in Action
Techbuyer, global specialists in the buying, refurbishing and selling of IT equipment, recently used our Feather Flags at CeBIT 2018 – Europe's Business Festival for Innovation and Digitalization in Hanover, Germany. Here's what Helen Blakely, their Marketing Manager, had to say about their experience of using Flags at this event:
"We were main sponsors at CeBIT in Germany and took the instantprint Large Feather Flags to showcase our brand. At almost three metres tall, the flags were great for catching potential customers' attention. They maximised our brand exposure at the exhibition and were great for building brand awareness. The flags were a fun and powerful way to incorporate our brand into the festival feel of the event. We are looking forward to using the Flags again at more events around the world and would recommend instantprint to any marketing team."
(Source: Techbuyer Group)