Stickers never seem to get old. As kids, we couldn't get enough (isn't that the only reason we suffered through gruelling dentist trips?) and as adults, we still can't seem to resist the lure, especially when stickers are used in marketing.
Promoting a business, product, event or message with stickers can work wonders for your campaign. Not only are they fun and cost-effective, but if used right, they can really add value to your service. To help give you an idea of why this is, we've put together a few shining examples. From large scale campaigns to guerrilla marketing to those extra special touches on product packaging, here are a few of the brilliant ways that marketers and business owners have used stickers to leave a lasting impression on their audience…
Perfect Packaging
Call us shallow, but we're a sucker for fancy packaging! And as this lot prove, stickers can really work to your advantage when you want your packaging to speak volumes about the quality of the product inside…
Freshly Baked
Mr. Holmes Bakehouse in San Francisco gets it spot on. The stickers they use to secure their takeaway boxes aren't just pretty, they also inform customers that what they're eating is baked from scratch in-store. As well as making the food all the more irresistible, this is a great way of encouraging people to put their trust in the brand.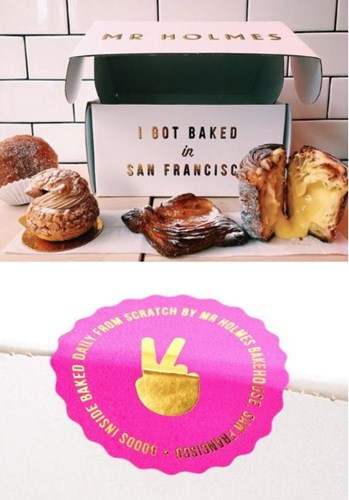 Image: mrholmesbakehouse.com
Cool Coffee
By slapping stickers on their coffee cups, this company manages to solidify their brand while creating a product that's as stylish as it is tasty (we imagine!).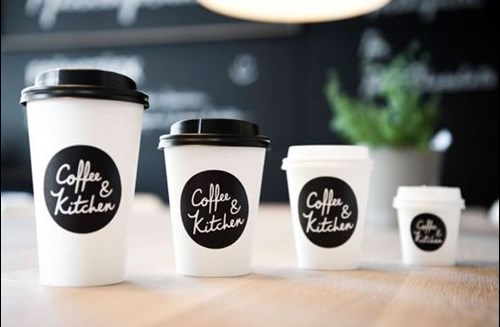 Image: pinterest.com
Flying Colours
This brand uses coloured stickers to distinguish different categories within their range. The result is smart, clean and sophisticated - and eye-catching to boot!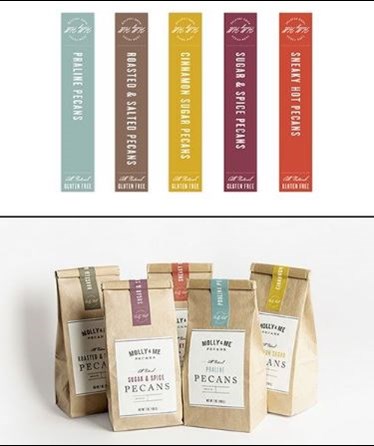 Image: pinterest.com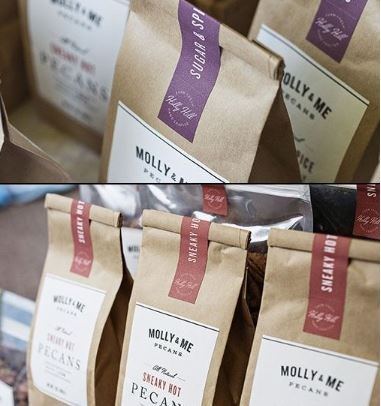 Image: pinterest.com
Lead The Way
Moving on from packaging, floor graphics are a great way to advertise the likes of a grand opening, a new product launch in your store, a pop-up shop or a booth at an exhibition. Use footprint stickers to lead your customers to where you're located, or stick a friendly welcome on the floor of your entranceway. Just remember to always ask permission beforehand if you don't own the venue!
Image: pinterest.com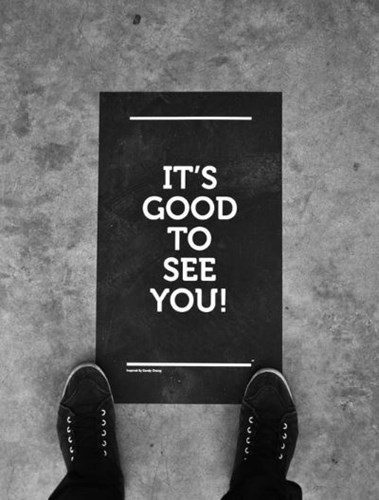 Image: pinterest.com
Razor Sharp
This successful guerrilla marketing campaign by Gillette used stickers to promote the shaving company's new blade. They designed their stickers to resemble small pieces of tissue covered in blood, then stuck them over the faces of men on various billboards and posters in Manhattan. The idea was to encourage those who saw the stickers to relate (perhaps they themselves had recently cut themselves shaving) and change their blade to Gillette's new model. Creative and resourceful – we like it!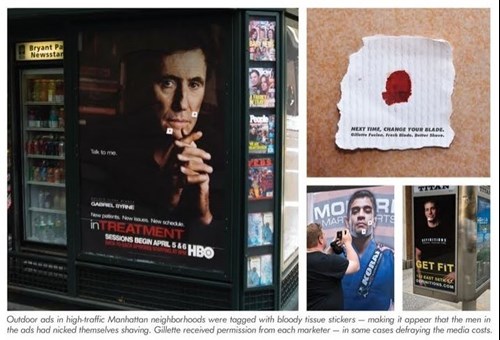 Image: pinterest.com
Squeaky Clean
Household cleaning product maestros, Cillit Bang, skilfully used stickers to demonstrate the value of their product. They placed transparent stickers on 5 cent coins which they gave out as change in their stores. The sticker made the coin look half clean, half dirty, with the idea being that half of it had been polished with Cillit Bang, to squeaky clean results. Genius!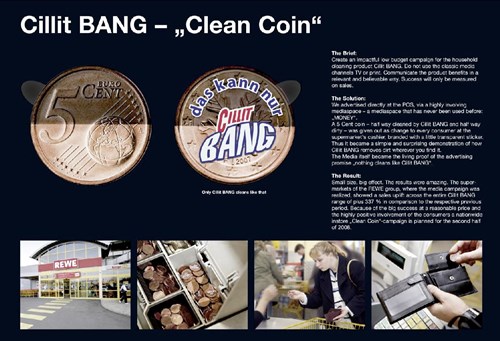 Image: directdaily.com
Body Art
Dermagraphic Tattoo launched an excellent 'try before you buy' campaign using stickers. The responsible tattooist wanted to emphasise the point that tattoos are permanent, so it's important that you're sure before you choose to have one. They did this by placing stickers of tattoos in bathroom and changing room mirrors to give people the impression that the tattoo was actually on their skin. Below each tattoo sticker was another one which read 'Try before you buy.' Of course, if they did then decide to buy, they'd have a good idea of where to go as Dermagraphic Tattoo would be fresh in their mind! Brilliant!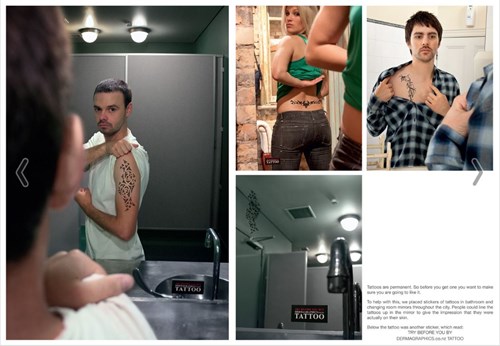 Image: adsoftheworld.com
An Explosive Message
Unicef came up with an inspired way to raise awareness for victims of landmines. They created stickers that had self-adhesive topsides and scattered them on the streets. When people walked on them, the topside of the sticker would stick to their shoe. When removing the sticker, people were faced with an image resembling a landmine and a haunting line that read 'in many other countries, you would now be mutilated. Help the victims of landmines.' Not only did Unicef think outside the box with this original campaign idea, but it really works to make an impact by allowing people to essentially step right into a victim's shoes. That level of relatability would certainly inspire action.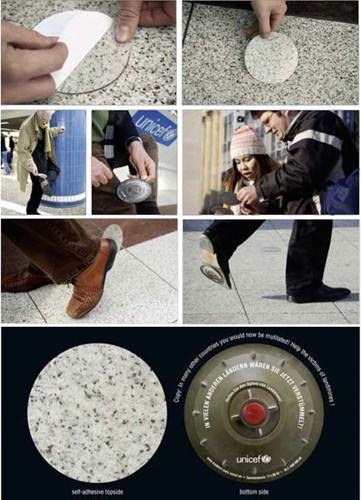 Image: pinterest.com
Big Business
We're back on floor graphics, but this time, we've gone colossal! These graphics are incredible. Each one conveys a powerful or memorable message using genius execution…
Itch and Scratch
This huge floor sticker promotes a parasite spray for pets by making people look like the fleas and ticks on a dog's body if seen from an aerial view! Effective, right?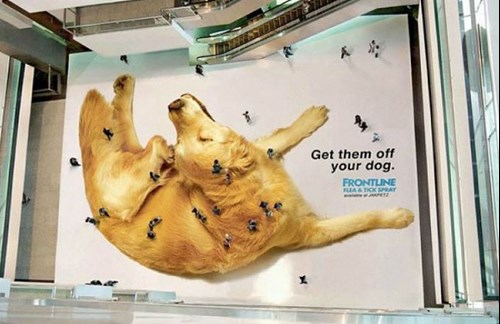 Image: designyoutrust.com
Space Savers
Bravo, Ikea, this is top-notch marketing! These stair stickers were cleverly placed in a shopping mall to capture the imagination of passers-by (and most likely direct them straight to Ikea!).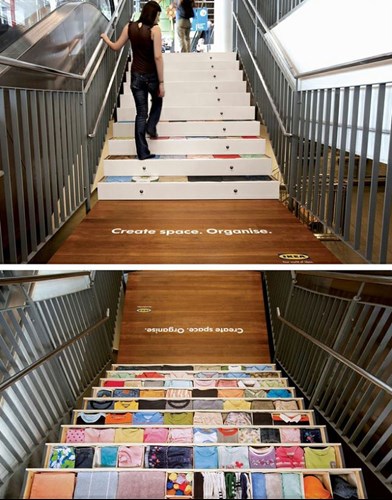 Image: pinterest.com
Cutting Corners
Jeep expertly uses floor graphics to show potential customers that where other cars can't go, Jeep can!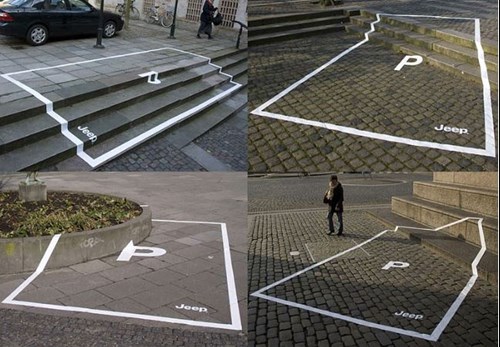 Image: designyoutrust.com
A Different Point of View
A saddening reminder of how climbing a staircase can feel like scaling a mountain to a person suffering from Parkinson's. This sticker works to opens our eyes and raise awareness of an important cause. It's fair to say it does the job.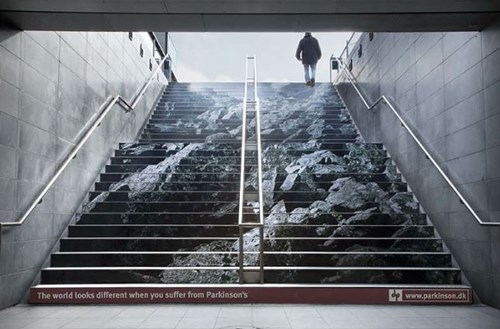 Image: designyoutrust.com

Don't know about you, but after seeing these examples, we've never been more obsessed with stickers! Have you come across any stickers being used in weird and wonderful ways? Let us know!