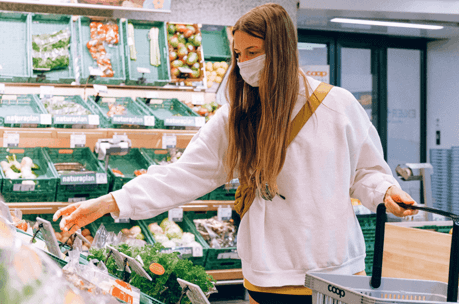 Following changes to Covid-19 restrictions in England, from 30th November 2021, there are some places where you are legally required to wear a face mask or covering. Whilst many customers have gotten used to leaving their face masks at home over the summer when restrictions were eased, many businesses are turning to print to remind the public of the new face covering laws. This change in the law is largely due to the emergence of the Omicron variant of the Coronavirus.
Here's everything you need to know about England's face mask rules and some tips on setting customer expectations to keep everyone safe in your business this winter.
What Are the New Rules Around Wearing Face Masks in England?
The law in England has changed, meaning that it is now a legal requirement to wear a face covering in indoor shopping areas, transport hubs and whilst using public transport.
In other indoor settings, such as restaurants, you are encouraged to wear a face covering in crowded and enclosed spaces, however it is not a legal requirement.
Children under the age of 11 are exempt from wearing face coverings in such settings, as well as those with a disability or health condition that prevents someone from wearing a face covering.
Where Do I Need to Wear a Face Covering?
Unless you are exempt from wearing a face covering, you must wear them when visiting the following indoor venues in England from 30th November 2021:
Shops and supermarkets
Shopping centres
Auction houses
Post offices, banks, building societies, high street solicitors and accountants, credit unions, short-term loan providers, savings clubs and money service businesses
Estate and letting agents
Premises providing personal care and beauty treatments
Pharmacies
Premises providing veterinary services
Retail galleries
Retail travel agents
Takeaways without space for consumption of food or drink on premises
Public transport, taxis and private hire vehicles
Any car or small van during a professionally delivered driving lesson, a practical driving test, or during one of the practical tests for giving driving instruction, and in all HGV lessons and tests
Transport hubs, e.g. airports, bus, train and coach stations
Face masks are also required in healthcare settings, such as GP surgeries and hospitals, as well as when you are visiting care homes, to comply with infection, prevention, control (IPC) guidance.
You are required to have your face covering on upon entering these settings.
Do Staff Need to Wear Face Coverings at Work?
As well as customers being required to wear face masks in these settings, the rules also state that employees must wear face masks when they are working in areas that are open to the public.
If your staff also wish to wear their face coverings in other workplace settings, this is also allowed and it's recommended that you encourage and support these team members doing so.
Can I Get Fined for Not Wearing a Face Mask?
As it is now a legal requirement to wear a face mask in confined indoor shopping and transport settings in England, penalties can be enforced if you fail to comply.
The government recommends that businesses use signage to enforce compliance amongst customers, reminding them to put on their face mask before entering the premises.
Transport officers can also refuse access to their public transport for members of the public refusing to wear a face mask.
If necessary, police officers and Transport for London (TfL) officers can enforce a fixed penalty of £200 for a first offence, which is reduced to £100 if paid within 14 days. Repeat offenders will have their penalty doubled after each offence and will receive no deduction. For example, a second offence will mean a £400 penalty, a third offence would result in an £800 penalty, etc. up to a maximum of £6,400.
What Are the Rules on Face Coverings in Scotland, Wales and Northern Ireland?
Rules differ between the UK's devolved nations regarding face masks and coverings. In Scotland, the rules around wearing face masks in public settings have not changed, as they retained these measures following moving away from their level zero rules on the 9th August 2021.
This means that adults and children above the age of 12 in Scotland are required to wear face coverings in all the same settings as level zero, including shops, hospitality venues and on public transport. Masks may be removed while dancing, drinking and dining.
Students and teachers in secondary schools in Scotland must continue to wear face coverings and stay 1m apart.
In Wales, face coverings are no longer required in hospitality settings, however if your business has identified this as a reasonable measure as part of a risk assessment, you are in your right to require customers to wear their face masks.
Similarly, face masks are no longer required at wedding ceremonies in Wales unless deemed a reasonable measure on the back of a risk assessment.
Face masks must be worn in all other indoor settings in Wales.
In Northern Ireland, wearing a face mask in any indoor settings became a mandatory requirement on the 24th May 2021. This includes shops, hospitality and public transport. If you work in an enclosed public space, you are also required to wear a face covering.
If you are in any doubt about whether or not to wear a face mask or covering, it is advised that you wear one as well as maintain social distancing.
How Face Coverings Work in Mitigating the Spread of Coronavirus
Scientific evidence supports the use of face masks, alongside other Covid safety measures such as vaccines and social distancing, as a way to limit the spread of the virus.
People with the virus are often unaware that they have it, but it can spread through air droplets when they cough, sneeze, speak or breathe. The virus is passed on when other people breathe those air droplets in.
According to the results of multiple studies, wearing a face mask can block up to 80% of these droplets from escaping into the air. They may also prevent about 50% of droplets from being inhaled as well.
Signage is the recommended way to inform customers of the new rules and set your expectations on how to comply with the law whilst visiting your business. Whether you're looking for temporary outdoor correx signage you can recycle when the rules are eased, or posters for your shop windows, check out our range of free COVID safety templates that make designing and printing your signs as quick and easy as possible.