First impressions count, so it makes sense that our packaging gives the very best first impression of your brand-new print even before you've opened it! Using customer and colleague feedback, our recent project has seen us redesign our packaging to improve how it looks and feels as well as to reduce waste. Here are some of the exciting new changes you can expect the next time you place an order with instantprint.
Lighter Packaging
We've reduced the overall weight of our largest boxes, so both our employees and customers are able to comfortably manage their parcels. As well as being lighter, our new packaging is also thicker – keeping your print safe and sound until it reaches your door!
Reduced Size
We've also reduced the size of our outer and inner boxes, meaning we can pack your print more precisely and easily – which will massively reduce the need for filling and cushioning on smaller orders. Your print will be just as safe and secure – it'll just fit in the box a lot better!
Easier and Faster to Build
We pride ourselves on our reputation of being a fast turnaround printer, so it's essential that we can get your packages out of the door lickety-split! Our new boxes are now easier and faster to build.
Neutral Design
To create a more premium look and feel, we've opted for a brand-neutral design to go on all of our boxes. This white label packaging doesn't include our branding, but does let you know what is and what isn't recyclable with a guide in every box.
Remove Plastic
One of our long-term goals is to remove as much plastic as possible from our packaging. As part of our first phase of this, we've introduced paper banding on our litho printing stream, so many long-run orders will be bound together with paper. Keep your eye on more paper alternatives as we progress with this goal!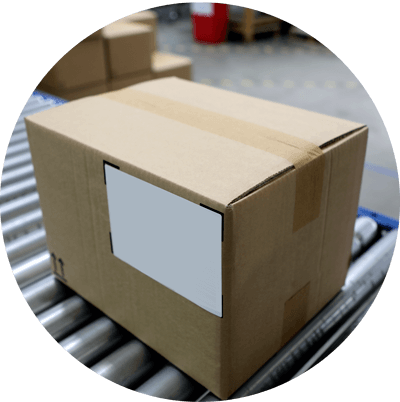 Business Cards
We're currently in the process of overhauling our business card packaging completely – so watch this space!
New Poster Tubes
To help keep your posters in shape and protected, we're introducing new thicker and stronger poster tubes.
Branded Packaging
Coming soon – you'll be able to choose between our standard white label packaging or a fun branded instantprint box!
As industry leaders, settling isn't in our nature. We're constantly adapting our processes and offerings, so keep an eye out for even more new and improved packaging in the future. For now, here's some more information on what we do to limit our impact on the environment.