Running a business in 2020 is new territory for everyone, not just new startups but bigger businesses too. And, according to the government, social distancing is going to be a key part of UK business's lives moving forward.
Whether you're an employer looking for the best ways to install a compliant social distancing strategy into the workplace, a freelancer or someone who works in other people's homes wanting to know how you're supposed to keep your distance from customers, or an employee who wants a clearer idea of some of the practices being used in your place of work, we've covered the basics in this guide.

What is Social Distancing?
Social distancing, also known as physical distancing, is a public health measure put in place across the UK in 2020 to help prevent Covid-19 spreading. When a person coughs, the air droplets can carry the disease and keeping at a distance from others works to stop those droplets spreading.
To follow social distancing, people will need to stay 2m (approx. 6ft) away from one another to ensure that these air-born particles are limited to the person who coughed. It's a key area that every business owner will need to plan for to keep employees, customers and any visitors safe as businesses start to re-open.

How to Create a Social Distancing Strategy in the Workplace
Clear Signage
No matter your line of work, the government has stated that one of the best ways to enforce social distancing rules and keep your team and customers safe is through using clear signage. This can be to indicate changes to your service, such as collection and delivery, to let people know new rules like limited number of people in a particular room or area or for social distancing reminders – e.g. a 'Keep 2 metres apart' poster or sign.
Floor Markings
Another clear way of setting up 2 metre intervals, social distancing work areas and one-way flows is by using floor markings. From keep 2 metres apart floor stickers to floor tape, you can use floor markings to make sure customers and staff abide by the rules and make your business Covid-secure.
One-Way Systems
Some areas of your business will get a lot more foot traffic than others, and people will linger in certain areas. Many shops have already introduced one-way flows, but they shouldn't be limited to the retail industry. We recommend having a separate entrance, a one-way flow through your business and a separate exit. Combine this with staggered clocking in times for an easy way to limit the number of people bottle-necked at exits and entrances at certain times.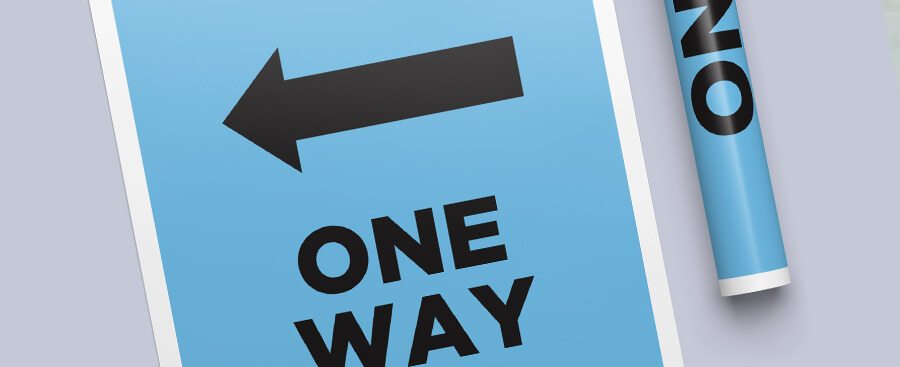 Limited Numbers
Limiting the number of people in any area at a time is another method widely used in shops but can be applied in numerous settings for safety success too! From medical labs to classrooms and even offices, making sure there's only enough people in a room where you can safely keep a 2 metre distance is advisable.
This might involve people working set shifts or having to queue outside. Remember to communicate this to staff and customers with clear limited numbers posters, signs and A-frames so they know not to come inside if it would mean over-crowding a room and potentially making it a dangerous place to be.
Queue Management
If queuing allows you to safely manage the number of people in your business at one time, it's important to think about the role social distancing plays for your customers waiting outside your business too. Use floor vinyls, tape or A-frames to mark 2 metre intervals, instructing customers to stand safely apart from one another while they wait to enter.
Avoid Sharing Equipment & Hotdesking
Shared supplies and equipment can increase the risk of the disease spreading. Use posters to remind staff that they're in a no hot desking zone or that they shouldn't be sharing equipment like phones.
Sometimes sharing desk space or equipment is unavoidable, but there are some things you can do to help limit the potential threat of Coronavirus. For example, use posters to remind staff to clean their desk regularly and at the end of a shift ready for the next person to use, or to clean down phones and other equipment.
You should also set up a pick-up and drop-off zone so people don't have to break the 2 metre distance to hand things over to each other.
Think About Different Areas
It's not just the office or factory floor you need to think about – your reception area, canteen, and even elevators are all communal spaces where social distancing is necessary. Using your floor tape, divide up the areas or mark where people should stand to make sure they're complying with social distancing rules.
Stagger Breaks
If everyone's taking the same lunch time as each other, this can cause congestion in break rooms and canteens. As well as shifts, think about staggering breaks and lunches so your break facilities are never over capacity. This will involve coming up with a well-thought-through rota and sharing this with your team so they know exactly when they can take their breaks.
Set Up Picnic Benches
If you have a small canteen area that won't accommodate the whole team even with staggered breaks, why not set up benches in an outside area? These will be easy to socially distance – just ask your team to wipe down the surfaces once they've finished eating!
Be Smart with Your Space
If some members of your team are working from home, don't let that spare space go to waste – create additionally working spaces where your working from home team would normally go to help the ones who are in the building spread out a little more comfortably.
Ban Indoor Meetings
Wherever you can, ban indoor meetings unless they're absolutely critical – unless you're in a safe open space (i.e. not a pokey meeting room) and everyone can spread out the full 2 metres away from each other. Either use virtual chat and video tools or, for something completely different, go outside and find somewhere where you can stand far apart.
Know When to Stay at Home
Standard advice is still that people should work from home wherever possible, which can help you organise your teams in a way that makes social distancing easier, for example only bringing in the teams you need.
As well as this, the government still advise that anyone showing symptoms or living with someone showing symptoms of Coronavirus should stay at home. Use external signage and window stickers to remind staff and customers not to enter if they have symptoms.

What to Do If Social Distancing Isn't Possible
In certain situations and circumstances, social distancing isn't always possible. However, there are ways you can minimise the risk. Here are a few ideas to help you weigh up your options.
Set Teams or Pairs
Setting up teams or pairs for jobs that require more than one person working in close proximity is one way to limit exposure to any potential germs. Make sure it's the same people working on projects together and that they follow the standard advice of washing their hands regularly, providing them with hand sanitiser if hand washing facilities aren't readily available – putting up handwashing and hand rubbing posters is a great way to encourage this behaviour in your workforce.
Visors and Shields
Workers at the point of contact with customers, whether that's in a retail store or as part of face-to-face consultations, will need extra protection from air-born droplets. The same applies to workers using the same work station or desk where it's not possible to pull desks apart to distance employees.
Face visors are a great option to protect staff from air droplets at the point of sale, because the plastic is easy to wipe and keep clean. For workstations or counters, sneeze guards are free-standing and a minimum effort way to safely partition desks.
During an Emergency
Medical emergencies, fires and burglaries might require you to get closer than 2 metres with others. This is necessary where doing otherwise would put you or the other person/people at high risk.
In Conclusion
There are plenty of ways to make sure you're doing your best to keep your employees and customers safe. Our aim is to help you grow your business successfully, whilst staying Covid-secure. To make it even easier for your business to follow the best practice guidance set out by the government, we've created an industry-specific guide to help you find the print products you need. We've also created dozens of free templates you can use which are compliant with NHS and government standards, so you'll know you're giving the best possible advice to your team. Check out our full Coronavirus signage range now.
For further guidance, please see the government's official advice for your industry here.