The UK has a rich history of celebrating royal events with street parties, and the Platinum Jubilee in June 2022 will be no different. With 12 million Brits expected to attend street parties for the Queen's 70th anniversary on the throne, many across the country will be gearing up for the royal festivities. If you're planning on hosting a Platinum Jubilee street party, here are a few ideas to get you started.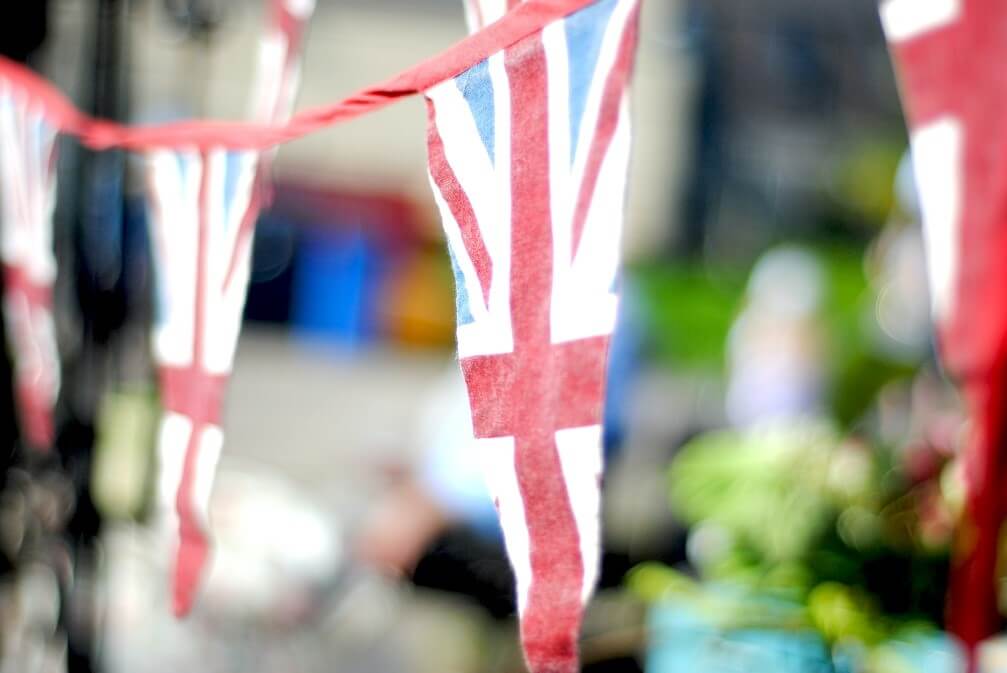 When is the Queen's Platinum Jubilee in 2022?
The Queen's Platinum Jubilee pageant will take place on Sunday the 5th of June 2022. Although the Queen became the first British monarch to celebrate a Platinum Jubilee on the 6th of February, the official celebrations will be taking place as part of a four-day bank holiday weekend from Thursday the 2nd to Sunday the 5th of June.
As part of the extended bank holiday weekend, public and community activities have been planned as well as national moments of reflection on the Queen's reign.
How Many Years Does the Platinum Jubilee Mark?
The Platinum Jubilee marks 70 years of the Queen's reign. The Queen is the first British monarch to celebrate a Platinum Jubilee.
How to Organise a Jubilee Street Party
1. Follow the rules
It's legal for anyone to hold a street party from Thursday 2nd June to Sunday 5th June. According to government advice, the street party rules for the Queen's Platinum Jubilee weekend are:
A street party should only be for residents and neighbours
Publicity should only be for residents
It should be hosted in a quiet residential road, block of flats or local green space
Street parties should be self-organised
No formal risk assessment is needed
You may need to complete an application form, but check with your local council as rules will differ around the UK
No licences are necessary unless you're selling alcohol – if alcohol is involved, you may need a Temporary Events Notice
If you want to close your road, you will need to inform your local council up to 6 weeks before the event – however, you can keep the road open and organise a 'Street Meet' instead on a driveway or in your front garden
Some local councils will lend you signs, however, you may wish to buy your own signs
Street meet rules
If you don't have time to organise a road closure, you don't need to miss out on the fun. Street meets are an informal gathering on a driveway or front garden, which may be easier to plan than a full street party.
However, there are a couple of rules surrounding street meets:
A street meet must not obstruct pedestrians or force people into walking on the road unsafely
When hosting, children should be kept safely away from vehicles
For more information on the procedure and guidance for hosting a Platinum Jubilee street party, check out the official government website.
2. Pick a date
The Queen's Platinum Jubilee will be celebrated across an extended bank holiday weekend from the 2nd to 5th of June, with a variety of commemorations taking place on every day of the weekend. There is no set day for hosting street parties this weekend, however, The Big Jubilee Lunch will be taking place on Sunday the 5th if you're planning on getting involved.
The first Big Jubilee Lunch took place in 2012, celebrating Her Majesty's Diamond Jubilee, but the Eden Project's The Big Lunch has been taking place annually across the country since 2009.
Ahead of the Platinum Jubilee, you can sign up for a free street party pack from The Big Lunch to set your preparations going.
It may also be worth asking around your neighbours to gauge the best day for availability on the weekend as they may have already made plans.
3. Send out the invites
Invitations are essential for making sure all of your guests know when and where they're meant to be, as well as inform attendees of some of the fun Jubilee street party activities you've got planned. Printing Platinum Jubilee party invitations online keeps costs down whilst still achieving a professional finish.
For the design, we recommend using the colours used in the emblem of The Queen's Platinum Jubilee – platinum and purple (specifically, Pantone 3515C). These rich purples are synonymous with royalty. Alternatively, you could go with the colours on the Union Jack – white, blue and red is a classic combo for HM the Queen's 70-year reign.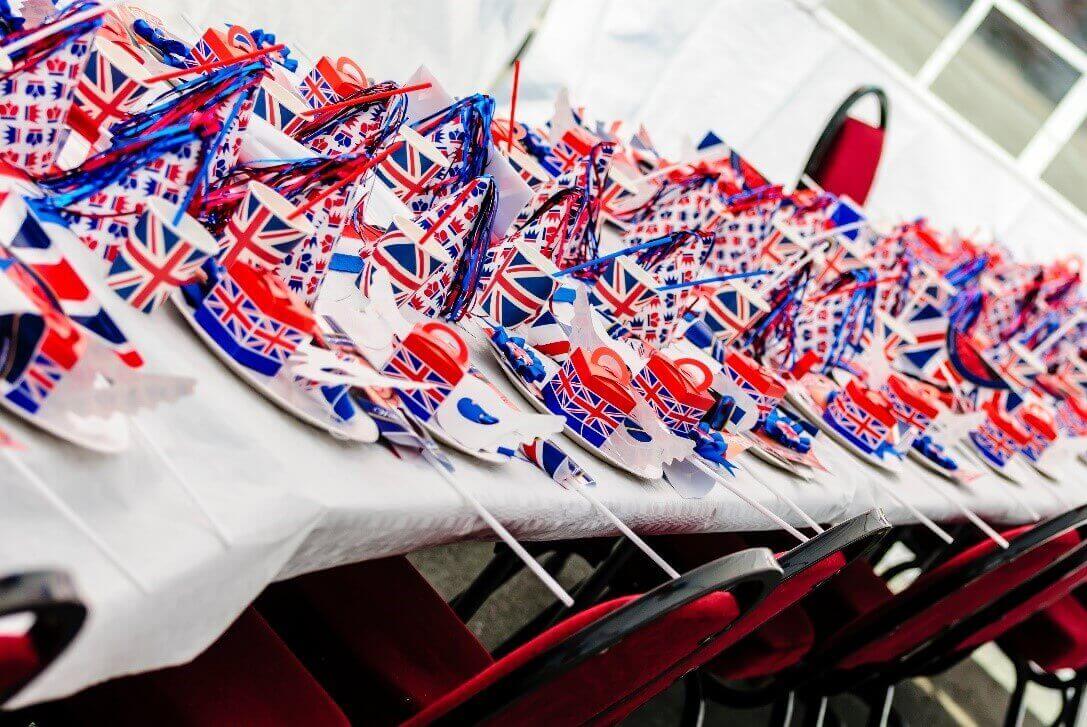 If you're creating an invitation intended to be used as a keepsake to commemorate the event, you could also add special finishes, such as a holographic foil which is reminiscent of platinum.
Print enough invites for everyone on your street, plus a couple more in case any get lost in the post. We include a choice of white or red envelopes with every order of invitations, meaning you won't need to purchase them separately.
Optionally, you could ask guests to RSVP to indicate a headcount and help you know how many people you'll be catering for.
4. Assign tasks to your neighbours
Not only does assigning different jobs to different people lighten the load, but it also gets everyone excited to see their joint efforts come to fruition.
You could split actions in a number of different ways, where each household is in charge of fully organising their own area, such as food, decorations or activities. Alternatively, you could ask your neighbours if they'd like to split the cost of catering, or ask everyone to bring their own bake or game for the group to enjoy.
Whichever route you decide to go down, just make sure to ask if it's okay to split the tasks amongst neighbours before you start assigning everyone a job – some people might not want to get as involved as others, particularly if they're busy with work or other commitments.
5. Order decorations
No party is complete without decorations – especially ones that can withstand whatever the Great British weather throws our way. You might want to keep some decorations up all weekend long, whereas others should be saved for the day. Here are a few Platinum Jubilee street party decoration ideas.
Banners
Printing a banner to go along the garden wall or fence is a great way to bring in the royal festivities and theme the whole street. Choosing a PVC option with eyelets means it will be durable to last the whole weekend, and easy to fasten to a variety of surfaces.
Bunting
Red, white and blue bunting can be hung between gardens or on lampposts and is a traditional outdoor summer party essential. You can buy bunting, or get the kids on the street involved to make your own. Just remember string!
Tablecloths
If you're providing food, drinks or even craft activities, getting some waterproof tablecloths can help save your and your neighbours' tables from spillages. Plain blue, white or red tablecloths are easy to come across, but you can add an extra Great British touch with a union jack design.
Selfie frames & props
The official hashtags for the Jubilee celebrations are #PlatinumJubilee and #HM70. To get involved, you can take pictures of your celebration, or kick things up a notch with selfie frames and photo props. You can create your own selfie frames on a budget using foam signs – just use a sharp knife to cut out the centre for photos.
Flags
Flags aren't just for waving at parades. You can buy or make your own to use as part of your street party celebrations. A favourite amongst children, making your own flags using lollipop sticks and cardboard could also be a fun activity for the day.
Tableware
Complete your Platinum Jubilee theme with red, white and blue paper plates, cups and napkins. Easy to clean up at the end of the party, using these traditional colours will be a perfect finishing touch to your table décor.
Balloons
From helium balloon arches to number balloons to celebrate 70 years of HM the Queen on the throne, balloons should be used on the day of the party rather than be left outside all weekend.
Goodie bags
Red, white and blue striped paper bags make great goodie bags for handing out treats to children and grownups alike. Seal them with a small themed sticker for a royally good time.
6. Ensure you have enough seating
With any community gathering, your street party might start getting crowded, especially if your neighbours' families turn up. Rally round to ensure you've got plenty of seating for your street party.
Lots of people will already have garden chairs, so it's worth asking people to bring their own chairs if you know you won't have enough.
7. Organise food or catering
Depending on how much you've got budgeted for your street party, you might be doing the catering yourself or organising a caterer to supply your food on the day. You might also be asking neighbours to bring their own food to create a buffet with everyone's top picks.
The types of foods you plan to offer will depend on what kind of street party you're hosting. For example, finger foods will be the best option for guests who will be stood up, whereas sit-down parties allow for traditional afternoon tea and scones.
Classic British street party foods include party favourites like scotch eggs and sausage rolls, as well as cucumber sandwiches, potato salad and, of course, a Victoria sponge cake.
Plain cupcakes are also a good option as you can supply blue, white and red icing for people to ice their own – or even make a competition out of it!
For drinks, fruit squash will go far as it is diluted, and is a popular option amongst children. For the adults, mocktails and spritzers are a light, summery option that's sure to be a hit. You could also go traditional with a pot of tea.
8. Plan some street party games or activities
Keep your party guests entertained with some activities! You'll need to cater your activities depending on the age of your guests – for children, colouring and children's party games are a good idea, as well as traditional ball games like cricket and football if you've got the room. For adults, general knowledge quizzes and competitions are good options.
You could also create your own Jubilee-themed versions of classic party games, like pin the crown on the queen, or playing pass the parcel with gold-wrapped goodies. Arts and crafts are also a popular option. You could make your own bunting, decorate crowns with gems and feathers, or decorate ready-made buns with blue, white and red icing.
9. Gather Platinum Jubilee merchandise
From Harrods to Cath Kidston, the nation's favourite brands have been creating brilliant merchandise for keepsakes of the Platinum Jubilee. As well as personal use, providing something small for the members of your party is a nice touch that's sure to be appreciated. You could even order something guests can use on the day, like commemorative cups for their drinks.
If you're looking for a unique piece of memorabilia, Hello Magazine has listed its top 15 pieces of Jubilee merchandise here.
10. Send reminders in the post
If it's been a while since you sent your original invitations, make sure to follow up with a reminder in the post. Printing these on thin flyers is a cost-effective way to spread the news to all of your neighbours and it gives them something physical to pin to their calendar or noticeboard as a reminder.
Alternatively, you could create a Facebook or Whatsapp group and send everyone a reminder message and get them hyped up for the street party that way.
Get the Party Started
Ready to kick off your Jubilee street party celebrations? Take the first step and order your party invites online today! Whatever you've got planned, we hope you have a great bank holiday weekend celebrating HM the Queen's reign.